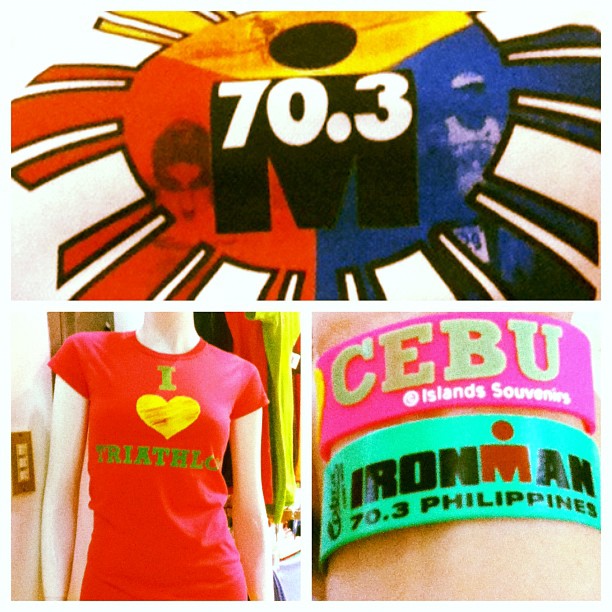 While I'm waiting for the sun to come out again, let me reminisce the past sunny weekend spent in Cebu on the inaugural edition of Ironman 70.3 Philippines. After three years held in Camarines Sur, the country's Ironman 70.3 found a new home in the Queen City of the South.
I've been trying to summon up the willpower and the funds to join the individual edition for a year, but when registration opened last December I realized I needed more time to prepare fully for the distance. So, my teammates and I formed an all-female relay team: ENDURE Belles. Hanna's a strong swimmer, Ellen wanted to run, so I took on the bike leg as a way to force myself to improve my cycling fitness and skills.
ENDURE Belles Ellen, Noelle, and Hanna
Inadvertently I found myself also doing the same logistical preparations as individual category participants when it came to traveling with my bike (a little rehearsal for the real whole thing never hurts, right?). I invested in a bike bag and paid for packing and reassembly services from The Brick, which had an outpost 1 kilometer away from race venue Shangri-La Mactan. I figured it was good practice to have professionals handle my bike instead of trying to do it all on my own.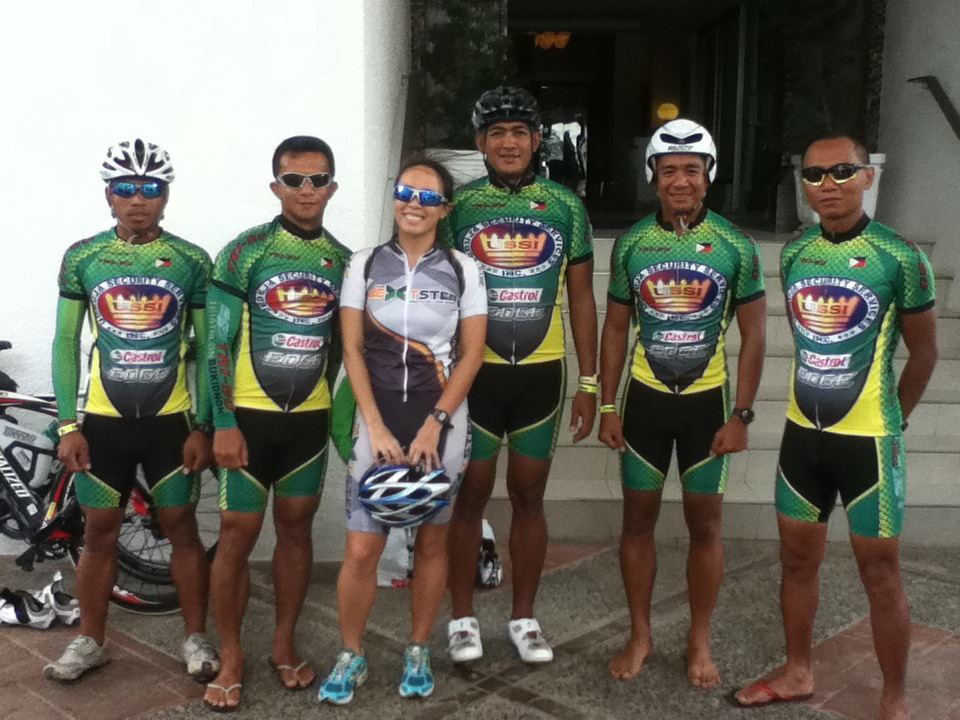 with the Tri-Bukidnon men at The Brick outpost (photo from Tri.Bu)
After getting my bike reassembled and tuned on Friday, I pedaled to Shangri-La to check out the expo. Exhibitors included Yurbuds, Specialized, and Cervelo. *drool* I was also around for the Meet the Pros event. I was stoked to see Pete Jacobs and Belinda Granger back to defend their titles, but was awed that Caroline Steffen (otherwise known as Xena the Warrior Princess) was in attendance especially after she'd won the ITU Long Distance Championship a few weeks ago.
Cervelo, Xena's bike brand of choice
The next day a few teammates and I were up early to help marshal the Alaska Ironkids triathlon. Coach Ani had just finished doing a recon of the Ironkids swim course and had realized it was quite shallow because the tide hadn't come in yet. So she gathered the kids around and briefed them on a swim recon to help them get familiar with the course.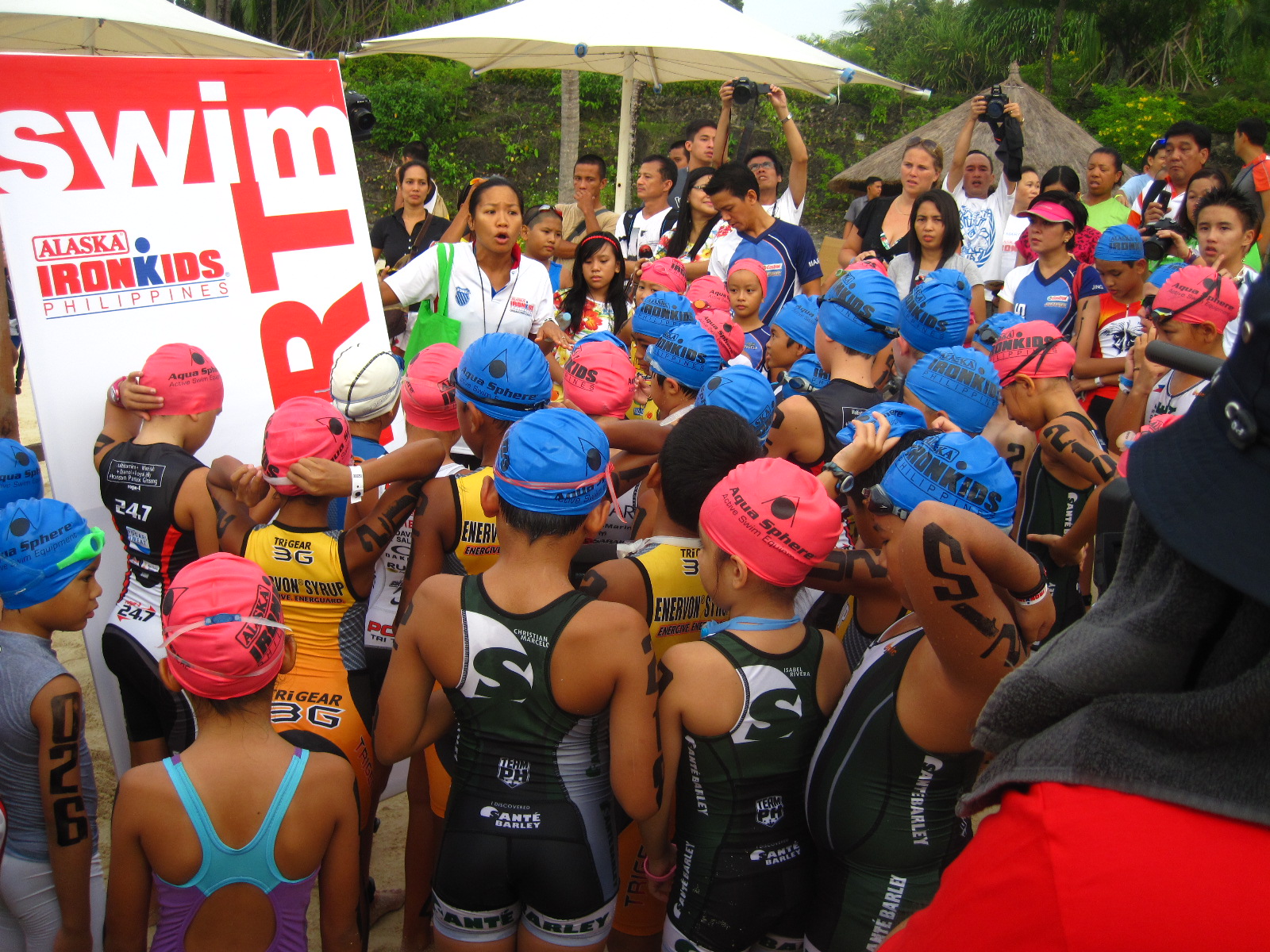 Coach Ani briefs the Ironkids
Seeing the kids out on the water reminded me that aside from the bike and run disciplines, I really need to work on my swim in order to survive a 70.3. I'm not just talking about strokes; I'm talking open-water swim confidence. While other kids jumped into the water right at the gun start, I related very much with one little girl who needed cajoling to get through the swim leg. Gulp.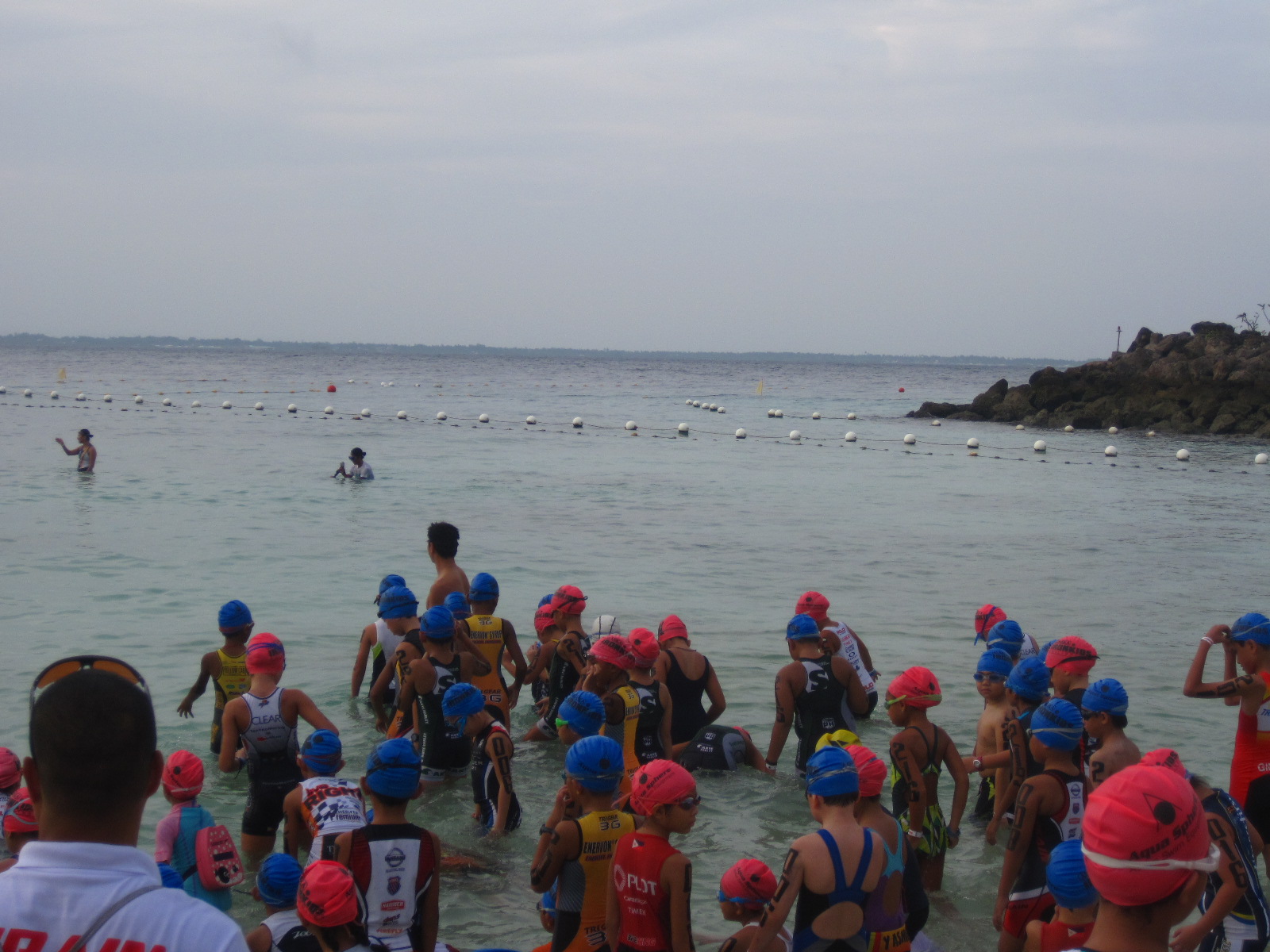 swim recon
After my beach marshalling duties (I had to keep parents and bystanders from crowding in too close), I headed to the Ironkids finish line, where Coach Dan and last year's Filipino elite champion Arland Macasieb were waiting to drape medals around the finishers' necks.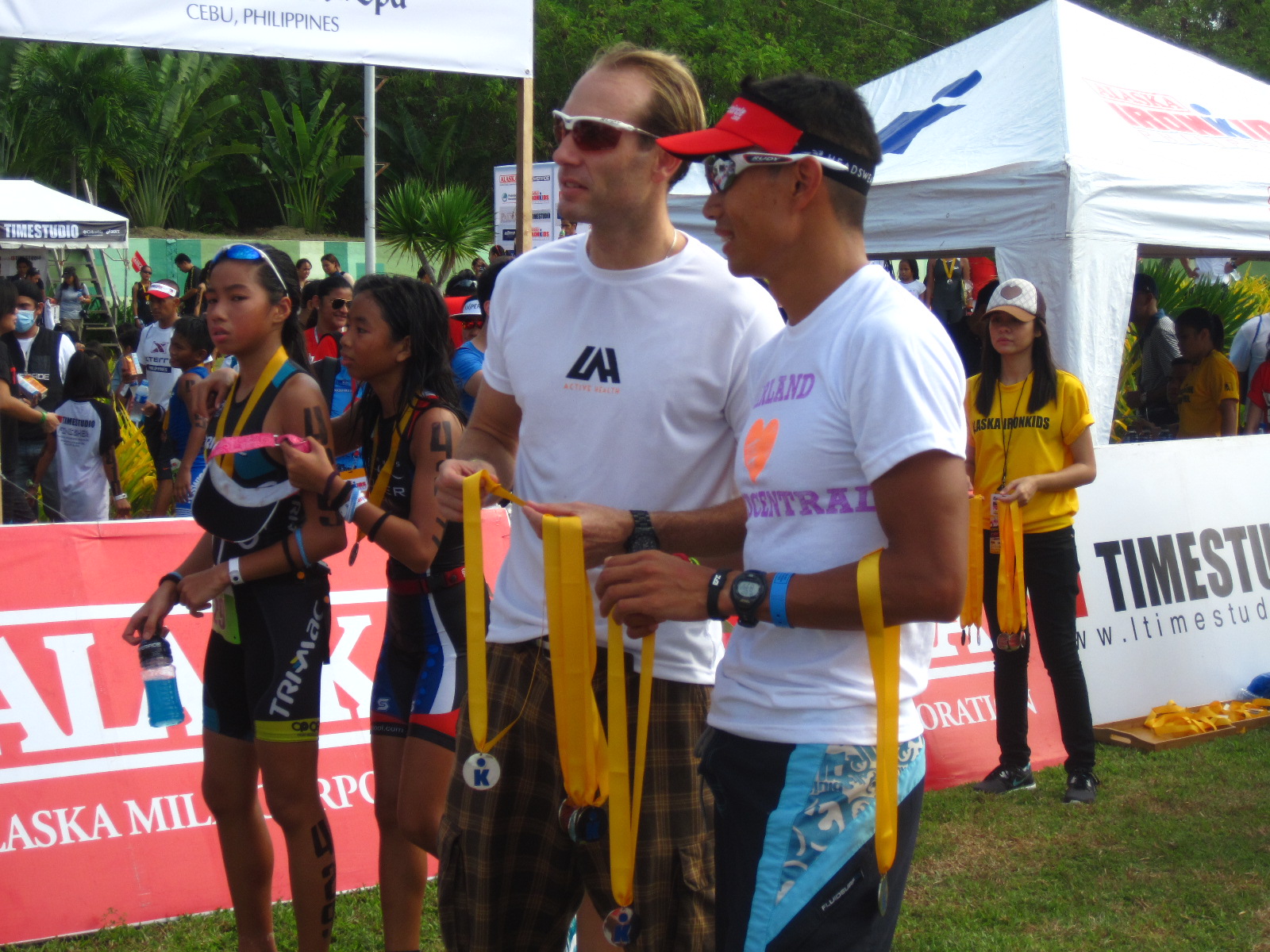 Dan and Arland
I think if kids go into triathlon, they have to be self-motivated; they can't be pushed into it by parents or coaches. And the same goes for anyone heading into the long-distance triathlons like the 70.3 distance. Even if everyone else around is going for it, ultimately the decision is personal. You're ready when you're ready in the head and heart for it.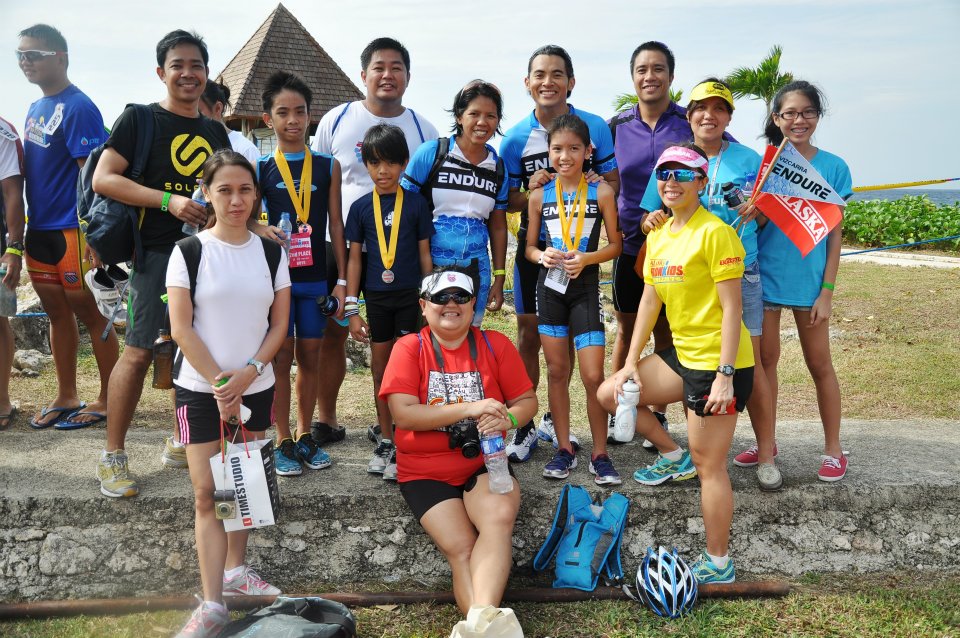 congrats, Endure Ironkids! (photo from Vilma Vizcarra)
The next day, Sunday, was for the big kids. Walking through transition to get to my bike, get things prepped and stowed properly, and wait for Hanna to come in from the swim was nerve-wracking.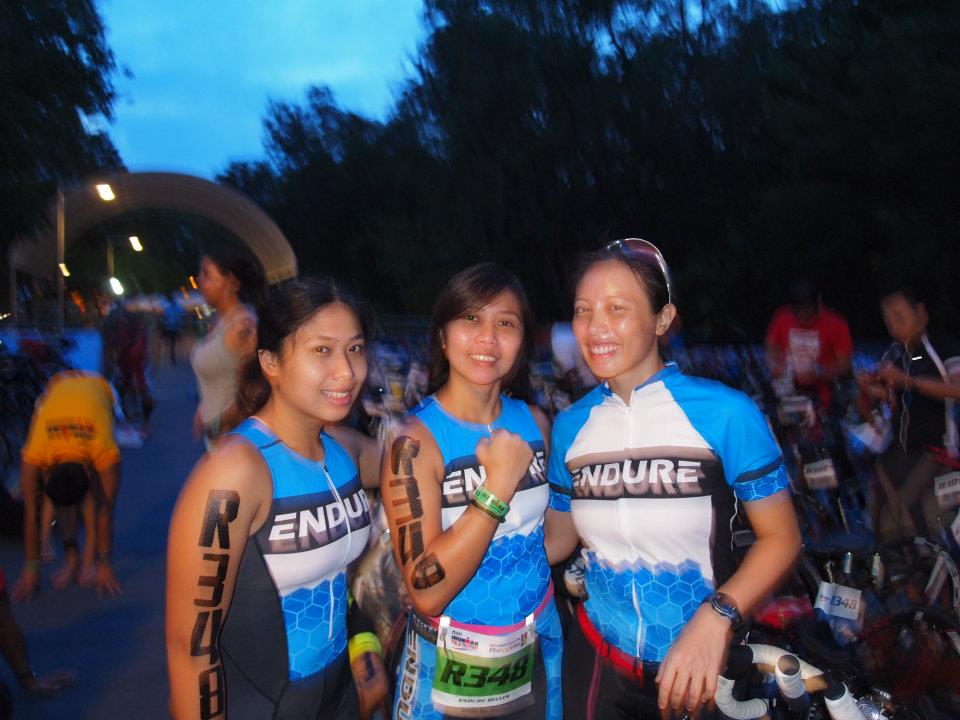 Ready, girls? (photo from Pyds Cayetano)
Being the relay cyclist can kind of suck. You can't watch the exciting mass swim start because it's an ordeal getting from T1 to the beach and back. There's nothing happening until your swimmer gets in, and then all of a sudden it's a mad dash to grab your timing chip, run back to your bike, and get going. So basically it's a whole hour of feeling antsy about how fast your swimmer can finish their leg. It was nice to get to meet others in the same boat though — to finish the bike course before the bike cut-off so their relay runner can start.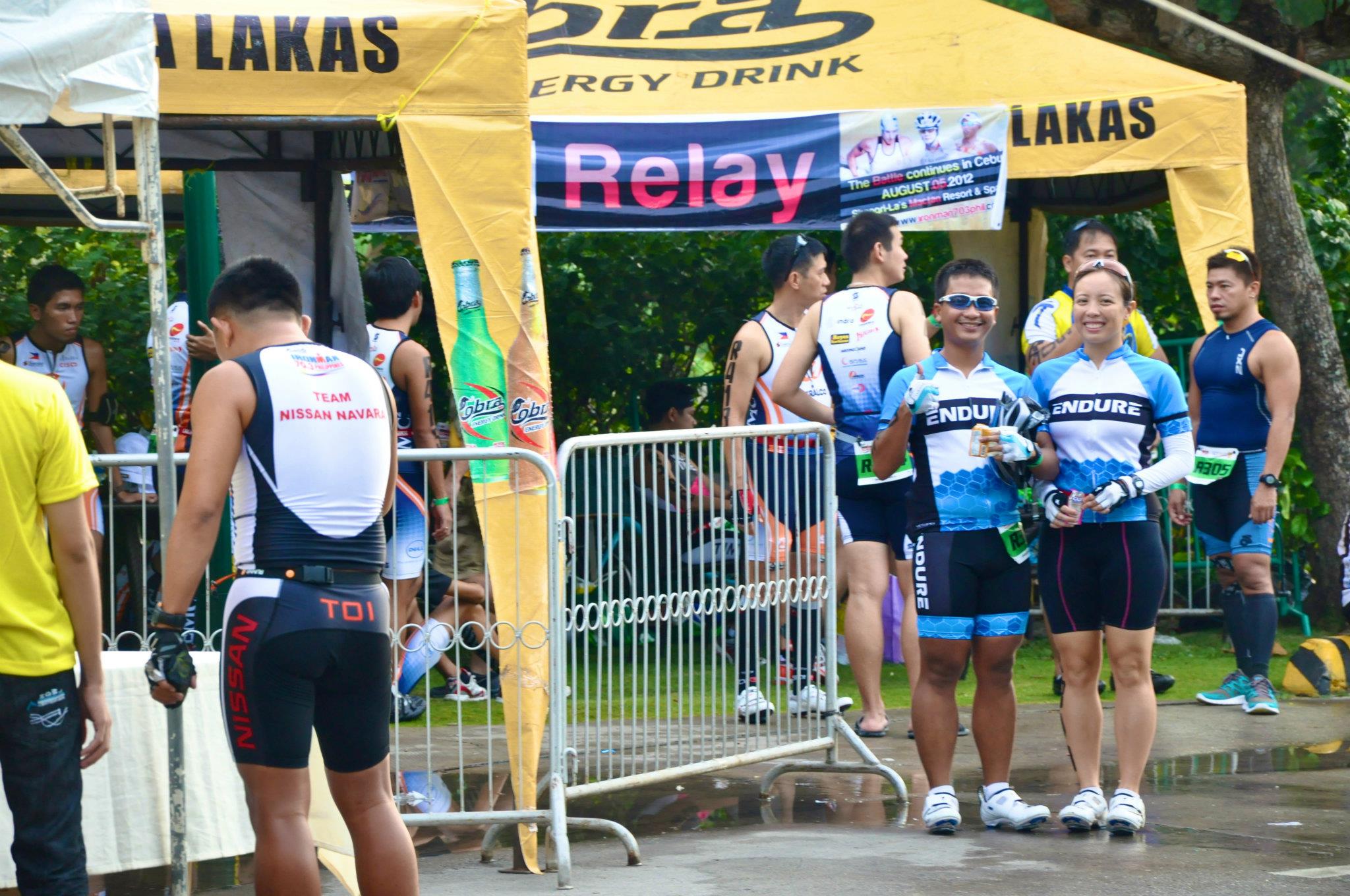 with Endure teammate Pyds (photo from Jun Neri)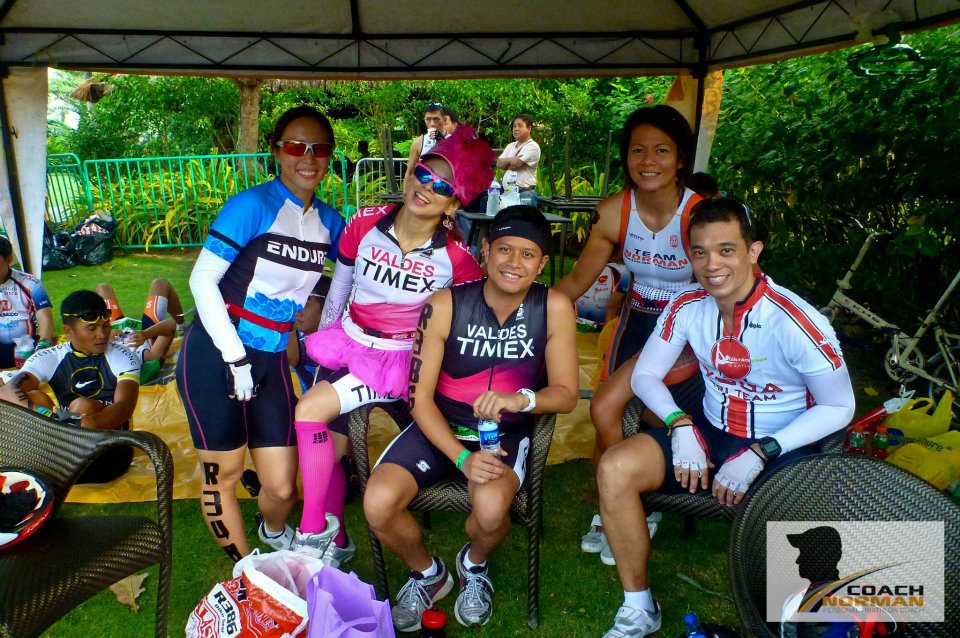 with Tessa Valdes and son Bryan, teacher Tina Zamora and yogi Tristan Choa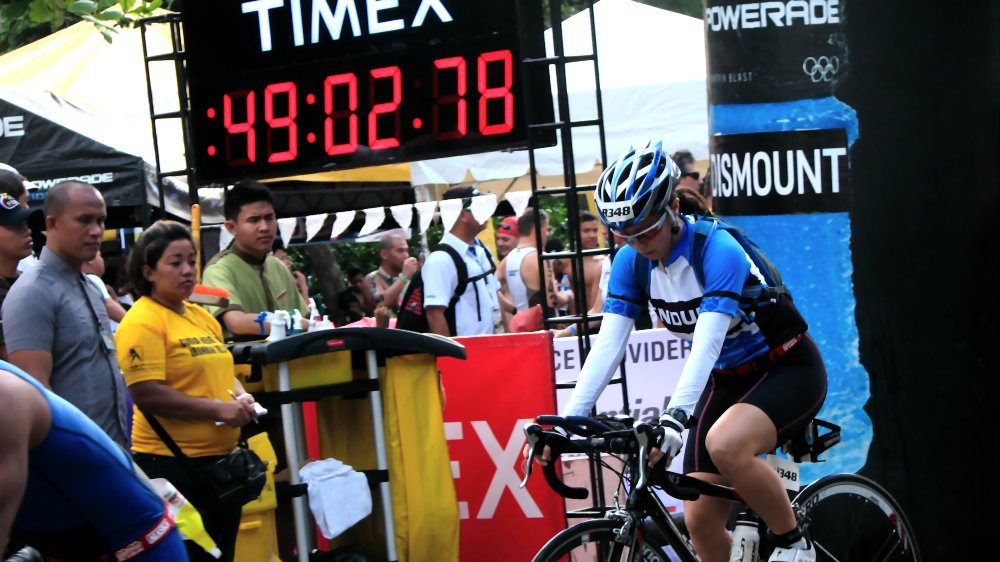 out of T1 (photo from Frances Bocalbos)
Finally, Hanna showed up at transition, and it was my turn. Getting out of Shangri-La and onto the narrow roads of Mactan was quite daunting with the number of cyclists I shared the road with. Not only did I have to keep my wits about me to avoid a crash with them or with spectators, but I also had to keep a non-drafting distance (four bike lengths) between myself and the rider in front of me.
It wasn't just avoiding drafting that was tough. The bike course involved passing the same length of road four times — twice against a prevailing headwind, and twice with a tailwind. Patches of road were quite rough and bumpy, jarring my bones if I assumed aero position. And after all that, we would have to make the steep climb up Fernan Bridge.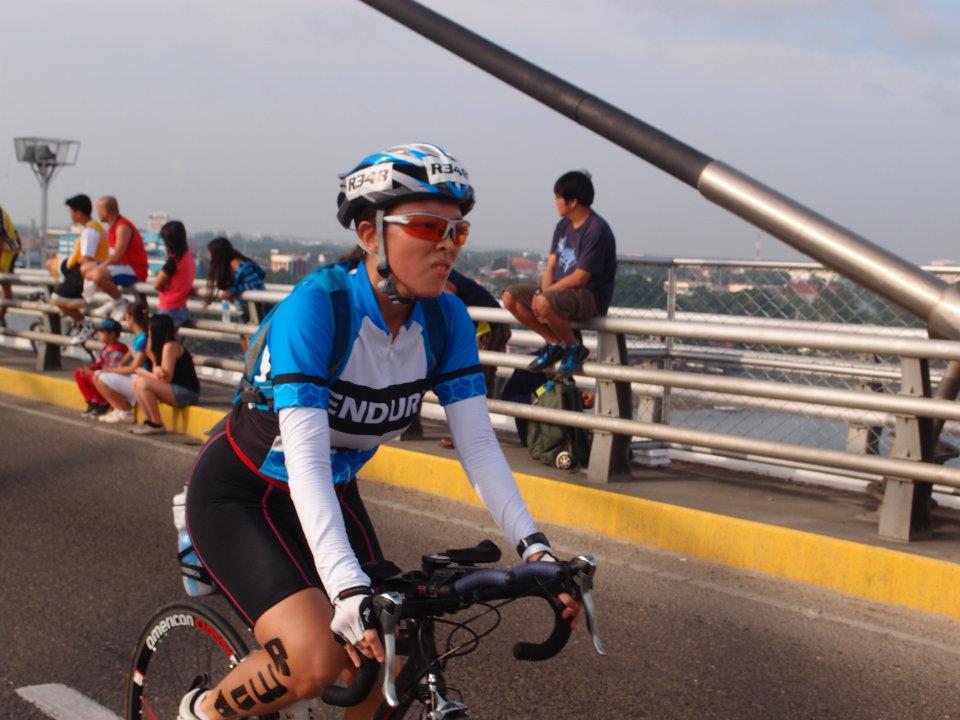 tough, tough ride (photo from MTB Ph)
Finally, I was headed towards T2. My goal was to make it back to Ellen in 3 hours 20 minutes or less. So I was extremely happy to dismount with a time of 3:18.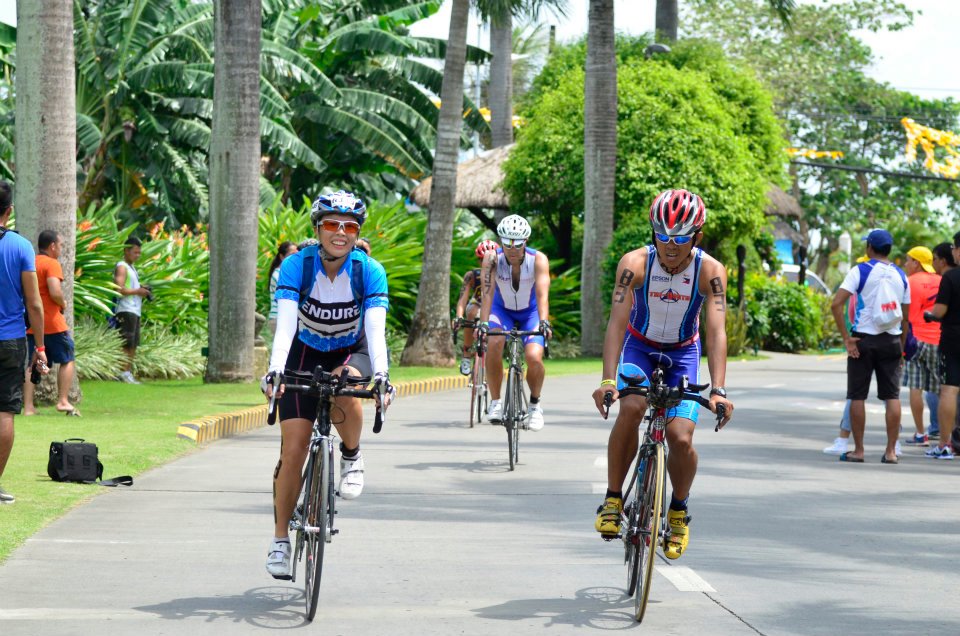 into T2 (photo from Mickie Go)
Ellen was off in a flash, and I went off to find a shower and change into some clean clothes in time to welcome her at the finish line some two hours later. We finished in 5th place in the all-female relay category!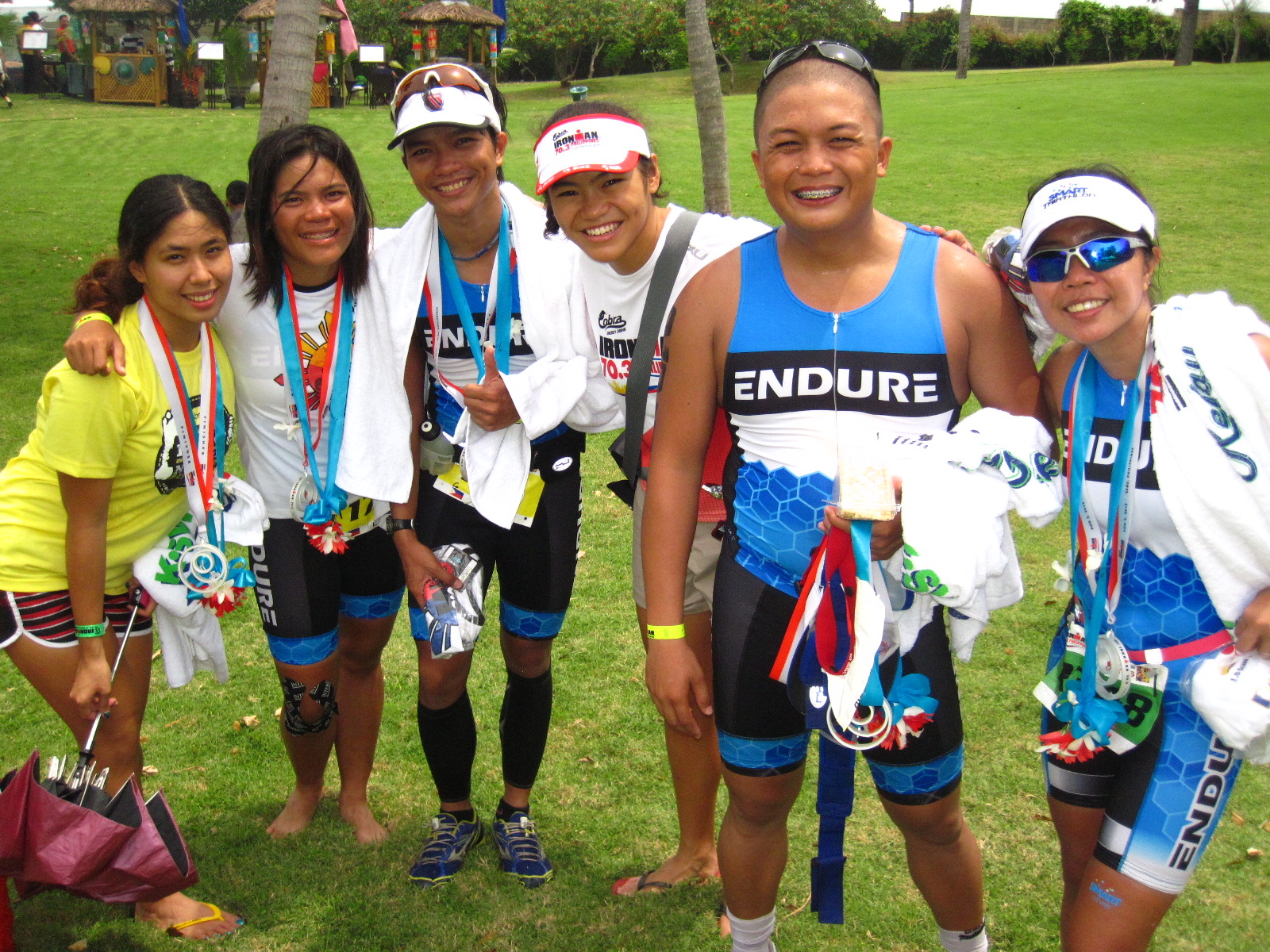 relay and individual finishers
Afterwards, we picnicked on the Shangri-La golf course grass using our finisher towels as mats while we waited for our teammates to finish. We also needed to wait for the awards ceremony because one of our teammates, Izah Sueno, had placed second in her age group. Congrats, Ice Monster!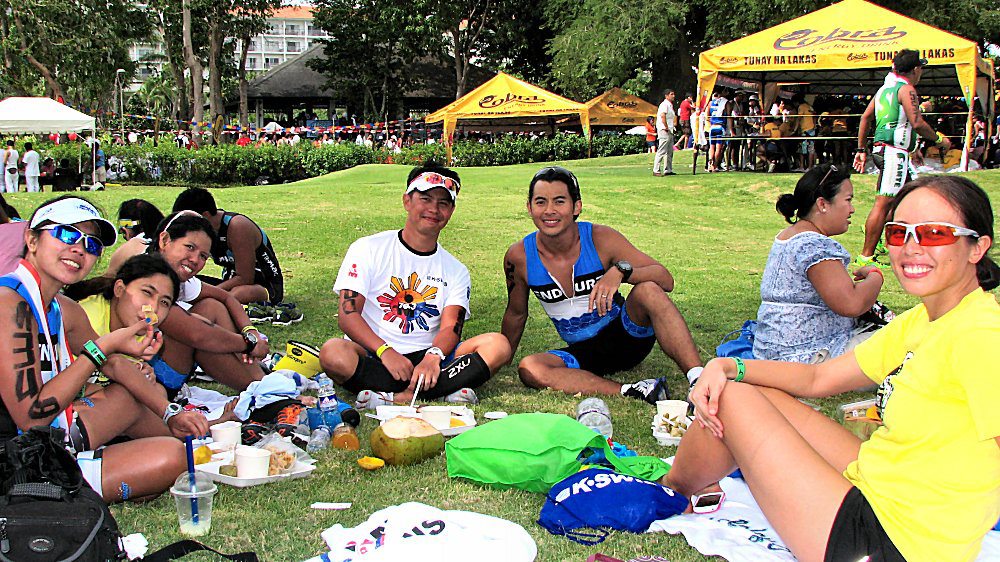 picnic! (photo from Pyds Cayetano)
I registered for the relay because this was supposed to be reconnaissance for joining the individual category next year. Given the difficulty of the course as I and others experienced it (even Pete Jacobs said it was one of the toughest courses in the world!), if I intend to join next year there's a lot to improve. A lot.
Liked this post? Share it!