I always say trail running is my Kryptonite, but maybe that's because I just hate getting muddy and dirty or am afraid of getting lost in the wild. Well, the best way to overcome a fear is to confront it head-on. Gulp.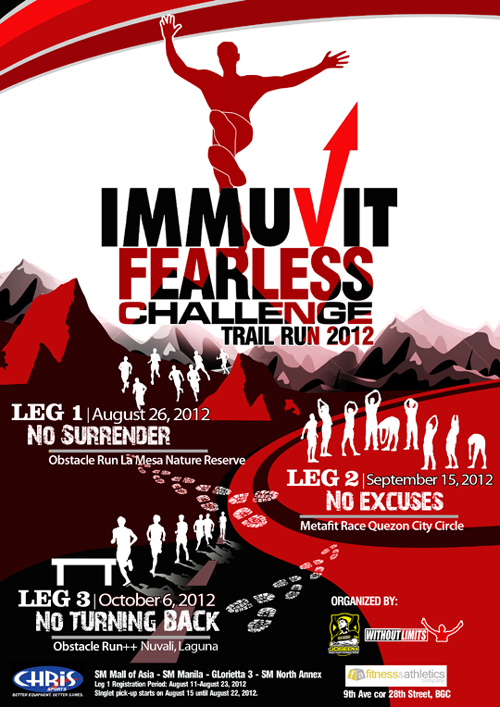 There's a new kind of trail run on the horizon in the country: it's the obstacle trail run pioneered by the Immuvit Fearless Challenge Trail Run on August 26 at La Mesa Nature Reserve. Inspired by the Spartan and Tough Mudder adventure races in the U.S., the Immuvit trail run is designed to be challenging not only physically but mentally with the obstacles that await, such as a fire jump (OMG!) and a military wall (hala!). All I can say is that participants have to be willing and ready for anything. This isn't a race for the faint-hearted.
[youtube https://www.youtube.com/watch?v=ldopCLtkukE?version=3&hl=en_US&rel=0&w=500&h=315]
Immuvit Trail Run is inspired by Spartan Races
What do you need for a trail run like this? The race requires gloves and a whistle. Also, expect the course to be mushy and muddy underfoot due to the weather we've been having. While you may opt to use an old pair of running shoes (as long as you don't mind ruining them), trail or trekking shoes can give you more confidence as well as better grip. Speaking of which, I have just realized I don't have trail shoes. Uh-oh.
As for clothes, check out the video above for what the participants of the Spartan race chose to wear. (There will be shower facilities if you'd like to wash off the dirt and tiredness post-race.)
What will you get out of this? Aside from sating your craving for adventure, you get bragging rights, survivor medals and loot bags for finishing within cutoff times. Men's and Women's champions will receive cash prizes.
If you're up for the challenge, there are two distance categories: 5K (P600) and 10K (P800). Race registration has been ongoing since last Saturday at Chris Sports (SM North ANNEX, SM MOA, SM Manila, and Glorietta 3) and Fitness & Athletics (9th Ave. corner 28th St. Bonifacio High Street).
Race: Immuvit Fearless Challenge Trail Run
Date: August 26, 2012
Venue: La Mesa Nature Reserve, Quezon City
Reg Fee: P600 (5K); P800 (10K)
Registration Sites: Chris Sports (SM North Annex, SM Mall Of Asia, SM Manila, Glorietta 3); Fitness & Athletics (Bonifacio High Street)
More Information: email secretariat @ withoutlimits.ph or visit WithoutLimits.ph