What?! Another race on July 22? That makes it #3 for that weekend (that I know of). This one I am sorely tempted to join though, even if it's in Alabang. Why? I'll tell you in a minute.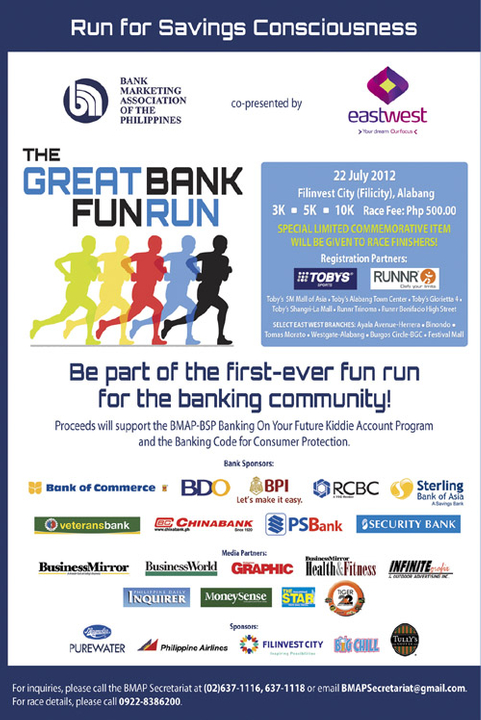 BMAP Great Bank Fun Run
The Great Bank Fun Run will be held on July 22 at Filinvest City, Alabang. This race was initiated by the Bank Marketing Association of the Philippines (BMAP) to raise funds for their programs that encourage savings consciousness. The BMAP is composed of the marketing heads of banks in the Philippines, although it is independently funded through such events as this.
Did you know the Philippines has a national savings rate of 12 to 16 percent? (Source) This means that we only keep 12 to 16 percent of our income in banks, spending the rest. Compare this to Singapore's 50 percent, or even Thailand or Malaysias' 30 to 40 percent. Poor savings makes for a weaker banking industry and a weaker economy. One of the BMAP's programs focuses on creating good savings habits for children through the kiddie account program. I remember wanting to open my own savings account when I was a kid, but couldn't go to the bank on my own. With the BMAP's current push, the banks go to schools and help kids open savings accounts from there. This creates good spending and saving habits which will benefit the country and the country's banking industry in the long run.
For me, the main appeal of this race lies in the course. As anyone who has run or biked in Filinvest can attest, there are challenging hills to conquer. I haven't been to Filinvest in a while but I clocked a good time during the Takbo.ph Nightfest there last year.
There are 3K, 5K, and 10K categories, all priced at a flat P500. I chose 10K because it's my favorite distance, but during the blogger launch I found out there will be special tokens for the first 500 finishers of the 10K. CHALLENGE ACCEPTED.
Race: BMAP Great Bank Fun Run
Date: July 22, 2012
Venue: Filinvest City, Alabang
Reg Fee: P500 (3K/5K/10K)
Registration Sites: Toby's Sports (SM Mall Of Asia, Alabang Town Center, Glorietta 4, Shangri-La Mall); RUNNR (Bonifacio High Street, Trinoma)
More Information: call 0922-8386200
Liked this post? Share it!