Milo green and split shorts
Feeling Olympic in my @MiloPH 2010 singlet and @mizunoph split shorts.

— Noelle De Guzman (@KikayRunner) July 28, 2012
Forgive the quality of the photo, but this was taken at 3:30am as I headed sleepily to Mall of Asia for the 36th Milo Marathon. Having stayed in all day Saturday just watching the Olympic opening ceremonies on TV, my head was still full of the Olympic motto citius, altius, fortius — faster, higher, stronger. That Milo and Mizuno are the Philippines' Olympics sponsors wasn't lost on me either.
It wasn't without some trepidation (what we know in Filipino as kaba) that I made my way to the starting line of the 10K race. I had never participated in Milo Marathon outside of the 42K's I did during the 34th Milo Marathon eliminations and finals in 2010. What would the shorter distances be like? With 38,000 runners across the distance categories, I was positive the 10K would be a brawl like I'd never before seen.
There was also some pressure from within me to try to outdo myself. Yes, I had hit a sub-50 minute 10K in the previous week. But was it a fluke, or was I really back in the game? Only by running this race could I tell.
As runners walked into the pen waiting for the 10K gunstart, race hosts Boy Ramos and Rizza Diaz invited elite runners to move to the front of the line. When I asked one of the cordon/bouncer guys what "elite" meant, he said it meant those runners who had podium finishes at previous Milo races. So I hung back at the second row among other runners. (I'm still frustrated by slower runners insisting on placing themselves in front to be swept along by a sprint gunstart, only to lose steam 200 meters later and get run over by faster runners.)
My Garmin was still locating a GPS signal when the start gun fired (must have been all the cloud cover that day due to rains), but once again I relied on feel through the first kilometer of the race. I saw dozens of runners sprinting ahead as I paced myself. Take it easy for now, I told myself. For me, the 10K is a perfect mix of speed and endurance, and finding the proper balance of each affects how the race goes.
The first four kilometers I ran at around five minutes per kilometer. This was enough to overtake runners who had gone out too hot. Other runners who overtook me during this period I knew to be faster than myself, and I had no intention of going head-to-head with them. I kept my eyes open for other women ahead, and with the steady pace I had kept from the onset I overtook one. Two. Three.
As we turned onto Roxas Boulevard, I saw 21K runners on their way back, with more than half of the race distance still to go. Among them, Pat Concepcion yelled encouragement which spurred me to go faster.
By the halfway mark, one of the marshals told me I was in second place. Don't count your chickens before they've hatched, I thought. They could have missed the extremely fit and/or young women speeding by them, or thought they were male runners.
U-turn. Our route was head-on with the major bulk of 10K participants. Overtake, weave as little as possible. Four kilometers to go. Three. A marshal says, "Pangatlong babae." Was this possible? I was now taking each kilometer at 4 minutes 40 seconds. I can do this!
As I turned the corner into Seaside Boulevard, 1.5 kilometers to the finish line, three male runners from behind me put on a burst of speed and surged ahead. I latched on for about three minutes, then slowed down to get my photo properly taken by Lemuel So of Pinoy Fitness. (Why not, right?)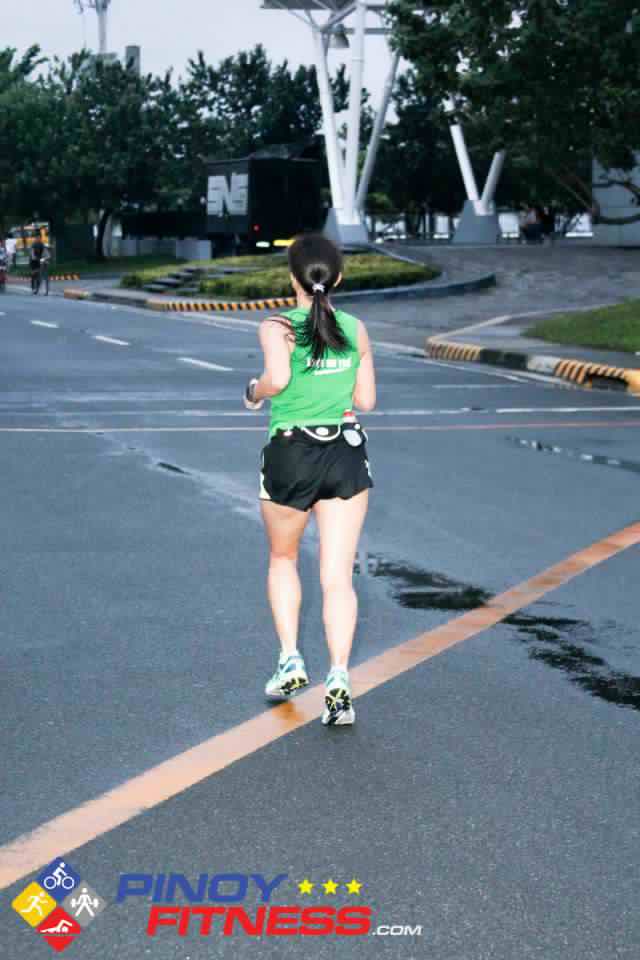 Time to sprint!
It was then I realized I still had some speed left in me. Spotting the finish clock ticking at 49 minutes lit a fire under my feet. And as a videographer with a steadycam sprinted ahead trying to take a video of my finish, there was only one thing to do. Speed up.
I crossed the finish line with a 10K time of 49 minutes, 41 seconds and was herded immediately into the winners verification tent where I and the top 10 male and female finishers per category spent another hour cooling our heels while we waited for the final list of winners.
The bouncer guy from the starting line was there. He told me, "Sabi mo hindi ka elite." I quipped back, "Hindi pa naman kasi ako nagpa-place sa Milo eh."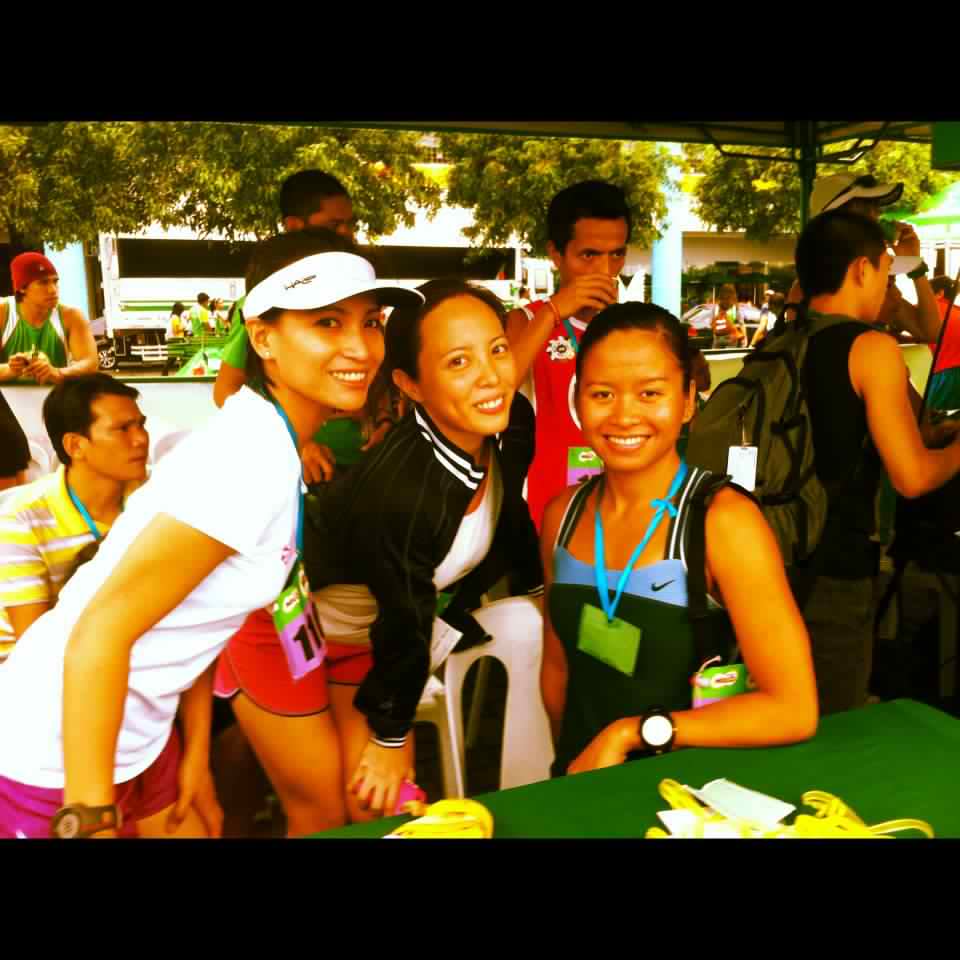 3rd, 4th, 5th: with my fellow podium finishers Keshia Fule and Ginalyn Tamayo
I may not ever qualify to be in an Olympic contingent, but at that point I think I may have felt a little bit of what drives our athletes to go faster, higher, stronger.
Another Olympic motto is: "The most important thing is not to win but to take part!" and this was exemplified by all the marathoners crossing the finish line. I spent some time after the race with some friends who had done the full 42K, pushing beyond their fatigue, pain, and frustration with no eye on any medal other than a finisher's medal. Tapos nakangiti pa sila, ha.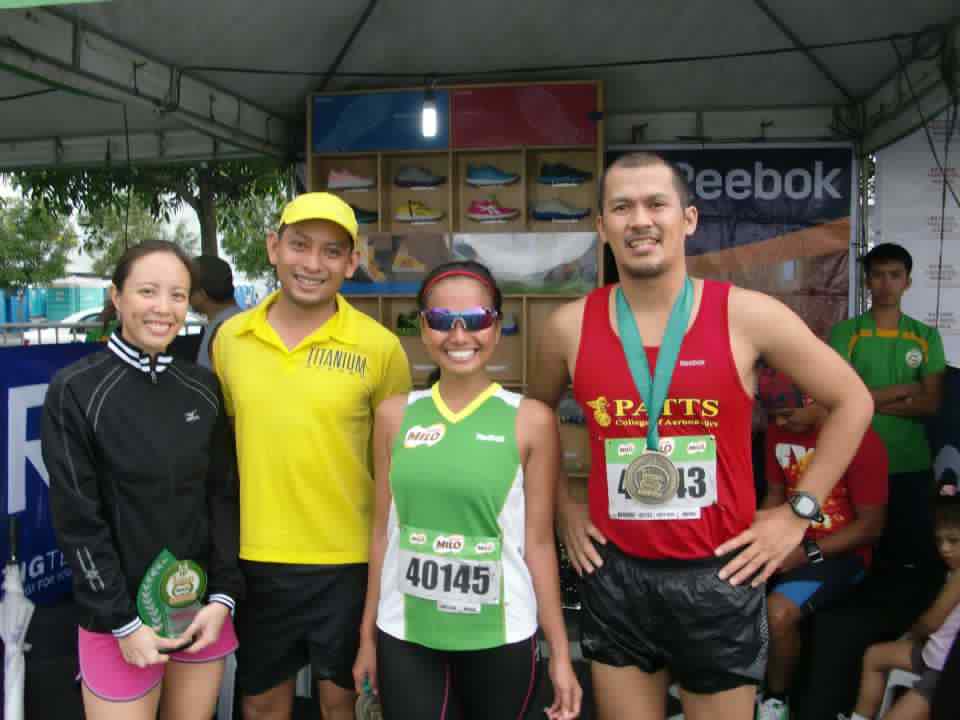 with Titanium Runner, Vicky Ras, and Beep Beep
I really do think the marathon finisher's medal looks like a better prize than my glass trophy. You're mine next year, medal!
Race in Review
Route: Since the race routes were AIMS- and IAAF-certified, they stayed the same as the previous year's (which I didn't run). The 10K route was flat as a board, but for some reason it felt downhill all the way even though it was an out-and-back course! I think that's what cool weather and proper pacing will do.
Traffic Management: They did a good job controlling traffic on the intersections, especially Macapagal and its Buendia intersection. Excellent planning to keep the 3K and 5K routes separate from the 10K, 21K, and 42K.
Hydration: I had been warned to bring my own hydration, but I could have done without it because there were plenty of water and energy drink cups at the tables. I still chugged on my bottle filled with Lightwater though, which saved me precious time because I didn't have to slow down to pick up a cup. I'm not sure if the large number of 10K runners behind me might have overwhelmed the tables but I do think there was less strain on hydration resources on our side of Roxas Boulevard because of the aforementioned route planning.
Package: Singlet, timing bib, fast course, good hydration, and being able to contribute to Milo's Give Shoes advocacy. Not bad for 500 pesos.
Freebies: I didn't really get the opportunity to go around the booths since I was sequestered with the other top finishers.
I can't help feeling sentimental about Milo Marathon since it will always hold a special place in my heart. This year's commercial tugged at my heartstrings even more since it showcased Mang Felix, who has been running at Milo Marathon for the last 30 years, even into his old age.
[youtube https://www.youtube.com/watch?v=tDVu9sa9ax4]
I overheard some runners complaining that they hadn't been able to meet the 21K cut-off and thus weren't given finisher's medals. One of them said, "Milo is one of the country's premier races. We're entitled to those medals." Well, actually, NO. The cut-off times were explicitly stated in the registration form, and the rules say if you don't finish before then, you won't be given a medal. I observed the organizers and applaud that they didn't buckle under those runners' complaints.
Know why Milo is one of the country's premier marathons? Because it challenges runners to train hard and race well so they can beat the cut-off times for each distance (which are pretty generous, may I add). It challenges runners to go faster if they want to qualify for the finals. Boston Marathon didn't become the Boston Marathon without its qualifying times. In the Philippines, Milo Marathon holds the same distinction.
I'm looking forward to my future Milo Marathon experiences. FOUR-AND-A-HALF KIKAY PINKIE FINGERS out of FIVE!