Health food buffs, please don't kill me as I reveal one of my dirty little secrets: I LOVE CHIPS! Potato chips, corn chips, crisps, puffs, all that we call "tsitsirya" in Filipino. I've been doing a better job of staying away from them than I used to in my college years (when I'd have a two-serving bag everyday, yikes!) but on my cheat days, there's nothing like a bag of cheesy chips to get the happy hormones flowing.
This weakness for junk food is what drove me toward fitness activities like running. So it isn't a huge disconnect for a snack food company like Regent Foods Corporation to sponsor a race for their 24th anniversary this August. The Regent Run also raises funds for the Philippine Red Cross' volunteer drive.
The Regent Run will be held on August 12 at Bonifacio Global City with the following distances: 100-meter dash (only for kids 0-12 years old), 3K, 5K, 10K, and 16K. Entry fees are P450 for 100m/3K, P550 for 5K/10K, and P700 for the 16K. Upon registration, you'll receive a singlet, bib, and a special edition Fun Run Saver's treat canister with 13 Regent products. Sorry, I don't have a picture of the canister because I ate some of the contents before I could take a photo. But I do have a photo of the singlet and the 16K finisher's shirt: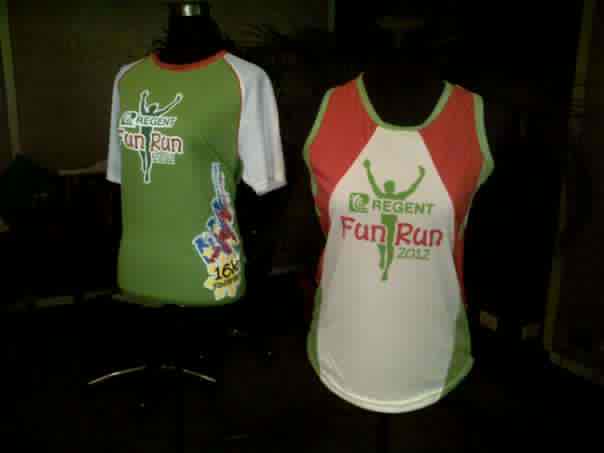 Singlet and 16K Finisher's Shirt
Aside from the finisher's shirt, participants in the 16K category will also receive a finisher's medal upon crossing the finish line.
I'm doing the 10K here; it's happening the week after my bike relay at Cebu Ironman 70.3. Since I'm revving up my run training again, I hope to get my 10K time under 50 minutes for the first time in more than a year. Hope to see you there! (Let's burn off the chips we've eaten, okay?)
Race: Regent Run 2012
Date: August 12, 2012
Venue: Bonifacio Global City
Registration Dates: June 22 – August 5, 2012
Reg Fee: P450 (100m/3K), P550 (5K/10K), P700 (16K)
Registration Sites: RUNNR (Bonifacio High Street); Robinson's Supermarket (Galleria, Pioneer, Ermita, Timog, BF Homes)
More Information: 641-5688; Regent Foods official website and Facebook page