If I had to be honest with myself, I'd admit that I haven't been running as much as I should. I think that's one of the reasons I don't sign up for races as often as I did last year. Thankfully I've been able to increase my weekly mileage and run intensity, which is why I felt fit enough to join the Brooks Run last Sunday at BGC.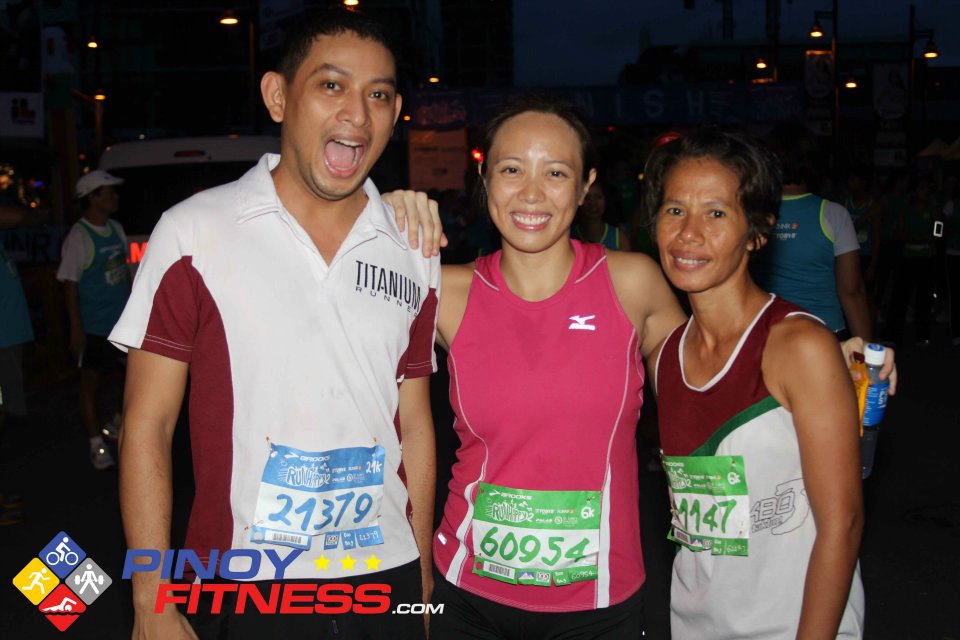 with Titanium Runner Blas Chanco and frequent podiumer Mherlz Lumagbas
This is the first time in months I've prepared quite well for a race. I went to bed early the night before (had to excuse myself from hanging out with good friends, huhuhu) and woke up with plenty of time to spare for a banana breakfast, a shower, and easygoing travel to the race venue.
I wasn't able to join last year's Brooks Run but was quite aware of the bad press it received. Because the logistics provider and organizer this time around was Proactive/Without Limits, though, I wasn't worried about late gunstarts, lack of hydration, and the other issues that had plagued the previous edition.
What initially made this race a great deal for me were the registration fees that ranged from P500 for the 6K to P750 for the 21K. Although the trade-off was manual timing instead of using a timing chip, runners got a sweet genuine Brooks singlet that they could proudly wear in future training and racing. In fact, when I arrived, I was very conspicuous in my pink Mizuno singlet because it seemed everyone else wore their bright blue Brooks race singlets.
At the starting line, all race categories received Gu energy gels, which was completely unexpected and very much appreciated. Jay Em from Proactive briefed each race category on their race route and reminded us to race wisely and keep safe. We also had a warm-up from a sponsor gym. Then, Brooks ambassador and aspiring triathlete Jennylyn Mercado fired the 6K gun.
I initially just planned on using this 6K race as a nice training run, but as I hit the first kilometer, I spotted Ate Mherlz on the course. During our race warm-up jog earlier, I had found out she did the Merrell Trail Adventure Run the previous day and was doing the Brooks Run as easy recovery. So I decided to match her pace. I didn't know she was going to pace me kicking-and-screaming to a 28:48 finish.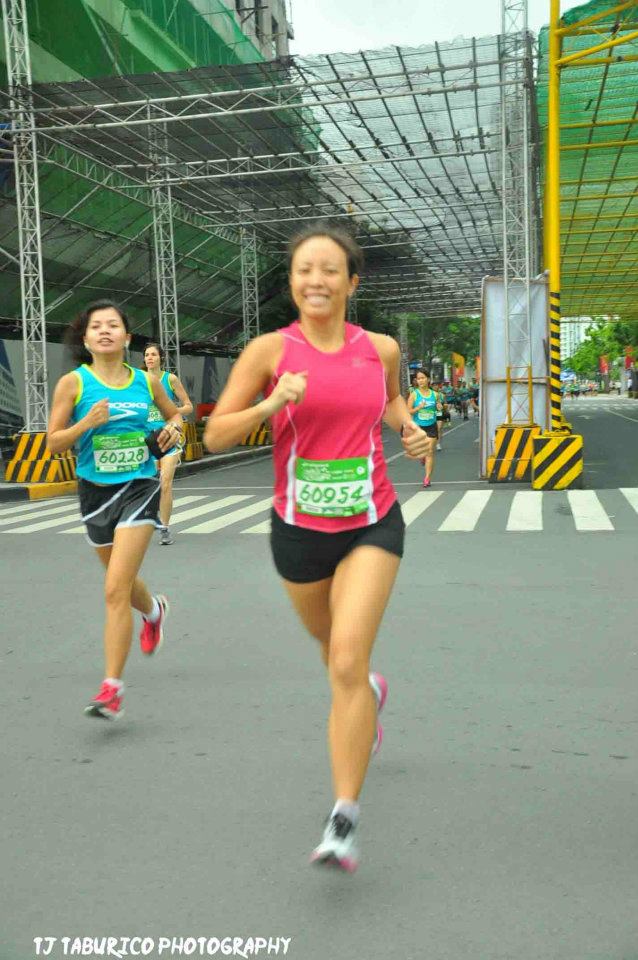 I could still smile for the camera, though.
Movement through the 6K race route was very fluid even though we merged with the 12K and 21K at some points. I liked that the longer routes diverged from ours for quite a while; it meant runners would spread out so one wouldn't have huge clusters of people to dodge. I also think that because of the non-standard race distances 6K and 12K, the runners that signed up were those who took running more seriously. As a result, I didn't see anyone wearing jean shorts and Converses during the race (unless they were the valiant volunteer marshals and photographers — thank you all very much for your hard work, by the way!).
A festive atmosphere greeted us as we crossed the finish line, and I thanked Ate Mherlz for keeping me company. I then met up with my Endure teammates, including Joel who was in town for a visit and managed to run two 21K races over the weekends he was here.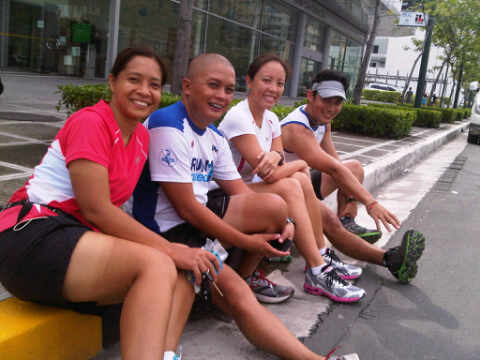 Time for breakfast! (photo by Carina Manansala)
Race in Review
Route: While I've probably run the British School-University Parkway combo many times before, I wasn't really looking for a new race route through BGC. Given that I already knew what to expect, would the route prove easier or harder than the last time I'd run these roads? The 6K was quite flat and fast; the women's winner took it in about 22 minutes! FBDC needs to do something about the potholes leading to British School though; those haven't been repaired for two years now.
Traffic Management: Tall signboards showed the way clearly for the 6K, although I heard the 21K signboards weren't set up quite as well. However, the marshals were on their toes and made sure every runner that passed their way took the correct route. It also helped that the bibs were color-coded so that even from far off, the marshals at the junctions knew which direction to point them to.
Hydration: Excellent to have Summit water and 100 Plus for the hydration tables. Ice-cold, too!
Package: Brooks original singlet, Gu energy gel, race results and detailed analysis in three days, a fun post-race activity area. Like, like, like! (Race results for me were off by only 10 seconds from my stopwatch — possibly the time it took for me to cross the finish line to the marshal who took my number.)
Freebies: There was food you could readily eat in the loot bag, which is great for post-race recovery if you couldn't get to a restaurant quickly.
Overall I'm very impressed with Brooks Run. I'm glad 2,128 runners were able to experience it with me, and I hope next year more will follow. FIVE KIKAY PINKIE FINGERS out of FIVE!
Liked this post? Share it!