You will have good races. And then you will have bad races. Proper training should increase your chances of having a good race, but on the day itself you never know exactly what will happen. So you try to control what you can: nutrition, equipment, fitness, mental state. Of these, the most fragile is mental state, at least in my experience.
And on the day before my race at the Animo Sprint Triathlon, I knew my mind wasn't all there. I know I'm in the proper frame of mind when I have a nightmare or two about the race (it means I'm taking the race seriously), but it was all pleasant dreams. Made me think I was deluded about how much or how little prepared I was about this triathlon, which I had done pretty well at last year.
I had put in a lot of time in the pool the entire month after SuBIT trying to drill proper form and increase my swim endurance. In particular, I was overrotating on my breathing side, throwing my body out of aquadynamic alignment and slowing me down. I had practiced keeping one goggle under the water while breathing, had learned how to breathe bilaterally to fix the rotation problem, had gone into the pool with a plan — which all went out the window when the starting horn blew and I got my goggles kicked off my face.
With everyone surging ahead of me, I hung onto the buoy line, refitted my goggles, and tried to catch up. When under stress, habit takes over and apparently I hadn't drilled my bad habits out.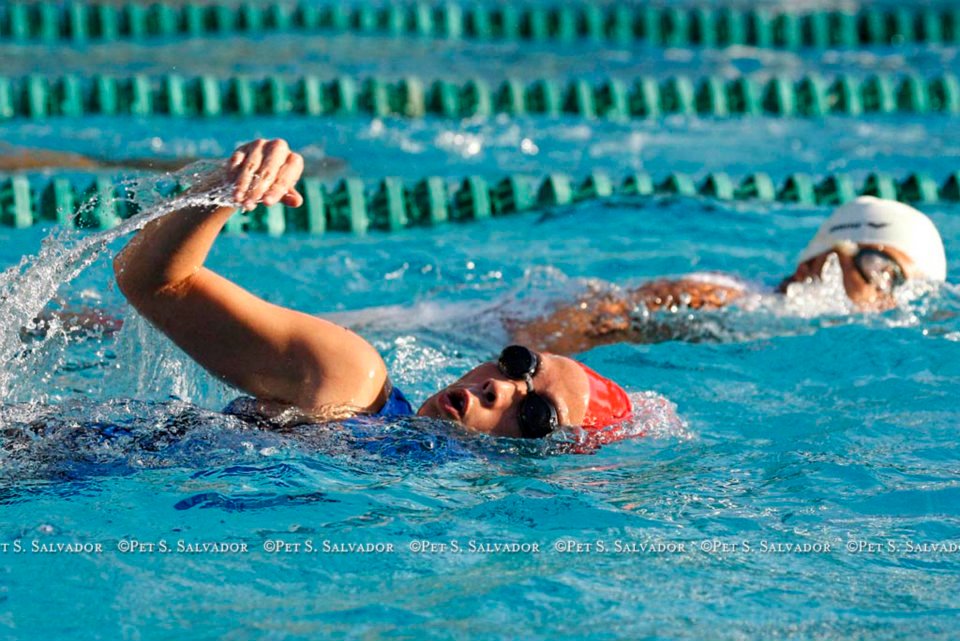 Ugh, two goggles out.
Additionally, being stuck behind swimmers with slower paces also meant I either had to expend energy to overtake them (and there was a lot of jostling and maneuvering going on to prevent that from happening), or swim at their pace. I was halfway through my first round in the pool — we had to do three — when my mind said, "Let's quit!" It took all the willpower I could muster to keep going.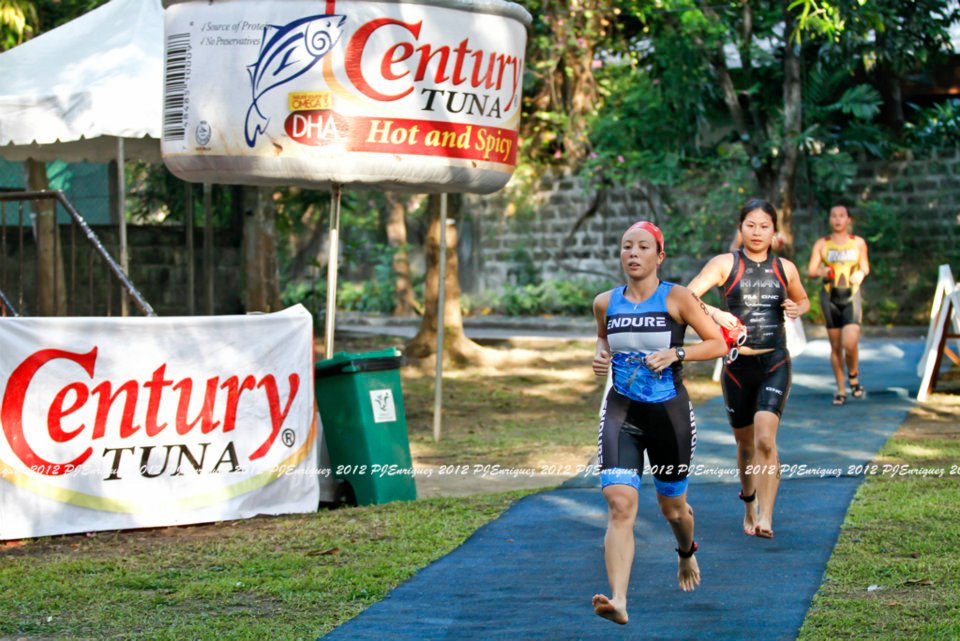 hightailing it to Transition 1
By the time I clambered onto my bike, I just didn't feel like a race frontrunner. The killer instinct I had in SuBIT which had me overtaking the women I encountered on the course just wasn't there that day. And I had to face the fact that there were a few other women who wanted it more that day; they overtook me on the second of four laps of the bike leg.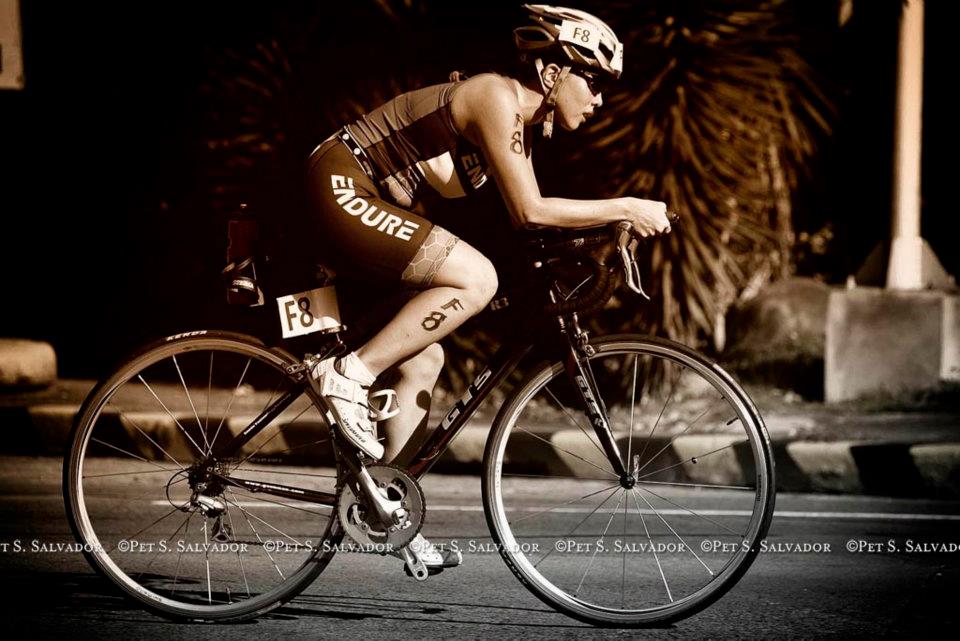 Legs, Y U NO WORK?
Finally on the run I was able to get a little of my competitive fire going again. I overtook two of the women who had outbiked me. Unfortunately, I couldn't catch the eventual 4th placer who did very well on the bike and crossed the finish line five minutes ahead of me.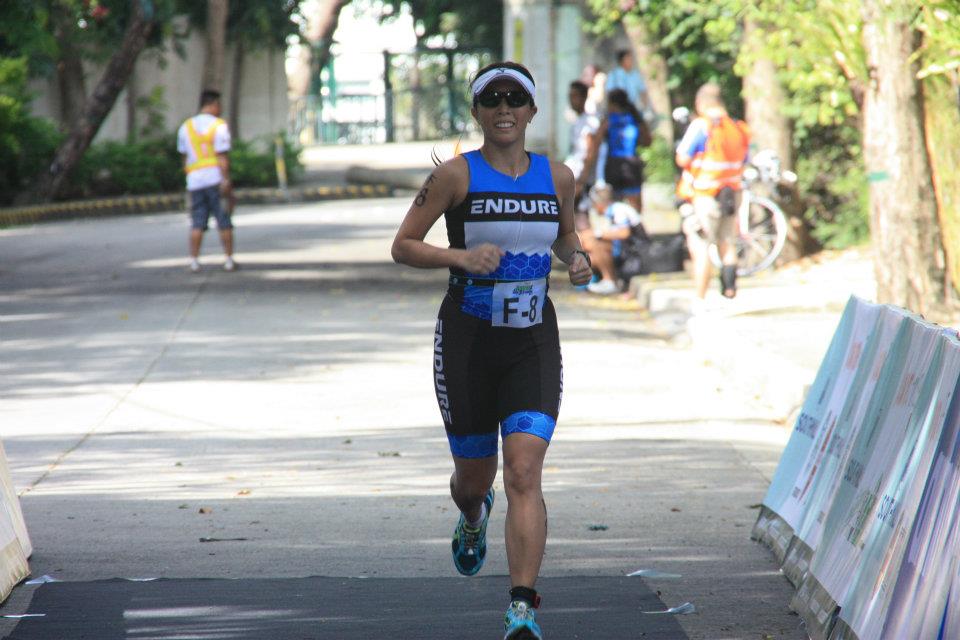 strong finish, at least (photo by Joy Vargas)
Looking at my splits, I did consistently worse at everything this year compared to last. I know I did well against the field of competitors this year, but when your expectations are set high by previous experience, it's hard to make your mind and emotions understand that you can't win them all, especially on only six hours total of triathlon-specific training a week.
I kind of miss the time I was just a runner and not a triathlete. I didn't have to worry about how much training I did per discipline; I only had to lace up my running shoes and take off. I miss feeling well-prepared during run races, consistently knocking off sub-50 minute 10K's.
I may be preparing for the bike leg of a Cebu Ironman 70.3 relay team, but I think this was a wake-up call to rededicate focus to something I really excel at.
See you at the run races again, soon.
Liked this post? Share it!