I've been experiencing severe Boracay fatigue; after traveling to the island an average of three times a year for the last two years, it felt like I was doing just way too much partying and not enough relaxing and enjoying the beach.
So at the beginning of this year, I made a resolution not to go to Boracay at all…
…And then SkyCable got in touch offering a slot at Skyathon. I'm such a sucker for the beach, and races. Beach AND race? How could I say no? Ü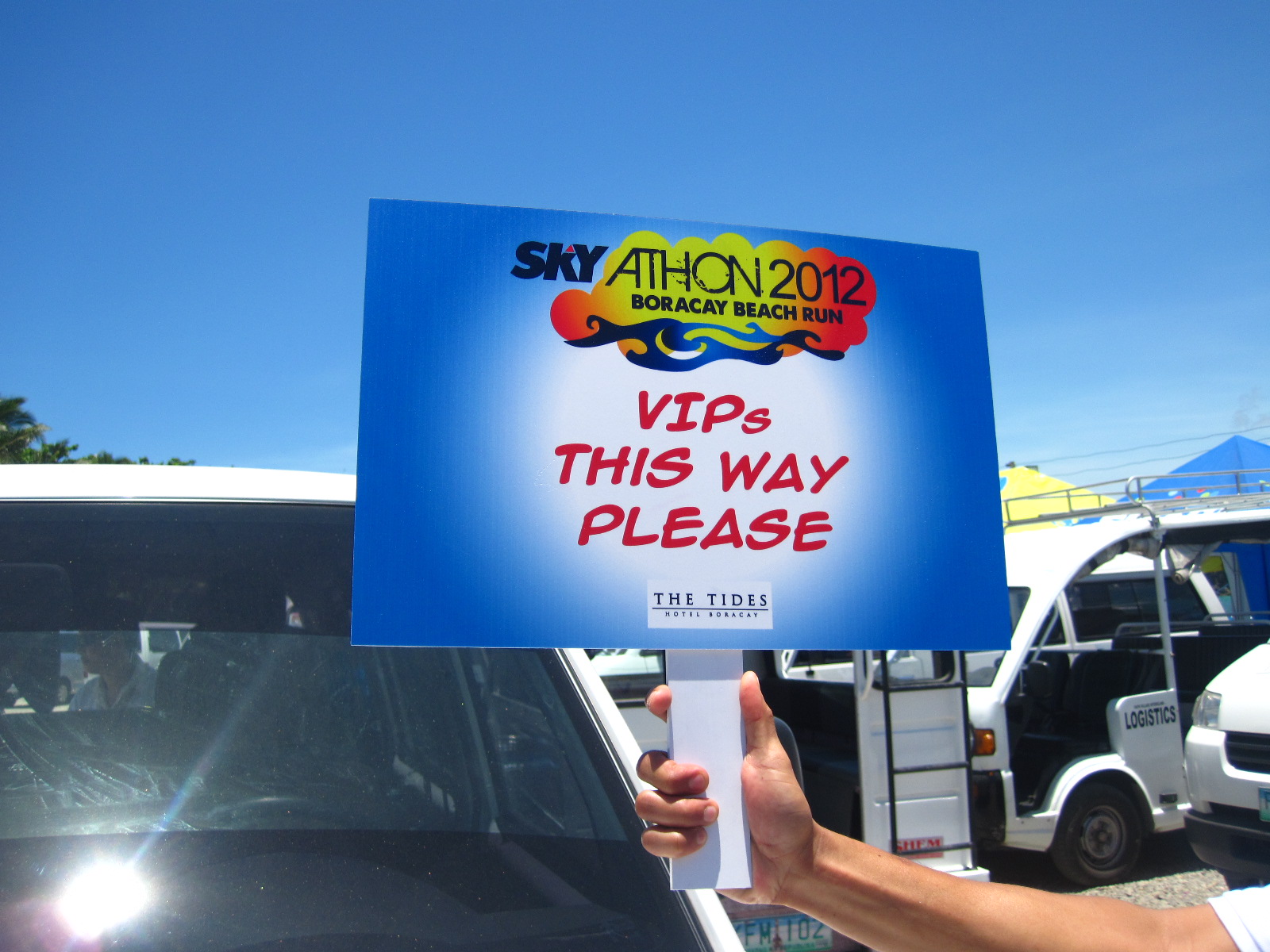 So after a year's hiatus, I again found myself standing on the shoreline of the world's second best beach at daybreak on one April morning (the 21st, to be exact) waiting to run another 5K on no sleep.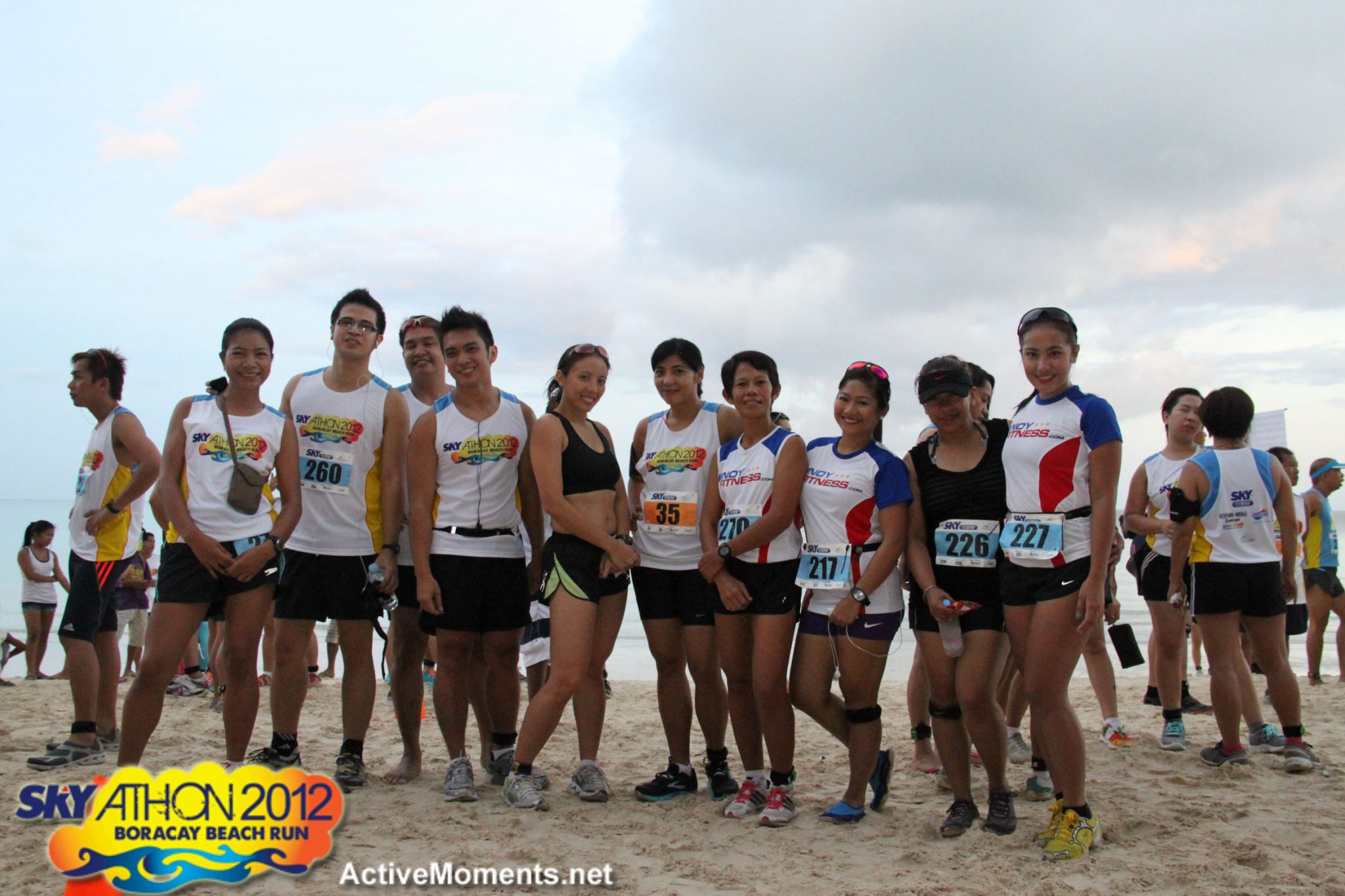 with other runners from Manila
This was not the turnout from the 2010 edition. The organizers told me that Skyathon attendance had steadily increased every year. During the inaugural run, I had said I wouldn't have registered for the race if I hadn't already planned to be on the island anyway. Last year and this year, people traveled to Boracay specifically for the race. 🙂
After nearly falling asleep waiting for the gunstart in front of Epic, I was finally off with several hundred runners pounding the sand, and on occasion churning the surf.
barely holding myself together
I didn't feel as stellar as I had two years ago, and another girl who was better rested and better trained sped her way to first. I managed to hang onto second, then fell asleep in my hotel room while the awarding ceremonies went on without me. It was okay; I had done my run and still had the rest of the day to lay about on the beach and swim in the clear cool water (such a relief not having to worry about jellyfish!). And, of course, I got to watch a beautiful sunset, which is my favorite part of being in Boracay.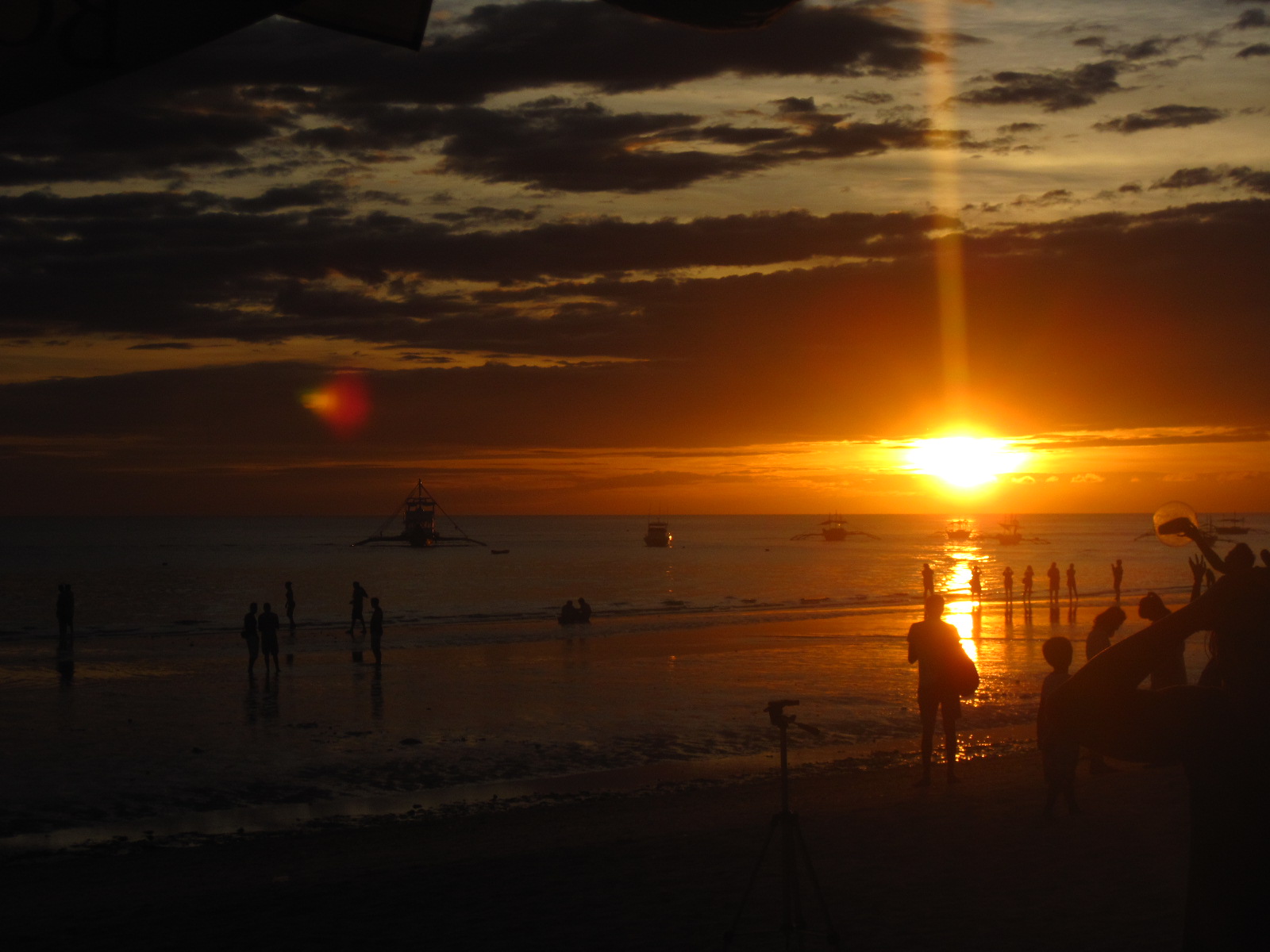 the end of the day and beginning of the par-tay
The sunset wasn't the end of Skyathon activities, though. The victory party at Juice Bar was a way for fellow runners to kick back and let their ponytails down. Early attendees were given golden party favors to wear, and I chose to go totally blonde.
with my roommate Ceres from Takbo.ph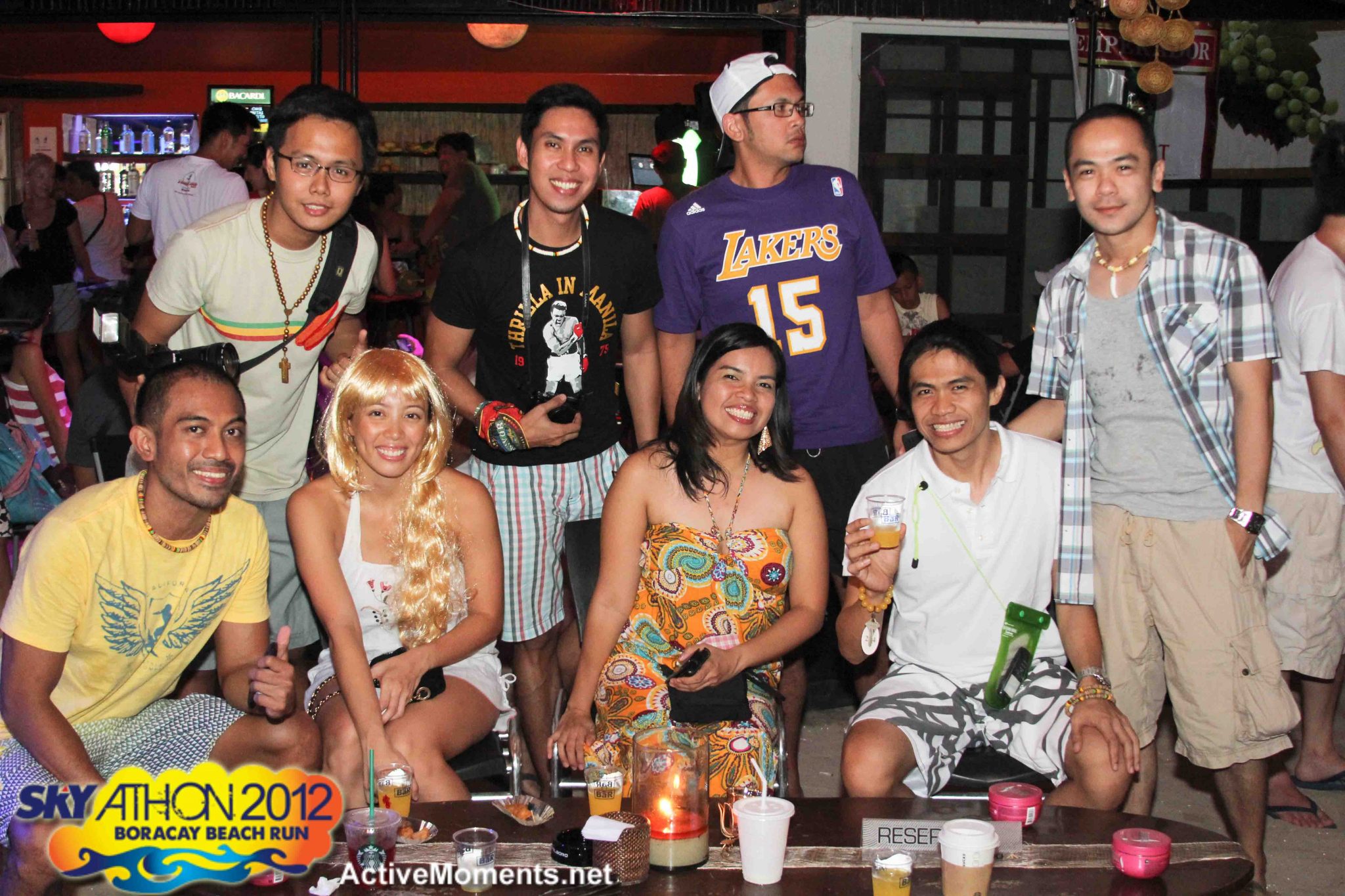 fellow runners and bloggers
Race in Review
Route: This was a loop course — 5K runners would do one loop, 10K runners two. From Epic, the route took us to a U-turn at Station 1, another U-turn at Station 3, then back to Epic at Station 2. Being a beach and surf run, this meant slipping and sliding on the white powdery sand, sometimes getting our shoes drenched in an incoming wave, and running on a canted surface. After the race, my legs were aching from the extra exertion.
Traffic Management: The race was directed by Finishline. There were ample marshals, cones and signs to let runners know which way to go. Loop courses can be confusing, but as long as you kept your ears and eyes open you couldn't get lost. Number of participants was also manageable, so there were no logjams at the u-turns. I'm glad that the profile of running and this event has risen so much that people on the shoreline courteously moved out of the way for oncoming runners.
Hydration: Maybe I was half-asleep through the whole run but I only noticed one water table. I didn't need much for my 5K run, though. 100 Plus was served only after the race.
Package: Obviously, this race at P600 for a 5K cost twice as much as its 2010 edition. Change in logistics provider from TRAP to Finishline, use of a reusable chip for automated timing, guaranteed finisher's medal, and more marketing fanfare for the race may have contributed to the fee increase. P600 is par for the course for most races these days but I think access to the fun Skyathon parties — the kit claiming party and the victory party — was good value for money if you like partying in Boracay. Onsite registration was at a whopping P1,000, which I think was counterproductive if they really wanted to attract more participants already on the island who wanted to run because some celebrities would be gracing the event.
This was a well-organized destination race and I'm happy to see participation in it growing. Hopefully next year, I'll have better sleep pre-race and they can work out some of the kit claiming difficulties (chip rental at P250 vs. refundable deposit at P1000). And then we can really set the island on fire. I give this race FOUR KIKAY PINKIE FINGERS out of FIVE.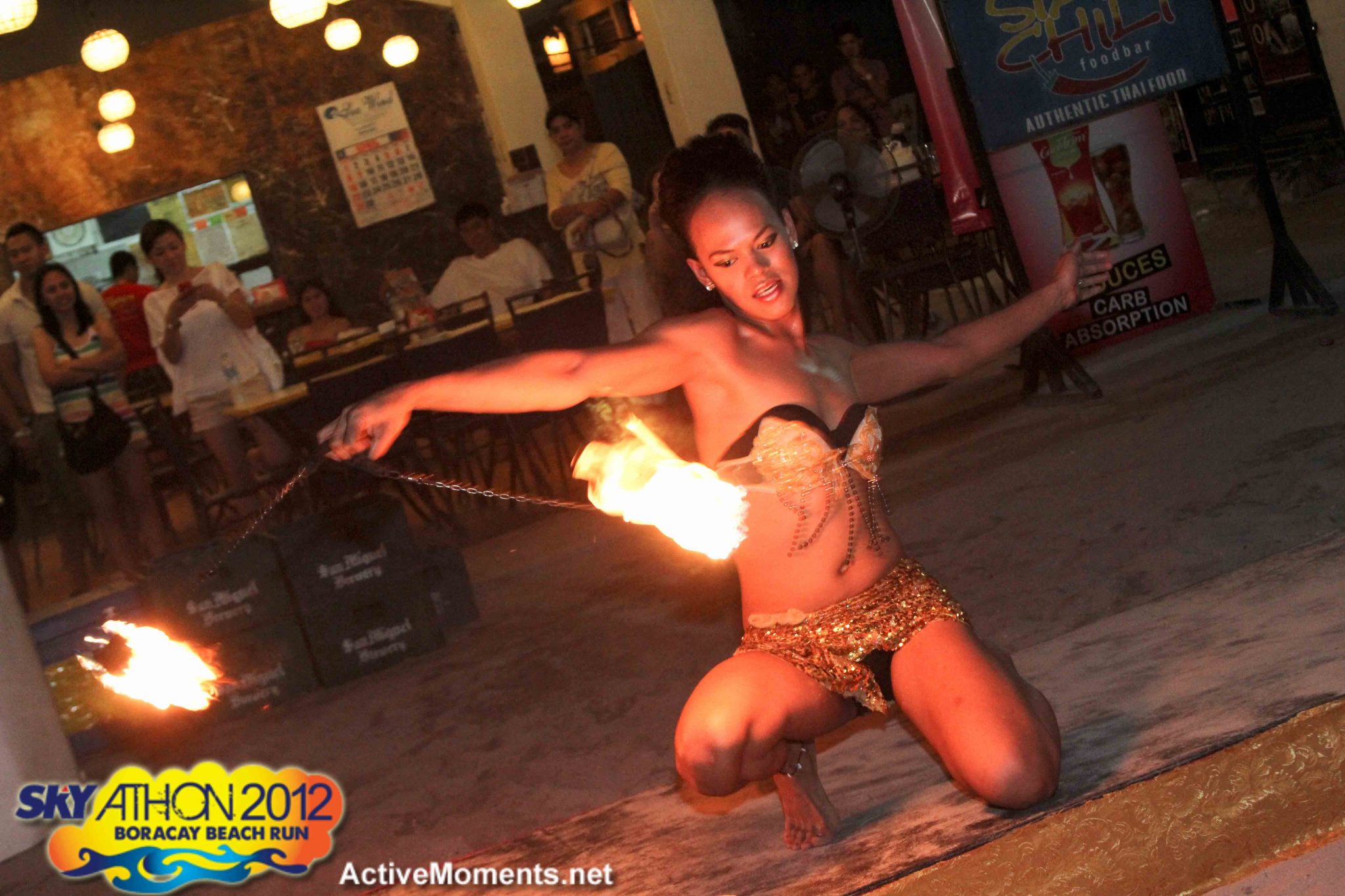 See you next year!
Liked this post? Share it!