When was the last time I ran with music in my ears?
Kikay Runner's 2010 Look
It's been a really long time — in fact, that photo must have been the last time I ran with earphones because the week after that, I started training for my first marathon and wanted to accustom myself to having no mp3 player.
Another reason I haven't run with music: most earphones just don't stay in! The earphones I'm wearing in the photo above kept falling out despite their over-ear hook. So when Gianina Dayrit from Cascos Inc. offered to send me an earphone product guaranteed not to fall out, I was immediately intrigued.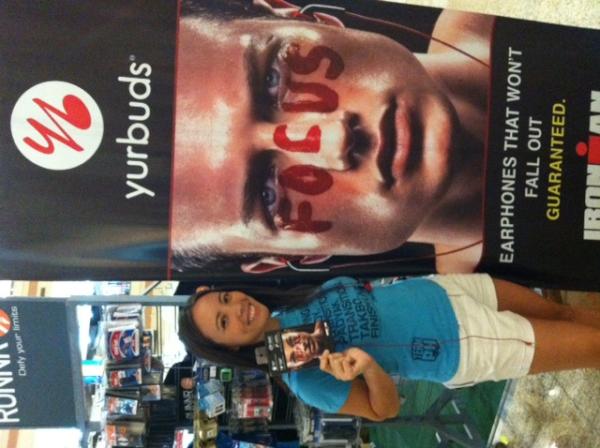 photo by Gianina Dayrit
Yurbuds Sport Earphones were created by an Ironman triathlete, a 24-time marathoner, ear experts, and ergonomists. This means they are designed specifically for endurance athletes who need to keep their earphones comfortably in place for long periods of time. Gianina's husband Maiqui encountered Yurbuds when he competed in Kona, Hawaii at the Ironman World Championships last year, and he liked the product so much he became a distributor for Yurbuds in the Philippines.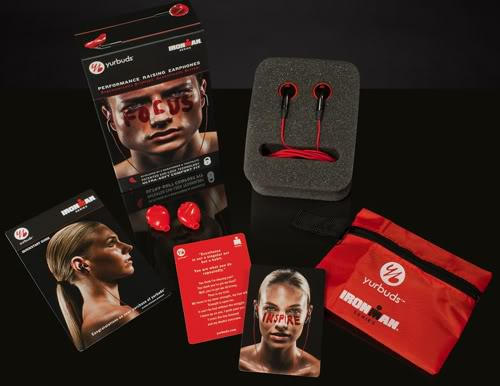 Yurbuds Ironman Inspire
Each box contains a pair of earphones capped with the ergonomically designed buds, an extra pair of (larger) buds, and a red pouch to hold everything.
There are four models available: Ironman Focus (P1,500), Ironman Endure with an over-ear hook (P1,500), the Ironman Inspire with red earphones and buds (P2,500), and the Ironman Inspire Pro (P3,000) designed with a mic and volume controller for use with iPhones and iPods. If I had a limited budget for sports earphones, I'd go for the Ironman Focus or the Ironman Endure, which reviews online say offer the same build quality as the Inspire (except not in fierce sporty red).
I took my Yurbuds Ironman Inspire model out for a one-hour run with Eat Pray Run's Francis Razon a few weeks ago, and I'm happy to report that, yes, they do stay in! The silicone earphone cover (which is basically what goes into your ear canal) fit so well as if they were made specifically for my ears. Sound is piped directly into your ears, so quality is great, but make sure to keep your music turned down low so you can still hear your surroundings. I met Gianina and Maiqui at the RUNNR ATC launch, and Maiqui says he keeps one bud out when running on the streets.
Now to shop for an mp3 player again and fill it with my favorite running songs…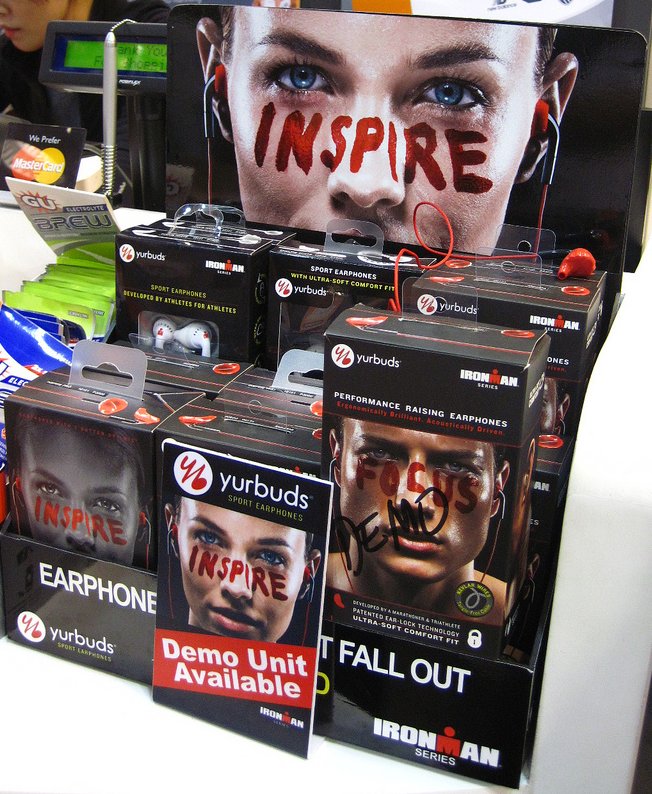 Yurbuds are available at: Planet Sports, RUNNR, Rudy Project, Chris Sports, Power Mac Center, The A Shop, Mobile One, IGig Center, Switch, Gadgets in Style, Riovana, Electronics Boutique, The Brick, Primo Cycles, Planet Gadget, Second Wind, Thunderbolt and Sabak.
Liked this post? Share it!