I was supposed to do the Ateneo Aquathlon last year and had already registered for it when it was rescheduled, conflicting with another race I was attending. So this year I pounced on the opportunity to do it.
Most runners entering the world of multisport try a two-discipline event first, such as a duathlon (bike and run) or aquathlon (swim and run). My experience was otherwise because I went into the full three-discipline event, the Speedo NAGT Ayala Alabang in 2010. I rely heavily on fast bike and run splits, so I was curious how I would match up to the rest of the field if one of my strengths were taken from me.
So on 4 March 2012, I found out.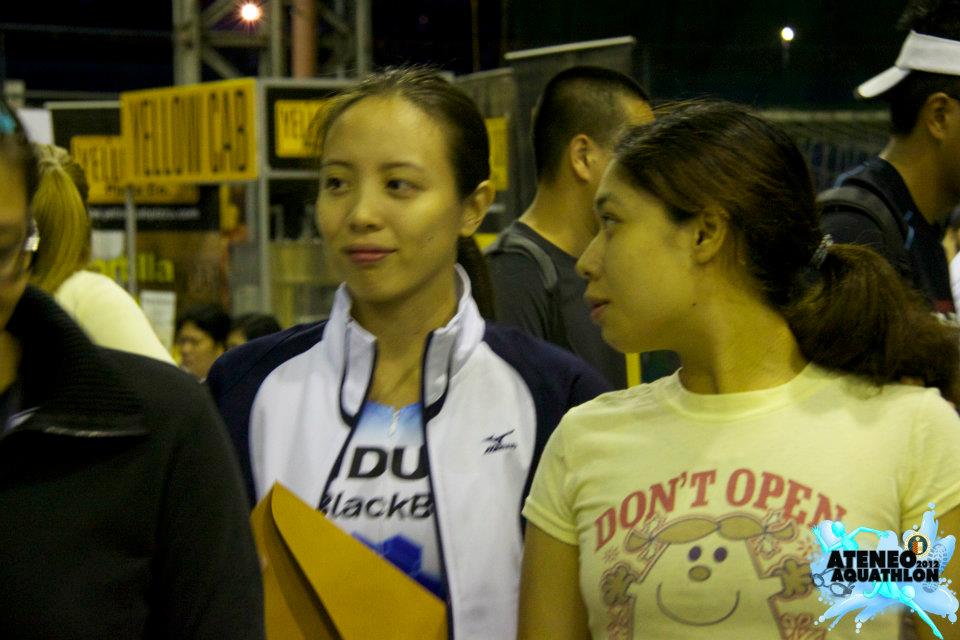 Why do I look like I'm scheming here?
My Endure teammate Hanna in the photo above was in a younger age group; a former member of the De La Salle swim team, her swim split is formidable. Me? I think I'm better at a ballet split. 😉 The Classic category I was competing in consisted of a 600-meter swim followed by a 5-kilometer run. It seems I enjoyed my offseason a little too much because I had only returned to the water the week before during a tri camp (more on that in my next post). Thankfully, the Ateneo college pool is 25 meters, the same length as the pool at my condo where I did some last-ditch cramming three days before the race.
I had about a 30-minute wait until my age group wave was called. Within the age group, we also had two heats (X and Y), which meant some women (heat X) would have a 30-second head start on us (heat Y). The difference would supposedly be reckoned out when tallying the final results.
With no swim warm-up, we hopped into the pool, then five seconds later were given the go signal. Three times through the pool this would be (200 meters each time), then a quick transition into running shoes.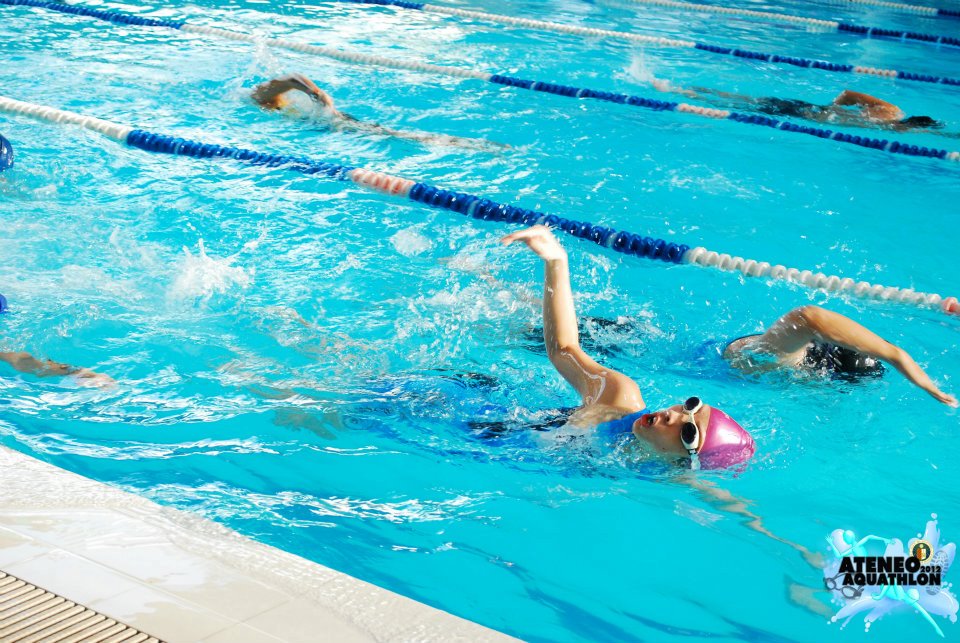 not the most efficient swimmer
I'd forgotten to bring a watch with me to record my split times, so I decided just to give best effort and keep pushing. Bahala na kung mawasak. To my surprise, I caught up with the tail end of Heat X. Another surprise was when I had the courage to dive headfirst into the pool for my second and third rounds. I exited the pool in sixth place overall (I think).
The most difficult part of the Ateneo Aquathlon is the run route. From the pool area, you need to run up a steep hill to get to the main road, and all throughout it's a rolling course. With no bike leg where I could play catch-up, I needed to pour out all my energy on the run.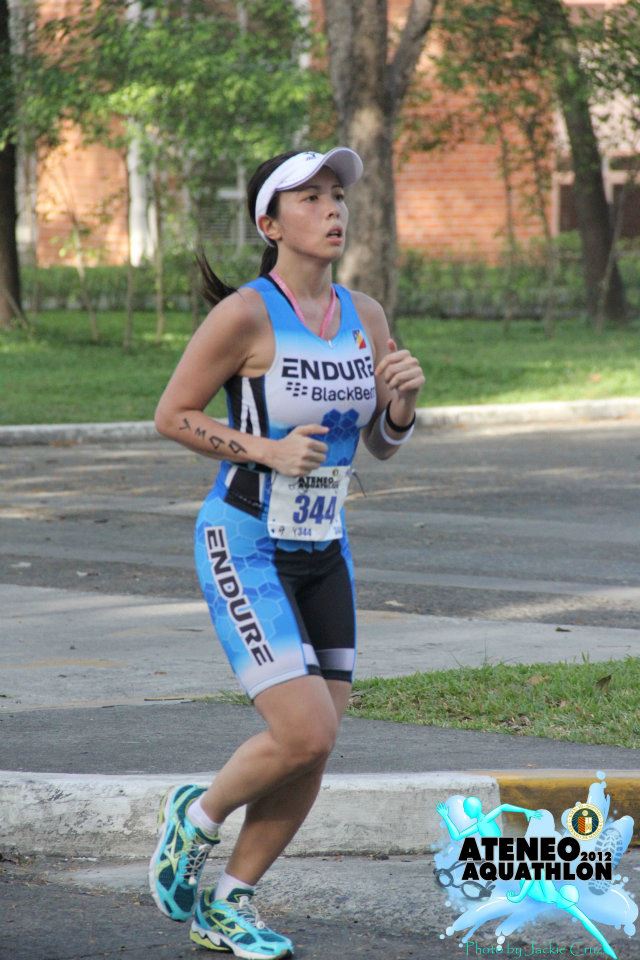 Sooo thirsty!
I overtook a number of women runners, so by the last few kilometers, Mara Guevara from Timex-TMM told me that I had a chance at second place if I could catch the woman ahead of me.
Well, I didn't, but thought I might have managed a third-place finish. In any case, I also needed to stick around because Hanna had finished her race and it looked like she'd come in first place. It took an hour or more for the awarding to commence. To our surprise, Hanna was given second place in her age group, and I was given first place.
We left rather quickly after the awarding despite the fun mechanical bull-riding game going on post-race because we were starving! It was only in the afternoon, when I was browsing Ateneo Aquathlon photos, that I realized something had gone horribly wrong during the reckoning of the results, and I'd mistakenly been awarded the wrong prize. I emailed the aquathlon organizers quickly and volunteered to return my prize, and they emailed back to say they had a mix-up and would be releasing the list of winners. On the new list, I was in third place. In fairness to them, they wanted me to keep the prize I had been awarded, just so I wouldn't be inconvenienced with returning it. (Of course, I and many others did anyway.)
The aquathlon was a different experience to triathlon, but still plenty of fun. If you're thinking of getting into multisport but don't yet have a bike, learn to swim and then join events like the Ateneo Aquathlon so you get a feel for the community. 🙂
Liked this post? Share it!