OUTBREAK NOTICE: Zombie Infestation in Filinvest, Alabang

What is the Current Situation?
An outbreak of unknown origin has been ongoing in Filinvest, Alabang, since November 2011. Human cases have been confirmed near Palms Country Club. Despite systematic efforts to control the infection, the outbreak is continuing, with the progressive zombification of most members of the Army-Navy South Tri team.
How is the Zombie Infection Spread?
It is almost always spread by a bite but can also be spread when a zombie's saliva gets directly into the eyes, nose, mouth, or broken skin. The primary sources of human infection worldwide are humans who have been transformed into zombies. Read "How can participants protect themselves" for more information.
How can Participants Protect Themselves?
Consider stepping up your speed and agility training.
On race day, April 21, at 5pm, participants of The Running Dead will be released in waves of 100.
Each and every participant will begin the race with Life ribbons/flags.
The participants will run a 7k on-and-offroad obstacle course of rugged flats, inclines and obstacles infested with zombies who are out to capture your Life flags.
Your objective is to finish the race with at least one Life flag intact to qualify for race honors and/or a special loot bag.
If you lose all your Life flags you are ineligible for place prizes.
Racers are not allowed to push, punch or taunt zombies; zombies are not allowed to touch or push a racer.
Marshals are on the course to enforce a no rough-housing rule.
All participants have free entrance to the Running Dead after party.
What Kinds of Zombies Are There?
Walkers set the tone of the course. They shuffle and moan and move slowly and only grab a flag if you're very close.
Startlers hide near obstacles and grab flags at bottlenecks on the course.
Runners ensure that no one reaches the final stage with all flags intact.
Elite members of the national team will make sure that your finish line sprint leads to a personal best.
What Do Survivors Get?
1st male & female: P10,000
2nd male & female: P5,000
3rd male & female: P3,000
All qualified finishers keep their brains and get a loot bag and shirt
Proceeds from the race will go to four (4) deserving graduates of the Super Tri Kids program run by Coach Ani de Leon. With so many young athlete hopefuls in any sport in this country, many fall through the cracks after their junior training status. The goal of this race is to keep these high-potential kids in training and progressing in the sport. (Hopefully they'll end up eventually representing the country in international races as national athletes.)
Coach Dan Brown says, "This sort of private funding help is what is so desperately needed to assist junior development of triathlon in this country and keep these athletes in the right capable hands during this time… I am very excited to see the smiles on the kids' faces when they are given this opportunity!"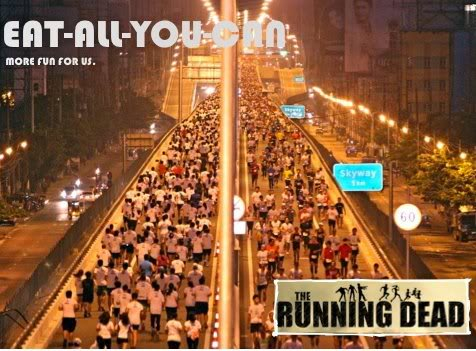 Race: The Running Dead
Save the Date: April 12, 2012
Assembly Time: 5:00pm at Filinvest, Alabang (Palms Country Club)
For Updates on Reg Fee & Reg Sites: The Running Dead Facebook page and The Running Dead on Twitter
Liked this post? Share it!