Today's February 28, which means that in two days' time it'll be the month of March and the official start of summer here in the Philippines. And for many people, that means a summer vacation at the beach is called for!
This is what I was doing two summers ago:
sleepy at the Skyathon 2010 pre-race briefing
Whenever I'm in Boracay, I try to find time to do a morning walk or run along the beach. I love taking it all in, from Station 1 to Station 3, before the tourists wake up, and running's the perfect way to do it. I've gone to Boracay every year since 2006 and I've seen the shoreline change, for worse or for better. I've seen it clean and smooth, I've seen it strewn with litter and algae. I knew there must be some way I could do my part as a frequent tourist to the island.
I ran at Skyathon 2010 because I happened to be vacationing in Boracay on the same weekend the race would be held. I had also heard that some proceeds from the race would go toward a beach clean-up fund, and race participants would be encouraged to clean up the beach after the race. The organizers of the Skyathon kept it up with a bigger race last year, and this year they invited me to experience Skyathon 2012.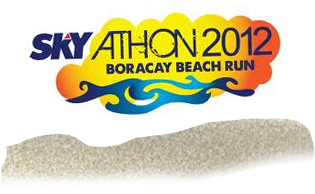 Info from the Skyathon website:
SKYATHON is a 5K and 10K running event that will be held in Boracay Island on April 21, 2012 (Saturday). It's on its 3rd year and is one of SKYCABLE's signature events. It's an eco-friendly race where Finishline's Green Chips will be used, and part of the registration fees will go to the clean-up programs of Boracay Foundation, Inc.
Registration fee is similar to Manila races, especially since logistics are handled by Finishline. For 5K, it's P600. For 10k, it's P700. There is also a couple's relay (romantic and platonic couples) at P1,000. Two runners will team up and run 5K one at a time using the same Green Chip.
Race kits will be released on April 20, the day before the race, at Epic beachfront, D'Mall, Boracay from 3pm to 7pm. All race kits will have a race bib and singlet. Singlets are available in 6 sizes: Small, Medium, Large, Extra Large, and 2XL. These will be available until supplies last.
Participants who already have the MYLAPS Championship Green Chip (used at the Finishline-organized AXN Runs) can use that as their timing device. Non-owners may choose to buy their personal Green Chip with ankle strap at Php400 or rent a timing chip at Php250. All finishers will receive finishers' medals.
You can register at R.O.X. Bonifacio High Street on Saturdays and Sundays only, from February 4 to April 1, 2012. Online registration (via credit card) is available on www.skyathon.com. If you haven't made travel arrangements yet, the Skyathon website also has some great airfare and hotel deals offered at 0% installment.
There's also an early registration promo. If you register before March 15, you become eligible to win one of ten American Tourister bags (worth around P7,000 each).
So if you were already planning on going to Boracay this summer anyway, why not make a race weekend out of it?
Race: Skyathon Boracay Beach Run 2012
Date: April 21, 2012
Assembly Time: 5:00am at Epic beachfront
Reg Fee: P600 (5K), P700 (10K), P1000 (10K couple's relay)
Registration Sites: R.O.X. BHS (Saturdays and Sundays only), online registration