When I say Speedo, what comes to mind? Is it an image of a man in skimpy trunks a la LMFAO's "Sexy and I Know It"? (Wiggle, wiggle, wiggle, wiggle yeah!) Okay, sorry to induce that mental image. 😀 The name "Speedo" is globally synonymous with swimwear and water sports. As a triathlete, I can't miss Speedo's involvement in the first leg of my sport when every National Age Group Triathlon in the country gives Speedo swimcaps to its participants. (Speedo even introduced its TriathElite trisuit line in the Philippines last year.)
So when OneSport Magazine invited me to attend the Speedo Spring/Summer Collection show two weeks ago at Bonifacio High Street Amphitheater, I jumped at the chance to see what new swimwear and innovations they would introduce.
with national triathlete Nikko Huelgas and my teammate Z Villarin
It was a humid night due to the heavy rains earlier in the day, but plenty of people stayed to watch a never-ending stream of models walk the ramp clad in the season's upcoming swim fashions.
eyecatching one-piece suits
sporty two-piece suits
I use Speedo one-piece suits if I'm doing swim training. During tri events, I use the top of their two-piece suits under my tri suit. Looks like I'll be adding some new swim gear to my wardrobe this season.
Speedo outfits the Philippine national swim team, and that night they debuted their new FastSkin 3 suits, goggles, and caps which they will be wearing to all their local and international meets.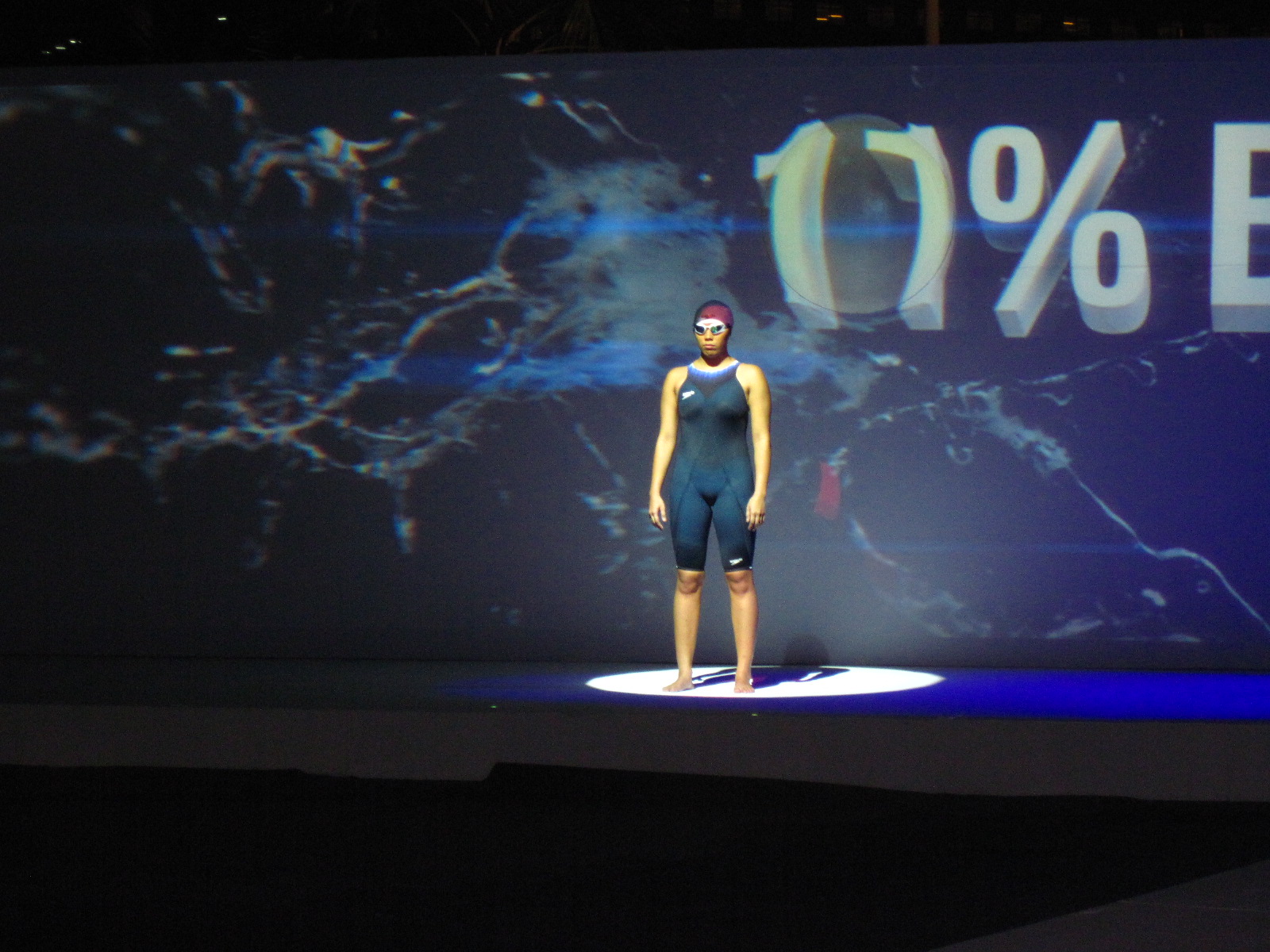 looking fierce
With the FastSkin 3 system, the three elements of a swimmer's wardrobe have been engineered together to form one system designed to improve efficiency, comfort, and ultimately performance in the water.
[youtube=http://www.youtube.com/watch?v=92tPRrXThMQ&w=500&h=315]
I'm not sure what the price point of the FastSkin3gear is, but I love how fierce the goggles and swimcap look. Like every triathlete I know who's got "upgrade-itis", we're in search of that one bit of equipment that can make us go faster. I'm putting the FastSkin3 goggles and cap on my wish list this year.
Liked this post? Share it!