Happy Valentine's Day! Every runner knows that our sport is good for the health. I've got some races here that will benefit not just your health, but other people's health, too.
Read on and you might just snag a free race kit to any of these races!
Pilipinas Darating Ako on February 19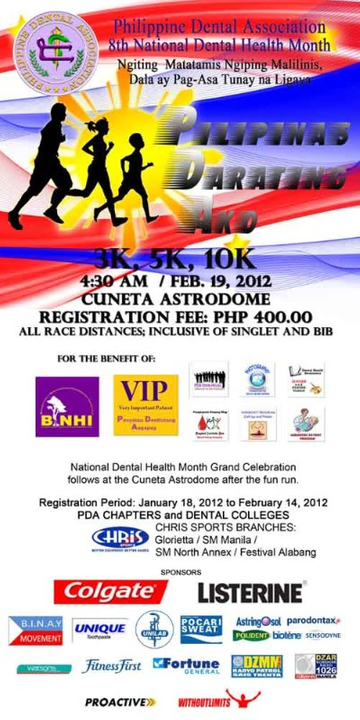 In celebration of National Dental Health Month, the Philippine Dental Association is holding a fun run called Pilipinas Darating Ako on February 19 at Cuneta Astrodome. The race will also raise funds for the PDA's projects: BINHI (Bawat Isa Nangangako Habangbuhay Iingatan), a reforestation program, and the VIP (Very Important Patient) program that sends dentists on dental missions. Registration fees are at P400 for all categories (3K, 5K, 10K) inclusive of singlet and bib.
Race: Pilipinas Darating Ako
Date: February 19, 2012
Assembly Time: 4:30am at Cuneta Astrodome
Reg Fee: P400 (3K/5K/10K)
Registration Sites: PDA chapter building (Ayala Avenue Extension cor. Kamagong Street, Makati City beside Makati Central Police), onsite registration
St. Luke's IEI Eye Run on March 11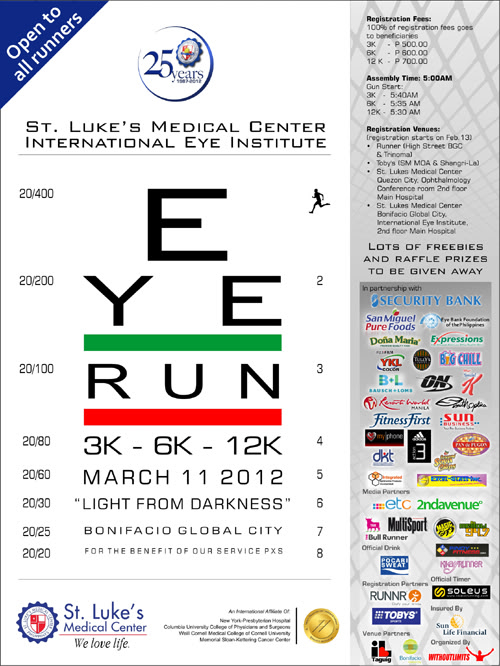 I first became aware of the Eye Run at the Todo Responde Run where they had a booth. When I did my research on eye disease in the Philippines, I discovered that an estimated 500,000 people are blind, and many more have a visual impairment to some degree. (I actually can't run without my contact lenses; my myopia's so severe I might fall into a ditch without even seeing it.)
The leading cause of blindness in adults is cataract, which is easily and effectively treatable. But because of the cost of treatment and lack of access to it especially in the rural areas, many go without treatment and live their days in increasing darkness.
The St. Luke's IEI Eye Run on March 11 at Bonifacio Global City aims to raise funds for St. Luke's service patients — charity cases that need to be operated upon. Registration started yesterday, February 13. Reg fees are P500 for 3K, P600 for 6K, and P700 for 12K. What's special about this fundraiser is that 100% of the registration fee goes directly to the cause. So yes, the organizers and sponsors don't make a single peso off what you pay for the race!
Race: St. Luke's IEI Eye Run
Date: March 11, 2012
Assembly Time: 5:00am at Bonifacio Global City
Reg Fee: P500 (3K), P600 (6K), P700 (12K) — 100% of reg fees goes to the cause
Registration Sites: RUNNR (BGC & Trinoma); Toby's (SM MOA & Shangri-La); St. Luke's Quezon City (Ophthalmology Conference Room, 2nd Floor), St. Luke's Global City International Eye Institute (Main Hospital, 2nd Floor)
1, 4, 3 Go! Run for Philippine Heart Center on March 18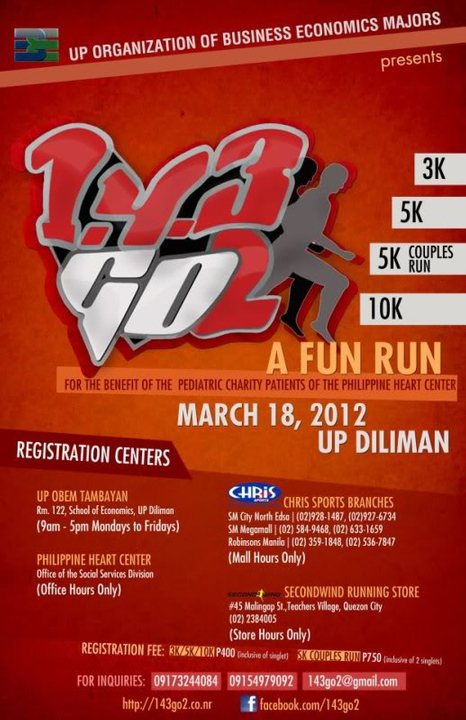 The Philippine Heart Center is a government hospital specializing in treatment of heart disease. The Social Services Division of the PHC is overloaded with requests for financial assistance, but of the 33,000 who inquired last year, only 2,514 were serviced. While many of these are adults, did you know children can also experience heart ailments? (Talk about heartbreaking.)
Love is sweeter the second time around. The 1, 4, 3 Go! Run is on its second year; last year it raised P92,500 for charity pediatric patient operations and an outpatient pediatric play room, which isn't bad at all considering University of the Philippines students (from the UP Organization of Business Economics Majors) conceptualized and executed the race event.
This year the race aims to raise funds for pediatric patient operations, and also to raise awareness for the PHC social services division. Every year, the government's budget for the PHC grows smaller so they've had to tap outside sources of funding. A useful outgrowth of holding fun runs like these is they encourage a healthy lifestyle of exercise, which prevents and treats many heart problems.
1, 4, 3 Go! Run will be held at the University of the Philippines Diliman on March 18. Reg fees are P400 for 3K, 5K, or 10K. There's also a special 5K couples category at P750 with 2 bibs and singlets. Participants in the couples category will be bound together from start to finish with the aim of finishing together at the same time.
Race: 1, 4, 3 Go! Run for PHC
Date: March 18, 2012
Assembly Time: 5:00am at University of the Philippines Diliman
Reg Fee: P400 (3K/5K/10K), P750 (5K couples)
Registration Sites: Chris Sports (Megamall, SM North EDSA, Robinsons Ermita); UP School of Economics Rm. 122 (UP OBEM Tambayan); Secondwind Running Store (Teachers Village); PHC Social Services Division

And Now For Some FREE RACE KITS!
I'm raffling off one race kit for each of the races above. Here are the mechanics:
Follow @kikayrunner on Twitter.
Tweet "I want to run for a cause!"; mention @kikayrunner and the race's hashtag within the tweet. One Twitter account, one race, one entry. Example tweet: "I want to run for a cause! @kikayrunner #eyerunmar10"
PDA Run: #pdarunfeb18
Eye Run: #eyerunmar10
1, 4, 3 Go: #143gorunmar18
First Twitter mention for a race wins the free kit for that race.
UPDATE: I realize I put feb18 instead of feb19 in the PDA Run hashtag and mar10 instead of mar11 in the Eye Run hashtag, but I will just let the mechanics stand. And within 10 minutes we already have winners for each of the race kits!
To the winners, congratulations and I'll get in touch with you for further details for your race kits. To those who sent in their tweets but weren't fast enough, I wish I had race kits enough for all of you. Please do still check out these races and see which one deserves your registration fee. Make a charity patient happy. 🙂