I wasn't able to run at all for two weeks, given an upheaval in my family life. Good thing I still have my other physical activities to keep the weight gain at bay. Still, I felt fat and heavy last week so when the race organizers of the Pilipinas Darating Ako Run informed me they had reserved a bib for me, I gladly accepted. (In return, I led the warm-up exercises for the race program.)
Since this was supposed to be a fat-burning run, I left my Gu energy gels at home and decided to drink only water for hydration even though Pocari was available. I also decided not to track my pace too strictly on my Garmin. The goal was to finish the 10K and enjoy myself.
Just like I expected, the run was tough on my legs and lungs. It felt like I was back to square one. Or is there a square zero? We only had to go up one flyover (Buendia) but I totally felt Roxas Boulevard's false flats taking their toll on my quads. If you saw me smiling on the route, that was not a smile. That was a grimace. 😛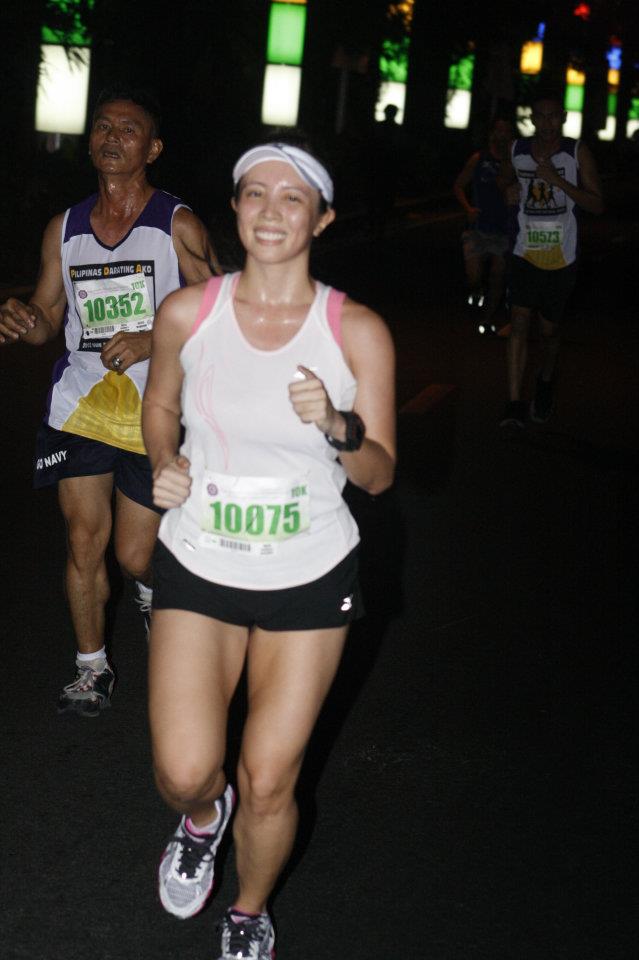 photo from Team USB
Coming back from the 10K turnaround, I was able to see the whole mass of runners and walkers taking up that side of Roxas Boulevard. It was still pretty easy to weave through them, though, and for the most part people stayed on their proper side of the road.
There were professionals (dentists, doctors, and the like), college students, and some running clubs and teams (Team Reebok, Team Diadora, Team USB, Kain Tulog Takbo, Team Boring, Lucena Striders, and the list goes on). It was nice seeing a healthy mix of experienced runners and newbie walkers, especially at an event that one would have thought would pull in only the people from the Philippine Dental Association.
Two hundred meters away from the finish line, an old man and a younger woman who I had been leapfrogging for the entire race suddenly sped past me into a sprint. The old man kept looking behind him to see if I would rise up to their challenge. Talk about being competitive! I'd understand if it was a fight for a podium finish, but at that point it was a race for fourth place.
I jogged past the finish arc at 52 minutes, 17 seconds. I had burned about 500 calories over those 10 kilometers. A pound of fat is about 3,500 calories, which means I need to run six more 10-kilometer runs to get rid of one pound. Waaaaah!
Race in Review
Route: There-and-back on Roxas Boulevard is a killer mix of one flyover (which you climb twice) and flats which fatigue the same leg muscles over and over. Super simple to follow, though; you only had to look out for the U-turn and kilometer signs to keep you on the right track. And if you tend to pick up speed when running in a straight line, this route would have helped you achieve top speed.
The entire northbound side of Roxas Boulevard from EDSA to Luneta was closed off for the race. The last time I'd run a race that was able to close off that length of Roxas was in 2009 at the Philippine International Marathon. It was great not having to think about dodging cars.
Traffic Management: Road closure of that side of Roxas was in effect early on (even before 4am the area had already been cordoned off), so there was no problem with cars or motorcycles suddenly entering the route and traveling alongside runners. Intersections were also properly managed, with the help of City of Manila and MMDA enforcers. There were some bottlenecks from runners stopping at U-turns and kilometer markers to take photos, but since the road's wide you could slip past them.
Hydration: There were water stations every two kilometers, situated just whenever I started to feel thirsty. (Read this Runner's World update on hydrating only when you're thirsty). There was one Pocari Sweat station early on the route, which was sufficient because it's better to take a sports drink in earlier in a race rather than later. The other Pocari station was just after the finish line to help runners rehydrate after the race.
Package: At P400 for 3K, 5K, or 10K, participants each got a cute singlet with a tooth graphic and a bib. The race gunstart was prompt and hydration sufficient. Plus, a portion of the reg fee went to the PDA's projects: BINHI (Bawat Isa Nangangako Habangbuhay Iingatan), a reforestation program, and the VIP (Very Important Patient) program that sends dentists on dental missions. Sulit, 'di ba?
Freebies: What would proper oral hygiene be without toothpaste? Finishers were able to redeem packs of Unique toothpaste among other things. (I chose not to redeem mine because my kit had been complimentary.)
This wasn't a major commercial race, but it provided what I'm always looking for in a race: a safe route and available hydration. And you can't beat that price. Now to wait for race results. 😀 FOUR-AND-A-HALF KIKAY PINKIE FINGERS out of FIVE.