The human body wasn't designed to run 160 kilometers; eventually something gives way, whether it's a wrenched joint, or a pulled muscle, or a bad stomach, or blistered skin. But that's where the human spirit comes in.
Last weekend, 74 (crazy) runners showed up at the Kilometer Zero marker in Mariveles, Bataan to start a journey that would take them through Bataan, Pampanga, and finally Tarlac to retrace the route that Filipino and American soldiers took during Bataan Death March in World War II. This was the BDM 160.
It all starts here.
This being the second such race of its kind held by Maj. Gen. Jovie Narcise (ret.) (more popularly known as Bald Runner), plenty of stories had been swapped since last year of the trials and tribulations that participants went through. For the 2012 edition, I joined a crew to support my Endure teammate Melvin Pangan, who was undertaking the distance for the first time.
super early!
After driving from Manila at 12 midnight, Marga, Tracy, Carina and I arrived in Mariveles at 3:30am. Already many support vehicles were parked on the side of the road, and many of the ultrarunners were already there, waiting for the 5am gunstart.
I went over to say hello to Jonel, who was attempting the BDM 160 again after a seriously scary DNF last year due to overdosing on salt capsules. While we chatted about his new race strategy (natural foods only, no more supplements), other noted ultrarunners came by to say hi to him. I met Victor Ting, who at 66 years old was the oldest BDM 160 participant!
My pastor from Victory was also there as a participant. Pastor Ferdie had completed the BDM 102 (the original distance of the race, and the prerequisite for the BDM 160) last year to benefit Real Life Foundation scholars. This year he was attempting the 100-miler, running it for his son John Philip.
Ferdie Cabiling, excited for the race. What.
Finally, we rendezvous-ed with Mel and discussed our support plans. Marga, Carina, and I (crew #1) would support him from my car beginning from 0 until the 50th kilometer, at which point crew #2 composed of Mel's wife Rose, his brother-in-law, and Tracy would take over in their support vehicle. We would again meet at KM 102 (the old train station in Pampanga, where the POW's had been loaded onto trains bound for Capas, Tarlac) where I would begin to pace Mel for 20 kilometers. Carina would take over pacer duties for another 10km, then crew #2 would take over and Tracy would pace for 20km. The last 10km, we'd planned for Rose to run with Mel.
Melvin with BR
Crew #1 left before the gunstart and made our way to KM 7, past the steep, narrow, and sharply-curving "bitukang-manok" mountain pass. Those 7km the participants had to run single-file without support crews leapfrogging them because there were no road shoulders to park on.
I was the driver for those first 50 kilometers while Marga and Carina jumped out of the car as we leapfrogged Mel every five kilometers. He was running strong, and would chat with us lightheartedly for a bit at every stop.
Kilometer 25
BDM 160 participants had some great weather during that first 50: it was overcast, and would drizzle intermittently, allowing them to pick up their pace comfortably.
one of the few times I got out to stretch my legs
I had been under the impression that the BDM 160 or any ultramarathon for that matter which required a support crew was mostly a solitary matter. Was I wrong! This isn't called "the longest street party" for nothing; support crews cheered on every runner that came their way, and crews cheered on crews. While driving the highways it always lifted my spirits every time I came across a vehicle with a BDM 160 "Race Ongoing" banner.
eventual women's champ Keshia Fule w/ fellow runner Alfred
Just a few kilometers before the 50-kilometer mark, Mel asked us to start leapfrogging him every three kilometers. The sun was starting to come out (it was about 11am, after all) and he was starting to feel it. He'd also been drinking only water, but his urine had started to darken. We started managing his hydration and food needs more strictly; he needed to take a sports drink more often at this point; the isotonic drink would be better absorbed by his body.
Kilometer 50
The 50-kilometer mark is a major pitstop for most BDM participants (both for the 102 and the 160 distances). Here there's space to park plenty of support vehicles. Most participants take the opportunity to sit down, have a full meal (Mel had pork adobo and rice), and maybe get some liniment rubbed on. It was here crew #2 took over. Crew #1 headed to the King's Royale Hotel in San Fernando, Pampanga to get some shuteye; at that point, I had been awake 28 hours and had survived on catnaps at the first few leapfrog stops.
At 8pm, we had again met up with crew #2 and had taken over support duties. This time, I was dressed in my running gear, ready to run or walk with Mel.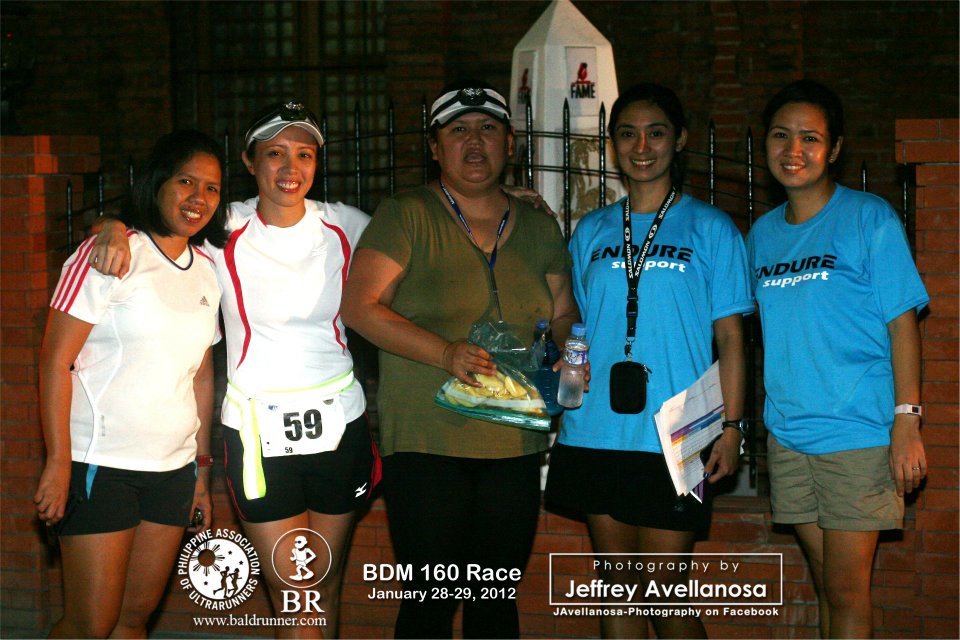 Good friends are like a good bra — supportive!
As it turned out, I walked with Mel most of the way. His feet had started to bother him after a change of shoes, and he confided to me that he wished he'd saved the first pair of shoes he'd worn during the race for use during this latter part. (Not naming brands, of course, but… ;D) He was also peeing a lot, which worried us because it meant his body wasn't holding on to the water anymore — it had been depleted of salts and electrolytes. I had to feed him corn chips, nuts, etc.
And then he got his second wind. Or was it his third, or fourth, or… at KM 118 it's hard to tell. We started to run again. It was midnight.
I swapped pacer duties with Carina after KM 120. By this time we were leapfrogging at every kilometer. I really thought that Mel would keep running. But at KM 130, Marga and I waited for what seemed like ages before we saw Carina running toward us, without Mel. His will had flagged. We had to go back for him.
We came upon him 500 meters back, seated and shivering at a deserted tricycle stand. Marga covered him with a large towel, then handed him a fresh shirt to change into. He complained about his feet, and when we'd removed his shoes and socks we found huge blisters covering the balls of his feet, his arch, and a giant cherry-red one on his left little toe.
(Just a note: it was 2:30am and there were reckless drivers on the roads. A motorcycle and car crash happened not 10 meters from where our car was parked, and we'd heard earlier that two pacers had been run over by a drunk motorcycle driver at KM 104.)
Mel's feet were in a sorry state, but his leg muscles showed no signs of fatigue at all. We were all convinced he could still do it if we treated his feet. But that wouldn't matter if he wasn't up to it.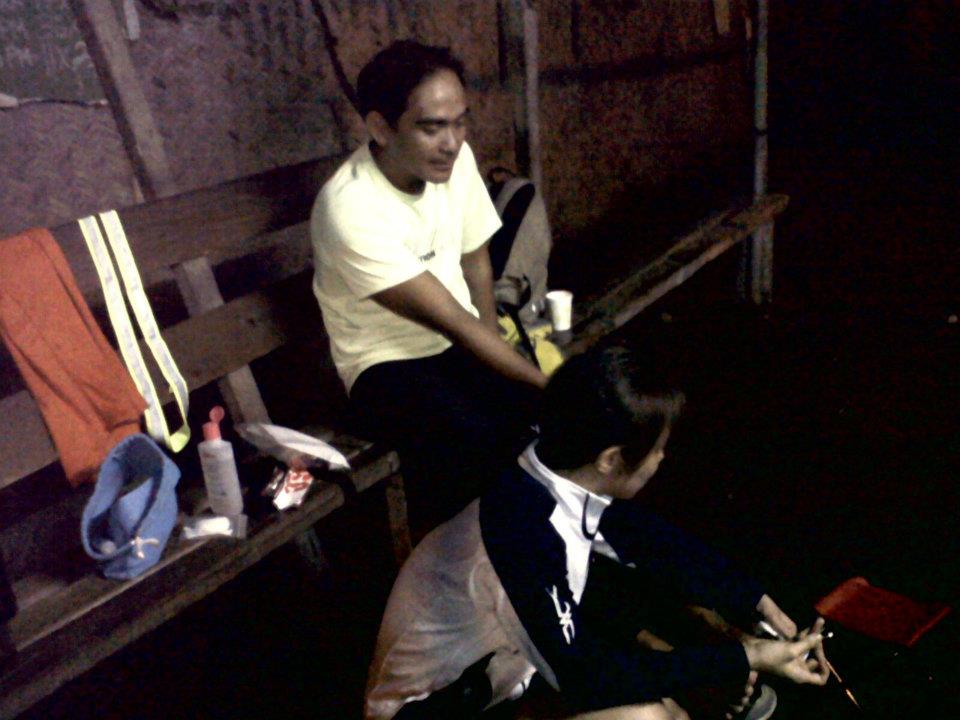 "Nurse" Noelle lancing the cherry blister
Crew #2 arrived some minutes later, and Mel spoke with Rose. He told her, "I'm at peace. Alam kong hindi ko kaya. Promise, Ma, hindi ko na uulitin next year." And that was that.
(I think he might be back next year, though. Or the year after that. Basta eventually he'll make a go at it again. Ultrarunners never rest until they've conquered the distance, right?)
By the cut-off time of 30 hours, 54 runners had made it to the finish line, Sir Victor Ting included. Pastor Ferdie had a respectable time of 28+ hours. Jonel took his sweet time, but was able to finish on this second attempt. Congratulations to everyone who participated, finisher or not!
After being on an ultrarunner's support crew, I have much more respect for the ultramarathon's niche in our sport of running. To endure even when there is no strength left or any hope to make it to the finish line on time, just to finish the race is their prize. What a metaphor for life!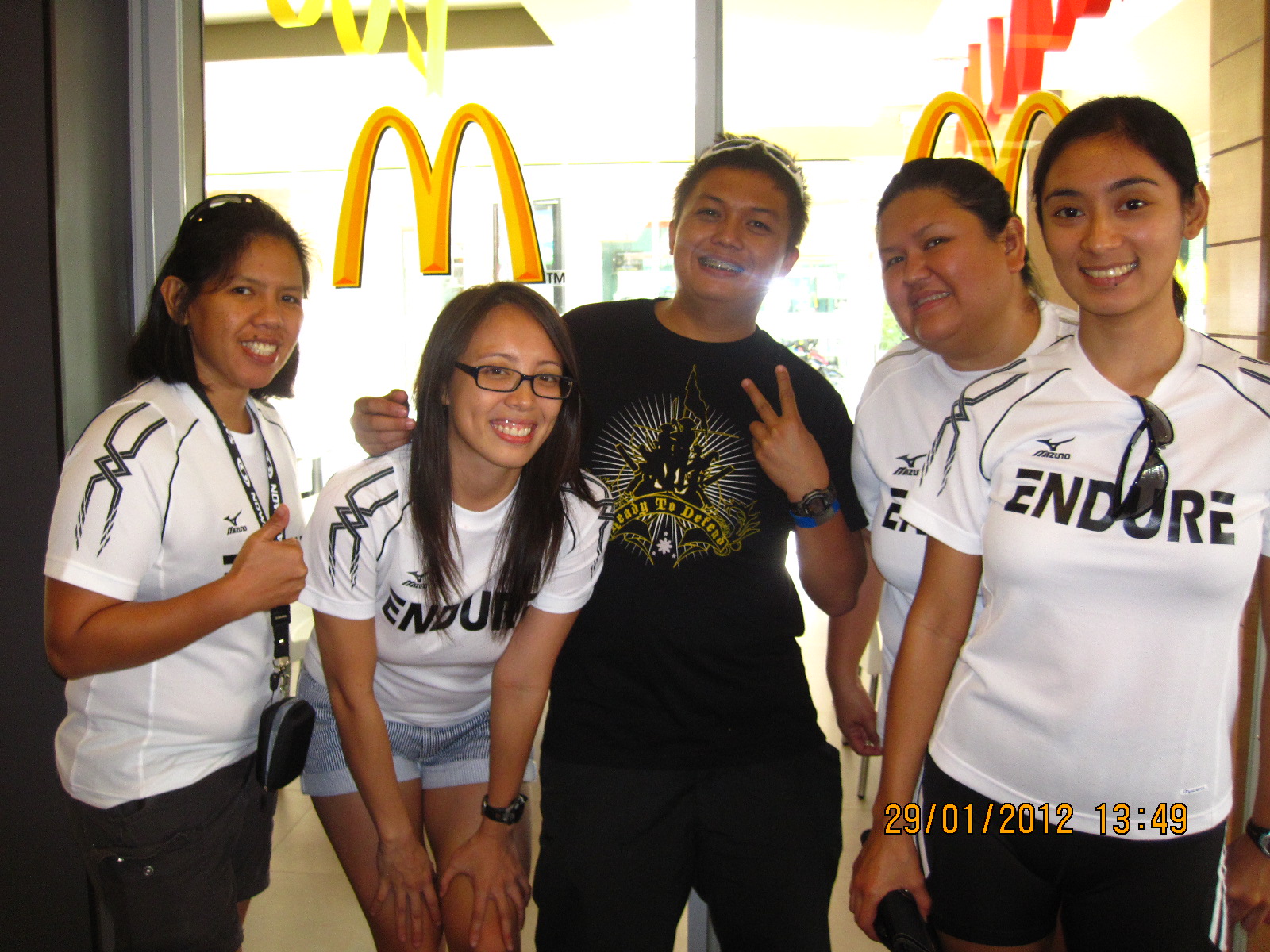 If you ask me to support again, I'd do it.
This post is dedicated to my sister and brother-in-law and their newborn baby, Brooke Gabrielle D. Manahan. We are all called to run the race of life. What matters is that we finish strong. (2 Timothy 4:7) I'll be right here with you, supporting you to the finish.
Liked this post? Share it!