I learned a few lessons yesterday at the Timex Run 2012, mostly in how not to prepare for a race. This was supposed to be a tune-up race, and boy, did it re-calibrate me!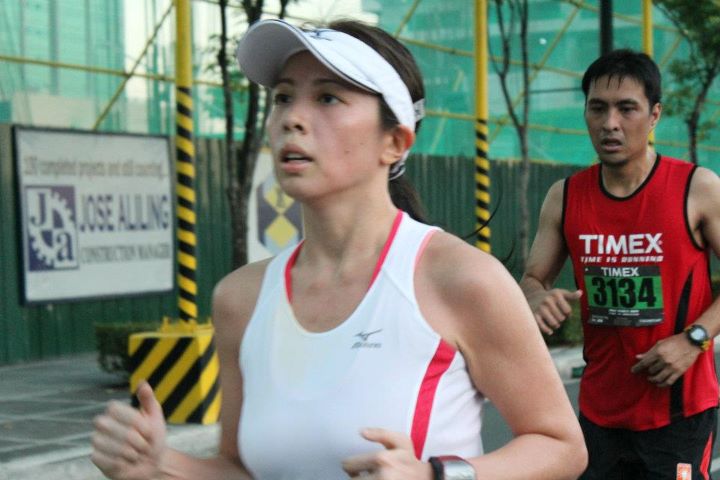 frazzled and tired (photo by May Quezon)
Prepare everything beforehand. I usually get all my running gear ready the night before, and that's exactly what I tried to do. I even hopped over to RUNNR BGC to restock on Gu gels, which I ran out of over the holidays. I thought I was all set, but I misplaced my favorite pair of Mizuno running shorts. I spent three hours chasing it down within my closets, to no avail. I eventually settled for a different pair of shorts, but even as I lay in bed my brain kept obsessing over those shorts. In short (pun intended), I fell asleep at around 11:30pm.
Get a good night's sleep. Aside from falling asleep late, I hadn't been sleeping well for the past few weeks, so I'd accumulated a huge sleep debt. Do you know that feeling of being tired, but excessive thinking keeps your eyes open? I was having that kind of sleep problem.
Wake up early, have breakfast, get ready. I set my alarm for 3:30 so I could reasonably be up and about by 4am. This is where everything went to pieces. I did wake up, but I started fiddling with my BlackBerry and lay back down to allow a Facebook comment to load. The next thing I knew, it was 5:10am and I had to be at BGC for the 10K's 5:30am gunstart.
Be on time for the gunstart. That was the fastest I'd ever gotten to BGC. Considering my house is often 30 minutes away due to traffic, blessings like stoplights going green in sequence and very few cars on the road shaved my travel time down to 15 minutes. Still not enough to beat the gunstart. After finding parking in an unlikely place, I climbed over a few fences just to get to the starting line right before the 5K gunstart.
Reset the Garmin. I knew I couldn't trust the finish clock to give me an accurate record of my run so I hit my Garmin's start button when I left the start chute. But when I checked my Garmin I realized I hadn't reset it to zero. It was counting my mileage upwards from the last race I'd done. Eek!
So there I was on the route, running on a Gu gel and 200ml of Lightwater. I had to hope Timex Run logistics were up to par with their previous record in 2009. That was the main reason I'd registered for this race: I hadn't done the Timex Run back in 2009 because it was more expensive than other races I had been to thus far (among runners who have been around for a while, Timex Run 2009 ushered in a new era of higher registration fees in the P600 range). However, all the reviews and word-of-mouth had been overwhelmingly positive, so it was believed back then that a price increase was justified for all the cushy benefits it gave registered participants.
This year, the Timex 10K was priced at P700, about P100 more expensive than past RunRio 10K's. I truly wanted to experience what the fuss had been about. What is the difference between a P600 10K, and a P700 10K? I wondered. There's not much else you can throw at runners to impress them if they've already gotten fireworks for a gunstart or a free concert post-race.
Sorry, no sub-Piolo for You
Newspapers announced that the face of the race, Mr. Piolo Pascual, was set to beat his previous 10K best of 47 minutes and 54 seconds. Runners in 2009 had dubbed a finish time shorter than that as a sub-Piolo. I managed to accomplish my own sub-Piolo the next year. But, eh, I was a different runner back then, better-trained and better-rested.
Surprisingly, I didn't have to weave through too many runners in the tail end of the 10K. (Timex pegs participation at a modest "close to 6,000 runners". That's significantly less than the monster numbers I've been used to in other RunRio races.) The route was also downhill for the first few kilometers, allowing me to warm up. I felt okay but knew that with all I had done wrong, an energy drop was just over the horizon.
The route took us from the front of the Riovana store around the block with left turns until we hit Fifth Avenue. This then led to Triangle Drive, around kilometers 3-4. I saw a cluster of tall men with a springy afro amid them coming back just as I entered that road. It was Coach Rio pacing Piolo with a group of strong runners (I later found out they were from the military). With no chance of catching up to them (the distance difference was about 1.5 kilometers), I settled into my own pace.
I started tiring around kilometer 5 (equivalent to the distances I've been running lately) and realized that I need to put more mileage on these legs. I saw the Piolo retinue again coming back up 32nd Street on their way to the finish line just as I exited the Home Depot area. I gutted out the last few kilometers, getting a speed boost on kilometer 9 from following a guy wearing Vibram Five Fingers. He left me in the dust, and I crossed the finish line 51 minutes after I had started. On the clock, it was 58 minutes.
The RunRio timing marshals, who have probably gotten used to seeing me finish earlier, asked, "Bakit ang layo mo ngayon?" I had to say I'd gotten there late. Nicole "Coy" Wuthrich, Coach Rio's fiancee, was also at the finish line and backed me up, saying she'd seen my late start.
I collected my Unilab ActiveHealth loot bag but didn't bother to line up at the other freebie booths. I just wanted to get out of my wet clothes, and check Twitter to see if Piolo had beaten his PR. Not surprisingly, he did. (Just playing with semantics here, but Piolo can never do a "sub-Piolo". He can only set a new Piolo, which he did. Congrats Papa P!)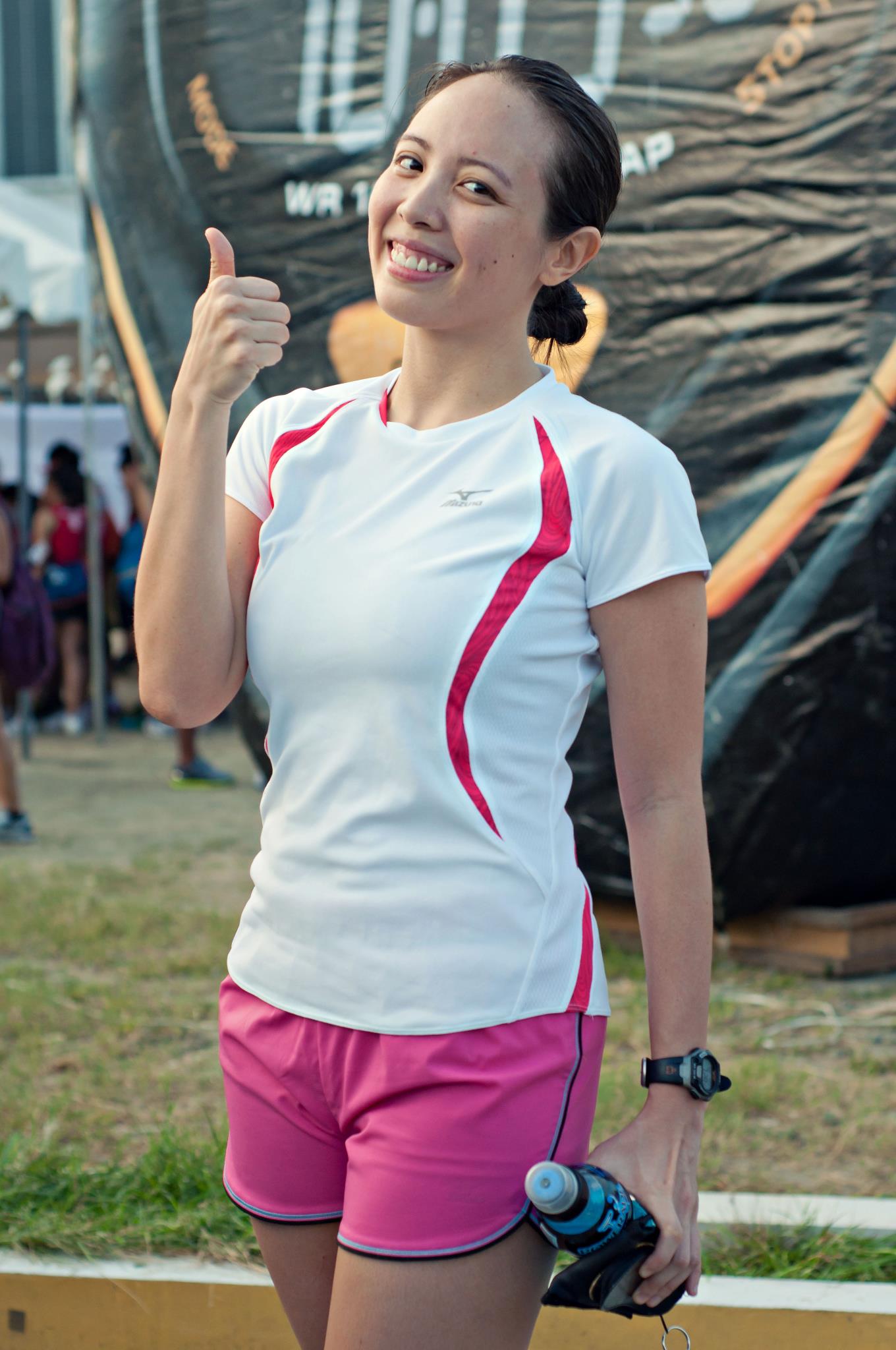 feeling fresh again (photo by Samuel Aquino)
For me, this race was a reminder of how disciplined I really need to get again.
UPDATE: Timex Run 2012 results are out. I came in at 59:24 for gun time, but my chip time was 51:12. Not bad for my first 10K of the year.
Race in Review
Route: Like I told Coy with a knowing wink at the finish line when they asked me how the race was, the course was designed by a sadist. (Hi, Rio!) Or a masochist, since he ran it, too. Past routes had made these inclines downhills, but this time directions were reversed and they became uphills! Ow, ow, ow. But in a good way. I also liked how the routes allowed for less convergence between the race categories.
Traffic Management: One of my Twitter followers, @jbellevillegas, told me that before the 10K gunstart, Piolo and VIPs were escorted to the front of the pack with a human barricade between them and the rest of the runners (even the elite/professional runners). I've seen this done in a few other races and I think the only valid reason is security concerns. Then again, Piolo didn't have a human barricade during the Sunpiology Run, so it happens on a case-to-case basis according to organizer discretion.
Hydration: It felt like forever to get to the first water station, but I think that's the effect of being dehydrated. The stations were spaced about two kilometers apart, and the tables were loooooooooong so I was able to snag a drink and still avoid crashing into the other runners converging at them. (I think it's great we had Powerade and Viva for this one; the 2009 race had 100-Plus.)
Package: P650 for 5K, P700 for 10K, or P750 for 16K gets you a bib+timing, singlet, and a Timex discount. Well, there was the post-race event where Piolo showed up and fans could take photos of the stage where Piolo was, and if lucky they could approach Piolo and get a photo op with him. And there was a raffle of 35 Timex watches…
Off the top of my head, last year at various races we got post-race expos, freshening-up booths, fun games, photo booths, fireworks for gunstarts, dancers, firebreathers, free concerts, and the like. 10K's were priced around P600 but even shorter distance categories (at a lower price) were able to partake in these things. So at around P600, runners were already super-pampered. At P700 with none of those things offered, the Timex Run 2012 felt rather anticlimactic.
I also have to wonder why late registration (past January 15, the original date registration would end) was rewarded with this promo, which wasn't available to those who had registered earlier. The first 15 group registrations from January 18-20 with purchases amounting to P1,500 per group from Riovana BGC or Katipunan would get a guaranteed meet-and-greet with Piolo and Rio and free use of Riovana showers on race day, plus a free Timex watch per group.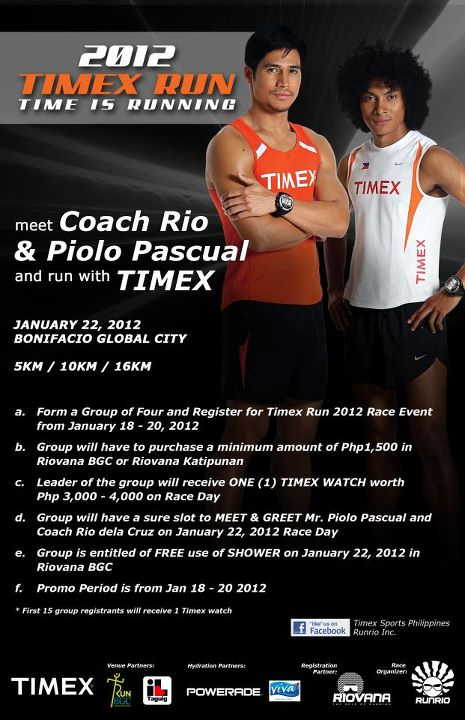 original source: SwimBikeRun.ph
In triathlon, registrations get progressively more expensive the closer you register to race day. In running, organizers keep encouraging people to register early for races so they don't run out of slots or singlet sizes. So what kind of message to the running community does this promo send? What if next time, people register at the last minute because they come to expect promos like this?
Don't get me wrong; it was a race that was well-organized and carried out. But given the other races that had come before it, I didn't think this one was very special, much less raised the bar. I guess I expected more. THREE-AND-A-HALF KIKAY PINKIE FINGERS out of FIVE.