Earlier this month, someone tagged me in the Unilab Active Health update about their 2012 Calendar of Activities. I suddenly got really excited about my year because I'm looking forward to the Run United series and have also decided to train with my buddy Joel for their first marathon event on October 28.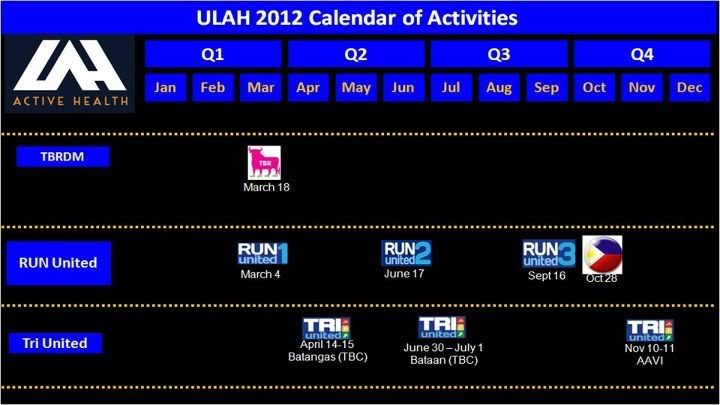 Unilab Active Health Events 2012
While the Run United Philippine Marathon is the most noticeable change from previous Run United events by Unilab Active Health, what caught my triathlete's eye are the Tri United events. Yes, EVENTS. From just ONE Tri United held every year since 2010, there will now be THREE.
Cross-referencing this with the Triathlon Association of the Philippines list of events, the April 14-15 Tri United in Batangas may conflict with the NAGT to be held at Ayala Alabang Village. The June 30 Tri United is on the TRAP list, and the November 10-11 Tri United is on the same dates as the Multisport Weekend and the Philippine Duathlon Series finals. This is going to be an exciting growth year for triathlon!
UPDATE 02/01/2012: I've just seen the reg fees for RU1 on the RunRio website, and they're approximately P200 more expensive than their prices last year per category. I hope there's a reasonable explanation for this, but meanwhile I'm reassessing whether I should register for RU1 since I'm not training for anything specific that warrants a race on that date.
Liked this post? Share it!