Every so often, this Kikay Runner needs to pack up her bags, put on her traveling boots, and get out of town. Thanks to Nuffnang Philippines, I joined about 30 other Filipino bloggers on a trip to Malaysia to attend the 2011 Nuffnang Asia Pacific Blog Awards.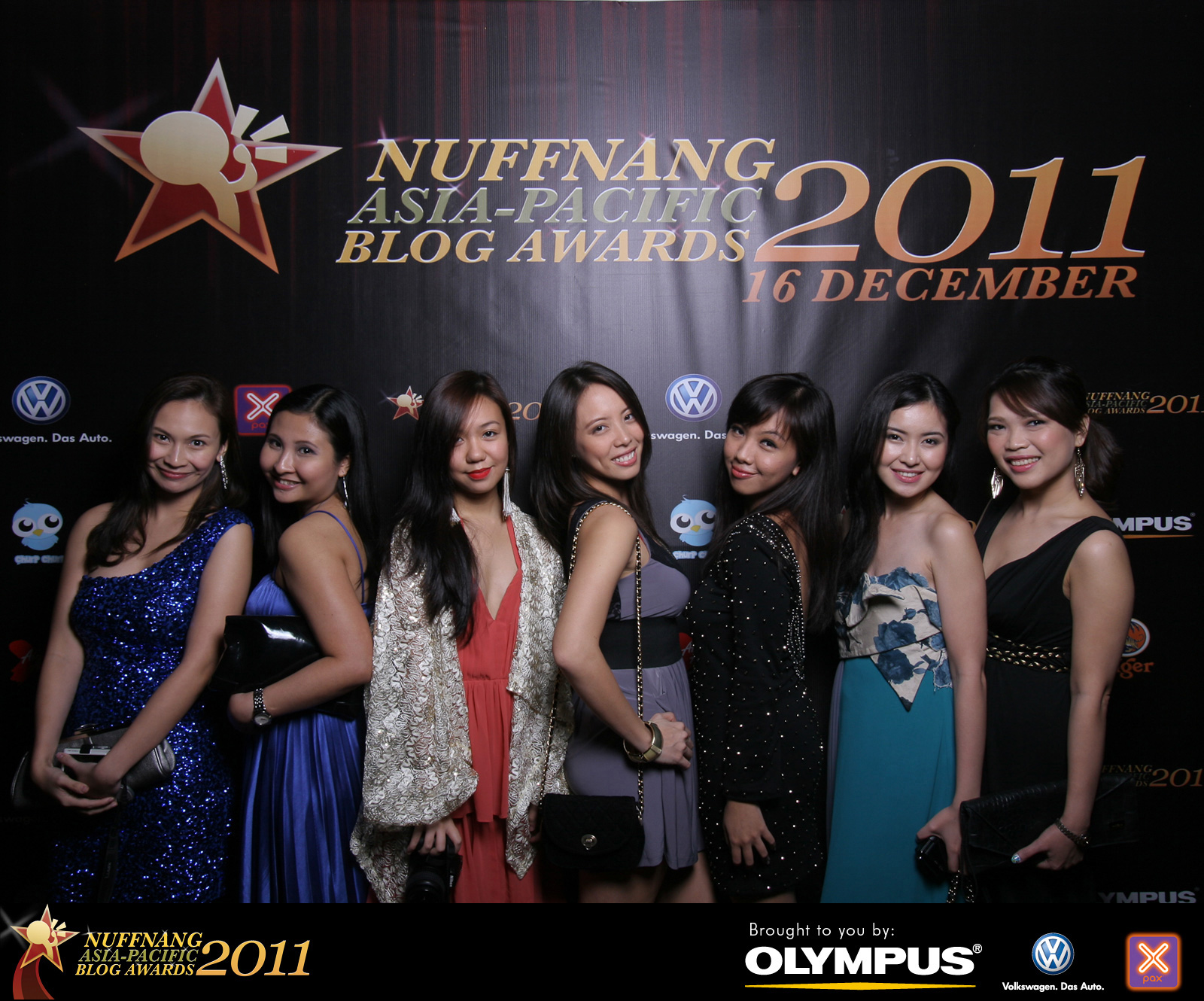 The closest to a red carpet I've gotten this year.
This awards night is held every two years to celebrate the best bloggers in the Asia Pacific region, and Filipinos were nominated in seven categories! I've been blogging since 1999 and one of my old blogs was once nominated for the Philippine Blog Awards (under the Travel category), but this event is international in scope; it was a completely novel experience for me.
We arrived in Malaysia on the day of the awards night itself. There were about 500 bloggers in attendance, packing the Marriott Putrajaya ballroom to the rafters.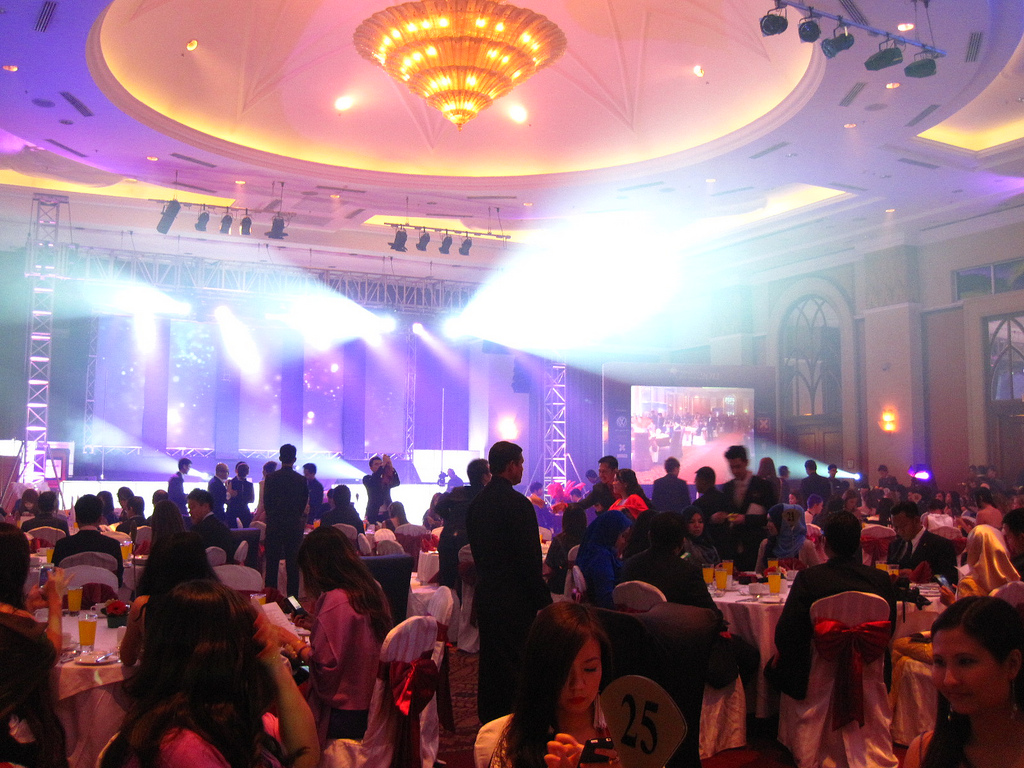 How far is my table from the stage?
Funny how in such situations, Pinoys always stick together in groups — or maybe it's because we all kind of already knew each other from the 12-hour trip from Manila to Putrajaya (including a 1-hour bus ride to Clark, a 3-hour flight via Air Asia, and a 1-hour bus ride to the hotel). Anyway, you know how much Pinoys love taking photos! I rarely get a chance to dress up like this since my work and hobbies are mostly athletic.
Clockwise from top left: with Erwan, Kessa, Tracy, Kaith, Trixie, Patty, Nikki, and Angela
Most of the bloggers were of the fashion, beauty, food, gadgets, and lifestyle persuasion. I was the only health and wellness blogger among the bunch. It was nice to find out that Erwan, although a food blogger, is also training for the Ironman 70.3 in Cebu! It will be his first half-Ironman distance, although he made his tri debut this year.
We all made a party out of the whole occasion, cheering and stomping loudly as the Filipino nominees were named in their respective categories.
ipinoylike.com, geekout.ph, and yugatech.com for Best Geek Blog (ipinoylike.com was listed under Nuffnang SG, but he's a Pinoy!)
blog.ditz-revolution.net for Most Original Blog Design
thefatkidinside.com for Best Food Blog
justwandering.org for Best Travel Blog
lantaw.blogspot.com for Best Photography Blog
themisischronicles.com for Best Parenting Blog
jenniepperson.com for Best Lifestyle Blog
googlygooeys.com for Hidden Gem
When the smoke from the fog machines had cleared, four Pinoy bloggers had run away with their awards!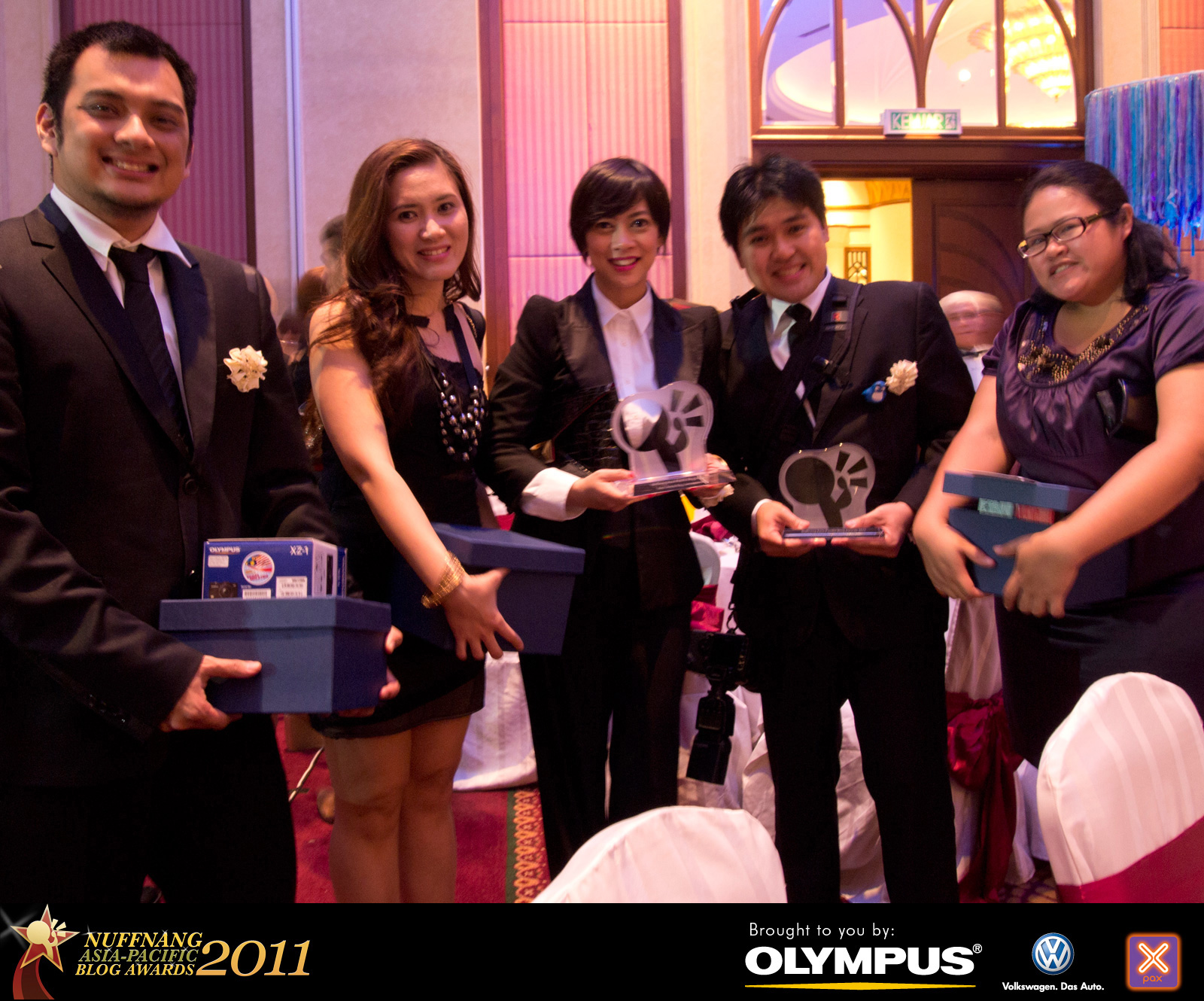 Jayvee , Tippy & Pong, Jenni, and Nina 
The night wasn't over yet; all the bloggers were taken to Zouk in Kuala Lumpur for a night of clubbing. I rarely go out like this in Manila anymore (smoke, late nights, and alcohol don't mix with early-morning training sessions). I had fun despite the crowded conditions — Zouk must be a very popular nightspot. Bloggers had been given the VIP section but it was hot, full of cigarette smoke, and the music wasn't loud enough. It was better in the other rooms, where you had your pick of what music to listen and dance to.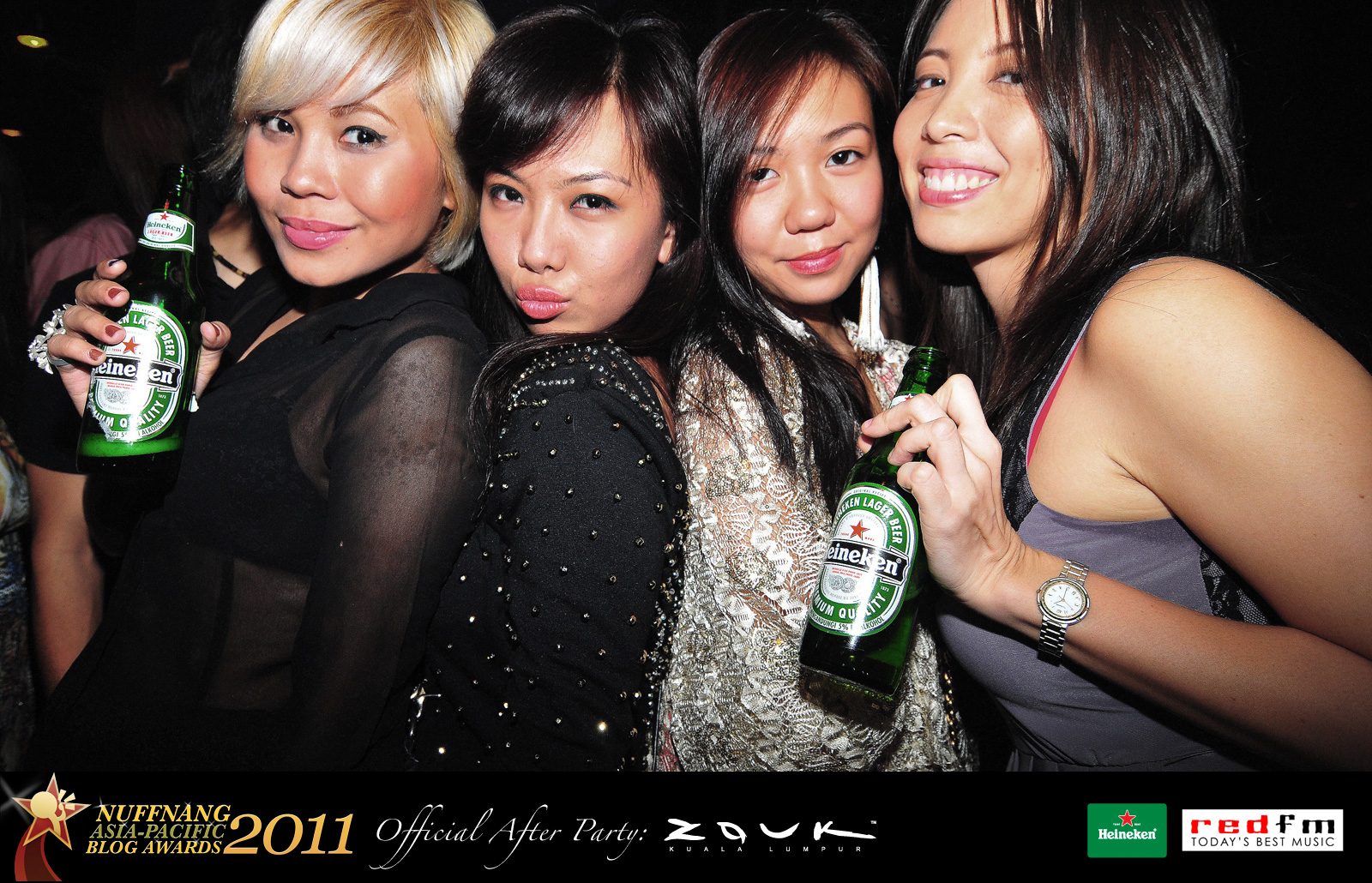 After an encounter with a potential pickpocket, an "accidental" boob-grab, and dancing my toes raw in my red heels (This is why I don't club anymore, I thought)I got on the bus back to the Marriott. But I didn't leave Zouk without getting a photo taken with this hot red Ferrari.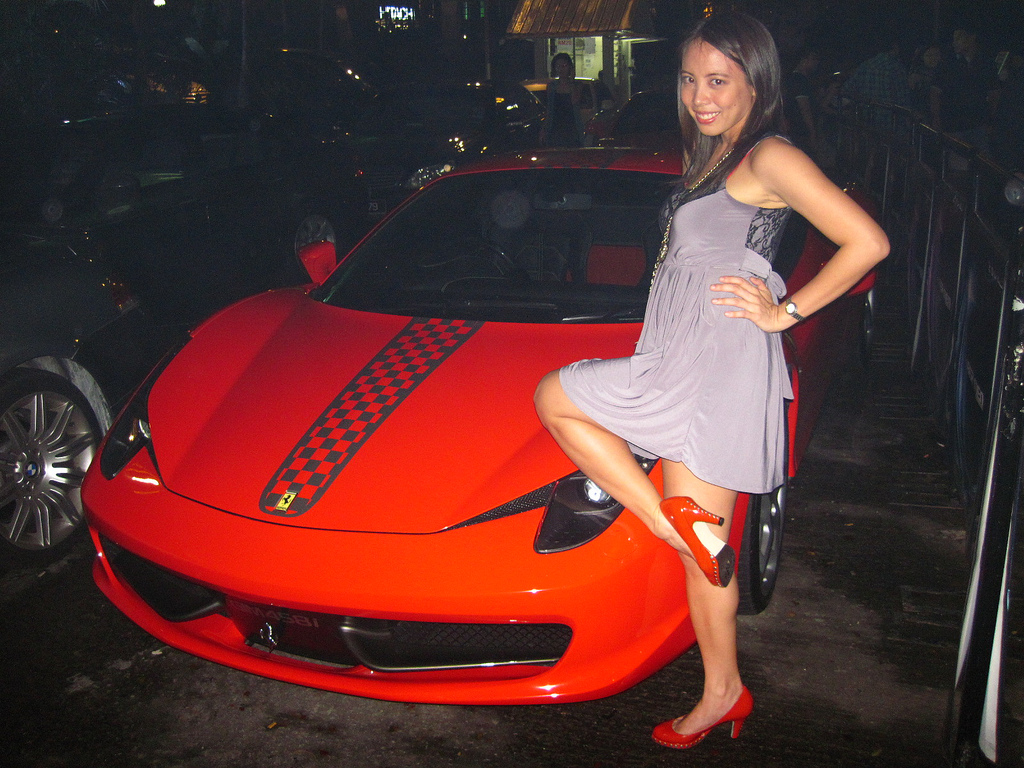 What do we have in common?
Thankfully after that hectic day the comfy hotel bed gave me a restful night, and I was able to get up for our city tour. We were taken to the old National Palace, the National Monument, the Petronas Towers, and a tourist trap called the Cocoa Boutique.
Whenever I got off the tourist bus, I walked around trying not to miss anything of interest. It's a bit hard to do, considering we were only given a limited amount of time at each stop and I didn't want to get left behind.
The royal seal at the gate. This is as far as we got into the palace.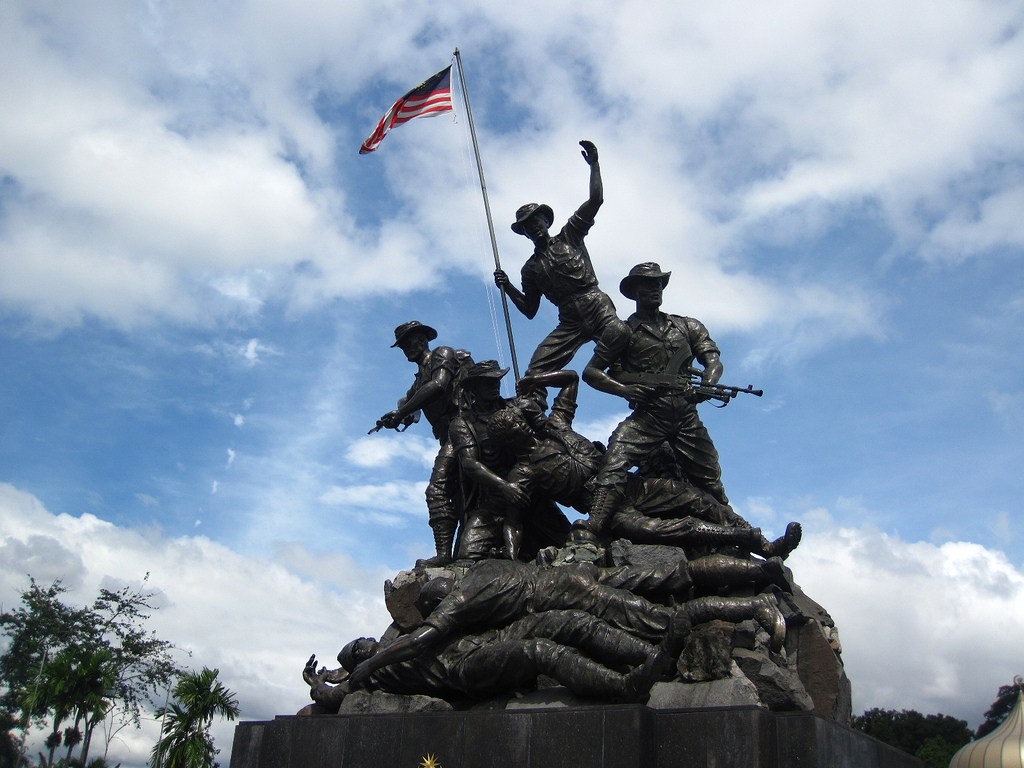 This had the same designer as the Iwo Jima monument in Washington, D.C.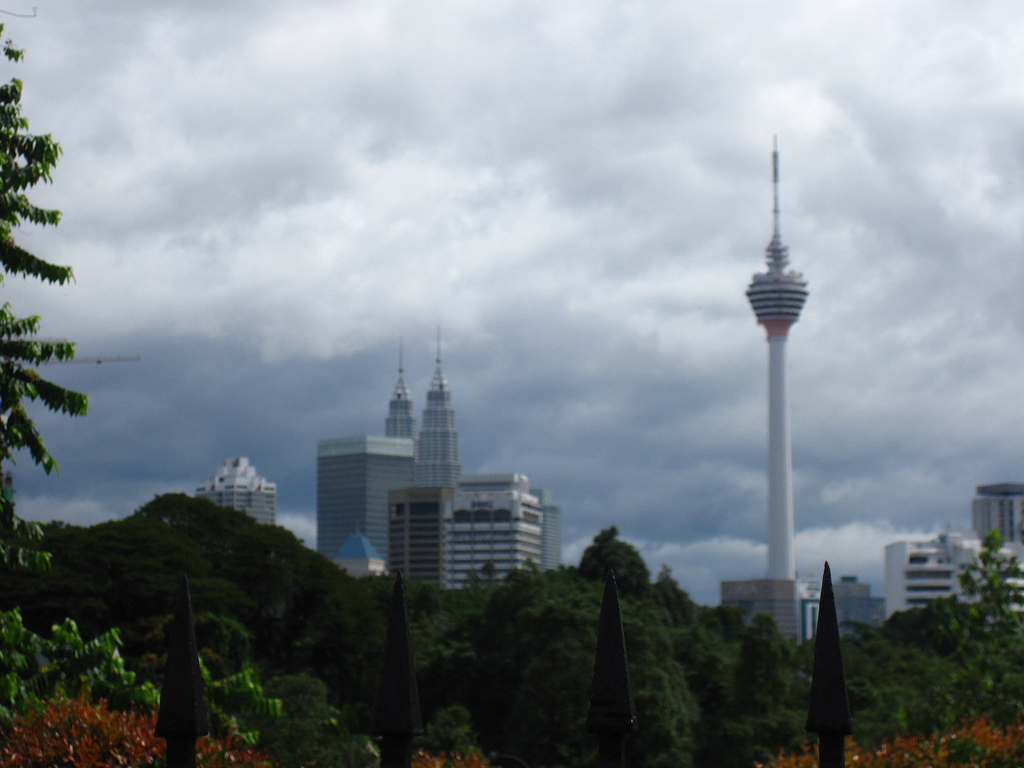 Petronas Towers & KL Tower seen from a distance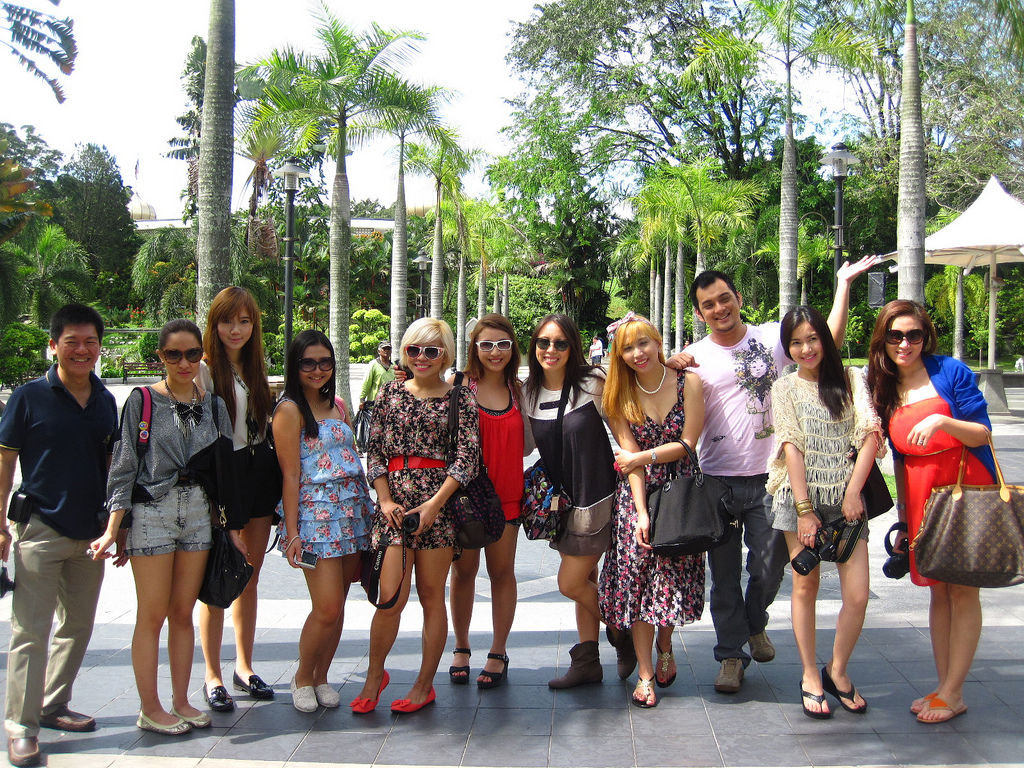 With Jay from NN, Laureen, Camille, Kaith, Helga, Hannah, Kring, Jayvee, Angel, and Tippy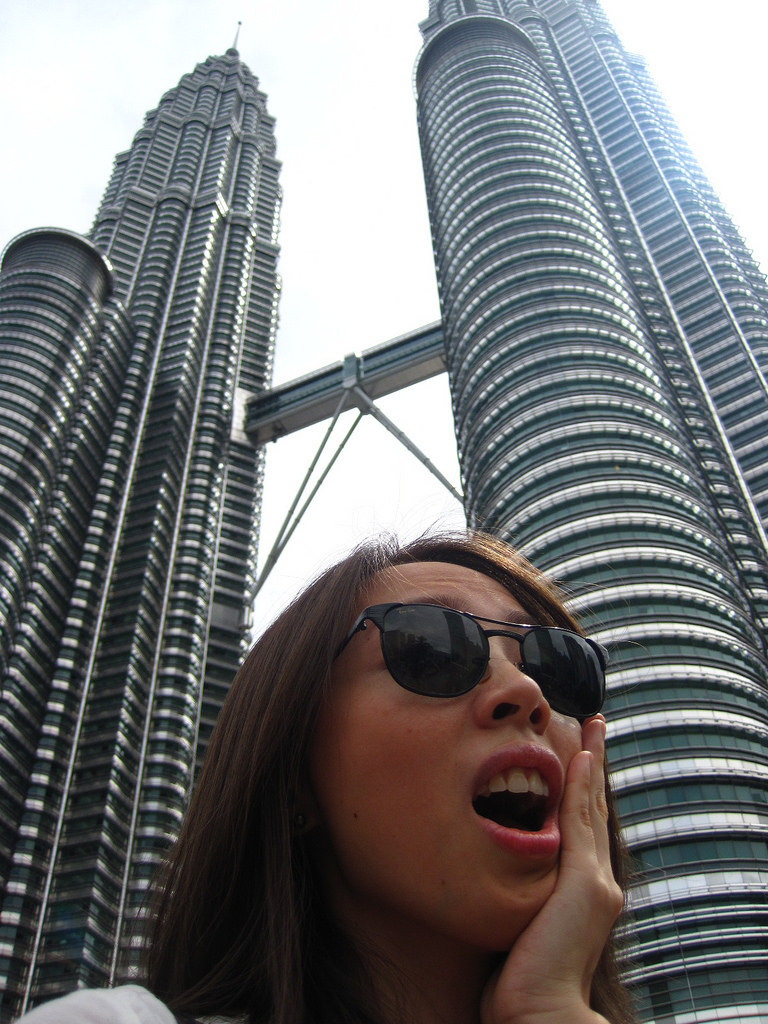 self-portrait at the Petronas Towers
After the city tour, we headed back to the hotel to freshen up (I forgot to mention it's a 40-minute ride from the hotel to KL, and vice versa) for dinner and cocktails. What I didn't prepare for was that dinner would be at the food court of Pavilion Mall — not a place for my off-shoulder black dress and heels. Because my feet were still smarting from the previous night's exploits, I made sure to pick up a pair of VINCCI flats at the mall. I think it only took me 15 minutes to locate a shoe store, pick my shoe, and make the purchase before hurrying back to where the bus would pick us up. (I think it was here my running skills proved most useful.)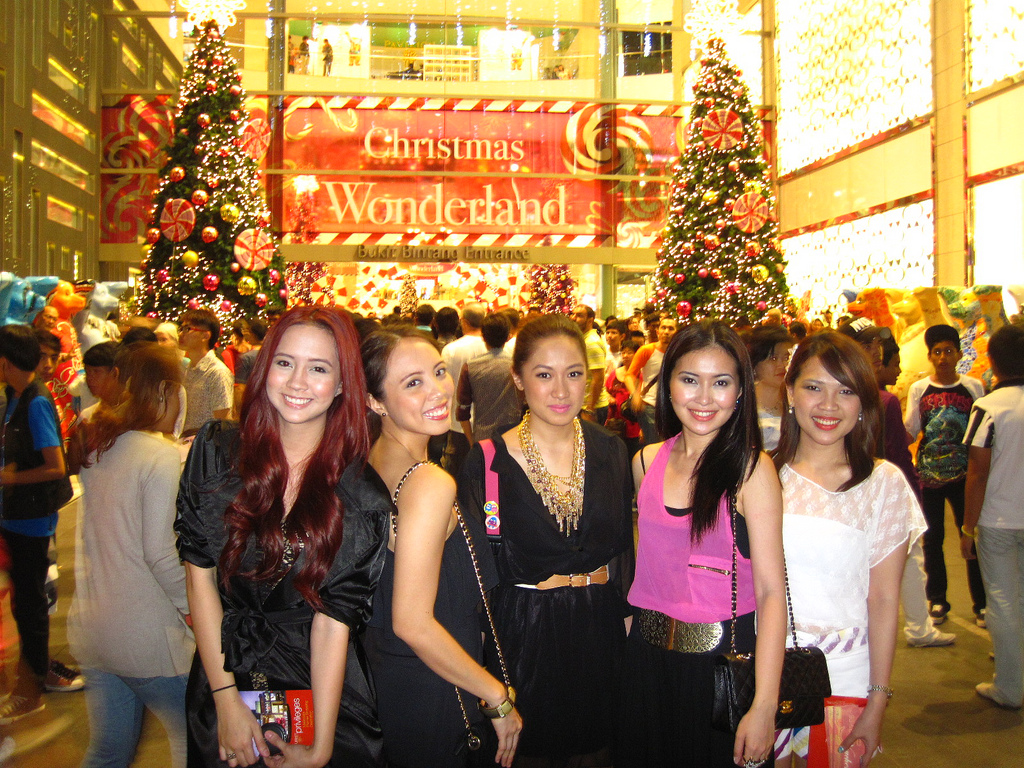 with my roommate Camie, Laureen, Angela, and Nikki at Pavilion Mall
The cocktail party was at The View on the rooftop of the G Tower Hotel (Malaysia's first fully green-compliant building). I had one amazing photo on the balcony with the lit-up Petronas Towers as my background, but Patty still hasn't uploaded it. I only have photos of what happened inside The View.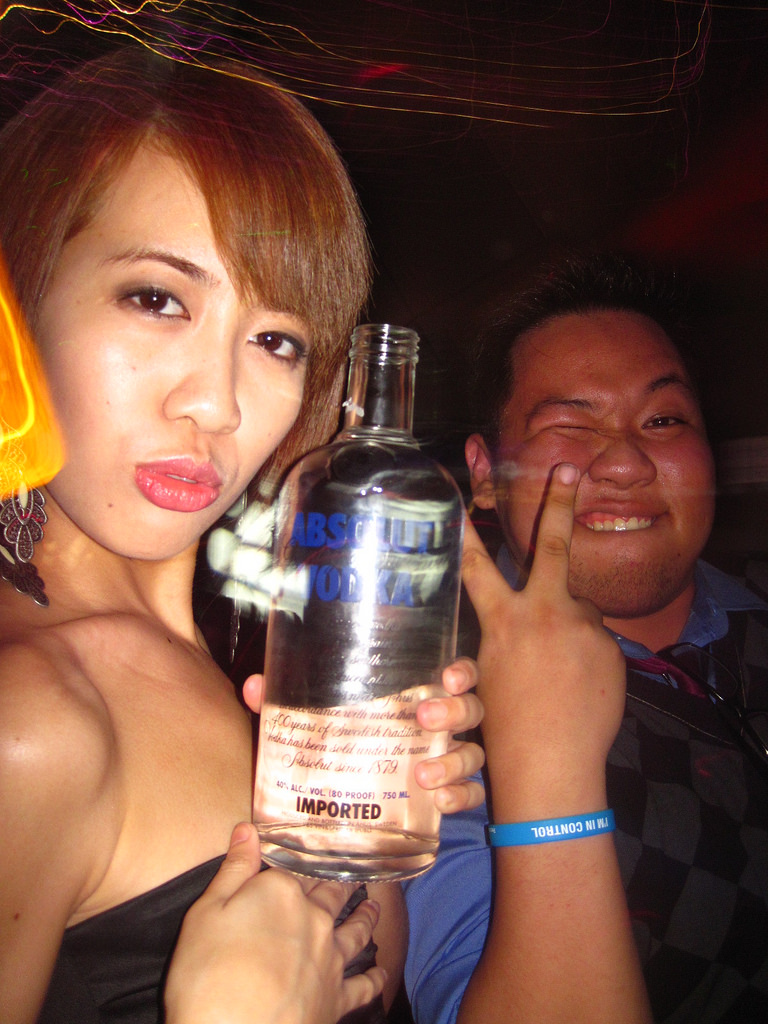 Trixie and Carlos, the NNPH country manager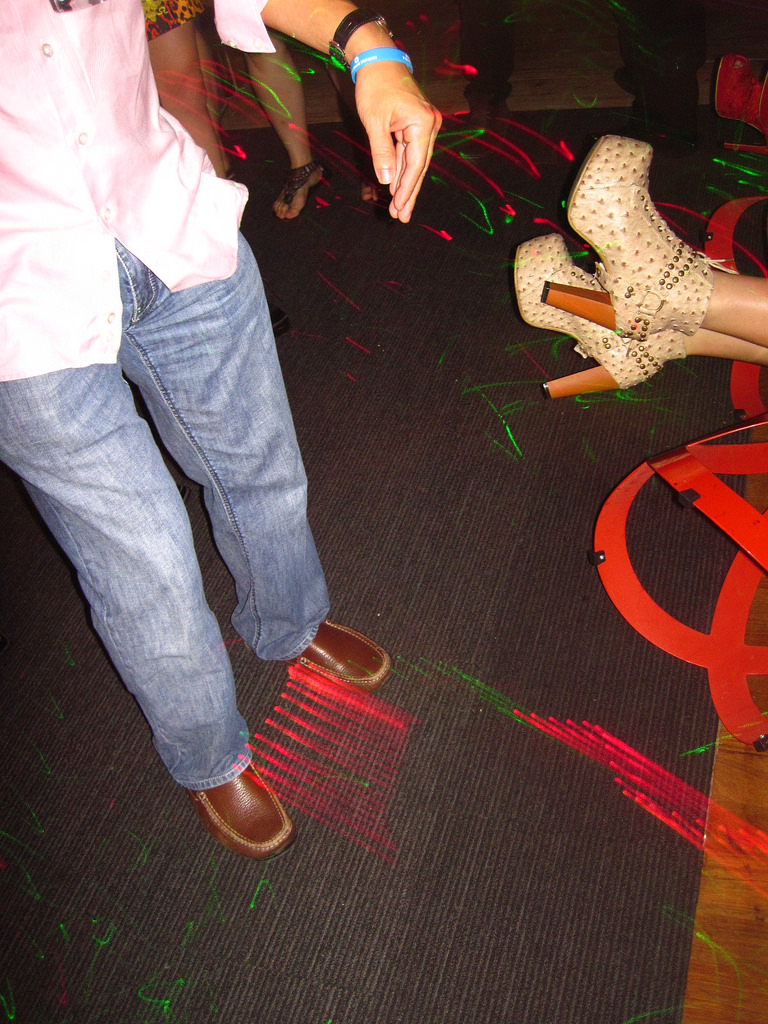 There's a story behind this photo, but only Helga and Kring can tell it.
By the time we had to get back on the bus to the hotel, everyone was footsore and tired, but happy. They called me the Energizer bunny (or something to that effect) because after dancing, I still had the stamina to get up off my seat and take this wasak photo: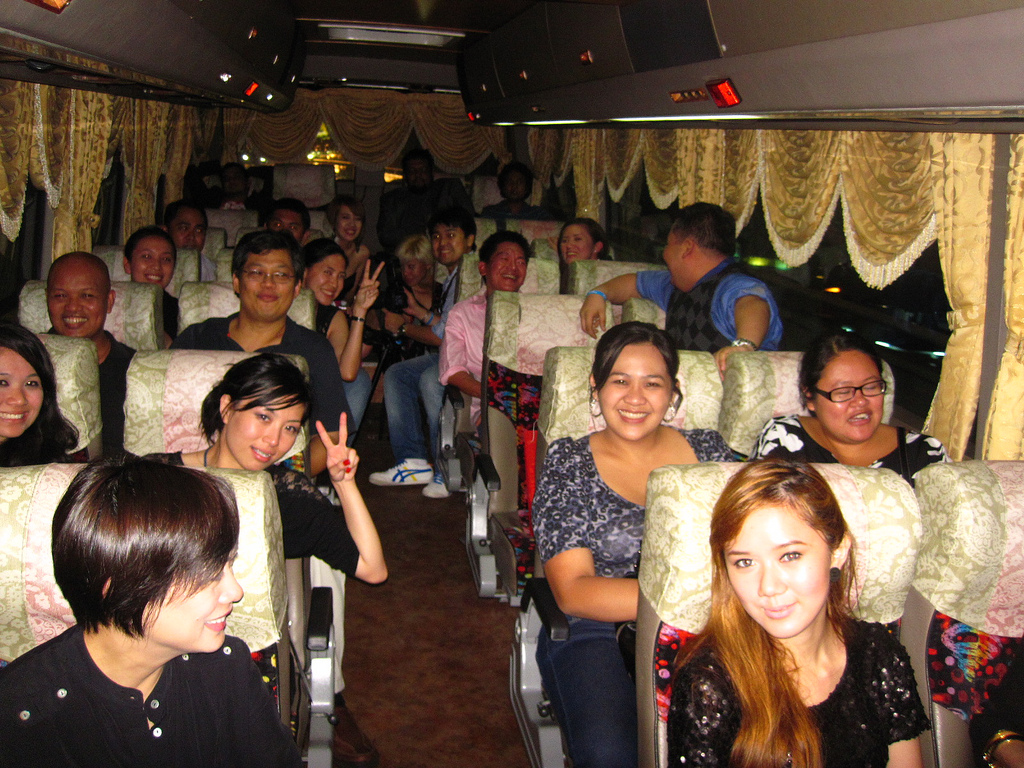 The next day was free and easy, so I had time to head back into the city for some shopping, which you can read about on my other blog.
I love traveling and hanging out with other bloggers, so this trip was a great combo. Thanks to all the lovely people from Nuffnang Philippines and Nuffnang Malaysia for having me. I only have one regret about this trip: because I was always so pooped, I DIDN'T GET UP EARLY ENOUGH TO RUN! 😀
Liked this post? Share it!