Finally, the 2011 Run United trilogy (also known as the RunRio Trilogy, hehe) is complete, capping off a great year of running events in Manila for the Unilab Active Health team. This was definitely their biggest event yet, with six distance categories held in one day. Like I've taken to saying, bonggang-bongga!
But I guess what makes this special for me is that this was my legitimate 21K comeback, after a modicum of proper training. And also, this happened: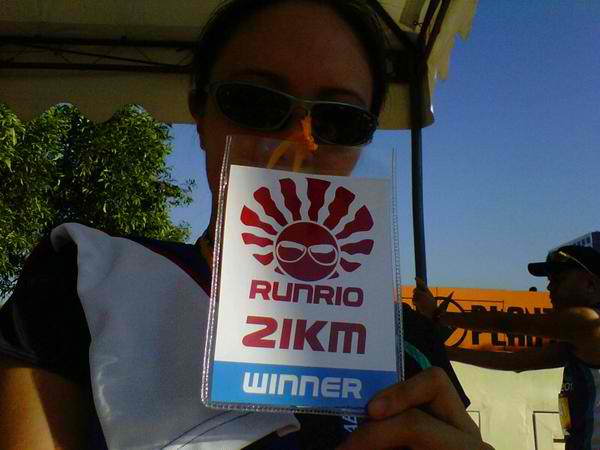 Dreams can come true, they can happen to you…
Remember, I was torn: defend my 10K crown at the Men's Health Urbanathlon, or simply run a 21K at Run United 3? I decided on the 21K since it fits better into my marathon training plan. I didn't know that most of the really fast runners and podium mainstays would opt for the 32K Afroman distance, the 15K, and the 10K. How weird is that? And so the stage was set for one of my most surreal races of 2011 (in a good way).
I got to the Mall of Asia complex at 3:40am, quite early for my gunstart of 4:50am. So I took the opportunity to nap in my car and woke up at 4am, just in time to bump into Gail heading to the starting line for her 32K. With a big smile and hug from her, it was a great start to my race morning.
By the time I got to the starting line, there was already a huge mass of 32K runners in their chute. When their gun fired, it took about three minutes for the majority of them to empty out onto the road! The 21K runners were ushered to the other side of the road's center divider, where our chute was. I'd forgotten how different a 21K starting line feels from that of a 10K. The runners I was among were relaxed, not frenzied, possibly because they knew it was a long run ahead of them and they were conserving energy. So when the gun fired, most set off at a comfortable pace, knowing that any who surged ahead would wind up drained before the race's end.
Not even into my first kilometer, I fell into step with Wil, a friend from the XTRM triathlon team. He said he needed to control his pace at the outset so he could have enough left in the tank at the finish, and I said I just wanted to finish in under an hour. We decided to keep pace with one another. So down along Roxas Boulevard we went until the first U-turn, near Coastal Mall. Luisa Raterta, the women's first-placer, saw us as she ran back and told me I was in second. What?!
So our goal changed; we would watch out for the women behind me and would work towards maintaining my place in the finish order. (No, I can't even dream of overtaking Luisa; she runs like a horse!) As Wil and I approached the second U-turn at Luneta Park, we spotted another 21K woman in a black trisuit running back towards us. It was impossible for someone to have overtaken us, so we knew this woman must have taken a shortcut, not running the southbound Roxas Boulevard stretch. No way were we going let her take a podium spot, so Wil and I picked up our pace; thankfully she faded behind us — just as we ran into a solid wall of 10K and 15K runners.
To avoid cramps, we took walk breaks at every hydration station, which turned out to be an excellent strategy because at the 20K mark, I was able to break into a sub-5 minute pace dash to the finish. I'd finished my 21K in 1 hour, 56 minutes, seconds.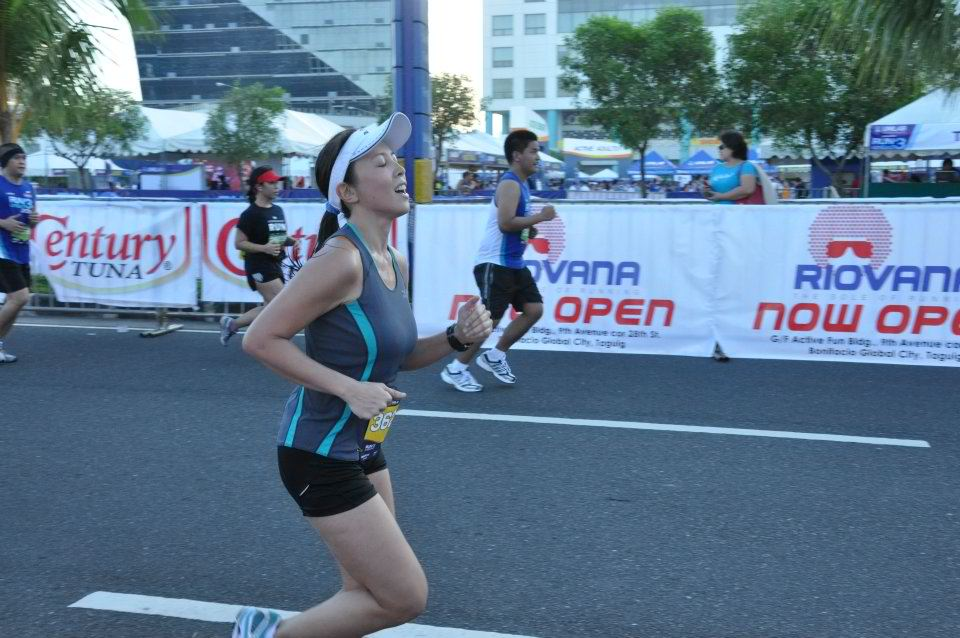 This is it! (photo by Maie Hernandez-Alvarez)
At the finish line, Vima welcomed me with the news I had finished in third place as I received my finisher's medal, Alaxan FR shirt, and another Run United 3 singlet. The woman who had snatched second place from my jaws was Mary Grace de los Santos. Just to clarify, she was not the woman in the black trisuit whom we overtook. Grace had gone under Buendia flyover when we all entered Roxas Boulevard from CCP, but was so fast that even when she got lost (the reason I hadn't seen her at the first U-turn), she was able to make up the lost time and distance and overtook me after the second U-turn (when there were so many runners from other distances that I couldn't have known someone had overtaken me). I didn't really care about being bumped down to third place; in fact, I was ecstatic about placing at all, despite this not being a PR race for me. (Echoes of Oscar speeches? "It's an honor just to be nominated.")
Can I make a speech? (photo by Wilfredo Villon Veluz)
Post-race was a lot of fun as well, since I got to watch the Enervon cheerdance competition and check out some booths at the ginormous (not a real English word) event area.
It all felt like the happiest running dream I'd ever had: the morale-boosting hug from Gail, pacer Wil, the depth of competition (or lack thereof)… For everything to come together like that, I really can't take any credit. Thank you Lord for making one of my secret running dreams come true!
Race in Review
Route: Bringing back echoes of the 500-Smile Run the week before and my first Milo marathon last year, RU3's route took us end-to-end on Roxas Boulevard, passing by the CCP Complex and Macapagal Boulevard on the way to and from MOA. Simple so I could hold a constant pace without thinking about where the next turn would be. My biggest challenge was to hold that pace over the long stretches of flat road, my bete noir in running. I do question the lack of timing mat at the U-turn on Coastal, since shortcutters (should I call them cheaters?) have an incentive to take an early U-turn.
Traffic Management: Though lane closure was limited on Roxas Boulevard southbound to Coastal, it didn't feel cramped at all and I felt safe since vehicles were very clearly diverted away from the course. There were big clear signs to point the way — except for where runners came out from CCP to Roxas. Marshals were yelling at 21K runners to turn right onto the Buendia flyover but there were some who took a left turn toward Luneta, and others who turned right but went under the flyover to join the 32K runners heading down Buendia (yikes!).
Hydration: I loved that whenever I wanted to take a walk break, there was a hydration station on the horizon. This was one of the strongest points of the race's organization.
Package: I was able to use my reusable Runrio timing card at this race, and Run United 3 results were out in a reasonable three days, presumably already double-checked and verified. The finisher medal is well-crafted (ribbon is sewn so that it doesn't separate from the metal medal), and I absolutely adore the finisher shirt. For the tag price of P750 for the 21K (my kit was complimentary, by the way), this was the best-organized of the trilogy this year.
Freebies: Yet again Unilab's guaranteed loot bags were full of useful medicines and food supplements. There was even a knee strap from 3M for the 21K finishers!
I re-read my review of RU2, and I'm so glad that RunRio and Unilab were able to address the issues I brought up there. For that I give this race FIVE KIKAY PINKIE FINGERS out of FIVE.
Next year's Run United RunRio Trilogy is already a done deal, with an initial schedule for March, July, and September. But watch out for October 2012, when the Run United Philippine Marathon will be held. Yes, that's right, it features a full marathon! With the quality of races from these two entities, I'm excited to see how many will be enticed to make it their first marathon.
Liked this post? Share it!