Some weeks back I tweeted, "Ano ba yan? Puro na lang night run!" (What is this? More night runs!) In 2009, the only night run was the Kenny's Open. Now it seems that night races are the next fad, attracting a new crowd of runners more predisposed to do their racing at night. One of the pioneers in festive night races is the Adobo Run, which just had its second edition last Saturday, October 29. Held in the Aseana Business Park on Macapagal Avenue, the race had a carnival theme, complete with float, fire dancers, stilt walkers, fireworks, and an afterparty!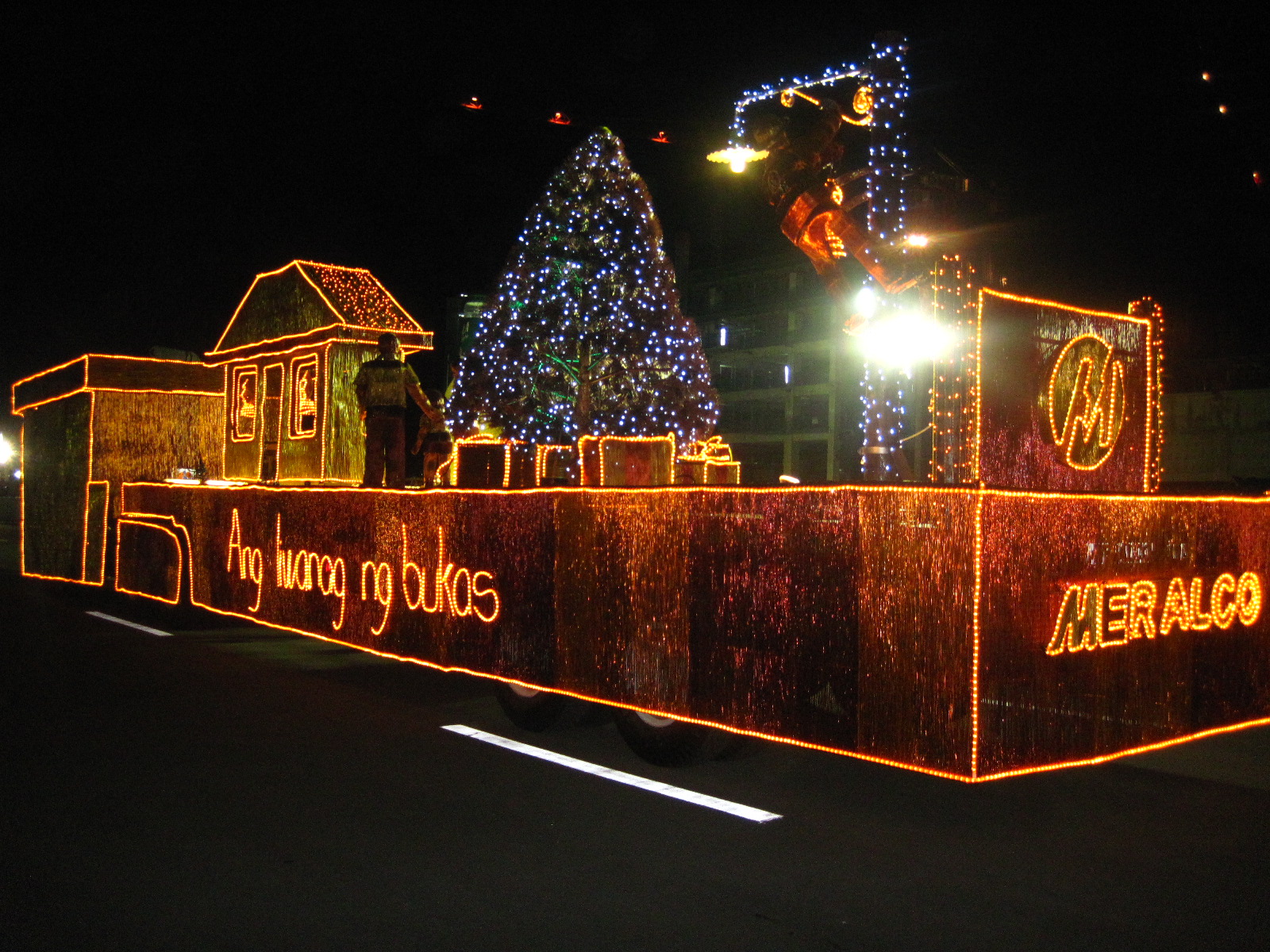 the Meralco float
After a week of planning, I decided to come in costume as Wonder Woman. And what do you know? I come across Greek goddess the Running Diva early in the evening. We were kind of worried that nobody else would be in costume, but as the venue started filling up, we spotted some fun costumes such as the entire Batman family, Death, Stitch from Lilo & Stitch, and others.
going Greek (photo by Philip Castro)
The 3K costume run was first on the lineup at 8pm, followed by our 5K, then 15K supposedly at 9pm. Before the race started I overheard plenty of first-timer questions, such as "Where can I leave my bag?" or "Where do I go to the toilet?" I guess one of the deterrents to joining regular races is the early morning gunstart. Ü
So off we ran, and I'm just thankful my costume didn't fall apart. I'd decided just to enjoy the whole experience, so I left my Garmin and my sports watch at home. Besides, I had wrist cuffs. Hehehe!
costume in action (photo by Hangout Buddies)
After crossing the finish line with a surprising time of 22 minutes, 41 seconds (I heard the course was short?), I congregated along with other friends for photos of our sweaty selves still in costume.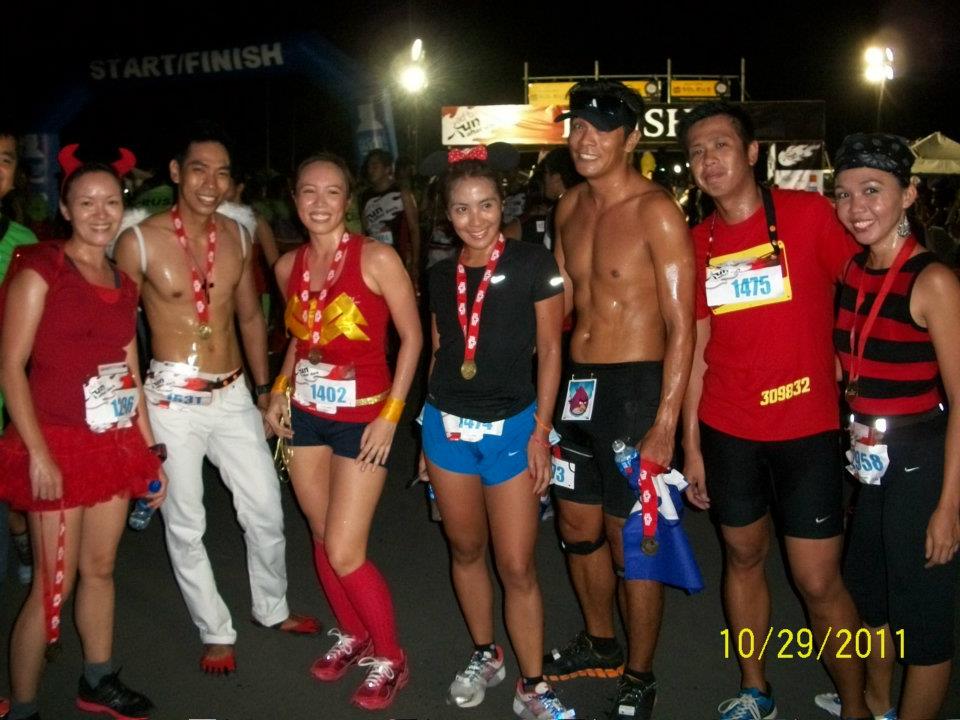 a motley crew (photo by Allan Tauyan)
I didn't stay for the afterparty because I had to catch an early-morning flight the next day, but I was glad to have participated in this race. Its beneficiary is Isang Litrong Liwanag, a venture by the MyShelter Foundation which aims to bring the eco-friendly Solar Bottle Bulb to disprivileged communities in the country. Race participants were encouraged to bring 1-liter plastic bottles to the race, which will then be used to create more solar bottle bulbs.
[youtube https://www.youtube.com/watch?v=o-Fpsw_yYPg?version=3&hl=en_US&w=420&h=315]
Isang Litrong Liwanag
While the solar bottle bulb can't be used at night (it simply diffuses sunlight), efforts like this help bring down electrical costs and can discourage illegal electrical connections which cause fires in shanty towns. Definitely a great cause to get into.
Race in Review
Route: Because the race was confined to the closed roads within the Aseana complex, we didn't have to contend with vehicular traffic. The roads were wide, straight, smoothly paved with asphalt (yay! softer than concrete), and well-lit for the most part with clear turn markers, encouraging me to pick up my pace. I wouldn't want to have to do three rounds of that, though, which is what the 15K runners did. Apparently the course was short though?
Traffic Management: The holding area for participants waiting for their gunstart was too small and crowded. There was also a barricade preventing free-flowing traffic to the portalets. One needed to take an electric shuttle from the parking lots on Macapagal Avenue all the way to the race venue inside the complex, but there weren't enough shuttles to go round. Plenty of people ended up walking about a kilometer or more just to get to the starting line. And baggage claim was a nightmare! (Well, it was a Halloween event, after all…)
Hydration: Pocari Sweat, yay! The tables were spaced efficiently and cups were always filled. I skipped some tables since it was just a 5K run for me but I'm sure the 15K participants appreciated the hydration abundance.
Package: I love that the singlet has reflective strips on the back for visibility at night. The RFID timing tags enabled next-day results publishing (see Adobo Run 2011 results here). What I regretted was the carnival dancers and performers didn't get the attention they deserved for the show they put on, since everyone was so focused on the race ahead of them.
Freebies: Free Manila beer. Hic.
This was a great race if you weren't looking to be serious about it and be able to enjoy the costumes, sights, and afterparty. (For those in costume, did you go to any costume parties after?) Plenty of room for improvement, but fun nevertheless. I give this race THREE KIKAY PINKIE FINGERS out of FIVE.
Awoooooo! (photo by Quintin Atienza II)
Liked this post? Share it!