Freaky weather these days; we're well into the second "-ber" month but it's still annoyingly hot when the sun's shining, or miserably raining when it's not.
One of the races that got hit by the uncertain weather was the Avon Race to 125,000 Kisses. Originally meant to be on October 2, a forecast of stormy weather postponed it to the next week.
My mom, dad, and I were supposed to run it, but on race day only I stepped up to the starting line. There were still plenty of people, men and women, who showed up as well, quite a good showing considering this race's pink and black singlet seems targeted for women.
The run itself was uneventful. I wasn't feeling at my best, so as soon as I was confident that the woman behind me couldn't catch up to me and that I couldn't catch up to the woman in front of me, I just allowed my body to fall into a comfortable rhythm. I finished in 54 minutes, my slowest 10K in years, but I was just glad for the exercise.
So I went back to my car and changed into some dry clothing. As I headed back to the event area to find some food, I heard my name being called. When I went to the technical booth, they asked for my bib number because they wanted to confirm whether or not I came in third place!
I had been keeping track, so I knew that there had been three women ahead of me through the first half of the race. I lost sight of the third placer so I just assumed that she was way in front of me. Apparently, at the last U-turn for 10K she must have gone straight and taken the further U-turn (for 5K), so she finished in 57 minutes. I had taken the correct U-turn and had inadvertently overtaken her.
So, even if it did feel kind of strange — I wasn't even called onstage anymore because they had announced the winners some minutes before — I accepted the token cash prize and gift bag from Chris Sports. Sometimes you're the wheel, and sometimes you're the road…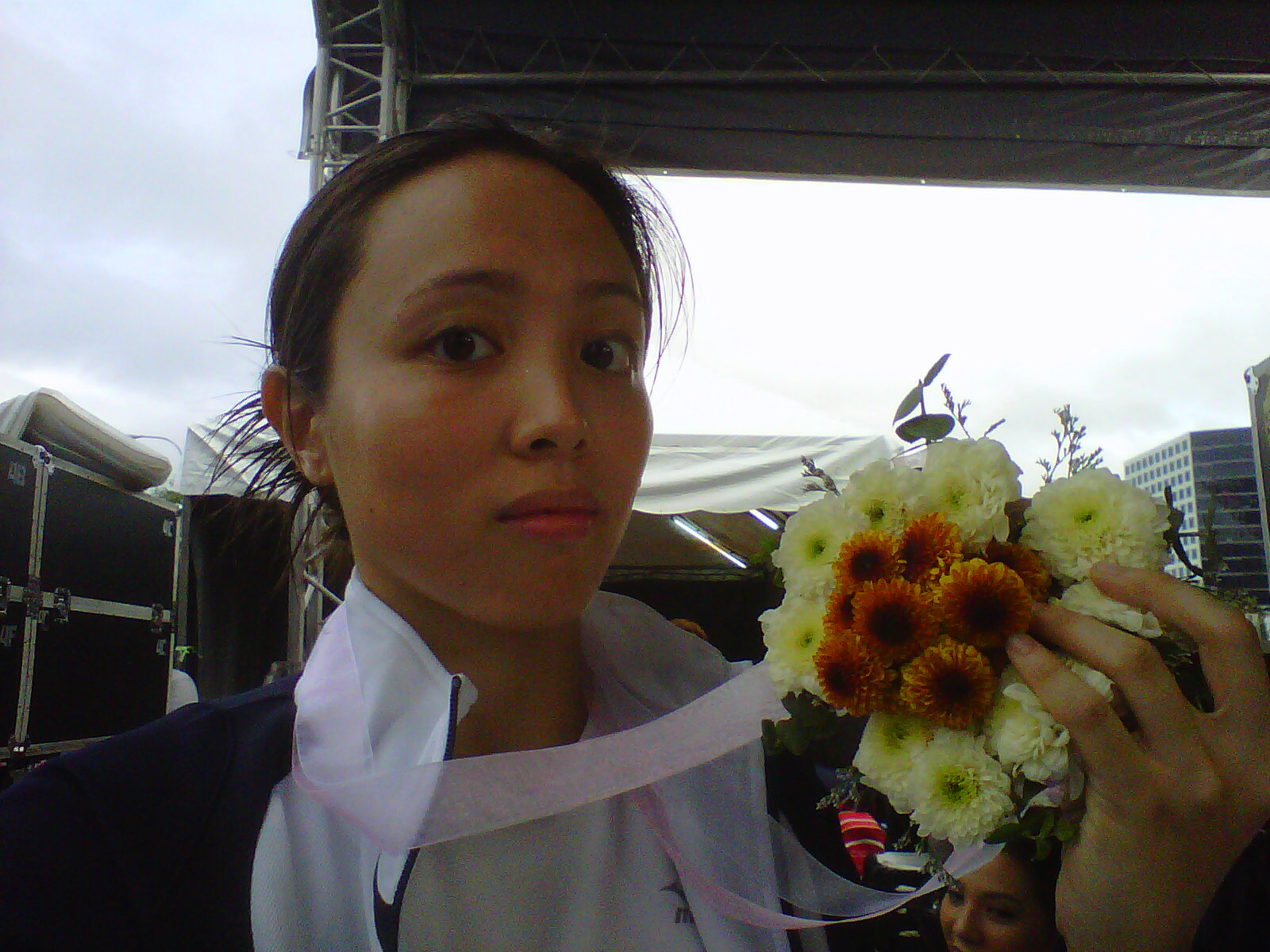 Well, this is unexpected.
Race in Review
Route: Like all Mall of Asia races, flatness galore! I'm sure many runners appreciated it, but after a while my legs were screaming for a change (prolonged running at the same inclination uses the same muscles over and over). We had to pass about five or six U-turns; loop cords were handed out to prevent shortcutting.
Traffic Management: the MOA complex is quite a closed system, so there weren't too many vehicles on the roads except for race participants' andd those of people caught unaware that there would be a race. There was just one hiccup where a minor intersection was left temporarily unmanned and some jeepneys attempted to cross runners' paths. That was quickly corrected, though.
Hydration: There was no lack of water or Pocari Sweat at the hydration stations. I tried to toss my cups into the waiting trash bins, too.
Package: The yearly Avon Race raises awareness for breast cancer. Proceeds from the race will go to PGH Breast Care Center and selected provincial hospitals, and in return I got a cute Kiss bag tag which numbers me among the 125,000 "kisses" in the race name. I also got a black and pink singlet which goes together perfectly with my pink Mizuno running shorts and Wave Mercury shoes.
Freebies: The post-race goodie bag was a reusable cloth shopping bag filled with Multisport magazine issues, Nutribars, Milo 3-in-1, and a bar of Cadbury chocolate. Yum!
It was a good race; I only wish my parents had been there with me. I give it FOUR KIKAY PINKIE FINGERS out of FIVE!