Somebody over at Runrio must have been praying really hard for Typhoon Nesat (Pedring) not to make landfall before the race last Sunday, because that morning dawned HOT HOT HOT!
I guess the real storm that weekend was the sheer number of runners from Manila that descended on Naga City and CWC. I arrived via plane on Saturday morning (a plane full of ultramarathoners and celebrities) and promptly ran into a group of adination of Runners from UP, who call themselves the Heartbreakers.
UP-aNR Heartbreakers (photo by Randy Cabanero)
At the press conference held later that day, I found out that there were approximately 21,000 registered runners for the entire event, with thousands upon thousands set to run in the 3K and 5K categories. The 10K was one of the more sparse categories to run in as most hardcore travelers from Manila had trained for the 21K and 42K. For every runner, 10 trees would be planted in a reforestation effort, which means that 210,000 trees would be planted after the race.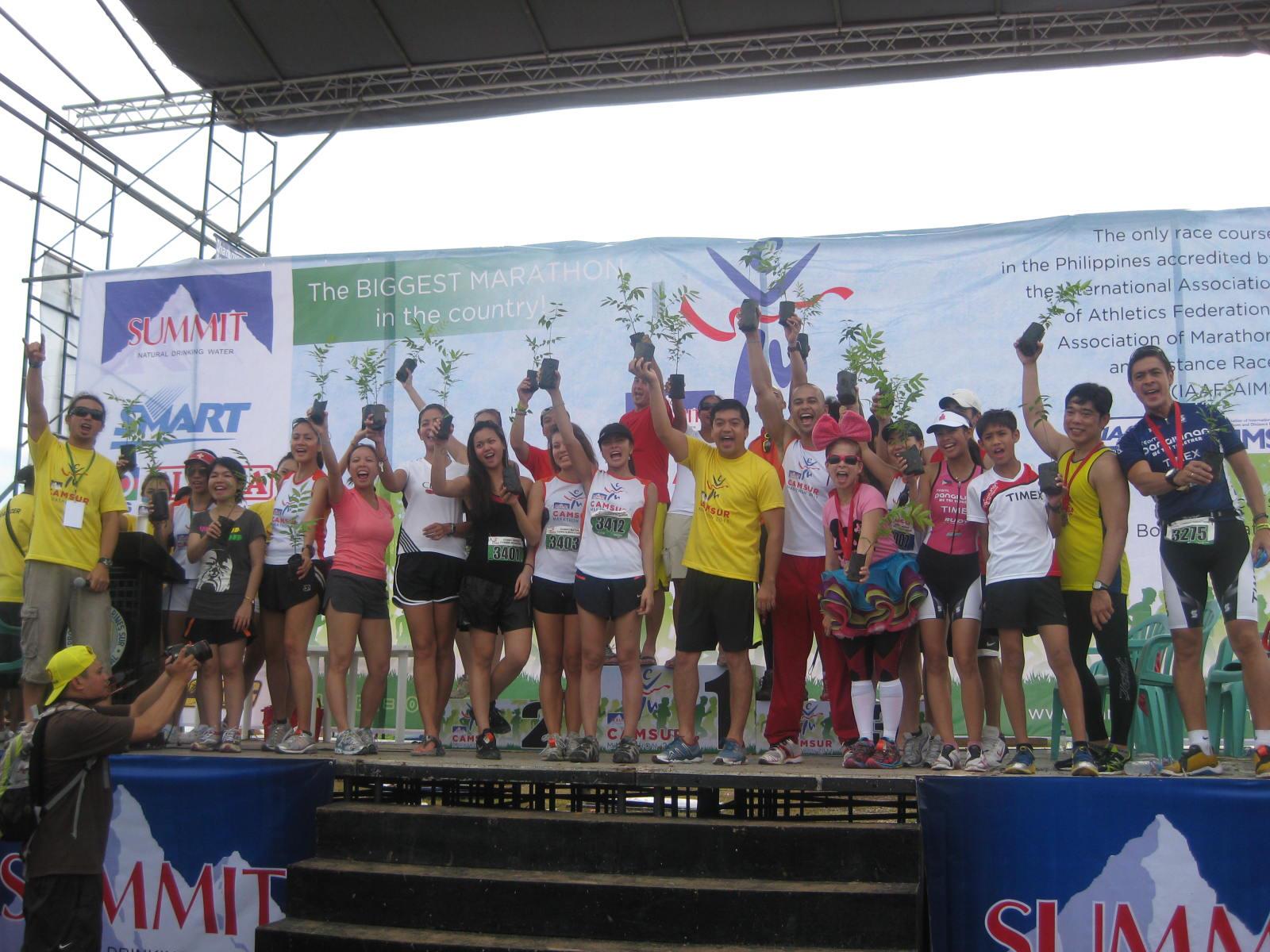 Guess who snuck up on stage? (photo from Patty Betita)
Being the dutiful runner, I went to bed at 8pm because I would have to be up by 2am so I could catch the shuttle to the 10K starting line by 3:45am. In the dark there was a slight chill, but soon crammed in among the other runners at Freedom Stadium, I was toasty and slightly sweaty.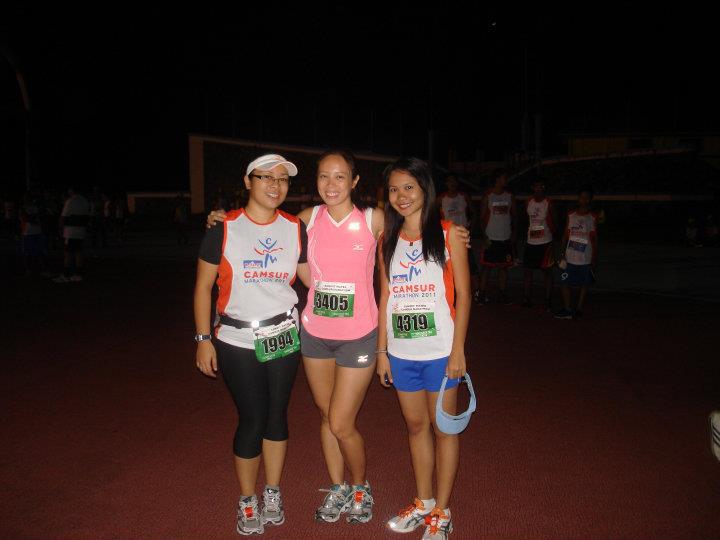 Still fresh! (photo from Mhylz Orais)
We saw fireworks in the distance and knew the 42K race had commenced from within the CWC grounds. Soon enough, it was Freedom Stadium's turn for festive fireworks (which were set too close to us for my own comfort). Due to the huge number of 5K runners, they were let loose before we were. It must have been a full five minutes as they finished filing out of the stadium before the 10K runners could come to the front of the line!
As I started running, I knew what kind of terrain we would face. Low but steady uphills which would sap the speed out of our legs, short downhills which would barely give us time to recover, and a crowded last two kilometers to the finish. Physically I felt stronger than how I was at my last 10K race, but it's hard to maintain pace on such a course. I just tried to chase down those ahead of me one woman at a time. It was nice to run alongside someone from Camsur during the last three kilometers. Mr. Villanueva (as he introduced himself to me) and I had been leapfrogging each other after the 6th kilometer, so finally we settled into a comfortable rhythm overtaking people who had started off too hot.
Making the turn to the finish line, I was pleased to see the 10K have their own chute, which allowed me to sprint across without having to dodge people. I had made pretty good time, so I had a huge grin on my face.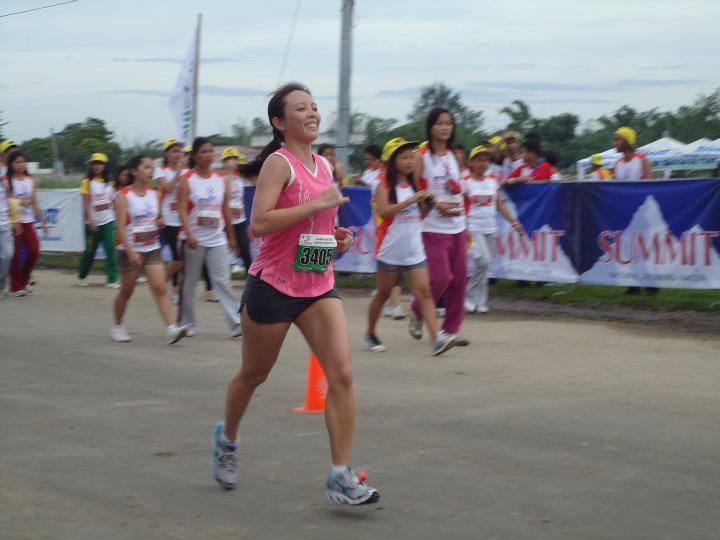 Does this outfit look familiar? (photo from Edgar Caballero)
Race in Review
Route: Runrio did a great job separating the routes of the 3K and 5K from the longer distances. Can't really do anything about the flatness of Camsur, but I liked the out-and-back route for the 10K because it didn't need me to think about where we were turning next. Longer distances, of course, were able to see more of the Camsur countryside since the 21K and 42K looped around.
Traffic Management: A few friends from BHS-aNR had some issues with the separate start and finish lines. Although their shuttle had left on time (3:45am), the road closure before 4am forced them to walk a kilometer before they found a motorcycle willing to carry them the rest of the 4 kilometers to Freedom Stadium. The baggage van was also way too small to accommodate the thousands of bags runners wanted to deposit. And there were still some vehicles traveling on the National Highway when it was supposed to be completely closed — scary!
Hydration: Summit Water was the major sponsor of the race, so water was plentiful. I found the hydration tables a bit short though, but at least the hydration marshals were quick to replenish their stock. Unfortunately, no energy drink was available at the 10K or shorter distances, and from what I heard, 100 Plus was available to 21K and 42K runners only near the end of their route.
Package: The race is a Boston Marathon qualifier, which means instant pogi points for those who dream of running that race. The singlet is eye-catching; I would have worn it afterwards to hang out at the wake park, but the waiters and staff were wearing theirs, too! 10K, 21K, and 42K runners all had D-tags for the electronic timing system; 3K and 5K runners weren't timed. Hmmm.
Congrats to Runrio and the Camsur provincial government for a generally hitch-free race. It was definitely a weekend to remember! I give this race FOUR KIKAY PINKIE FINGERS out of FIVE.
(Many thanks to the Visions & Expressions team for sponsoring my kit, travel, and accommodations, and for the comfy van ride to Manila on Monday when my flight was canceled.)
Liked this post? Share it!