I always joke about how dirt is my Kryptonite, but it's true. I am never at ease on trails surrounded by grass and trees. This comes from growing up in the urban jungle of concrete and glass. Still, I'm always up for a once-a-year challenge, and I got it when I hit the dirt at the Men's Health All-Terrain Race 2011 on June 5 in Nuvali.
There are a few off-road races this coming weekend, but I chose the All-Terrain Race for my trail run because I did it last year, and I kind of have a title to defend. Although the distances offered for the trail run are different, this year I competed again in the shortest distance available (a 5K), seeking to place first again.
There was also a technical mountain bike course to be conquered, and for the crazy ones who wanted to, they could do both the trail run and the trail bike. As for me I think I'll stick to my roadie bike.
It was a close-knit event; it seemed all the participants knew a few other persons; I think for a destination event such as this, most people register as groups so they can at least carpool to the venue and have some people to hang out with post-race.
I watched the 16K and 10K gunstarts (the 10K gun was fired by Rich Hardin, a Men's Health cover guy and one of the winners of Amazing Race Asia). Then I sped off on my 5K. I had a few male model friends running with me who were sent by clothing sponsor Bo' (which provided the event shirt). They raced off hot, but I knew better than to use up my energy during the first part of a trail race.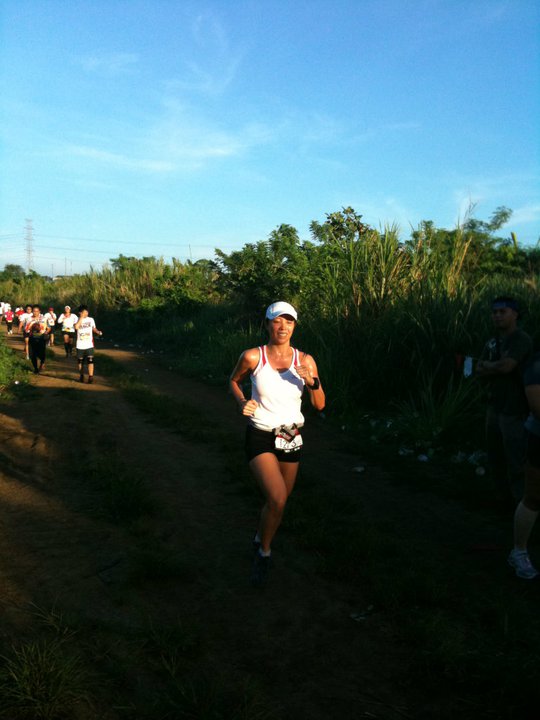 conserving energy by sleeping? photo from SuperJen
Soon enough we encountered a steep and sandy descent. I was glad for my grippy trail shoes, which I got last year and hadn't used since. Unfortunately they didn't have the cushioning I'm used to from my Mizunos. (Remind me to pick up a pair of Mizuno trail shoes for next year.)
It was a simple there-and-back course, so the descent became an ascent on my way back. I overtook my friends and made my way to the finish line. It felt like I had taken such a long time, but it had only been less than half an hour.
Jinoe Gavan of Takbo.ph was one of the race organizers of the All-Terrain Race, and he was there by the finish line to give me the good news. "Congrats again," he said. First place, defended! Thank you, Lord. 🙂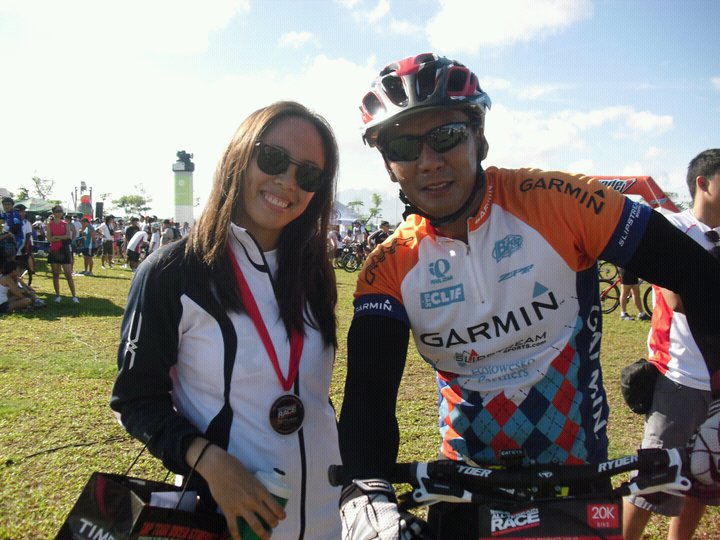 wearing my medal. photo from Allan Tauyan
Race in Review
Route: The event venue was on the side of Nuvali's main road opposite of where it was staged last year. I'm not sure what the route was last year, but it involved a lot more transitions from road to trail back to road. This time around, we began and ended on the road, but the rest of the route was trail — and it felt really isolated out there, apart from the runners and marshals. Good thing it rained the night before so the dust was kept to a minimum.
Hydration: There were hydration stations where they were needed, but I used my Nathan one-bottle hydration belt for the race so I didn't need to stop. I hope they were able to clean up the plastic cups afterwards!
Package: The event shirt is definitely better than last year's; the material is soft and breathable. There was no free brunch, unlike last year though.
The Men's Health All-Terrain Race stands by itself as a combined run-and-bike event. Who knows, maybe next year I'll attempt the bike event. I give this race FOUR KIKAY PINKIE FINGERS out of FIVE.
Liked this post? Share it!