Two Sundays ago, I finally had the chance to experience a road race outside the metro. (Yes, I've raced in Boracay, but that was on the beach.) At the Greenfield Clean Air Run in Sta. Rosa, Laguna, I had traffic-free roads, wide open spaces, and best of all, fresh air to breathe.
The results? Well…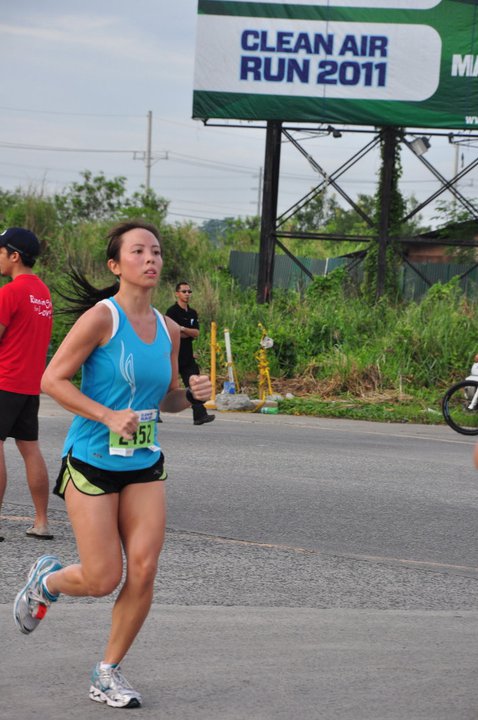 photo by Greenfield Clean Air Run
It was a race smaller than I'm used to, especially by RunRio standards. An hour before gunstart, I noticed some podium regulars like Cris Sabal and Luisa Raterta at the on-site registration booth. They were talking about the level of competition, noting that there weren't any Kenyans in the 10K category. So, they registered in the same category I was racing in.
"Well," I thought, "there goes first place." I hadn't trained for a sub-48 minute 10K, so I once again settled on a sub-50 goal regardless of where I would place in the field.
Once the gun fired, the fastest runners (including two women) put themselves far in front of us. I was in the chase pack, in distant third place. Still, as we came to the first turn-around, I saw the woman behind me and knew that if I could just keep my pace steady and no accidents happened, I had a guaranteed podium position.
The race wound around and around one of the real estate developments Greenfield is developing in the area, preventing any real acceleration on my part. I hit the halfway point around the 23-minute mark, but as I struggled to cover the second 5 kilometers in the same amount of time, I realized that going back there was a slight but steady incline — a false flat. Ouch!
I crossed the finish line in over 49 minutes, quads burning with the effort. But that was exactly what I needed to run away with the 3rd place medal. Ü
Race in Review
Route: The route is a way to market the virtues of the Greenfield real estate developments in Sta. Rosa — the planned open spaces, winding roads which would be very picturesque once the houses are all built and settled into. However, if you were planning to set a PR at this race you might have had some difficulty picking up your pace due to the numerous turns and u-turns.
Hydration: Just as expected from a RunRio race, hydration was plentiful and frequent, although once again it was difficult to figure out which cups held water and which cups held PowerAde.
Package: It's a "sulit" race at the reg fee price, especially if you were able to take advantage of the shuttle coming from Greenfield District in Shaw. And it's something different from your run-of-the-mill weekend race.
The Greenfield Run was a simple and well-executed race. I give it FIVE KIKAY PINKIE FINGERS out of FIVE.