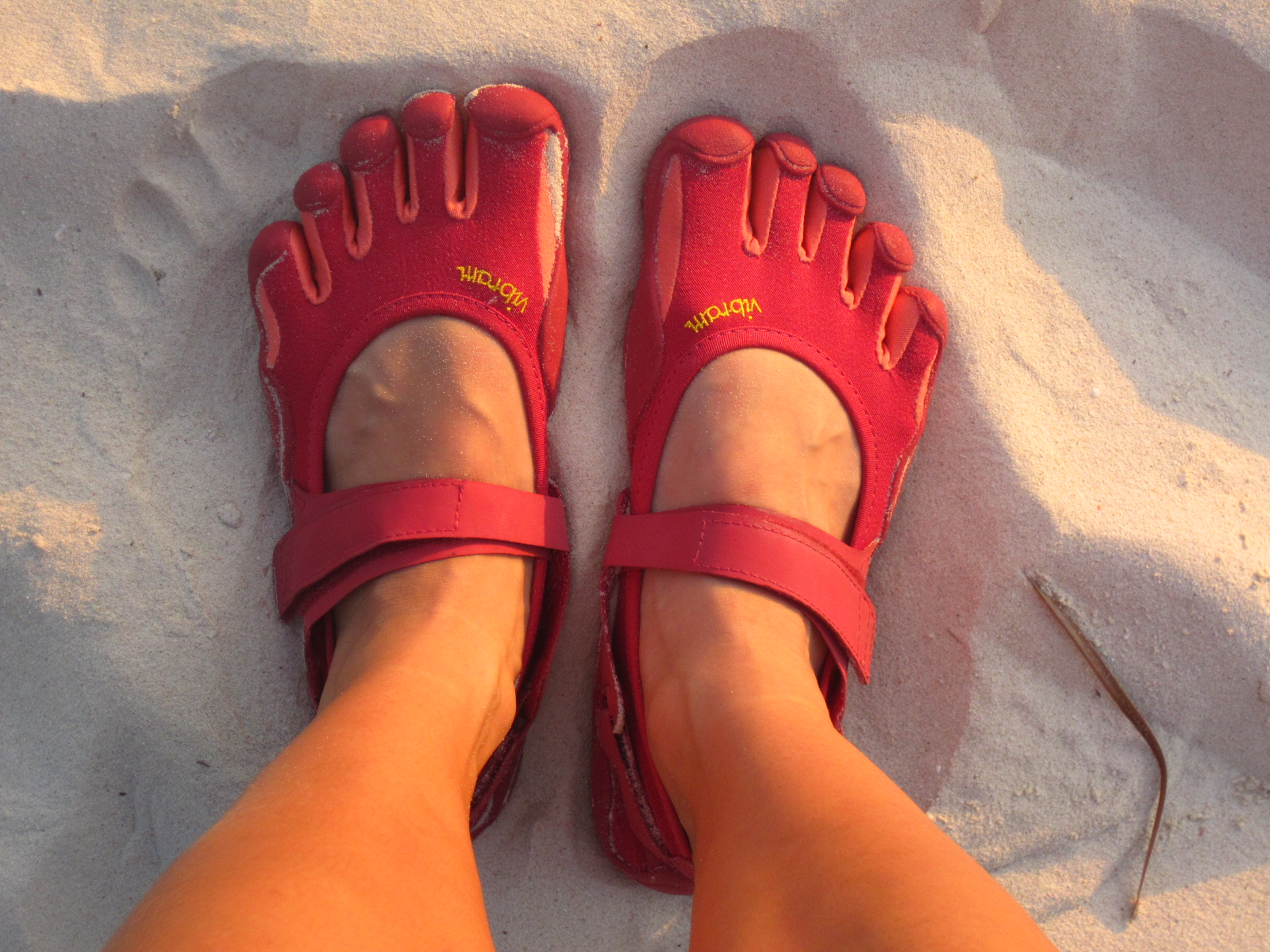 Boracay sand and the VFF Sprint
Last weekend I brought three different kinds of footwear to Boracay: flipflops, my Mizuno Inspire 6 running shoes, and a pair of Vibram Five Fingers given to me to try out (my multisport team Endure is sponsored by VFF).
I spend most days barefoot at my home office, or when I'm teaching my BodyBalance classes. I wore the VFF's during the trip to Boracay just to see how closely they felt like being barefoot. Let me tell you, what I didn't feel underfoot while wearing flipflops, I definitely could feel using the VFF's — down to the bits of gravel we had to walk all over while waiting for transport to our hotel. Ouch! It was an interesting experience to feel all that but not actually get stabbed or cut due to the thin but tough VFF rubber sole.
I have the Sprint model, and they're very comfortable shoes: despite enclosing my toes, they allow my feet to breathe and I can still wiggle my toes freely! I would have worn them to walk on the beach, but sand just kept getting into them and staying in them. The KSO model might have been better at keeping sand out. My pink Sprint VFF's are still so cute though, so I will use them for walking around in the mall or to do my errands. Granted they got some stares and incited some excited chatter among some kids when I stepped into the airport in them, but that just adds to their charm.
The VFF 2011 summer collection includes a new version of the Bikila, a new model called the Jaya, and the Komodo which is more cushioned than regular VFF's.
In case you're interested in getting a pair of VFF's for your Holy Week getaway, I've got a special treat for you! Print out this coupon for 10% off the 2011 summer collection or 25% off the Classic, Sprint, and Bikila models. Enjoy!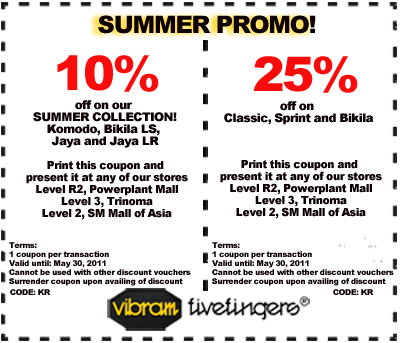 Please leave me a comment if you've used the coupon, and how you find your new VFF's. Thanks!