It's International Women's Month, and what better way to celebrate being active, powerful women than with an all-women's run?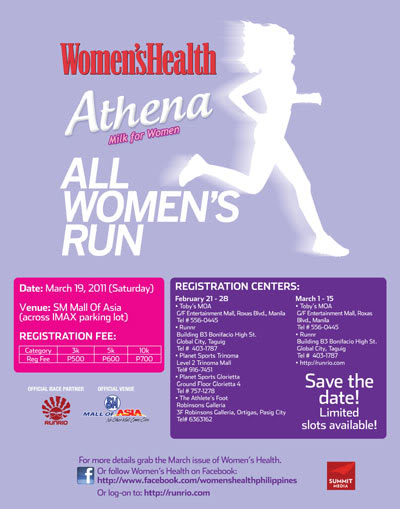 Women's Health Athena All-Women's Run
Women's Health and Athena Milk for Women have partnered up for an All-Women's Run happening on March 19 at the SM Mall of Asia grounds. Women 16 years old and above may register, while younger women may register provided they are accompanied on race day by a female adult registered in the same category.
The race distances and corresponding registration fees are:
3K — P500
5K — P600
10K — P700
The bib and purple racer-back singlet come in a reusable purple race bag which participants can use to collect their freebies from other sponsors at the post-race festival area. Participants must wear the singlet on race day since only participants wearing the singlet will be eligible for the finisher's bracelets (5K and 10K categories only).
I've tried using the singlet already; the material is soft and comfortable and it's flattering to a woman's figure. I'm excited to wear it while running my 5K. Many thanks to Women's Health and Athena for my complimentary kit, although I wouldn't have any qualms about registering for the race otherwise due to its reasonable price. And I really want that finisher's bracelet. 🙂
I'm thinking of dressing up for this run. I hope I don't run into Tessa! 😉
Liked this post? Share it!