As a woman runner, I am in the minority during a regular race. There are always more men than women on the road, especially in the distance categories I join. The air during the start queue is thick with testosterone and man-smell (yes, men smell).
At the Women's Health Athena All-Women's Run last Saturday, only women were permitted on the road. How different would this race be?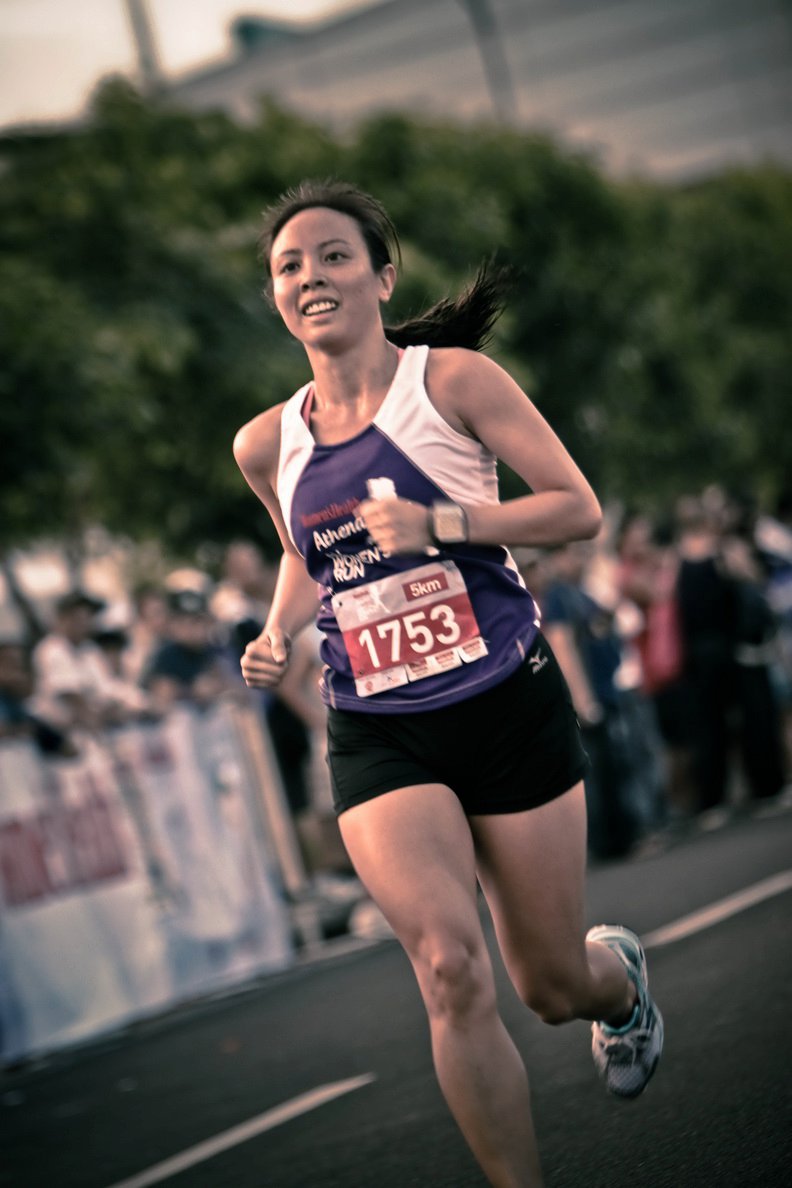 photo by KB Runner
Sugar, Spice, & Everything Nice
I arrived at the race venue some time around 5 a.m. While there were already some runners in the corral waiting for the 10K gun start, many preferred to wait outside the fences while their friends arrived. The air was thick with women's chatter, but it seemed like everyone had their morning shower, as I didn't get even a whiff of body odor.
There were men there, of course; dear husbands, devoted boyfriends, adik ka-barkadas and the occasional bystander lured by the prospect of seeing thousands of women all in one place. I heard one man remark to his friend, "Ang lungkot pala kung hindi ka tatakbo." ("I didn't realize it was so depressing not to run.") Sorry, boys, this is our run. *wink*
After a functional warm-up led by BARRE3 instructors, the 10K runners were sent on their way, and 5K runners (including me) queued up.
Singlet Out
The Athena Run was special not just because of its post-race goodies, like the Tiffany-type bracelet for 5K and 10K finishers and air-conditioned tent for giveaway collection. It also had a special rule stating that only women who were wearing the official race singlet would be eligible for the giveaways and for prizes. In short, wearing the singlet was required. So, of course, almost all of the participants complied.
At the 5K queue, I realized that there were not a few frequent podium placers among us. Then the gun went off, and away went four women ahead of me, two of them not wearing the singlet. I was a distant fifth-placer, but as Coach Rio drove up alongside me in his scooter (this was a RunRio-directed race), I told him about my concern. He told me to submit a written protest after I finished.
(Aside: Last year at Run United 1,  I came in third place but was almost disqualified due to an obscure rule that said Unilab employees and their family members were not eligible for prizes. I had actually given up my place then but since no one had protested, I was awarded anyway.)
Now all I had to do was hold onto my lead over the other thousand women behind me. *gulp*
I am Number Four
Less than a kilometer out, suddenly one of the women (not in singlet) ahead of me came to an immediate stop, looking sick. As Rio and the nearby marshals rushed to her aid, I sped on ahead. Now I was in fourth place.
With flat race courses like Mall of Asia, there are no downhills where you can recover and allow gravity to speed you onwards. You've got to keep pushing yourself onwards with your legs. Halfway through, I was breathless and my body was begging to stop. But the top three women were only half a kilometer away; I couldn't let up.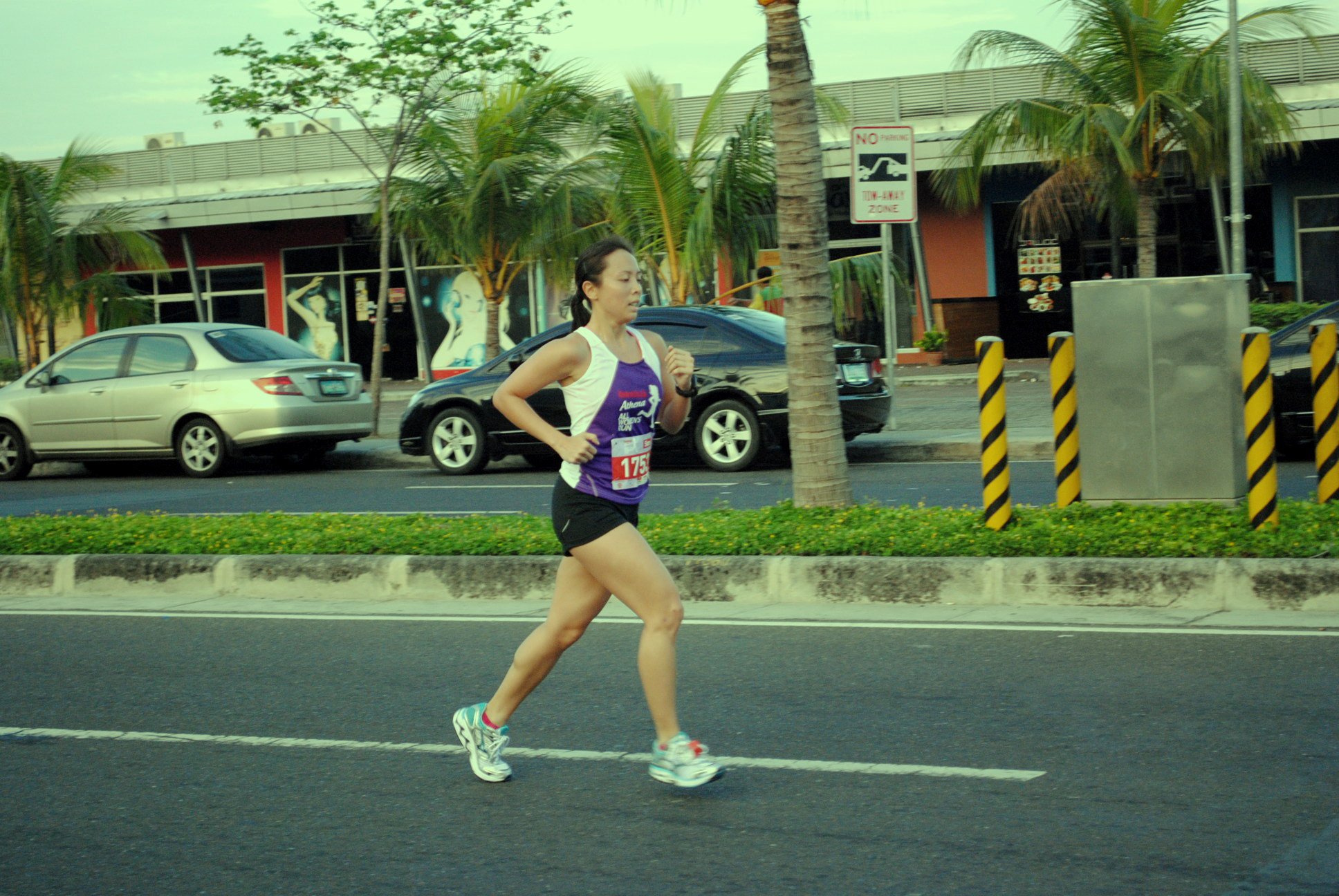 Blocking out the pain (photo by B.A. Racoma)
Somewhere around Kilometer 3 I realized how strange it was that I was the only one on the road (the lead women had vanished around a corner); even in past races when I was in the lead, there were always men running in front of and behind me. At the Athena run, there were no men who would suddenly put on a burst of speed once they realized I was running alongside them. There were no men who would make silly, rude, or lewd comments about women while I was in earshot. And while I usually latch onto a man's pace in front of me during races, setting my own pace on that open road felt quite empowering.
Rules are Rules
When I finally crossed the finish line (still in fourth place), Rio was there waiting; as I gave my name to the finish marshal, he reminded me about my written protest and so off I went to look for a pen and paper. By the time I found Rio again, a line had formed of women waiting to take photos with him. He should probably have a booth of his own. Or maybe cardboard cut-outs of himself with which people could pose. Haha!
Apparently, they were being very strict with the singlet rule, as finishers from the 10K and 3K categories were also disqualified. Lesson here, kids: know the rules, and follow them. Otherwise, sayang! Still, I'd probably feel better about my podium win if I had actually finished in third place, rather than being bumped up because the first finisher was disqualified.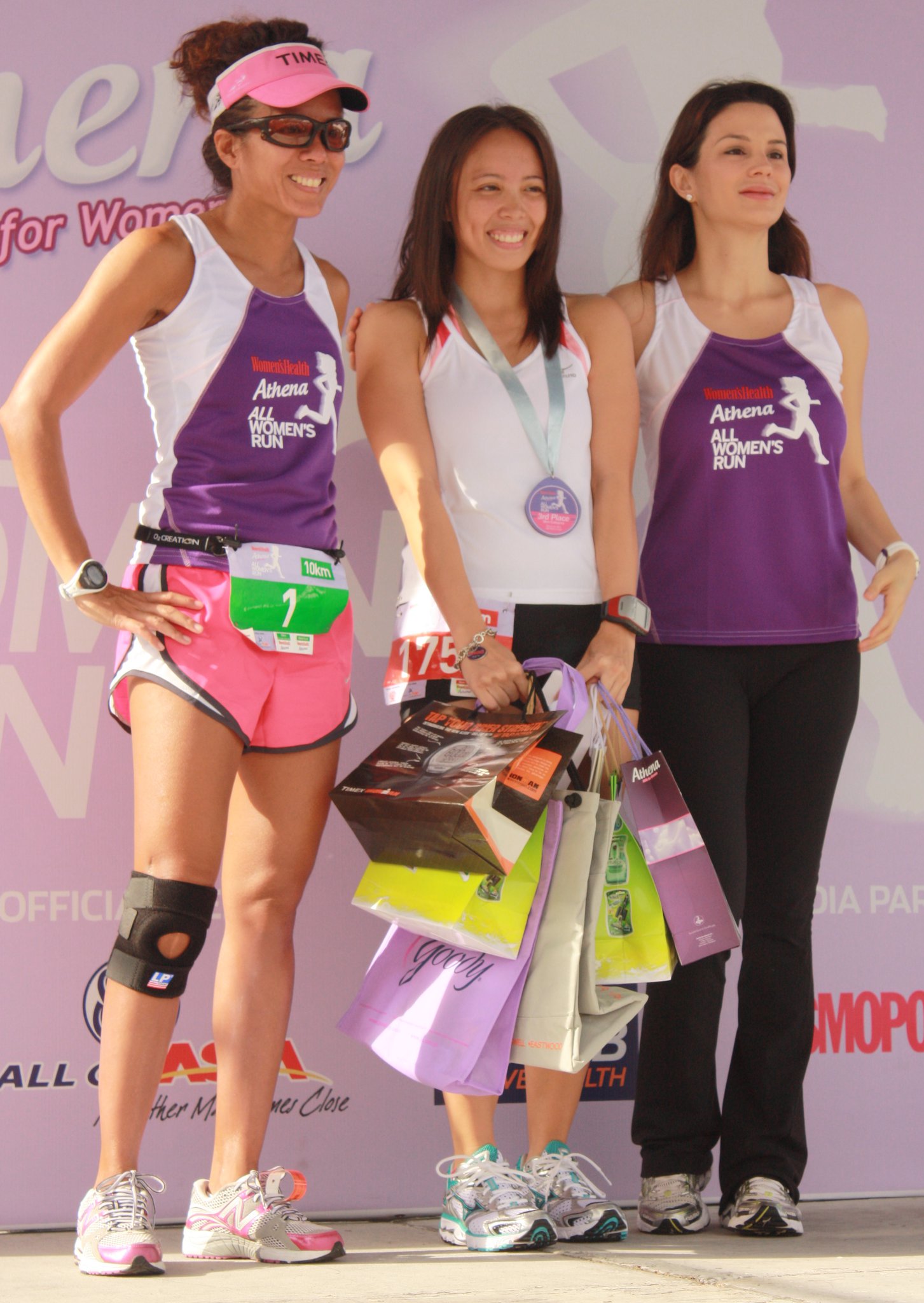 with WH editor-in-chief Lara Parpan and Athena endorser Bianca Araneta-Elizalde (photo by Allan Tauyan)
Race in Review
Route: The Mall of Asia complex has very few options in terms of routes, but at least this one was clearly marked with signboards and plenty of marshals were present to guide you through. Traffic was also well-managed both for runners and vehicles. No traffic jams or traffic hazards, at least during the time I was on the course.
Hydration: There was no isotonic drink sponsor for this race, but for the short distances of 3K, 5K, and 10K, you don't really need to replenish lost electrolytes. The water was clean, cold, and readily available. Good to drink, good to throw onto your head when overheating.
Package: Collecting the finisher's bracelet took a bit of waiting on my part (I waited for everyone else to get theirs, then lined up for it), but it's just the prettiest thing. Definitely something I can wear regularly, unlike a finisher's medal. I also appreciated the fast release of results through the BazuSports interface. Say what you want about the photos they took at the Unilab Run United 1, but BazuSports is definitely faster. (Check out results for Women's Health Athena Run.)
Freebies: I went inside the freebie tent early and found plenty to take advantage of, including manicures and massages. I didn't have time to partake, but I know a lot of other women did!
A women-only race is truly a special event on the calendar. I definitely felt an air of freedom about the whole thing. I'm also happy to report that there were plenty of women who made this their first race ever! It's just wonderful to have a lot more women participating in this sport I love, in this sport which can be truly beneficial to a woman's well-being.
I give this race FIVE KIKAY PINKIE FINGERS out of FIVE. Congratulations to Women's Health, Athena Milk for Women, and RunRio for a great first edition. Hoping for a repeat next year!
Liked this post? Share it!