My team Endure Multisport has made the Subic International Triathlon our "A" race for the year, which means all of us who are members have to join it. Prior to last Sunday, I'd only done one tri at the 2010 Speedo NAGT Ayala Alabang, and its conditions are vastly different from what I'll experience at SuBIT.
That's why I did the 2011 Speedo NAGT Subic last Sunday. Granted it was another minisprint just like AAV, but the other choice was standard/Olympic distance. I'm only targeting a sprint at SuBIT, and there were certain things that I hoped to accomplish by participating in NAGT Subic:
It's the same venue as SuBIT. The swim is done at Dungaree Beach, part of the bike route is on the same roads at the airport, and the run is done on the road connecting Dungaree and All Hands Beach. Familiarity with the route is one of the keys to success.
The swim is in open water. At AAV, the swim was conducted in a pool, which added to my comfort level since there are few unknowns in such a controlled environment. In an open-water swim, there are no walls to push off from, no pool bottom to stand on, not too much forward visibility, and the salt water leaves you dehydrated. I needed to swim in those conditions before attempting it at SuBIT.
I wanted another tri under my belt. It's difficult to start a year with a major race, whether in tri or in running. Although I loved making Condura 2011 my first race of the year, I didn't have the rhythm and momentum I had like at last year going into Milo, for instance. The NAGT was a gentle way of easing back into competition.
And so race day dawned. I had been in Subic for two days already, but since my car battery had discharged I couldn't get to Dungaree for any practice swims. (Stupid me left the headlights on.) The only practice I got was a swim in the small cordoned-off warm-up section, and then we were called to our race briefing.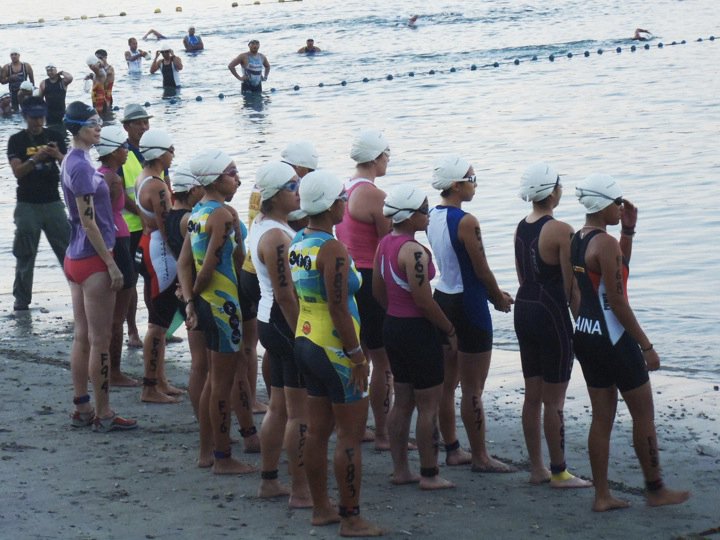 That's an awfully big pool. (photo from Chrys Francisco)
After a few minutes, we were sent off for a washing-machine mass start. In the excitement I started feeling my lungs tightening up, leaving me gasping for air. I felt so unprepared! Since I didn't want to suffer an asthma or panic attack, I flipped over on my back and did most of the swim with a backstroke. As a result, I exited the water in 5th place.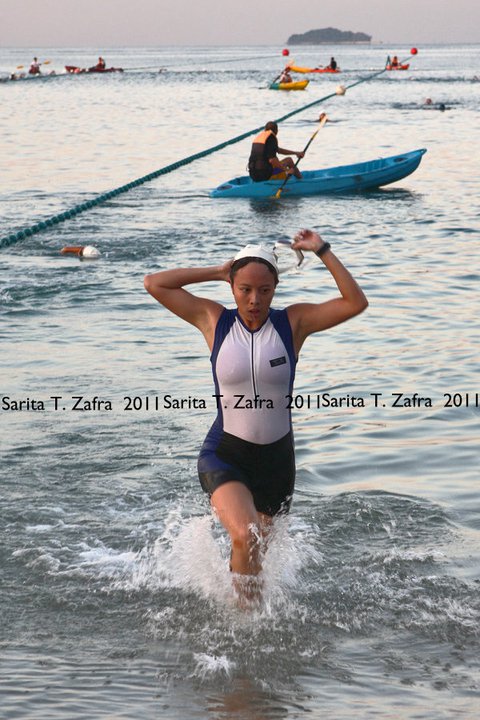 "Catch up! Catch up!" (photo from Sarita T. Zafra)
At T1, I had a pre-choreographed routine which saved me seconds. No sitting. Drink, helmet, belt, socks, shoes, bike, GO!
I was third on the bike, but passed the second-placer because she was having a tough time pedaling. And I was paranoid about her passing me, so I kept pushing, staying in aero position and trying to keep my speed hovering around 28 kph. Finally I came back into T2 with about 5 minutes separating me and the first-placer.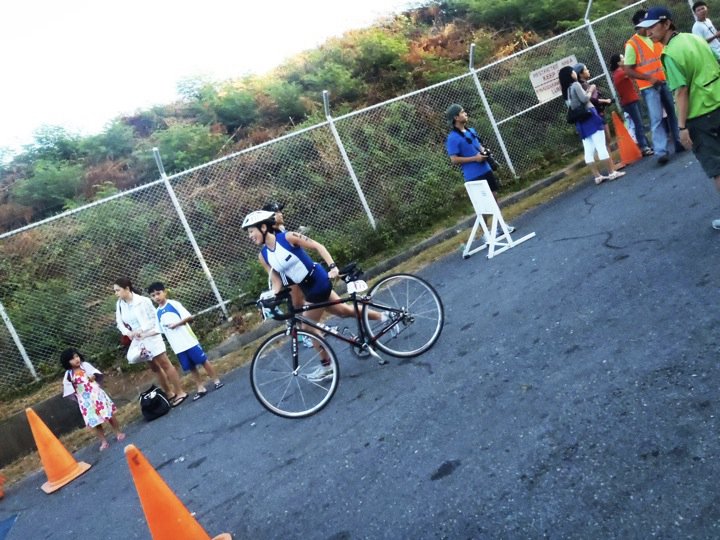 Time to run! (photo from Chrys Francisco)
I had some catching up to do if I wanted to close the gap, but my primary focus for the first half of the 3.3-kilometer run was to shake off the fatigue from the bike and keep a good stride rate.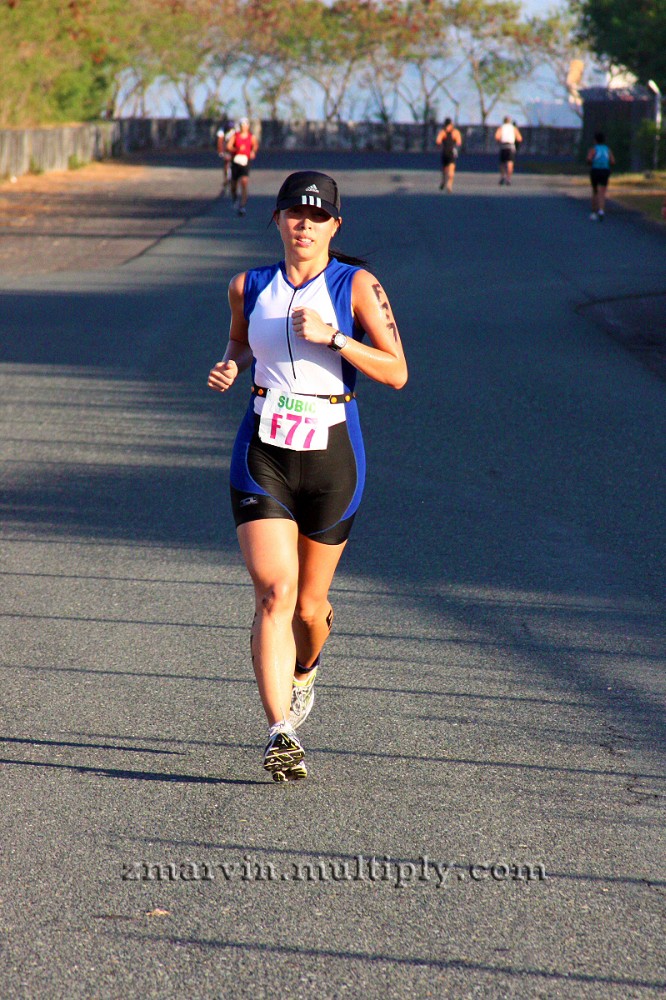 the longest 3 kilometers (photo from Marvin Opulencia)
And then I saw the first-placer at the turnaround point; only 300 meters separated us! I attempted to sprint the remainder of the run course, and with a great big yell crossed the finish line 22 seconds after her.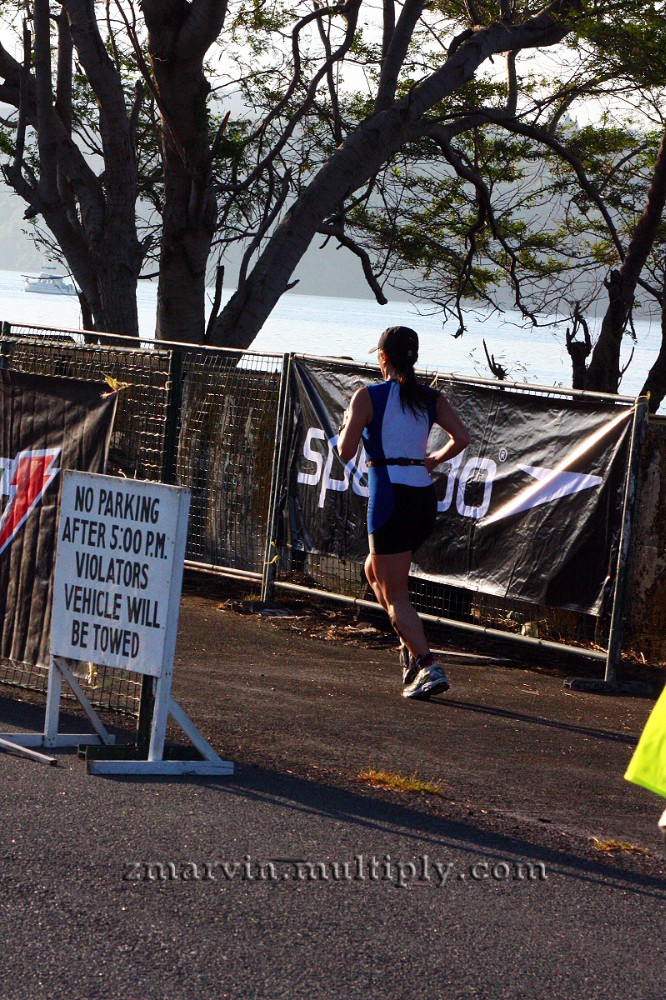 sprinting to second (photo by Marvin Opulencia)
Truth be told, I didn't know how to feel. I was happy to have secured a place on the podium and make my team proud, but there's a certain disappointment you experience when you don't equal a past achievement.
They do say, however, that you learn more when you lose. I'm going to make sure that come SuBIT the open water will not hold any terror for me.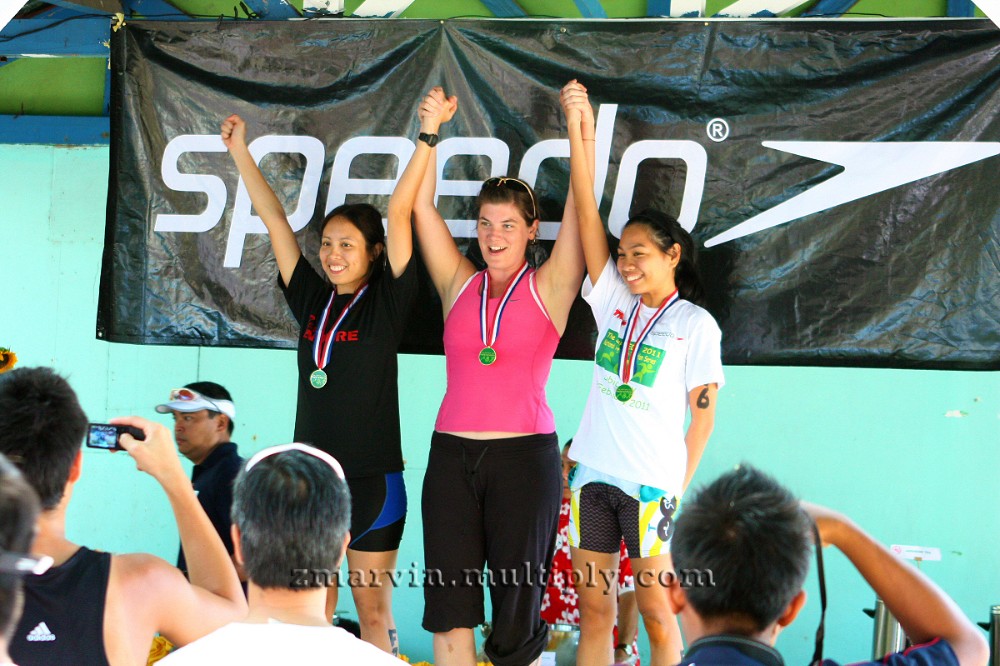 all winners, all smiles (photo by Marvin Opulencia)
Here's a shout-out to fellow multisport blogger Chrys of Team Tri Mac, who won 3rd place in the minisprint in her first triathlon ever! (I'm shaking in my Mizunos now. Mamaw in the making! :O)
Team Endure did really well at NAGT Subic: Erick Guieb secured third place in his age group despite having done a 50-kilometer cycling race the previous day, and Ellen Encinares snatched victory from the jaws of DNF when she was the only one in her age group to complete the standard distance despite getting into a major bike crash. That's the Endure spirit! Our other teammates Tati Dulalia, James Dulalia, and Pio Sugay finished their races strong as well. Many other teammates were on hand to support and give a helpful cheer, so I'd like to thank them, too. Z and Marvin for the encouragement at the finish line, Rico for checking up on everyone on the bike course, and Mama Let for the cheers at transition.
(View the complete NAGT Subic results.)
If you'd like to venture into multisport, why not start with a swim-and-run? Team Endure is organizing an Aquathlon on March 12, 2011 at Filinvest 2, Batasan Hills, Quezon City.
The distances shall be:
Distance Style (Kids 6yrs.-12yrs.) – 50m swim, 1k run
Distance Curve – 400m swim and 3km run
Distance Bold – 600m swim and 5km run
Download reg form and instruction for payment. Check out the run route and directions to the aquathlon venue. There are limited slots only, so register now!
Liked this post? Share it!