With many thanks to the Condura organizers, I got complimentary (and early!) registration to Metro Manila's first marathon event of the year. Since this year I'm focusing on speed instead of distance, I opted to do the half-marathon (also known as a Pikermi) just so I could compare how much I've improved as a runner since last year's Condura Run.
There were a few differences about this year's Condura race, right off the bat. The 21K was a point-to-point race beginning at Ayala Triangle and ending at Bonifacio Global City, so it was a different route that utilized more of the Skyway. Additionally, it was a chip-timed race with runners released in waves to avoid congestion. Due to my early registration, I was in the first wave to be released. Lastly, this year I was shadowed by a National Geographic Channel crew, who were doing a feature on the Condura Skyway Marathon. The other runner they followed around was none other than Patrick Concepcion, who was doing the full marathon. I was (and am still) deeply honored that they approached me for it.
Those three differences increased the pressure on me to perform well; I had to beat my Condura record on a new, untested course with a more accurate timing system, released in the lead pack with many elite runners, with a camera recording my every move and PatCon as the basis of comparison! (And let's not go into how I'm a perfectionist…)
Buzzer-Beater
After getting to bed late because of my grandma's birthday party at my house, I had to wake up at 2am to make it to Ayala Tri by 3:30am, an hour before the 21K scheduled gunstart at 4:30am so the NatGeo team could interview me.
I had a bit of rough-going with the travel time and finding parking in the area since most of the parking buildings I was familiar with weren't even open. Thank God I found street parking near the Manila Peninsula.
I hoofed it to the staging area where a long line of 21K runners were waiting to deposit their bags in the trucks, which would take them to the finish at BGC. Because of the route, there were more people depositing bags than I normally encountered. By the time I'd gotten my baggage tag and could be interviewed, there were only 15 minutes to gun time. Thankfully the interview was simple and I had enough time to elbow my way past all the waves to Wave A. And then the gun fired.
What a Difference a Year Makes
I didn't have my Garmin the last time I ran Condura, so I ran it back then based on feel. This time around, I had a target pace: to average 5:20 min/km or better for a target finish time of 1 hour 50+ mins.
The route took us through the Makati CBD up onto the Skyway very quickly. And then it was a straight line — but not a flat one. The Skyway undulates even more than the terrain that is its foundation as a way of adjusting for pedestrian crosswalks and other elevated streets that had been built before it. Because the Skyway's lights were on (a big difference from last year), I could see upcoming inclines and descents, and take advantage of the flats when I could find them. There are some false flats on the Skyway, though; you don't realize you've been on a slow yet steady ascent until your legs tell you your eyes have been deceived. Ouch!
I latched onto a group of strong male runners who must have been gunning for a 1:50 finish. Because the cameraman was on a chauffeured motorcycle, I felt all the more I had to keep up the pace — I don't like making people wait. Soon enough, I reached the turnaround point at Bicutan and began speeding back towards BGC.
I like U-turns, though; it gives me a chance to spot people I know, and it was so encouraging to realize that every few seconds I was waving hello. Last year, I barely knew anyone. Wow!
photo by Jinoe Gavan
When I reached the Takbo.ph aid station on Buendia, it was still dark but the volunteers were already super-energetic. I got a real boost from them which propelled me past the group I was pacing with towards the last obstacle on the course: the Kalayaan flyover.
It was there where willpower mattered; my legs were tapped out and I felt like walking, but a new PR was so close I could not let the chance slip away. Upon leaving the flyover, there was only one kilometer to go. How could I stop?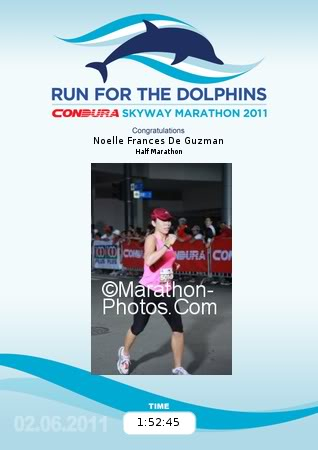 At first I was a little bit confused about whether I'd made a new PR or not (I registered at 1:52:45 by chip time), especially since the course was a bit long at 21.3K. But there wasn't really time to moan about PR's; I had to get back to my car and return to the aid station to wait for Timmy, who was doing his second marathon and had asked for a push to the finish. Last year, as he was finishing his first marathon (also at Condura), I had driven by him on my way home and shouted out encouragement that they were still within the cutoff time. But first things first: how do I get back to Makati?
Godsend
I knew beforehand that Condura had shuttles back to Ayala Triangle for a discounted fee of 20 pesos per head, but after having a hard time finding the baggage claim (it wasn't on the Condura Village map), I also couldn't find any information on how to avail the shuttle tickets. Thinking I'd rather take a cab, I started walking in the direction of McKinley Road, hoping to score a taxi. And none came.
Idly, I prayed, "Lord, if only someone would offer me a ride." I kept walking towards McKinley Road. Not three minutes after that prayer, someone drove up in his car with passenger window lowered. "Do you need a ride?" he asked me.
Normally, I would refuse such an offer. Parents always say, Never talk to/accept candy or rides from strangers. But his face was honest, he also had a Condura loot bag in his back seat, and I had prayed for this after all, right?
The kind stranger dropped me off right beside my car even though I was willing to get off on Ayala Avenue. Thank you so very much, Sir Philip! God bless you and may your kind increase.
Pushing Timmy
I drove to the aid station via back roads, and while waiting for Timmy to arrive cheered on the marathoners that were still passing by in droves. It's uplifting to see people smile because of our cheering; what a great way of giving back to the running community. I spotted many of my friends gutting out their marathons (musician Jose "Quest" Villanueva among them); at that point they only had 7 more kilometers to go to the finish.
Finally Timmy arrived looking wasted. I told him I would take my car back to BGC, park near the flyover, and run back to meet him. And so I did, coming across many of the marathoners I'd cheered earlier at the aid station. Of course, they needed a fresh set of cheers by then, and I gave it to them.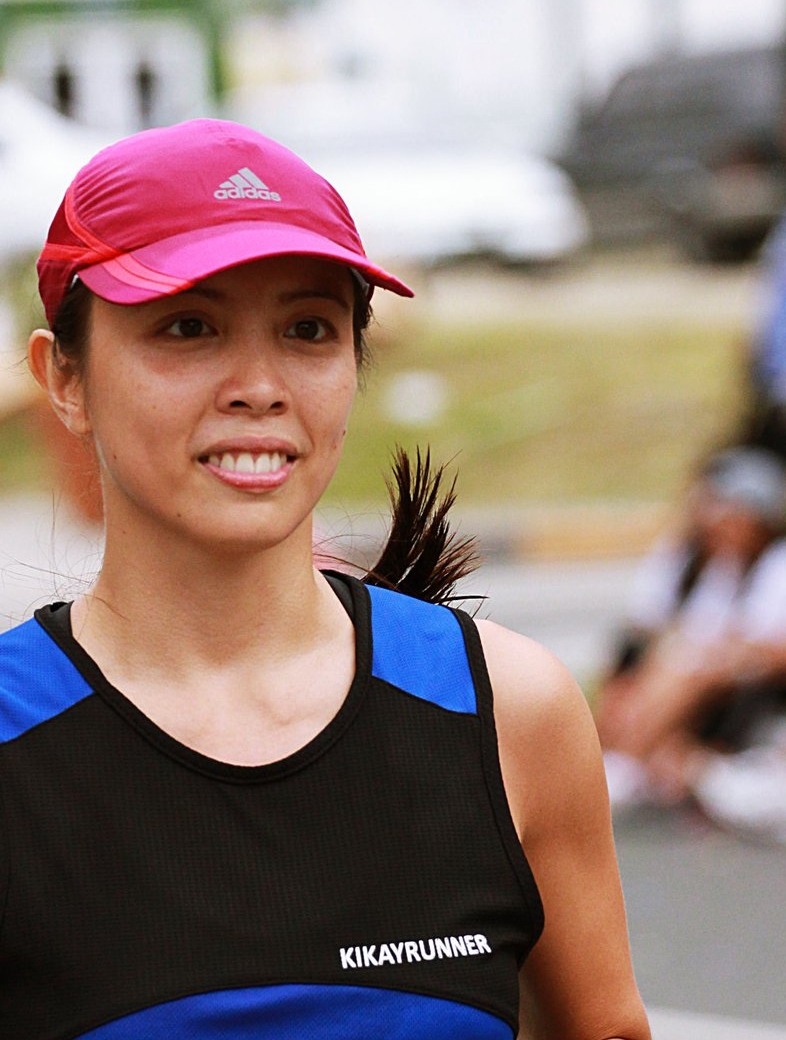 photo by Santino del Castillo
I met Timmy at the foot of the flyover on the Makati side, and together we plodded through the remaining 2 kilometers of his marathon. Though an attack of cramps hit him right by the finish line, he finished uninjured.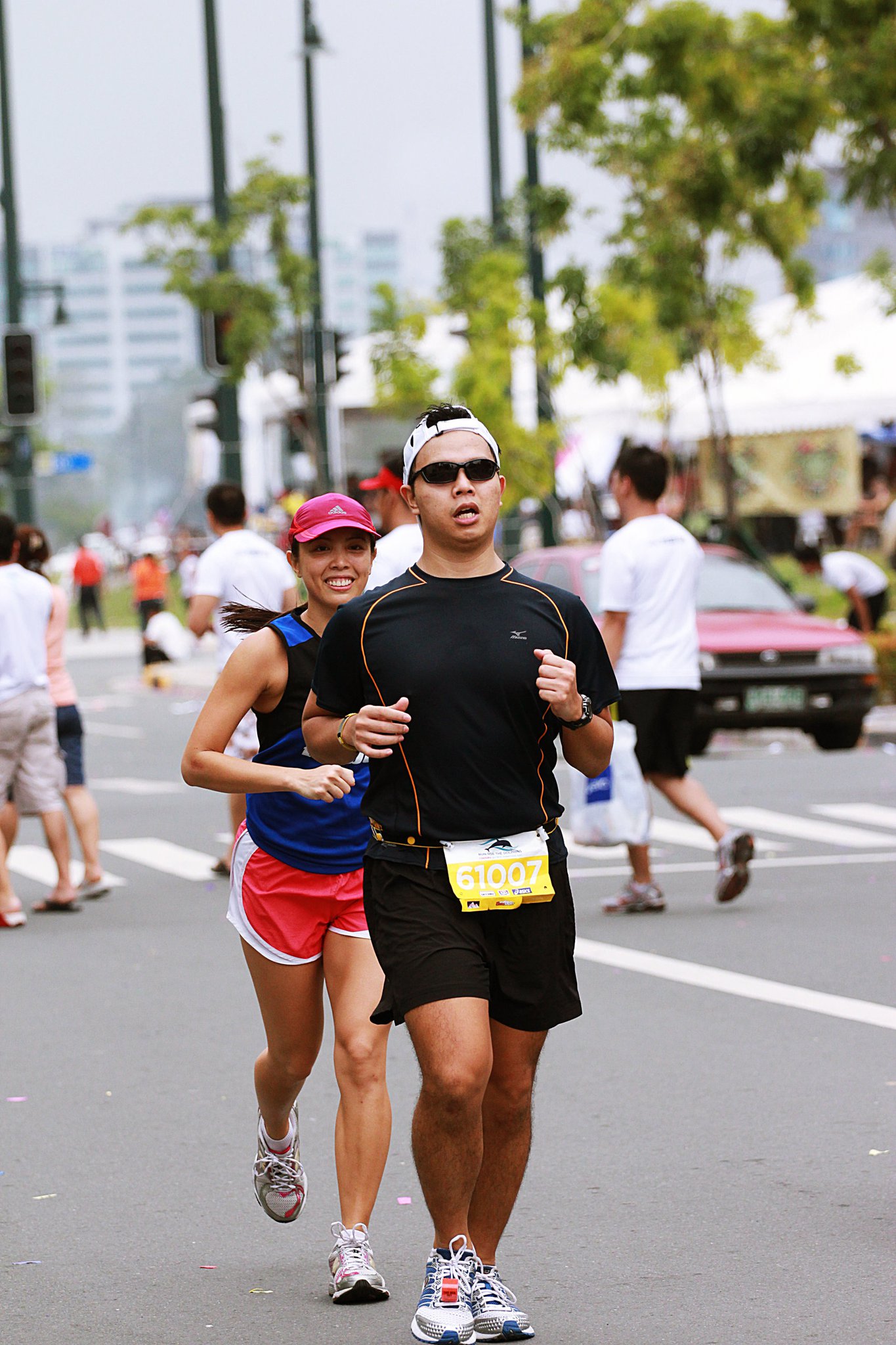 about to give Timmy a real push (photo by Santino del Castillo)
I definitely will say my whole Condura experience this year is vastly different from the last, and a little more fun and inspiring! So, how does this race fare on my Kikay pinkie finger scoring system?
Race in Review
Route: The point-to-point routes for the 10K, 16K, and 21K gave more runners a chance to run on the Skyway. While definitely exciting, there was still the thought in the back of my mind (and many other runners' as well) of how to get back to our cars if we had parked them at Ayala Tri, or how to get to the starting line if we had parked at BGC. It's difficult to enjoy the post-race activities if you're thinking that you still have a ways to travel to get back to your vehicle. (It was because of this I envied runners who had just commuted to the race venue.) Perhaps next time if a point-to-point route is considered, the participants could park where the race will end and a free shuttle could take them to the starting line. I mean, the shuttle price of P20 should have been figured into the already-expensive registration fee.
Hydration: Long tables full of cups of water and 100 Plus helped quench the thirst of many, but i had a hard time grabbing isotonic drinks since these were limited to small portions of the tables. I think because of this I cramped up on the last few kilometers (just like last year).
Package: Because of the D-tag timing strip, partial and unofficial results for Condura were available by Sunday afternoon. Wow! The finisher's medal, giveaway bag, and Unilab Active Health kit were wonderful to receive, and claiming them was easy. Finding the Coors Light beer promised as part of the package took a bit more detective work than I would have liked, but when I finally had that huge cup in my hand, it was a great way to toast a new PR. (I poured out half, by the way.) The medal is so pretty! What's weird though is the goodies were packed in a plastic bag marked with the Condura logo. Don't dolphins (this year's beneficiary) die from ingesting improperly disposed plastic bags?
Freebies: If I cared to go around and collect, there were plenty of sponsors with booths offering free food, magazines, and what not. I picked up a copy of MultiSport Magazine which had Ton and Pat Concepcion on the cover. Definitely a good read! Marathon-photos.com came in late as the official photographer of the race so I consider their service a freebie rather than part of the package. I'm dissatisfied with the quality of their photos, which they are selling at a whopping P600 per photo! Tsk.
Condura aims to be a marathon of international caliber, and i have no doubt in my mind that in the next year they will be able to achieve this. I expect improvements on what they've established this year. For that, I give this race FOUR-AND-A-HALF KIKAY PINKIE FINGERS out of FIVE, an improvement from last year's score! Next year, I'm targeting the marathon distance at this event. Ü