If you haven't yet, like the Kikay Runner Facebook page, add Kikay Runner as friend, and follow Kikay Runner on Twitter to stay updated with what I'm up to!
I mentioned in my 2010 year-ender post that I want to get into multisport. Now while there are aquathlons (swim-run) I can join, I really loved going through the swim-bike-run in my first triathlon, the Speedo NAGT AAV. I knew I needed my own bike.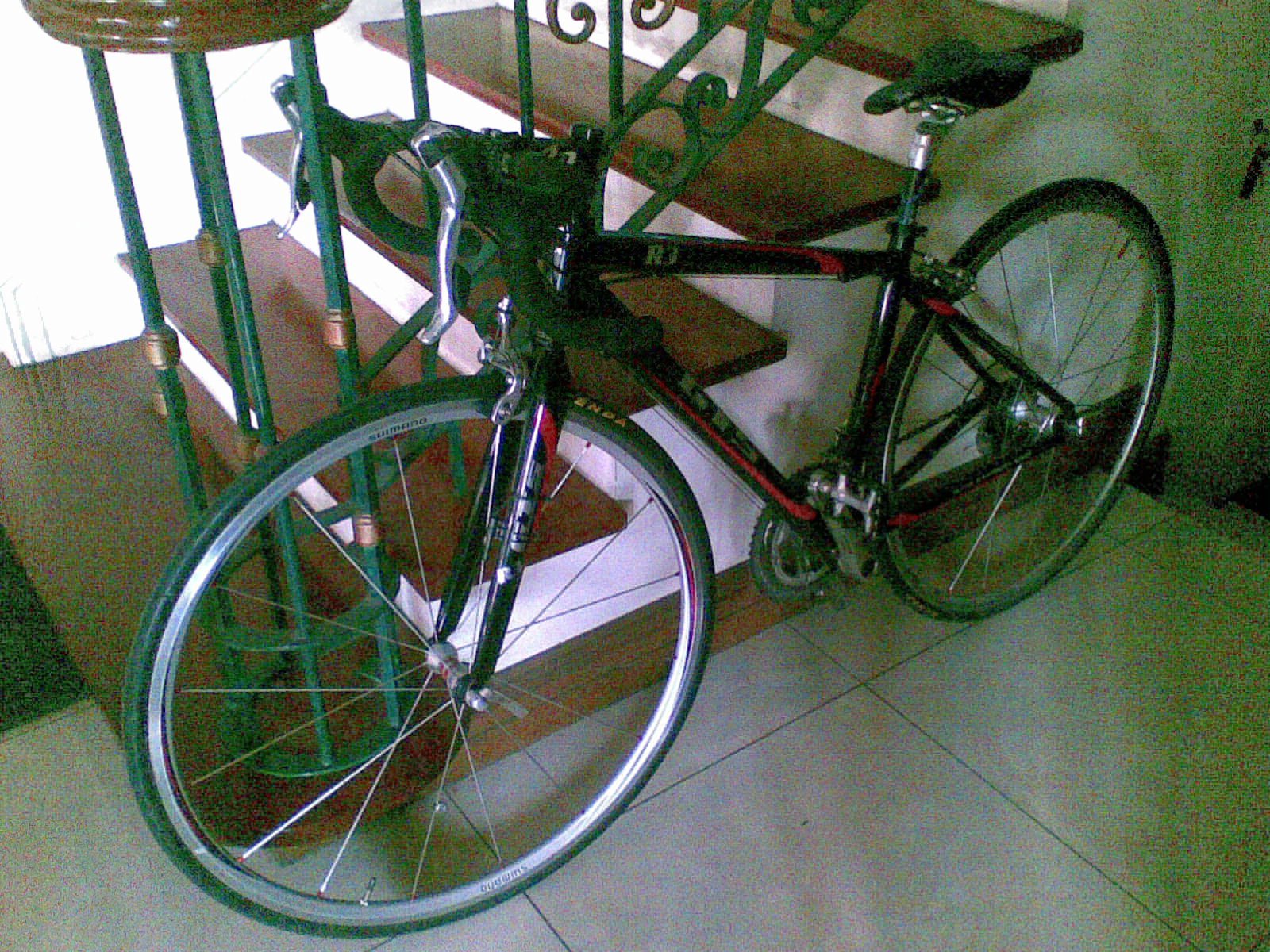 Meet Athena.

I aimed to buy a brand-new bike assembled by Team Endure's resident bike genius Pio sometime in January. But in December, before Christmas, I got word that one of my Takbo.ph friends was selling her bike. Within that same week, I had my own bike and named her Athena, after the Greek goddess of wisdom and warfare.
Of course, acquiring the bike itself was only one part of the process. I already owned a cycling jersey, but had to get myself some full-length cycling tights, since I fell off the bike one day and scraped the back of my right calf with the gears. Ouch. My tights are from Anatomic, a local brand (super affordable!) I found in All-Terra in Robinsons Galleria.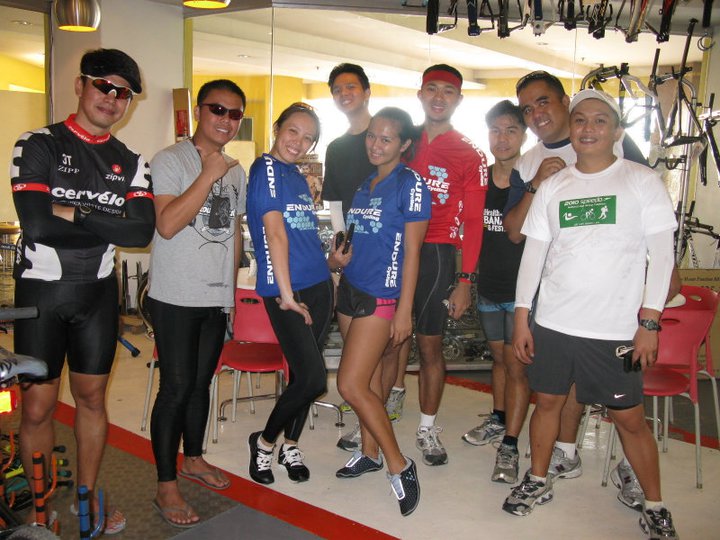 protective battle gear
The great thing about being part of Team Endure is I don't have to go through training alone. We had some excellent rides during the holiday season at MOA and Daang Hari (this was before all the ruckus about bike thieves. grr!).
with Team Endure and friends
As for aerobars, which every triathlete must learn to use, a good friend loaned me his. He's currently undergoing hemodialysis while waiting for a kidney donor, so he's got to take it easy and won't be getting into aero position any time soon. Thanks, Philip! Praying for a matched donor for you soonest…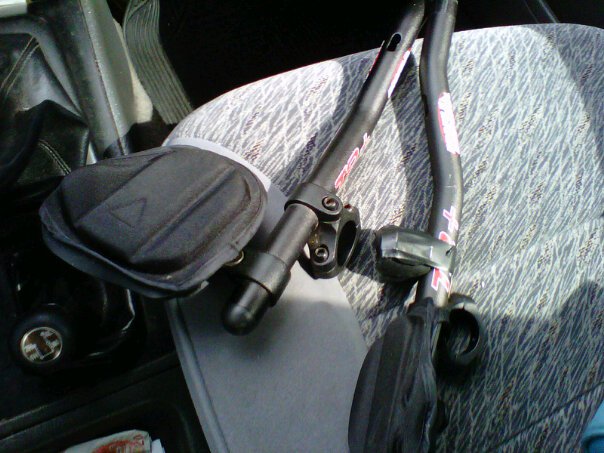 No, I didn't sell my kidneys for these!
I went to Bikezilla in Ortigas with GingerBread Man Luis and Abby yesterday to have the aerobars installed. The store personnel were super helpful especially to a bike newbie like me. Not only did they install the aerobars on the spot, but they also adjusted where my cyclocomp was installed. After that, they inflated my tires and checked if my gears were shifting smoothly. All that for 100 pesos. Serbisyo espesyal!
It's all coming together.
Before I left the store, I managed to pick up a few extra items: a Lazer Tempo Sport helmet to replace the borrowed helmet I've been using, a Fizik saddle pack to keep my bike tools and tire inner tubes in, and Serfas tire levers for when I eventually have to change a flat tire. Dave from Bikezilla even showed me how to do that, yay!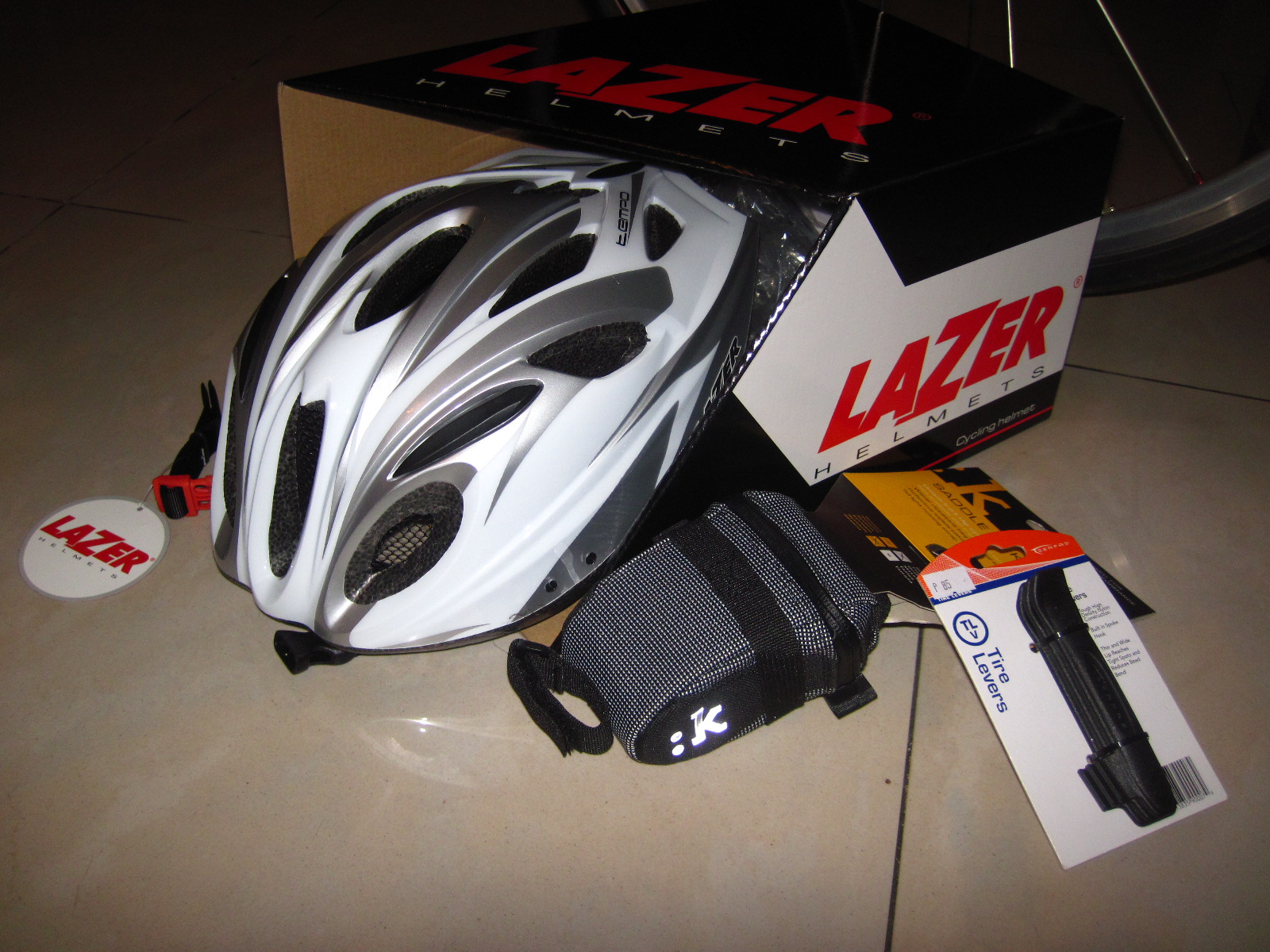 For everything else, there's Mastercard.
Getting into multisport has proven to be a bit of an investment for me, but I've found I can still be a well-equipped Kikay Cyclist even on a budget. It just takes a little bit of patience and great deals from friends. Ü