Even before 2010 ended, nearly every runner I bumped into would ask me what my next race would be. As a firm believer in a proper offseason, I resolved not to think about upcoming races and just focus on properly recovering from Milo finals.
But then, there was the lure of the Condura Skyway Marathon 2011. Its 2010 incarnation (then named Condura Run) was my debut race as Kikay Runner, and it was there watching my friends finish their marathons I realized I really wanted to run one.
A little shameless self-promotion.
Additionally, the Condura Run is organized by brothers Ton and Pat Concepcion, who are avid marathoners as well. Ton was very hands-on with Condura Run 2010, even personally texting and emailing me when I had questions about missing barcodes for 21K and 42K runners. As for PatCon, over the past year I've encountered him at every other major race event and I do believe he's been taking notes about what makes for a successful race in both the runners' and organizers' eyes. You betcha I've been waiting for the 2011 Condura Run.
Sometime in the last quarter of the year, Condura started posting teasers for the 2011 race over their Facebook and Twitter accounts: a new race route and a new race category were what caught my attention, although the biggest change was the rebranding from "Condura Run" to "Condura Skyway Marathon".
According to Ton and the rest of the Condura Team, they're positioning the Condura Skyway Marathon to become a destination race not only for runners in the Philippines, but also runners from the rest of the world along the lines of the Singapore and Hong Kong marathons.
One of the obstacles to a race becoming truly open to international entries is registration, which has usually been done in partner establishments or dedicated booths in the country. With Condura's proprietary e-reg system, participants can fill up a form online and choose whether to charge the fee to a credit card or pay at the Condura registration booth in Greenbelt. (And because you type your own information, which goes directly into the database, the only person to blame when your name or gender comes out wrong in the race results is YOU. Haha.) Race packets are then sent via courier if you paid via credit card, or picked up in person if you pay in cash at the booth.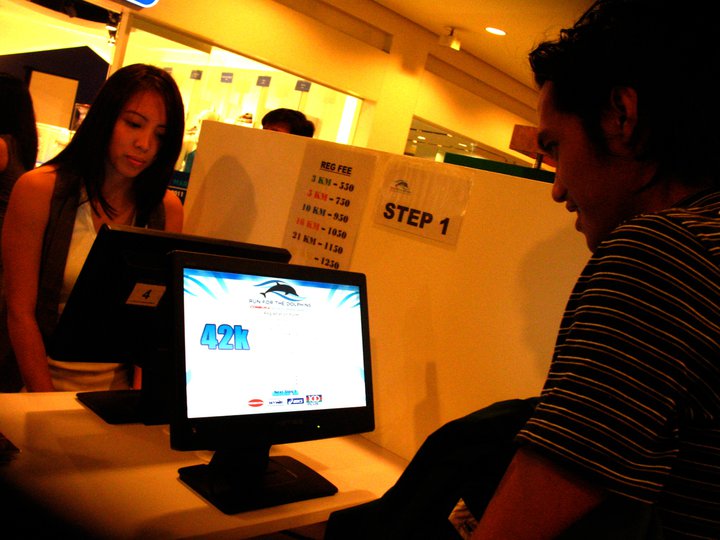 Registration is fast! (photo by Kassy Pajarillo)
Condura has also incorporated electronic timing through D-tags, which have become ubiquitous in major races; truth be told, those who started running in 2010 don't even know how manual timing was conducted in the races of yore.
The Skyway itself has undergone some changes, now extending until Sucat which means there's more of it to run. Aside from the 21K and 42K routes, the 10K and (new race category) 16K will now also pass through the Skyway. There are also two starting points: the 10K, 16K, and 21K races start in Ayala Triangle, and the 3K, 5K and 42K in Bonifacio Global City. All the categories will converge on one finish line in BGC.
With all the improvements I've described, you've probably guessed what the catch is: the price. Registration fee is up by about 50 percent for the 21K and 42K categories. A premium price, hopefully for a premium race.
We all have our reasons for joining races. Some join races because they love the festival-like atmosphere. Some set races as goals around which they plan their training. Some attend races for their sentimental value. (Some join races just for the loot bags. But I digress.) I know the Condura Team (Pat and Ton, joined by Coach Rio de la Cruz and those behind the Camsur Ironman 70.3) have designed this race with runners in mind. If you're looking for a race to level up to a new PR (which is what I'm doing in the 21K) or a longer distance, the Condura Skyway Marathon is definitely the race to prepare for.
Liked this post? Share it!