Remember when the Lord of the Rings trilogy came out one at a time over the course of three years? They progressively got longer and longer, but just became better and better as well.
My experience with the RunRio Trilogy this year has been just like that. I started with a 10K at the Century Tuna Superbods Run, did a 21K at the Nature Valley Run, then clinched the trilogy with the 32K Afroman distance at Run United 2. And you know what? Just like LOTR, the last of the trilogy has ended up being my favorite.
Going the Distance
After Timex mysteriously dropped out of being the title sponsor of the third leg of the RunRio Trilogy, Unilab stepped in. Given my stellar Run United experience, I had no qualms about signing up for the race's longest distance. In the course of this year, Coach Rio has been able to fine-tune the races he's organized by paying attention to participant feedback, and I was sure that Unilab would throw their wholehearted support behind whatever Rio says would be needed on race day. Therefore, I showed up at the starting line without a hydration belt.
Plenty of 32K racers were also awaiting our gunstart. I know that during the blogger's event for Run United 2 we were told that the 32K was one of the distances with the most sign-ups, but the magnitude just didn't dawn on me until I had a visual.
Some of them were doing the 32K in preparation for an upcoming marathon (this weekend's Quezon City International Marathon and the Singapore Marathon spring to mind). Others, like Sam YG from Boys Night Out, were just testing themselves on a distance longer than 21K.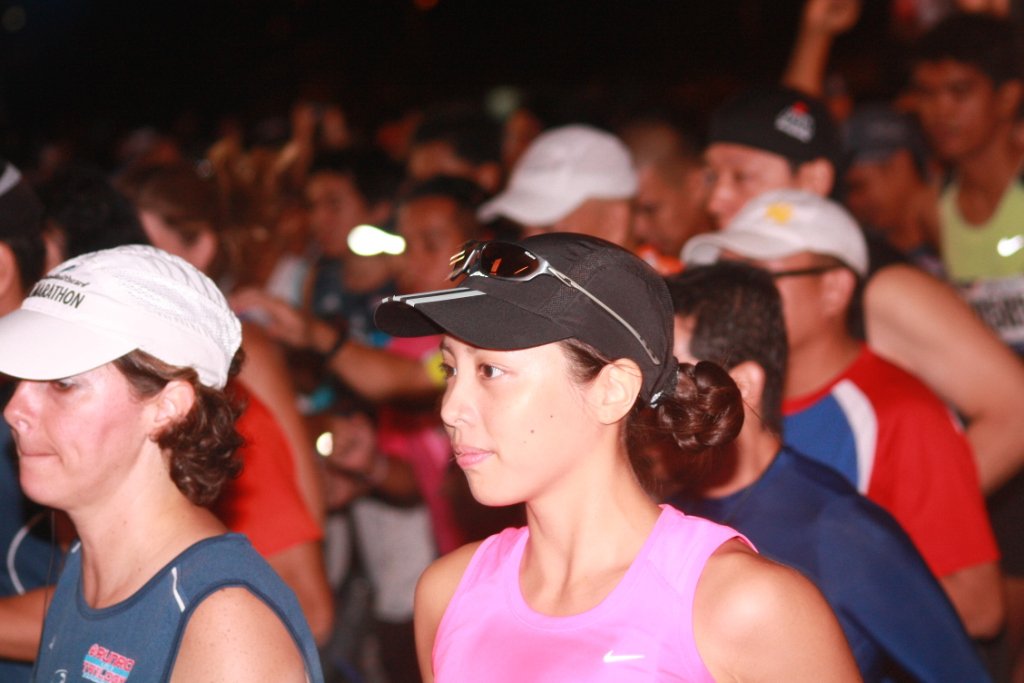 photo from Earl Royce Hugo
I was supposed to run this as an easy long run in preparation for Milo, but that plan was quickly aborted when the gun went off and I found myself pacing alongside Jonel Mendoza (Bugo-Bugo Runner), Michelle Estuar, and Jovie Narcise (Bald Runner). I felt good, I had plenty of gels in my pockets and was looking forward to a well-watered course. Why not go for speed?
The route was very similar to KOTR 2010's 21K route with additional mileage via Lawton Road and Bayani Road. Since they were familiar stomping grounds it was easy to decide when to attack, when to ease up for recovery, and when to maintain a steady pace. As I made my way back from Buendia, my friend Paul Pajo called out to me and said I was in 13th place among the women. With a long race to go, I knew it was only a matter of time before I could overtake a few women and hopefully end up in the top 10.
Still Gotta Work For It
It didn't take me too long before I realized I needed to keep pushing so I could overtake those women. Some were incredibly well-conditioned triathletes and ultramarathoners with good planning for pace and would not slack off. Although I managed to overtake Camilla Brooks on 6th Street and stayed on defense, by kilometer 29 she crept up and made her attack. Although I still felt I could catch up to her, I had bigger fish to fry (Milo Marathon finals) and didn't want to put on any more speed for fear of injury.
There were a group of guys I'd been silently keeping pace with; sometimes they'd be ahead, sometimes I'd be ahead. We'd been alternately pushing and pulling each other along. Finally, one of them pulled up beside me and we started chatting. Arnold Go (a name I later gathered from the race results) is from Cebu and had flown to Manila just for the race. He was already cramping, and I was in no mood to go for the kill, so we agreed to pace each other to the finish.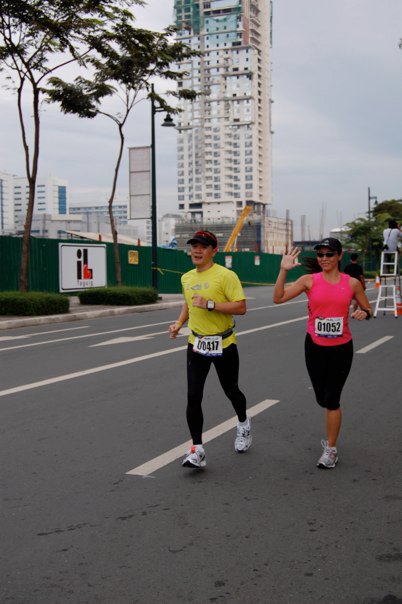 photo from Alexis Estenor
I finished 82nd overall, with a chip time of 02:55:26.39, quite happy with a sub-3 hour 32K. Additionally, I was the 9th female to cross the finish line. I'd never achieved that before in a distance longer than 16K! When I received my post-race kit, I wore the finisher's shirt with pride. The finisher's medal was also quite heavy hardware.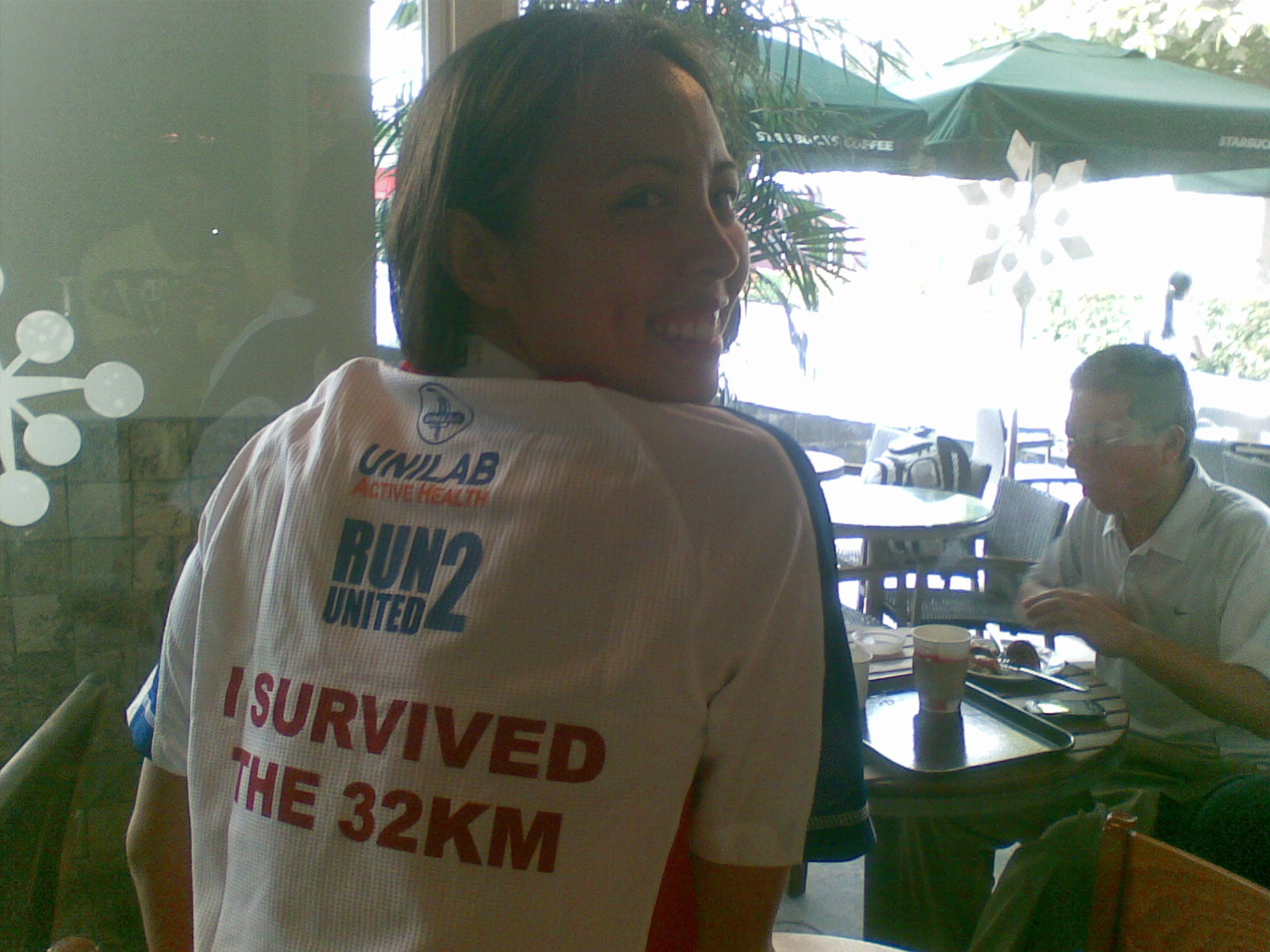 I survived and kicked the 32K in the butt.
Race in Review
Route: A course at Bonifacio Global City is never flat, but the variation in terrain was perfect for allowing recovery for different muscle groups at a time. Although there were times our route merged with the 15K, the decision to split the race events over two days paid off with less congestion on the roads. Marshalling was also great; directions were given not only through the signage, but also verbally. I can still hear "15K runners turn left; 32K runners go straight" playing on a loop.
Hydration: Overflowing! From other accounts there was a hydration table every 1.5 kilometers. Bananas and Hammer gels were also provided for the 32K runners. Great support all around. It's too bad I prefer only Gu gels.
Package: Medal, finisher's shirt, Powerade and water were easily accessible after the finish. The Unilab ActiveHealth Village was also full of fun activities to do post-race. My only regret is that I wasn't able to finish sooner to catch the program and awardings. Results were released the day after the race. I'm also looking forward to Runpix race analysis and Photovendo pics.
Freebies: The post-race kit had plenty of Unilab products, and since my family also joined this race I'm sure we won't run out of them any time soon. There were also some freebies being handed out at the ActiveHealth Village.
I give this race FIVE KIKAY PINKIE FINGERS out of FIVE. This race has set a benchmark in my mind; Rio and Unilab make a great partnership. That's good news, since Unilab is sponsoring next year's RunRio Trilogy Leg 1 and 3. I can't wait!