As my last race before the Milo finals, the Quezon City International Marathon was supposed to be just a short and easy run. So, I asked for a 5K race kit since I planned just to hoof it from my house over to the starting line at Philcoa.
It was nice not having to wake up and get to the race venue early because of parking concerns. I had a nice leisurely breakfast, dawdled a bit, then set off at 5AM on foot down Commonwealth Avenue. It was funny hearing bytanders' comments as I jogged along, my bib already attached to my singlet: "Ang aga pa." "Ate, saan ka papunta?"
I'd never walked any length of Commonwealth Avenue before December 5. As I mounted the steps of a pedestrian overpass to cross to the enclosed lane, I felt vulnerable in my pink running shorts. Having no exact idea about the distance from my house to Philcoa, I started to run quite fast. So when the total distance added up to 2.5 kilometers only and I got there in time to watch the 10K gunstart, I felt as if I'd wasted my legs' fast-twitch capability.
While waiting for the gunstart, I discovered the Runners' Runner mascot (in reality, the guy behind the website) in the queue as well.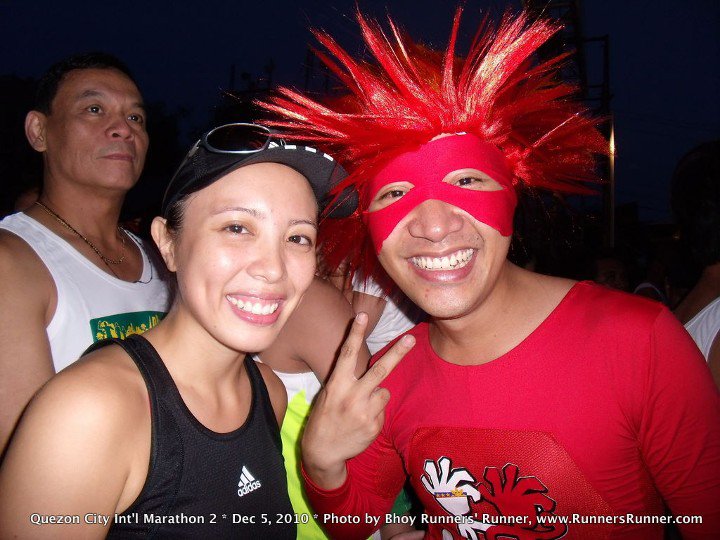 photo by Runners' Runner
This 5K is only my third for the year; the anaerobic effort one has to put in to be competitive in a 5K is something that's beyond my comfort level. Yes, my idea of fun is trying to compete with the top runners. *wink* The 5K category is a bit of a mixed bag of runners: you have the very speedy track athletes from schools and short-distance specialists, but you also have weekend fun-runners who will take as much time as they need to complete the distance (and will probably take some self-portraits and group shots along the way).
The gun went off after a speech from QC Mayor Herbert Bautista, and the race was on. After an initial speed burst, many dropped out of the lead pack and I was soon able to pick out the women I'd have to overtake if I wanted to get on the podium.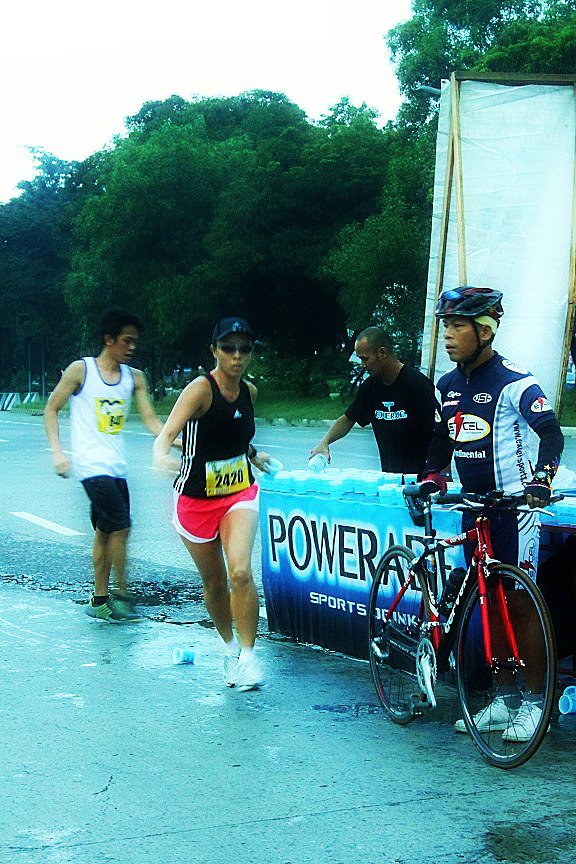 photo by GForce Runner
Unfortunately, I wasn't able to keep up with the third fastest woman, and I crossed the finish line in 4th place. Oh well!
After collecting a Powerade bottle and my bag, I then proceeded to run home, encountering many of my running friends who were on their way back from their 21K. It almost felt like I hadn't done a race, but was just out for a leisurely jog on a Sunday morning.
Race in Review
Route: Last year's QCIM route caused massive traffic jams all over the city, so this year the routes were confined to the UP Diliman campus and Commonwealth Avenue. My 5K route was okay, except it was short by 110 meters! I finished in 22 minutes, 39 seconds as a result.
Hydration: No big issues here, except that runners tended to drop their cups onto the road instead of tossing them to one side. Placing big garbage boxes after hydration tables would be better for cleanliness and road safety.
Package: A closed-off Commonwealth Avenue (normally plied by thousands of cars, jeepneys, and buses every day) to run on, beautiful singlet (with luminous yellow-green panels on the side for easy visibility), and extremely close proximity to my home make the QCIM package an OK one. Maybe I just chose the wrong race category to run. I wish I'd done the 10K!
Freebies: The Unilab freebie kit was given upon pick-up of the race kit, so there were no finisher freebies on race day that I know of.
I didn't have any mishaps and my needs were taken care of. However, it just felt like for a major race with "International" in its title, there was something missing. I just can't put my finger on it. I give this race THREE-AND-A-HALF KIKAY PINKIE FINGERS out of FIVE.
Liked this post? Share it!