I know I've advocated picking your races and I used to say I'd only race once a month. However, race organizers have been kind enough to provide me with race kits so I could join their races, and for the most part I've taken advantage of that.
Of course with that much racing comes burn-out, and after doing Unilab's 32K I wanted to take things easy. I was supposed to race at Resorts World Grand Fiesta Run, but instead gave my kit away so I could get out of town — literally.
I drove to Clark, Pampanga to cover an Ultimate Disc tournament. Manila Spirits is one of two international tournaments held yearly by the Philippine Ultimate Association. I know Ultimate is notorious among runners for "causing" knee injuries due to the nature of the sport — quick stops and starts, sudden directional changes, jumps and landings on uneven ground. Still, I've got more than a few friends who are into the sport (Hotlegs Julie was an avid Disc player before she moved to the US), and I bumped into Bryan Rivera of Team Powerpuff Boys at Spirits.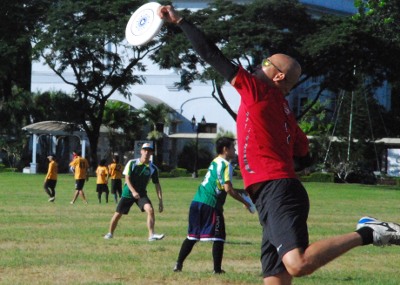 The game of "Fetch" isn't just for dogs.
The last time I'd actually watched a game of Ultimate was back in 2003(!!!), so everything I saw seemed new. The one thing that stood out for me was there was A LOT of running. I was thankful I was a runner, so I didn't get winded trying to chase the players from one end of the field to the other to catch a few good shots with my camera.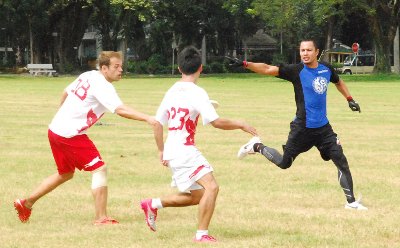 It's a serious game when he keeps his shirt on.
In attendance was the Century Tuna Poster Boy himself, Derek Ramsay, who was the celebrity runner during RunRio leg 1 this year. (Many of you might remember him better with his shirt off.) He doesn't seem to have plans of running a race again any time soon, but with the amount of running he did in spurts over the course of the three-day tournament, that would have been an easy 5K every day.
With regard to injuries, there were a lot of muscle pulls and sprains during the tournament, but most players blamed it on the poor quality of the field grounds. About a month ago I asked Reema Chanco over Twitter about Ultimate and injuries, and she said that it's no different from injuries sustained in other sports. Use of proper shoes like football cleats go a long way in preventing injury.
All of this being said, I may try Ultimate out at some point during this Christmas offseason — but only because it's embarrassing having to turn down a casual invitation to throw a disc around. I have no disc handling skills!
But first, Milo on Sunday!
Liked this post? Share it!