Where do I begin to write about this? The 34th National Milo Marathon has been such an incredible journey for me this whole year. It's the culmination of why I started this blog in the first place.
"Tara, let's do one big marathon by the end of the year," my friend Joel told me at the start of the year. "One time, big time!"
Twelve months later, I've done two: the Milo Marathon eliminations on my birthday, and the Milo Marathon finals because I was able to qualify with my time during the eliminations. As for Joel, he's moved to Cagayan de Oro and started specializing in multisport. But I swear, if he hadn't put the idea into my head, I might not have taken the plunge to do a marathon, let alone two.
Before he moved to CDO, though, Joel had these parting words for me: "You will do a sub-4 marathon in the Philippines." And just like in the movie Inception, that seed of an idea grew. I didn't want to tell anyone I was aiming for it, though. I didn't even know it myself until I did that 32K at Unilab and realized how close I was to reaching it. All I had to do was maintain a 5:30 minutes per kilometer pace…
Stop! Mamaw Time!
I've never dreamed of a podium finish at a marathon; there are far too many strong long-distance runners, and for the Milo Marathon finals, this was especially emphasized. I would be running against the cream of the Philippine running crop: these people, if they hadn't qualified at the national eliminations in July, would have had to record 21K times in the 1 hour 45 minute range or less at the provincial elimination races to qualify for the national finals.
So, on race day, I showed up and was one out of three or four qualifiers wearing compression tights. Everyone else was wearing short shorts (or nyort nyorts, as we like to call them). I was stopped three or four times by marshals who couldn't seem to believe I was actually a qualifier; they kept trying to see if my race bib was genuine! I knew more than ever that I wanted to prove I deserved to be there.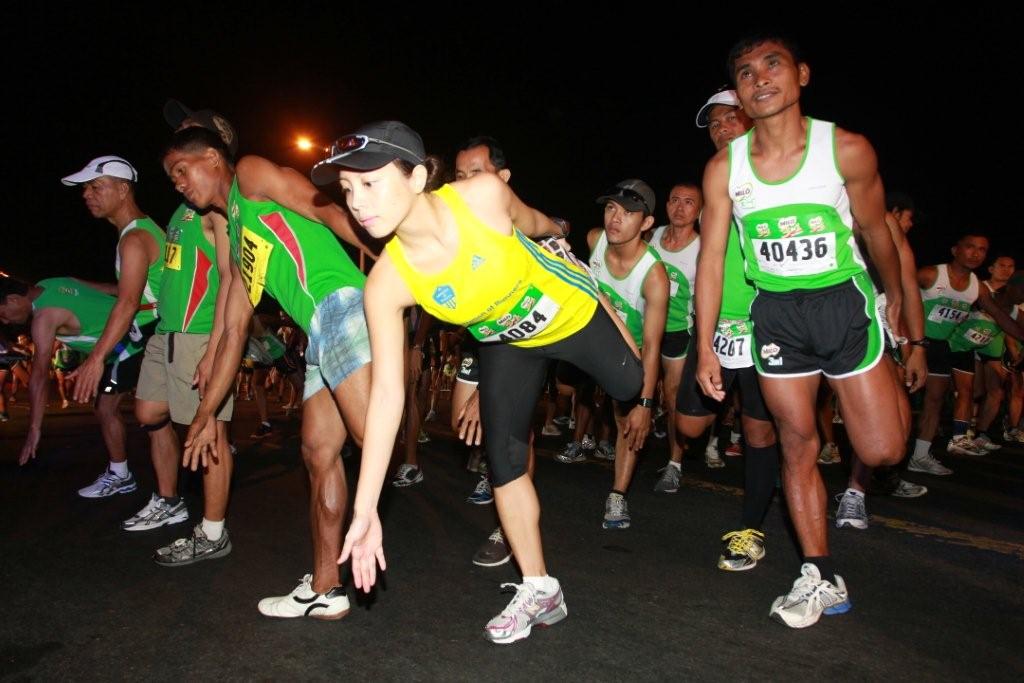 At least I'm more flexible than they are. (photo from Milo Philippines)
With a prayer and the dynamic warm-up led by Coach Jim Saret of the Milo-APEX Clinic, I was able to shake off last-minute race jitters and find some focus. And then the gun fired and I realized I was near the tail end of all the runners. You know how I knew? Because I could barely hear anyone behind me.
Appearances Can Be Deceiving
As the sun rose and the vehicles piled up behind the marshals' stop signs, I and more than 200 marathoners made our way from Roxas Boulevard to Buendia and on towards Bonifacio Global City. Carina, Marvin, and Brando from Takbo.ph had set up an informal aid and cheering station at the Caltex gas station on Buendia, and that was also where I asked my parents to wait for me. I would be picking up my hydration belt from them on my way back to the finish line. As I passed them and waved, some policemen stationed there started talking to Brando.
Policeman 1: 42k tatakbuhin nun? (She's running 42k?)
Brando: Oo. (Yes.)
Policeman 2: 'Di nga? (Are you kidding?)
Policeman 1: Wala sa itsura… (She doesn't look it…)
I felt good, although by the time I was headed back out of BGC I felt footsore and tired. Of course, a huge part of running a marathon is pushing on despite the body telling you it's tired. (As long as there isn't any injury, of course.) I know I start feeling more tired if I let myself start looking tired: slouching and frowning. So it was very important for my mental state to keep an erect posture and a ready smile for anyone. It really helped that every few kilometers or so someone would shout words of encouragement out to me: "Go Kikay!"
trying to make it look effortless
When I passed my aid station again and collected my hydration belt, I only had seven kilometers to go. But just like in the eliminations race, that was the most difficult, most painful seven kilometers I ever had to run. My calves had begun feeling slightly cramp-y halfway through the race, but they started to pulsate with cramps more frequently.
Finally, on Kilometer 40, my left lower leg cramped all the way down to my toes. It felt like my entire left foot had folded in on itself. I didn't want to stop walking because I had a feeling the cramp would intensify, so I began to brisk walk. A group of male runners were right behind me, and one of them asked, "Thigh or calf?" When I told him it was my calf, he suggested I start landing on my heels. They went on ahead, and I tried doing as he said.
Finally, after what seemed like an eternity, my toes unclamped and my foot loosened out so I was able to start running again. It was then I came across my friend Jay Em, one of the behind-the-scenes people who provide hydration for races. He was surveying the hydration tables along Roxas Boulevard, and offered to run with me to the finish. With my eyes on my Garmin and one and a half kilometers to go, I accepted his offer gladly.
As we rounded the corner from Luneta towards Quirino Grandstand, Jay Em broke away and waved me on. It was then I saw the clock. I started screaming.
Ecstatic!
I couldn't believe my eyes, couldn't believe that four hours hadn't elapsed yet. As I crossed the finish line, the 42K medal was draped around my neck, and since I was limping from the cramps, I was sent to the medic tent to ice my legs. What a race!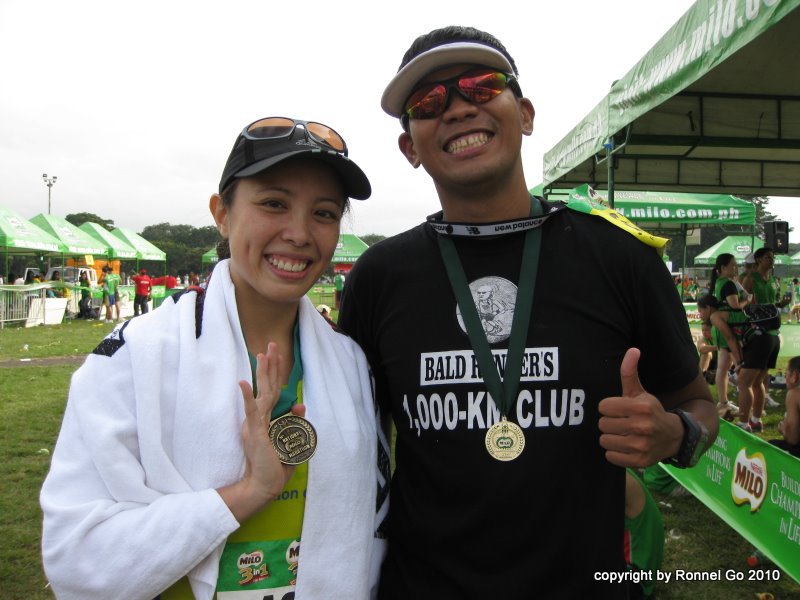 photo from Ronnel Go
Small Fry
Based on the chip time, I finished this marathon in 3 hours, 57 minutes, and 41 seconds. Although this sounds impressive, it was only enough to get me ranked 20th woman and 142nd of the 204 overall finishers. Then again when you race against the country's mamaws, what can you expect? Ü
Race in Review
Route: Due to runners' comments and suggestions, Milo reverted to their classic there-and-back marathon route for the finals leg, and although this was harder to marshal, it was an easier course for us to run. The route markers along Buendia and in BGC were behind by a kilometer, although on the return trip along Roxas they were correctly placed again. It was just a little annoying that the Ecorun also shared our route along Lawton and Bayani Road, which meant I had to weave through runners who seemed oblivious that a marathon was taking place in their midst.
Hydration: Water and Gatorade were overflowing this time around, even until the last tables on the route. I didn't even actually need my hydration belt on the last seven kilometers; it just served as a security blanket. What helped was the hydration marshals were shooing away non-Milo runners, and radioing in for more supplies before they completely ran dry.
Package: As a qualifier, I was given entry to the exclusive carboloading party the Thursday before the race, a singlet from Brooks and nyort nyorts, a pre-race warm-up conducted by Coach Jim Saret, a well-marshaled and -hydrated course, accurate results via timing chip, and a heavy, deeply-embossed medal exclusive to 42K finalists. Aside from the nyorts (which I had to give to my sister because they were too small for me), everything else was stellar!
Freebies: The goodie bag handed to me right after I crossed the finish line was filled with Gatorade, bananas, and Milo 3-in-1, perfect for post-race recovery.
The 34th National Milo Marathon finals was vastly improved from the eliminations, proof that Milo and race director Rudy Biscocho listened to feedback and implemented what was necessary to make this race as smooth as possible not just for the finalists, but also for those who joined the shorter distances. Because of that, I give this race FIVE KIKAY PINKIE FINGERS out of FIVE!
This race was the perfect and happy ending to my 2010 running season. What a year it's been!
Liked this post? Share it!