I started 2010 with a very vague plan of where I was going to take my running. In 2009's year-ender post I said I wanted to break 50 minutes in a 10K again, make a podium finish in a 5K, and level up to a 15K. I had no inkling I'd be blessed to do all that — and more!
I broke the 50-minute mark in a 10K not just once, but twice: first at Unilab Run United 1 and again at Race for Life. A little vacation in Boracay was the setting for my first place in a 5K at the Skyathon Surf & Run.
My first run for 2010 was my first 15K at Run Assumption Run, which was also the first time I ever won a race. A week later I did my first 21K at Condura Run and unwittingly set a benchmark for myself with my barely sub-2 hour finish, a PR which I hacked away at with the Nature Valley Run and Adidas King of the Road. I never thought I'd run distances longer than 21K so soon — and yet there was the 32K at Unilab Run United 2 and the various training runs I did to prepare for the 34th Milo Marathon eliminations and finals.
By God's grace I was able to join as many races as I wanted, and even some out-of-the-ordinary ones like the Trek the TEC Building Run-Up and the Men's Health All-Terrain Race and Urbanathlon. There was also enough time to join Team Endure Multisport and train for my first triathlon at the Speedo National Age Group Triathlon, which I absolutely loved doing. Podium finishes at these races and more were just bonuses.
What I loved best about this year were the people I ran with, especially the friends I made in the Takbo.ph and adiNation community. Training with them, I learned that running is not always about new PR's and pushing the limits of what's possible (although that's a big part of why we do what we do). Running can be about camaraderie and shared joys and pains; group runs (and the meals that inevitably follow) are bonding experiences I won't forget.
So, what's in sight for 2011? I'm giving marathons a rest for now, since I'd like to set a new PR at the 2012 Condura Skyway Marathon. I want to continue getting faster in 21K, and hit the podium again in 10K (preferably with a sub-47 minute finish). The big goal for 2011 is to represent Team Endure in more multisport events and place in my age group. I also want to participate in the Cobra Ironman 70.3 as part of Endure's all-women relay team; time and training will tell which of the three disciplines I will be best at. Maybe, by year's end, I can join Tri United at White Rock and be a "Rockstar".
I've itemized what I want, but it all boils down to one thing: I want to keep improving. God willing, it'll all happen in 2011. Happy New Year!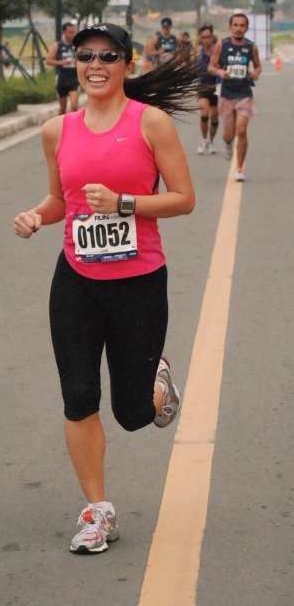 Stay ahead of the pack.
So how was 2010 for you? What's your big goal for 2011?
Liked this post? Share it!