This is my second year participating in Real Life Foundation's Race For Life. Check out my friend Paul's excellent blog post about how Race For Life supports RLF's efforts to give children an education and a future. Last year I participated in the 5K category and snagged 3rd place behind some really fast kids.
But that was last year.
This year I decided to pit myself against the 10K runners, and given my stellar performance (*ahem*inflated ego*ahem*) at the previous week's Urbanathlon, I had every expectation to nab a place on the podium, if not win the whole thing.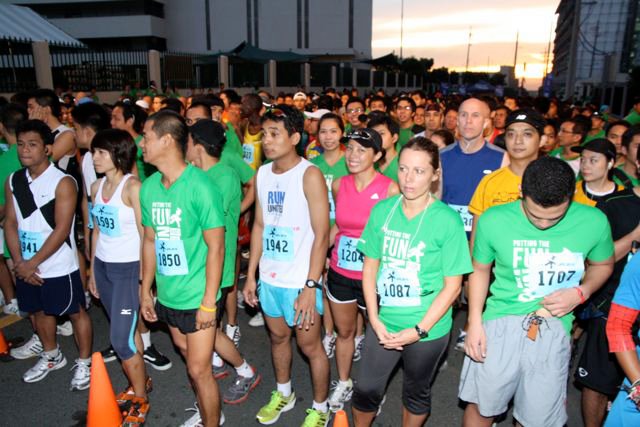 Why is everyone else so glum? (photo from RLF)
Goodbye, Podium Dreams
That was before three Kenyan women showed up and took their places in the front row. Right beside them and chatting with them was Filipina elite athlete Nhea Ann Barcena.
My podium dreams were dashed quite mercilessly even before the race began. Good thing my friends and happy-go-lucky runners the Pace Partners were around to help lift my spirits. I simply determined I would run the race in the best possible way I could, given the circumstances. I would keep those female mamaws within eyesight for part of race to keep my pace fast, and hopefully I could set a new PR.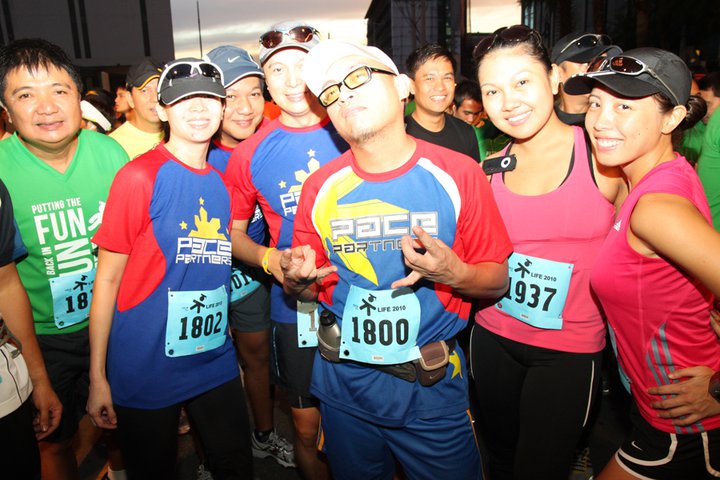 photo by Anson Yu
Halfway There, Living on a Prayer
The most important thing about running right behind super-fast runners is not getting caught up in their breakneck pace off the blocks. In the first 50 meters the pace for the lead pack was about 3:30 min/km, which of course is unsustainable over 10 kilometers for all but the most conditioned and trained runners. I kept at a 4:30 min/km clip, which felt quite comfortable in the early morning chill.
As the loop wound through Bonifacio Triangle, Home Depot, and up onto Kalayaan flyover, I lost sight of the elites and knew that the next time I'd see them, they'd be on their way back.
At the halfway mark, I checked my Garmin and was shocked to see I'd completed 5 kilometers in less than 24 minutes! Now the real work was to begin: could I keep my pace up and finish strong? Maybe, perhaps, I could finally record a sub-Piolo (finish 10K in less than 47:54 minutes)?
New PR's are Fun
I'm thankful I didn't go all out and try to stay with the lead women. The first placer finished the 10K in less than 40 minutes! I trotted into the chute some minutes later at 47:30 (by Garmin), finisher #5 among the women and #14 overall. My name is apparently "Noelle De Gum". I know my gums show when I smile, but…
So there you have it. After a year, I finally have my sub-Piolo. And no, Piolo did not run at Race For Life. If he had, I might have slowed down so he could catch up. Hahaha! Just kidding. Like Toni Gonzaga said so many years ago in that Coke commercial, "I love you, Piolo!"
Race in Review
Route: It was a challenging route with a lot of changes in elevation, but since I'd been running them in previous races and training runs, the ascents held no more terror for me. 10K runners did merge with 5K runners at several points, but since this was a small race (around 3,000 runners total) it was easy to overtake and avoid slower runners. There were no loop cords given at the turnaround points though; hopefully no one took shortcuts to the finish.
Hydration: The hydration tables were long and water cold, but there were only two Pocari Sweat stations shared by all categories. Good thing these are relatively short distances and you can get away with not drinking any isotonic energy drinks.
Package: This was a basic race, with manual timing (my "official" time is inaccurate) and no bells and whistles. That would have been fine, except the race started 20 minutes late and no one was on a loudspeaker or bullhorn to brief the runners on how to queue at the start. I'm just glad the participants themselves were an orderly bunch.
Freebies: By the time I finished my race, lines were extremely long at the giveaway booth. Loot bags looked interesting, though, with bread and Ma-Ling (yes, the Chinese meatloaf brand!). Instead of lining up for them, I just got some water at the finish line hydration station and mixed up some ON 2-1-1 Recovery for my post-race drink.
This was a more successful race than last year's edition, and I'm quite happy to support the Real Life Foundation in any way I can. The late gunstart and lack of briefing is the only damper on what was otherwise a fun race. I give this FOUR KIKAY PINKIE FINGERS out of FIVE.
And Now Some Questions
I'm still a little bit peeved about the Kenyans joining a small weekend fun run like this; if they hadn't been there, I would have bagged 2nd place. (Nhea Ann Barcena finished in 3rd.) I'm sure they weren't even running at their peak speed, since the field was quite shallow. But now I know how our Filipino elite athletes feel when the Kenyans shut out the competition and rake in the prize money.
I know the higher level of competition our foreign visitors have given our local elite runners has pushed the Filipinos to work harder, and they're catching up. But there was no need for the Kenyans to have joined this Saturday race when there were bigger races on Sunday.
I certainly think there's some latitude for regulating which races these Kenyan professional athletes can join. Isn't there a stipulation in their work visas that they can only join races of international caliber? Do they pay taxes on their winnings here, especially since they're staying long-term? Inquiring minds want to know.
Liked this post? Share it!