Due to my cramming for a triathlon this weekend, I've sorely dropped the ball on marathon preparations. Fortunately, the last leg of the RunRio series is around the corner, and my desire to do the 32K Afroman distance will be enough to kick me back into action.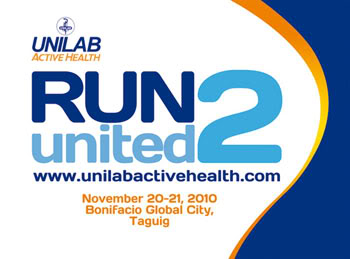 Unilab Run United 2 (RunRio 3)

The first thing you'll notice about this race is it takes up the entire weekend — Saturday and Sunday, due to the number of distance categories being offered. On Saturday, there's a 500-meter kids run and 3K, 10K, 21K. On Sunday, there's another 500-meter kids run and 5K, 15K, 32K. There's something for everybody at Run United 2, from weekend warriors who like races short and sweet to hardcore long-distance runners looking to challenge themselves.
The 32K Afroman distance will be awarding prizes to the top 6 finishers. I'm pretty sure the halimaws will show up to this major race, so I will content myself with a RunRio Trilogy finisher shirt and medal. Those running 21K will also receive a medal (probably one of the reasons why the 21K is the fastest-selling category), and all finishers from race categories except for the 500-meter will receive finisher shirts.
After I finish my grueling 32K, I'm looking forward to the Unilab ActiveHealth Village,which activity areas for children, seniors, and adults. The Active Adults area will have a change room and freshening up area for women and men (segregated, of course), a check-up station offering free health diagnostics and consultation with medical professionals, and a "level-up" station where I can consult with fitness coaches (for free! yay) about nutrition, running form, and training programs for my personal goals and level of fitness.
Registration is currently ongoing online at UnilabActiveHealth.com or RunRio.com, and in-store at New Balance Shangri-La and Glorietta, Planet Sports ATC and Trinoma, Timex MOA, and R.O.X.
Registration pricing is staggered:
500m – P250
3K – P400
5K, 10K – P600
15K – P700
21K – P750
32K – P900
According to Alex Panlilio, division VP for the Unilab Livewell Group, in Unilab's 65 years of existence, it has been promoting good health for Filipinos through medicines to cure or prevent illness. Our increasingly sedentary lifestyle increases risk for illnesses, which can be prevented through more physical activity. Unilab ActiveHealth seeks to promote healthy living through its series of wellness events: this Saturday's Bike United at 3pm in McKinley Hill, Tri United at White Rock Resort in Zambales on November 13, and Run United 2 on November 20-21 in Bonifacio Global City.
Why is it important to be healthy and active? Or what do you do to stay healthy and active? If you can answer either one of these two questions, head on over to my Unilab ActiveHealth Readers Promo Contest to submit your entries. The best entry will win a special gift pack from Unilab ActiveHealth!
Liked this post? Share it!