I'd been putting it off for quite some time, but the prospect of doing a triathlon has always been appealing. My friend Joel got into triathlons a few years ago and trained for the 2009 edition of Iron Man 70.3 in CamSur, and plenty of my running friends are also part of Team Endure Multisport. It was only a matter of time before I got suckered sucked into the world of multisport.
And so, after four weeks of training, I found myself in the De La Salle Zobel pool last Sunday morning about to start my first triathlon.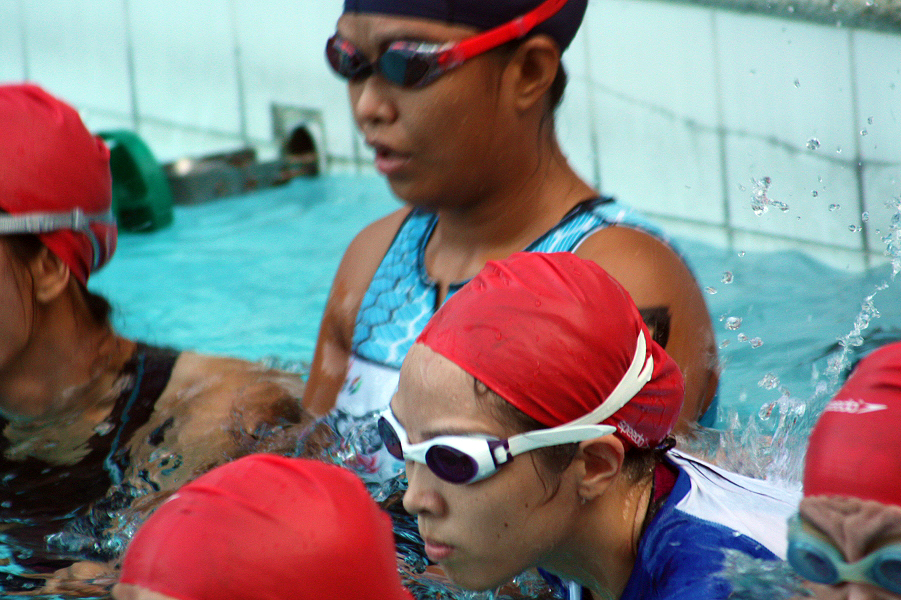 Focus, focus.
Wary of my lack of training in swimming and biking, I chose to compete in the mini-sprint category: a 300-meter swim, 11.6-kilometer bike, and 2.5-kilometer run. I borrowed a helmet, a race belt (from Rico), and a road bike (from Abby). i bought a Speedo two-piece swimsuit and a Transition One tri suit because I wanted a fast transition time between disciplines, and not having to change clothes would guarantee me that.
I had the bib number 4, which is my favorite number, so I was feeling good going into the competition. I didn't know how I'd stack up against my fellow females, but my teammate Neil told me before I got in the pool, "That #4 must have a minus 3 by the end of this race, okay?" Meaning, I must be #1.
No, I don't feel any pressure right now. — Janina San Miguel, Bb. Pilipinas 2008 runner-up
So the horn sounded, and we were off. Three other women shot forward in front of me, but I saw their frenzied strokes and kicks and knew it was only a matter of time before the lactic acid built up in their muscles, and I could make my move. After all, there was still the bike and run, so I needed to conserve energy for that.
In and Out
I was able to overtake two women, and emerged tied in second place.
I lost one of my flipflops on the run going to the transition area where my bike, shoes, helmet and race belt were, but I left it there like Cinderella, and hurriedly put on my gear. I didn't even spare any time to towel off — and since I had no mirror, I had no idea my helmet was askew.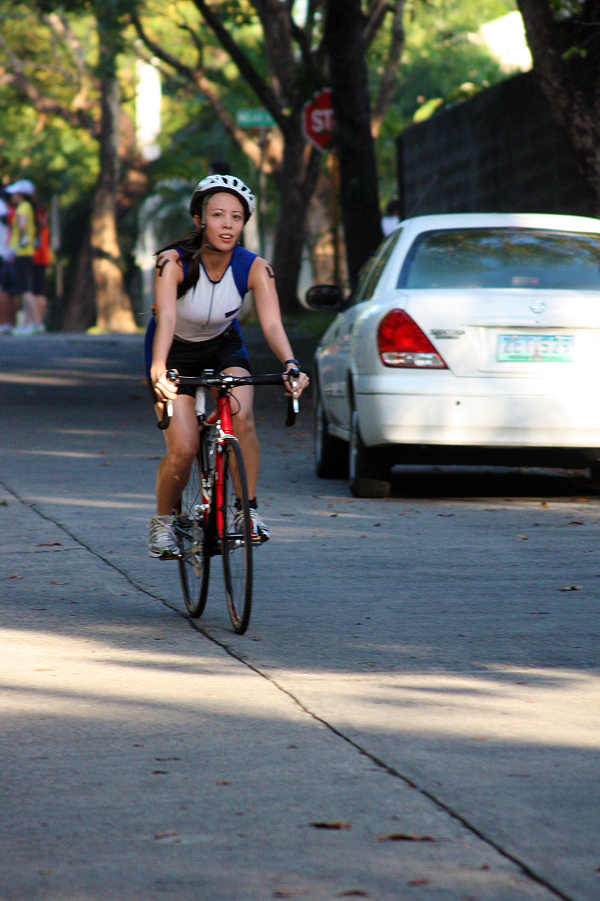 I don't care what I look like anymore.
I got on my bike a bit wobbly, since I had last ridden it two Saturdays before. I was in hot pursuit of the woman in first place, but her legs were strong. Soon, she was out of sight, and I got lapped by a teenage boy. (Er, not that way. I mean, "got overtaken".) I couldn't have that, so I stayed on his tail through the two loops we had to make around the Ayala Alabang Country Club before heading back to the transition area for the run.
I had a bit of a problem dismounting — my body had forgotten how! But thankfully I didn't fall over. I was able to stow my bike, take off my helmet, and grab a water bottle full of Pocari. Just like that, I was down to the last 2.5K, which I had to run.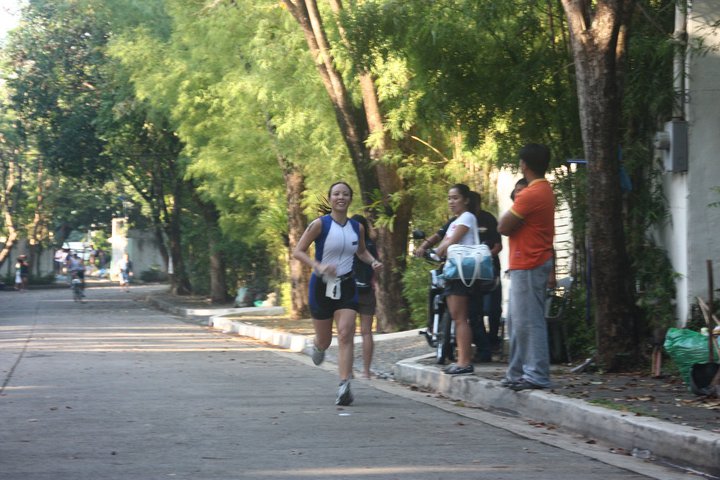 off the blocks with legs like bricks (photo from Joy Vargas)
It felt like the longest 2.5K in my life. I felt impossibly slow even though my heart and mind were still in the game. I stopped for a few seconds to re-tie my shoelaces (I'd put them on too loose during the first transition), but when I heard footsteps behind me, I was up and away.
Well, apparently I was still making pretty good time, because as I rounded the bend before the finish arch, our team's self-appointed photographer Carina hadn't made it back in time to take my photo. Then two people told me, "First female!"
WHAT?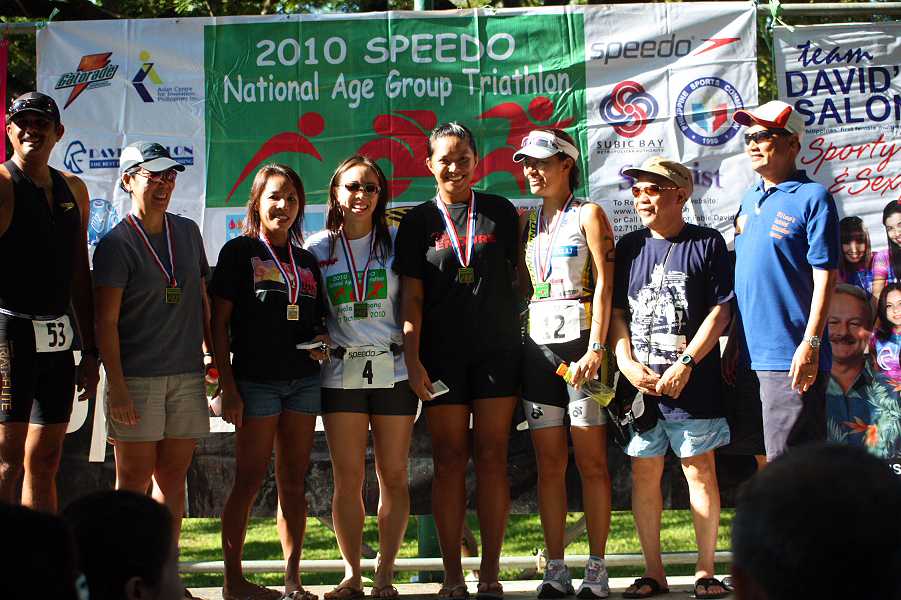 Thank you, Lord!
Apparently, the female who was in the lead during the bike leg got lost because she mistakenly followed the directions for a longer distance category. I was really thankful then that my team and I had scouted the location some weeks before, and we had meticulously double-checked the published race route.
I got changed into some dry clothes and waited for the rest of Team Endure to finish. There were more than 300 participants for this leg of the NAGT; according to TRAP, this was a record number of participants. (Yet again, I seem to be riding the wave of a growing trend. Last year it was running at Globe Run for Home…)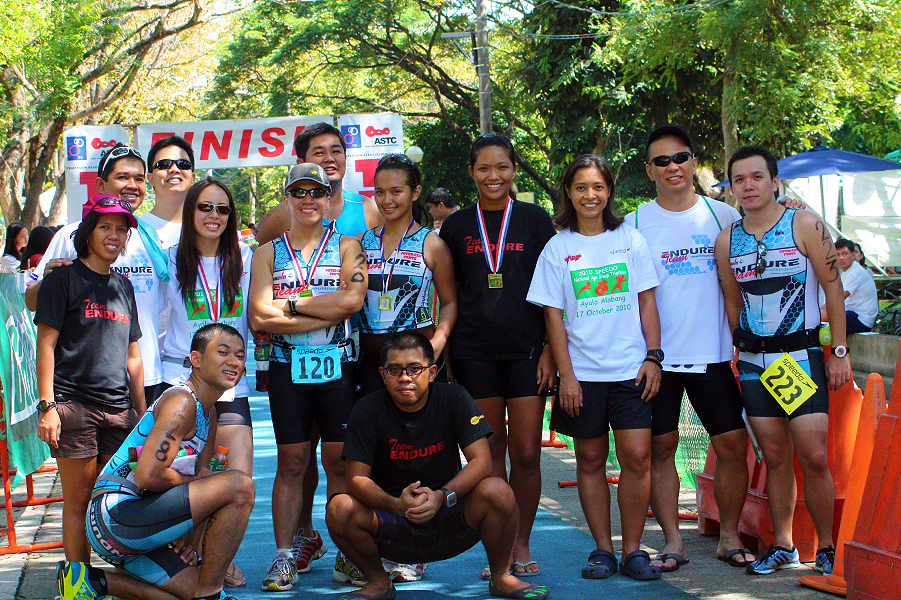 I'm proud to be part of Team Endure.
In my category, another Endure teammate, Karen Talosig, won third place. In the super-mini sprint, Z Villarin placed fourth female, and Pio Sugay placed fifth male. Our other teammates also recorded new PR's, and fellow first-timer Timmy beat Rico to the mini sprint finish line. In all, it was a successful day for Team Endure.
It also seemed to be a blessed day; after reports that Typhoon Juan would hit during the weekend, our race day proved sunny and dry — a huge confidence booster since we didn't have to worry about wet, slick roads. I thank God for putting together a perfect first triathlon for me. Need I say I'm hooked?
I'm hanging up my tri suit for the rest of the year, though (but I will still cross-train by swimming and biking — when I get a bike, that is). I need to train hard for Milo finals. But after that, who knows what I'll be up to next? 😉
(View the complete NAGT Alabang results.)
Photos taken by Carina Manansala, courtesy of Marvin Opulencia.