Two days before Adidas King Of The Road, I had two problems on my mind. One, I was under-trained for my 21K, having only done a maximum of 14 kilometers on my long runs. Two, I couldn't decide what to wear! (Leave it to Kikay Runner to want to make a fashion statement at a race.)
As part of media covering the event, I had been given a free race kit and a pink Adidas singlet (I think they ran out of official singlets to give to media runners). However, I had also bought an adiNation of Runners limited edition singlet during the last adiNation session at Bonifacio High Street before the race.
adiNation of Runners limited edition singlet
In the end, I lent my pink singlet to my mom, who was running her maiden 10K, and wore the adiNation singlet as a sign of solidarity with my fellow adiNation runners.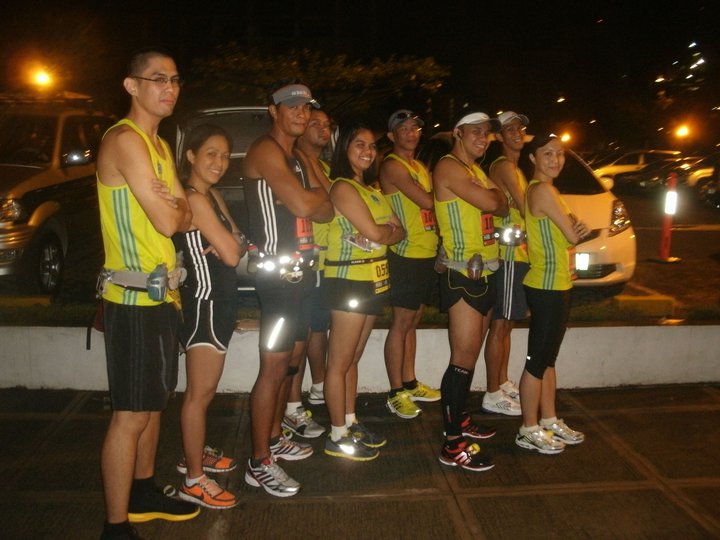 photo from Jason Masayon
The Calm Before the Storm
Race day came with a light drizzle in the wee hours of the morning, but it was as if Someone turned off the heavenly spigot just as runners began to assemble. I had decided to run light, taking only Gu energy gels in my back pocket and trusting in the race's hydration stations. It was supposed to be an overcast day, anyway, which I reasoned would reduce the amount of hydration I would need as long as I drank something at every stop.
One would have thought the P850 registration fee would have been a barrier to entry, but 10,800 runners showed up that morning — 1,200 in the 21K category alone. Among those were some Kenyans, Rio de la Cruz, FrontRunner Magazine cover girl Marecil Maquilan, and other running mamaws in the lead pack. I would be lucky to finish within the top 20, but I resolved to aim just for a sub-2 hour finish, never mind where I would place. (As we like saying, Bahala na si Batman.)
Vlad Arcilla and son Kevin (better known as Team Never Run Alone) were also present, doing Kevin's birthday 21K run. It was a huge pleasure to meet these two, whom I'd written an article about in Runner's World last month.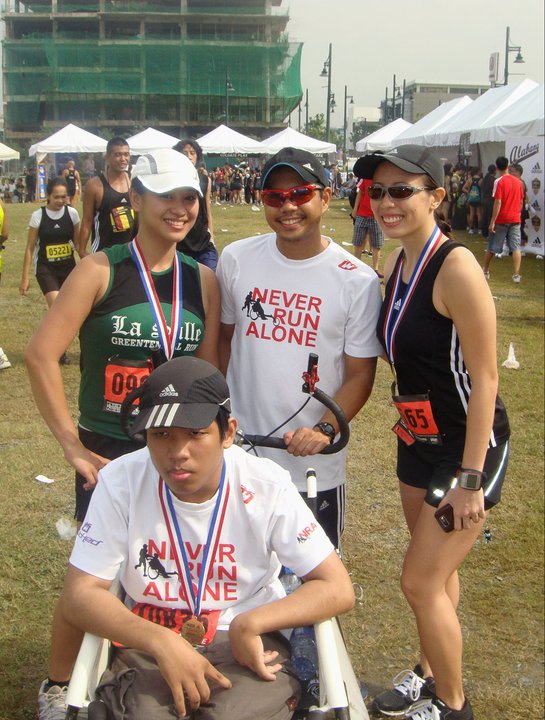 photo from Kat Orbista
The Pace Partners were official pacers: groups of them with balloons attached to their caps would keep steady paces from 8 min/km to 6 min/km, just as a guide for runners who had target times to complete their respective distances.
While waiting in the start corral, I thought this was shaping up to be one of the better races of the year.
Holy Cramps, Batman!
The first three kilometers of the 21K race went without incident, although we did have to sidestep some potholes along the way to British School and University Parkway. The first sign of any imminent threat to race day pleasures came when we doubled back and met a solid wall of 5,000 10K runners clad in black. It was impressive to behold — and something to get out of the way of! We 21K runners had to compress into a single file.
As we went up Kalayaan flyover and crossed EDSA to Buendia, I found myself inadvertently grabbing water instead of Powerade from the stations. Still, hydration was plentiful that early in the race, and I sped through the U-turn at University of Makati to head back to the flyover.
It was then I ran into the wall of 10K runners again, among them my mom in her distinctive pink singlet and cap. She said she wanted a drink, so I dashed to a water station and grabbed a cup for her and a bottle for myself. More like, elbowed my way to a station, since runners were swarming all over the tables like bees to honey. My mom was on her last three kilometers, while I still had 10 more to go, so I bid her goodbye and power-walked my way up the flyover.
On kilometer 15, I started feeling my toes twitching inside my shoes. And then, the cramps started pulsing up my legs; my calves and feet seized up every 800 meters or so, forcing me to pull the pace back at times and tread cautiously so I wouldn't get a full attack of cramping, fall over, and end my race there. Around this time, the Kenyan was on his way back, with Coach Rio hot on his heels. (They wound up in first and second place, respectively.) A few minutes later, I spotted eventual 2nd placer Marecil Maquilan also on her way back.
Still wary of cramps, I knew I had to push after the final U-turn on Bayani Road if I wanted to finish within my goal time. At Trion Towers and right after another attack of cramping, I checked my Garmin and knew that if I kept that pace, I would make it to the finish line around 1:54 (my 21K PR). If I pushed… I began praying, "Lord, please could I beat my PR even by just one minute? Sana hindi mahaba ang route."
With that prayer and no further cramping, I crossed the finish line in 1 hour, 53 minutes, 49 seconds (net)! The route was exactly 21 kilometers on my Garmin.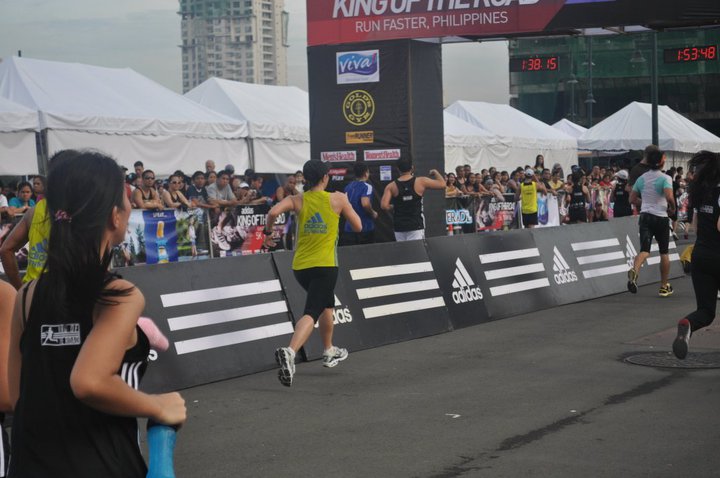 photo from Katherine Montejo
Of course, after I'd collected my finisher's medal and walked back to my car to change, that was when the cramps incapacitated me. I sat on the ground beside my car stretching my calves and feet out for five minutes because I couldn't go anywhere else. I think undertraining and loss of electrolytes from not drinking enough Powerade were the main culprit of my cramp attacks. Ü
I got changed into my mom's black KOTR singlet and went off to find the rest of the adiNation and Takbo.ph members, who had been given a cluster of tents to hang out in.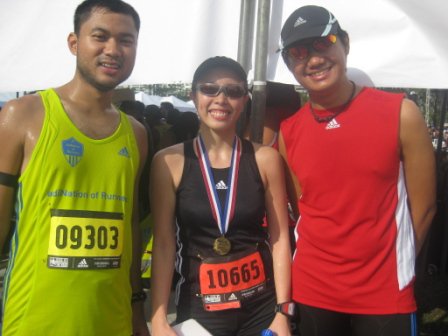 with Doc Marvin and Jinoe (photo from Takbo.ph)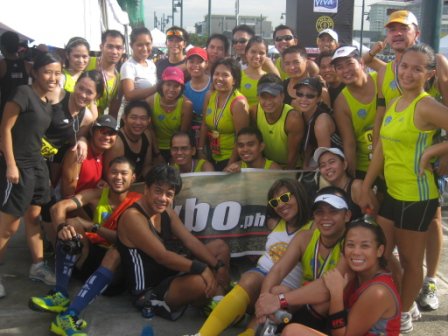 I'm not the most Kikay of them all (photo from Takbo.ph)
I'd had a good race since I was able to snatch a new PR from the jaws of cramps — but how did this race fare among all the others I'd attended this year?
Race in Review
Route: Bonifacio Global City's rolling terrain coupled with the Kalayaan flyover made this route challenging, but the real obstacles were human. Since the 10K shared about 8 kilometers of the 21K route and there were so many 10K runners, 21K runners had to weave through them, wasting much precious energy. And for some strange reason, a construction truck must have passed through the route the previous night and dumped loose stones and dust all over it, making footing uncertain in places.
Hydration: Not only the route, but also hydration stations were shared between 10K and 21K runners. So, hydration stations were very quickly depleted by the middle-pack 10K runners, leaving late-pack 21K runners to scrounge for a drink however they could from Buendia to Lawton. I've heard stories about how some would pick up half-drunk Powerade or scoop up melted ice water with used cups just to wet their throats. I guess I was one of the lucky earlier 21K runners.
Package: The registration fee was supposed to cover cost of the singlet, timing band, post-race buffet breakfast, and reflective slap strap, but of these promised items, only two fully materialized: singlet, and timing band which yielded the release of
KOTR 2010 unofficial results on the same day. The "buffet breakfast" turned out to be a single packed meal consisting of one jumbo hotdog, two pieces of pandesal, one butter packet, one jam packet, and one banana. The slap strap was never even included in the race kit.
Freebies: I'm separating the "freebies" segment of this and all future race reviews to emphasize that what I'm assessing are goods and services that don't come out of the cost of registration fees, but are given as bonuses above and beyond the package each participant pays for. These usually come as free massages, free product samples, and loot bags, which are x-deals from sponsors. In KOTR's case there was no organized loot bag given out, but if participants took the time, they could collect coffee, bread, magazines, and grooming product samples. Unfortunately there just wasn't enough to go around. Since these are freebies and bonuses, I'm of the opinion people shouldn't expect a ton of them after every race anyway.
However, did people get the race they paid for? Did that P850 give them a safe route, sufficient hydration, accurate timing, and the promised contents of the race package?
While it wasn't exactly the worst race I'd ever attended (my lowest-rated race so far being the 2010 Earth Run), KOTR 2010 didn't deliver fully on the basic necessities runners should expect from any race. I believe that if the number of runners had been limited to about 9,000 or less, many logistical problems (insufficient hydration, route congestion, running out of freebies) could have been avoided. This is why race organizers should focus on quality of the race instead of quantity of runners. I give this race THREE KIKAY PINKIE FINGERS out of FIVE.
I must say that I love the singlet though. Very slimming!
Liked this post? Share it!