They're nearly ubiquitous at races, and it's impossible to miss them. They've traveled long and far to come to this country and compete with our best. Theirs is a life devoted to the sport of running. They are Kenyans, and I had a chance to experience a bit of how they train last August 30, which was a holiday and perfect for a long run from the Fort to Taytay.
Prior to that long run, I hadn't run more than 10 kilometers at a time, so I was hesistant about joining it. The fact that we would be running with Kenyans didn't help, since I know that at my fastest I probably can achieve half their full speed.
Thankfully this wasn't a race so we had several stopovers on the way to wait for the pace groups to catch up. It was also the Kenyans' day off, so they were running easy and took our pace as their own. Of course, I ran just a bit faster than my usual long run pace because I didn't want the Kenyans to get bored. Hehe.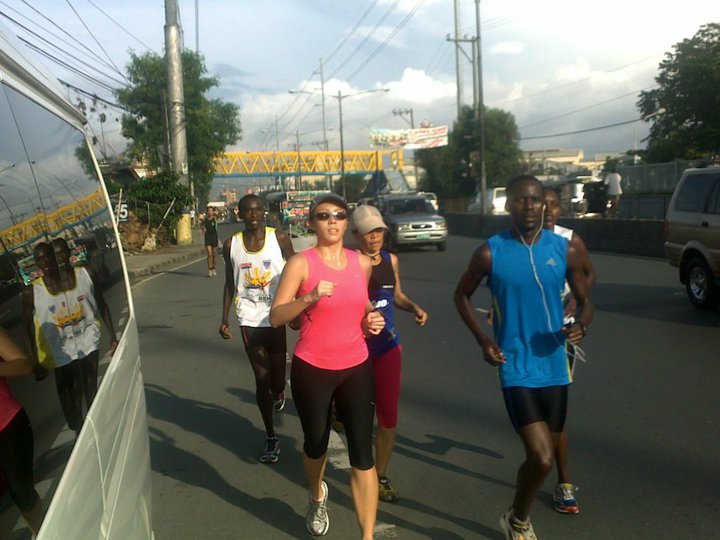 paced by Philip, designated trainer/spokesperson (photo by Jay Em)
I got some pretty good advice about pacing and running form from Philip. He told me just to keep my pace steady, not to push, and it would take me all the way to Taytay. "Don't make your body move," he said, stressing just letting the legs do their work. My hands were also flopping around at the beginning of the run, so he just asked me to make a slight adjustment (I don't even know what it was) which I think helped streamline my running form a bit more.
These people have made running their life, even living in a country where they're not generally wanted because they win most of the cash prizes which used to go to our faster runners. I think there are pros and cons to the Kenyans being in our local running scene, but the solution isn't to ban them from competition — that would cause stagnation (our local runners would be big fish in a small pond). We may have valuable lessons to learn from them yet — and our fast Philippine runners don't even have to go abroad to go toe-to-toe with some international competition
Instead, we should support our Philippine runners and athletes by campaigning for private and public funding for their training. Our country was able to produce a Lydia de Vega, given proper funding of sport development programs; I know we can do it again. We can even make our own contribution by purchasing the Score Card.
The Kenyans are here to stay. Can we step up?
Liked this post? Share it!