I haven't been running all that much lately; my weekly mileage has even dropped to a paltry five kilometers (ten if I'm lucky) and I've been feeling heavier and out of shape because of it.
Run to Read was supposed to be my comeback to 10-kilometer races, but I didn't get to train properly for it. So when race day came along, I knew I wasn't going to break any records.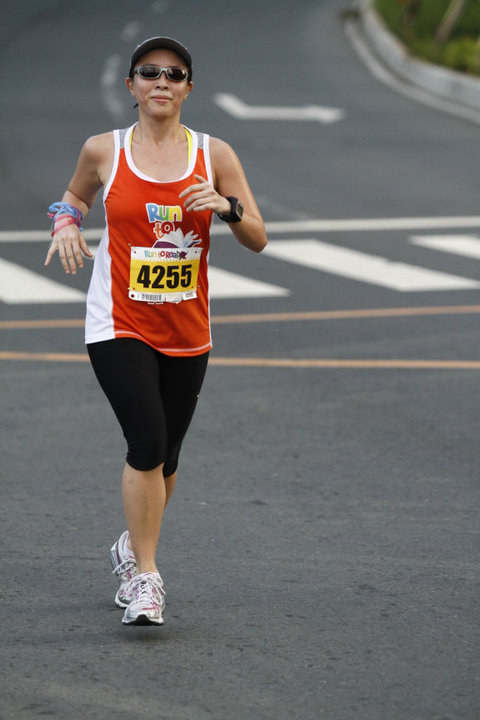 photo by John Jeffrey Avellanosa
I wasn't able to get my preferred singlet color (purple), and the orange singlet I ended up with was loose even though it was labeled XS. I still ran wearing it anyway, and found it quite comfortable. I'll probably have a few inches hemmed from the bottom though.
I was running along at my usual 4:50min/km pace for the first 3 kilometers, but couldn't sustain it, particularly when I started feeling blisters forming on my feet. No sub-Piolo today, I thought. So when I crossed the finish line at 53 minutes and 47 seconds, I was shocked the marshals took my name and bib number down. I took first place with my worst 10K time ever? I guess it was the elite women runners' week off!
Race in Review
Route: This was a hilly, painful route that led through Fort Triangle, British School, St. Luke's, and Lawton Avenue. After running flat courses for the past few races, and due to lack of training, I really felt winded and my thighs burned. (Guess it's time to train at McKinley again.) This route was unique because even though the start and finish are at the same arc, we approached the finish line from behind. (View the 10K map.) Unfortunately, the 10K measured 10.4 kilometers on my Garmin, and I really didn't want to run that extra almost-half a kilometer. There was something strange about traffic management as well, since I found myself running in front of a bus at one point (!!!).
Hydration: With Pocari Sweat as a sponsor, I knew I could leave my hydration belt at home, and I was reasonably well-watered for most of the run. The cup I grabbed at the last station before the finish line was dry as a bone, though.
Package and Freebies: The singlets may have been sized wrong (the purple ones seem to have the best fit), but the colors were vibrant and pleasing to the eyes. With just a little over 2,000 participants, the lines to claim loot bags and bottles of Pocari were manageable, and the people handing them out were quick on their feet. The loot bags themselves double as discount bags; if you take them to any National Bookstore outlet, you can fill them with back-to-school items with an "N" sticker on them and receive a 10% discount on them.
It was a good 10-kilometer run to help shock my body back into fitness. Winning the race was just a bonus. I give it THREE-AND-A-HALF KIKAY PINKIE FINGERS out of FIVE.
Liked this post? Share it!