The following is a guest post from Erik Lee Isaac, a friend of mine who ran the Milo Marathon Manila elimination race last Sunday. We both had vastly different experiences and after he wrote this in his Facebook notes, I wanted to share his excellent post with you all.
It's amazing how running is a lot like life.
I know the image of a worn-out runner on his last mile fronted many posters and greeting cards that speak of courage, strength, victory, defeat, perseverance, preparation and honor, and all of which are a few of the many encounters or experiences we get in our lives. But not until you experience the run itself (regardless of what distance) do you really see the parallels it has to the lives we live.
I can't really say I was well prepared. Two months ago I incurred an injury called plantar fasciitis which is an inflammation of the ligament that connects our toes to our heels. It is characterized by a painful "tearing" sensation that runs through the arch of the foot. And unfortunately both my feet had it. The pain had lessened, thought it wasn't completely healed yet, but I still decided to run. Unwise. I know.
But I'm not here to justify why this had become my worst run. I am here to testify about how God made it the best experience ever!
It's my second full marathon (42kms), and I had hoped to do better in this one, at the very least beating my old time. In fact, taking a swing at the moon I told myself that "Hey, maybe I can do a sub-four hours in this one!" But to be honest about it, I didn't beat my old time, and it was far from the the sub four hours I had imagined. I finished with a staggering 13 minutes after 5 hours. *sigh*
It began well. Too well that all my focus was on myself, my efforts, my glory, forgetting the very reason why I was doing this. It really was a good first half. I was running strong and fast, reaching the halfway mark way under 2 hours, when suddenly pain embraced the soles of my feet, and they embraced hard. It hurt so bad. With much disappointment I had to slow down. I was running with a friend then and he had to go run his own pace. Not that he wanted to leave me, but he was just running his own race the same way I was running mine.
"Now I'm alone." – Pretty much like life, there are times when God wants us to be alone with Him so He can work on us.
God was starting to get my attention, and pain does the job so well. Now I see why God allows it sometimes; in my case it was what was required. Yeah, I always learned the hard way back then.
Thinking about my life I thought I was in a perfect set up before, until God had other plans and changed it. Like my first 21 kilometers I was on a roll and I thought I was on my way to a strong finish, reaching what I wanted. I became so full of myself that I left no room for Him.
The pain from my feet slowed me down, much like a past experience that I thought would put my life to a halt. Or like my friend who was running with me had to run his pace and leave me behind, now a lot of my friends and colleagues are in established careers and relationships. And me? You be the judge. These are but a few of the many parallels I see.
In my running I would often catch myself focusing on the ground or on my legs instead of focusing on the horizon or on the finish line. God used that to remind me that I've been living the same way. I was so focused on the things that were comforting and easy to see thus leaving out the faith that I should be having in Him.
God made me see also that my running was becoming a pursuit of my own glory. Not His. A perfect reflection of the life I used to live. I felt embarrassed. He chose this race, this painful experience to test how malleable I was willing to be for Him. I knew what I had to do, what I wanted to do. I had to yield to our creator, to let the Master Blacksmith hammer away and forge me in accordance to His plan.
Yes, I was running in pain but with renewed hope. I knew I was gonna finish it but I also knew that it really isn't just about finishing. It is about HOW I was gonna finish it.
Like in life we go on bearing the heaviest of burdens, but the question is, will we keep focusing on the ground in front of us and dwell on the tangible and sure things in life that easily comfort us? or by faith, put all hope and comfort in the God that holds us all in the abundance of his grace?
Another question God was asking me was, Will we let our worries keep us from reflecting love and kindness to the people around us despite…? God was clearly teaching me this for the rest of the kilometers I had left. I was deeply humbled. I was ashamed of the pride I had, but also honored that God was teaching me these things.
Instantly I felt empowered. I was finding ways on how I can honor and glorify Him. I knew that God didn't need that medal. What would He do to a sub four hour time? — He wanted my heart. He wanted my character.
Now on my 35th kilometer I was running with a different rhythm. Suddenly I was seeing the other runners not as competitors or rivals but as friends. People to whom I could show love. And as fast as the Kenyan who probably won the race (hehe) God was giving me opportunities to show love.
A woman in front of me was about to bite on her power bar when it fell to the ground. And the only thing I knew to do was to give her my last pack of power gel and a smile. I ran with her for a good ten minutes or so and we talked for a while but my feet were too painful. I realized through this, that every effort to show Gods love to people, regardless the amount, is never wasted. I believe the smallest gesture of kindness goes a long way. After the race I saw the woman again and she thanked me and smiled.
A guy was sitting by the side of the road seemingly in pain. He asked for the time so I told him. I also told him that I was in pain too, and we both limped along like injured soldiers, laughing at how crazy it must seem running 42 kilometers. As I finally went on my way he ran beside me and we chatted for a couple of minutes til he eventually gained enough energy to continue with his pace.
Then finally on my last 3 kilometers, another guy desperate for water was jogging beside me. I offered him what was left in my hydration belt. I was happy to have helped him. In turn he ran with me until we both crossed the finish line.
This had become a strong reminder for me to grab every chance to show love to people, even when we ourselves are going through tough times. Jesus ran His race. He felt the staggering pain of bearing the thought of a horrible death as He covered every kilometer, but it never stopped him in showing His love to people along the way. He finished humbly, He finished strong!
Out of a humbled heart I write this. I will still keep on running, but now for a much better purpose. Perhaps I may still run after that elusive sub-four hours, and whether I get it or not every step and stride will be for the glory of God. I thought this was gonna be my worst and painful run ever, but it turned out to be spiritually eye-opening, and only by God's grace was I able to finish it.
These were my thoughts at the 25th kilometer.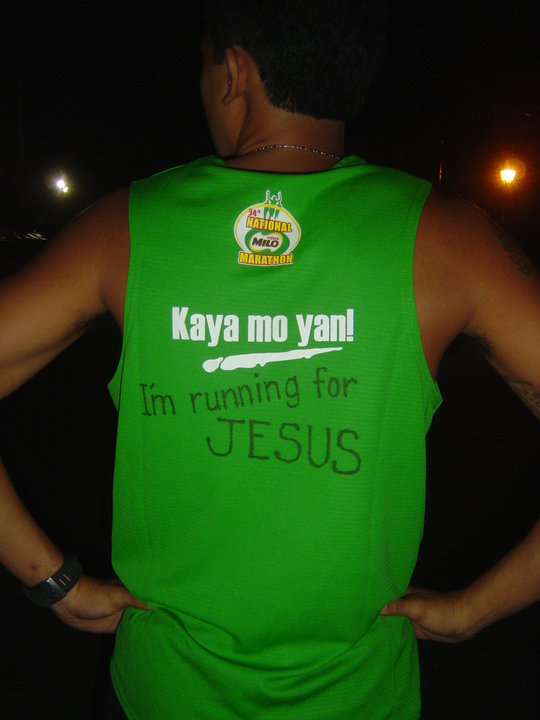 Erik Lee Isaac is a licensed airplane pilot. He ran the Condura 2010 marathon in 4 hours, 53 minutes, 55 seconds. His most recent race was the Nature Valley 21K, finishing in 1 hour, 50 minutes, 31 seconds.
Liked this post? Share it!