Great things start from small beginnings…
I started running around two weeks ago last year, and I never thought I'd attempt to run a marathon, let alone complete it. Yet here I am, limping on aching legs and feet, nursing a slightly uneven tanline after running the country's most prestigious marathon. (It ain't at all a glamorous look, but makes for a great excuse to take a birthday leave.)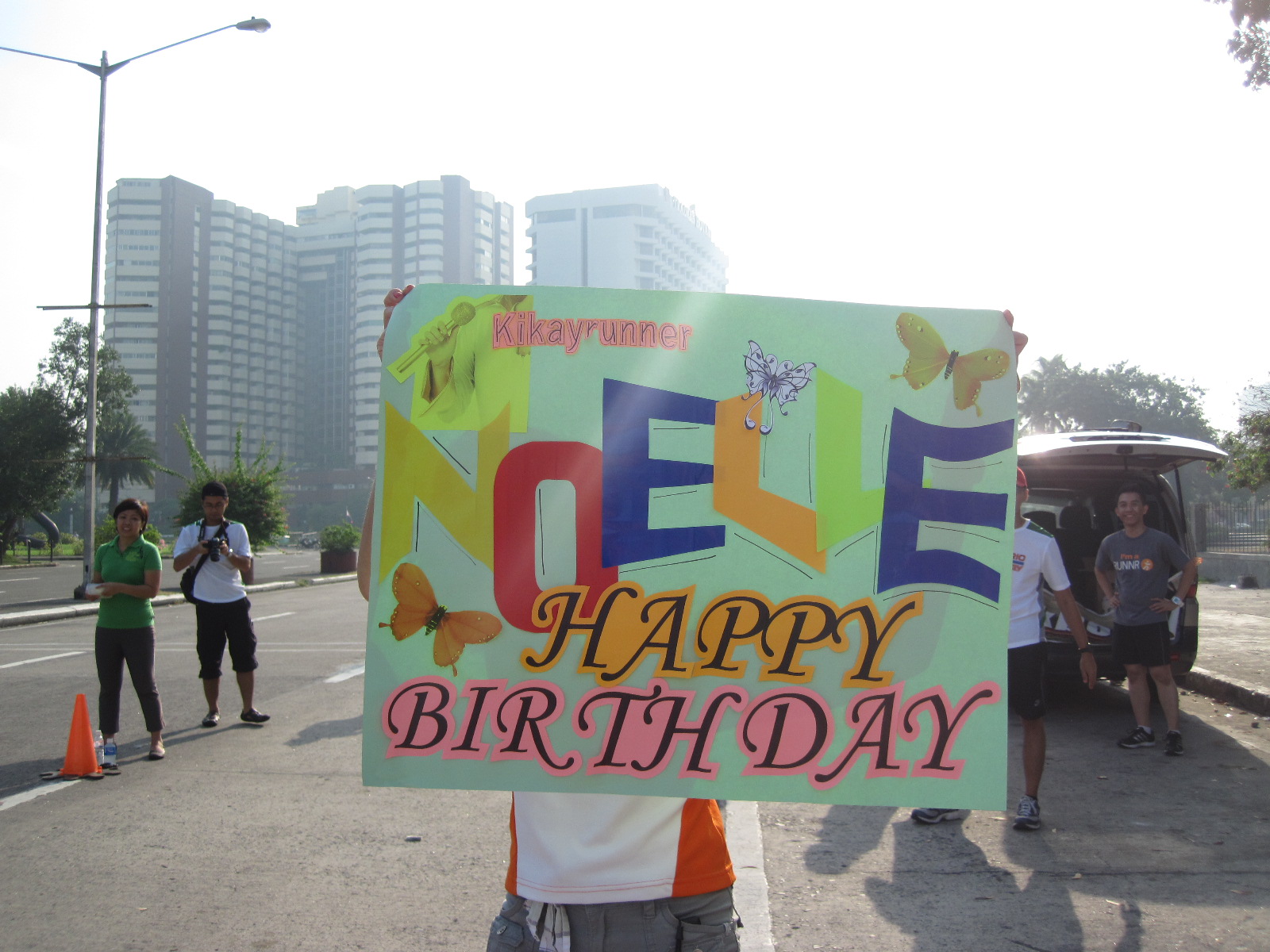 Birthday Blast!
People weren't kidding when they said running a marathon is as much (or even more) a mental and physical struggle. How much can you really say about the physical aspect of running kilometer after kilometer? I would need to let you into my head, into my stream of consciousness for you to know what my first marathon was like.
Journey to D-Day & B-Day
July 3, 1800H: Decided to watch "Spirit of the Marathon" on Youtube. The Gingerbread Man did this in preparation for Condura 2010 and I've really been meaning to watch it. I just keep forgetting to. Except that it's over 100 minutes long and I need to be asleep by 8pm. OK maybe I'll just watch the beginning and ending.
[youtube=http://www.youtube.com/watch?v=7R3216FSskk&w=480&h=385]
The Spirit of the Marathon
July 4, 0130H: Woke before my alarm went off. Showered, dressed, and went on Facebook to announce: " At the end of my life's race, I want to be able to say, 'I have fought the good fight, I have finished the race, I have kept the faith.' (2 Timothy 4:7) IT'S MY BIRTHDAY!" Almost had no time to eat, but had a quick, filling breakfast of ON Recovery+banana shake and three pieces of hopia. I've asked my dad to drop me off at the meet-up point for Takbo.ph/Team Boring peeps. Papa prays for my run, then says he wishes he could run with me.
0300H: Everyone's here! Argo, Pojie, Carina/FlyingBoar, Prince, DocT… Except the guy who talked me into this, Rico, still isn't around. Haha. In any case, I am not running alone; I'm running with my Takbo.ph family!
My blood family — father, mother, sister, brother-in-law — will be waiting at the Takbo.ph support station on V. Sotto Street later. I've asked them to wear pink so I can spot them from afar. (I also like getting people to wear pink. *wink*) They're holding onto the second half of my Gu gel supply as well as my hydration belt filled with Pocari Sweat, which I'll be claiming from them as I finish my third loop (kilometer 33).
0408H (Km0): So many marathoners are assembled at the starting line! Rico Robles and Tricia Chiongbian are hosting, but nobody really pays them attention. You can feel the anticipation, smell it in the air — or is that just someone's curry dinner coming out through their sweat?
After leading a group prayer with the Takbo.ph peeps, Prince volunteers to pace me for a 4 hour 30 minute finish. I'm trying not to look too eager here, but I'm secretly hoping I can slip under the 4 hour 20 minute qualifying time. The gun is fired by Mr. Afnan Assan from Milo, and we're off without any fanfare.
0509H (Km10): Prince and I are on Macapagal. The strategy is to run 10 kilometers every hour. I'm feeling strong; I took one of my Gu gels earlier and have just received an extra Gu from the Milo truck. Finding it hard to keep a conversation going, but it's not from physical exertion. When it comes to long distances I tend to retreat into my head. I wish I could keep my companion more entertained…
0519H (Km13): Just passed the Takbo.ph support station. Bea unfolded a beautiful handmade banner just for me, and Gail was taking photos! McCoy, our support head, proferred an ice-cold bottle of Pocari Sweat. Lovely day!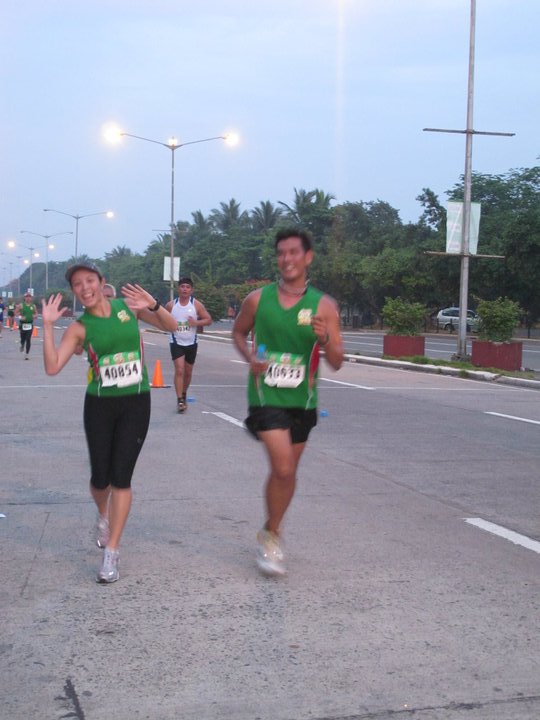 (photo by Irene Ong)
Prince and I have caught up to Pojie on Buendia flyover. Wait a minute, now I'm running past the two of them! I'm on my own now, running at slightly faster than 6 minutes per kilometer. I take the opportunity to turn my thoughts inward and upward. "Thank you Lord for helping me stay running strong at this point. Thank you for this opportunity to do what you designed this body to do…"
0610H (Km21): A different support crew recognize me as the host from Runnerspeak. "If you need water, bananas, gels, just let us know!" they yell. I'm on my second hour, there's still Gatorade and water flowing from the stations, and I think I've still got a few gels in my back pocket, so I'm good. Still, it's nice to know people on the course have got my back. Been getting birthday greetings from familiar and not-so-familiar people as well, which is wonderful.
0632H (Km24): My family was at the station! I got two gels from my mom while my dad and sister were capturing the moment with video and still cameras. My bro-in-law held out my hydration belt but I told him I'd get it on the next loop. This time, Gail took my photo with my banner. Seeing all of them there has given me an extra boost. It's my second loop; one more to go!
0644H (Km26): I'm seeing so many people walking, some of them unsteadily like they're about to fall over. But they still keep on going. If they're going to finish it, then I should be able to finish, too.
0730H (Km33.5): I've tuned out and lost several kilometers, but it's obvious I've been out here a while. The music stations that had live marching bands earlier have packed up, and water stations are running dry. There's still Gatorade, though. Here comes the support station! I'm out of gels, so I ask Mama to stuff some gels down my back pocket. I accept my belt from bro-in-law gratefully.
Heh. What a weird photo.
0740H (Km35): I overtook Pastor Junn Besana some meters back. He's just recovered from a cold but it's amazing how he's still out here running strong. There's a runner ahead of me with a very familiar back. Oh hey! It's my college batchmate Olive. I wave hello and goodbye. EDSA flyover (and the U-turn) are right ahead of me and I'm about to attack it with glee.
0759H (Km38): Oof. Taking EDSA flyover twice within two kilometers has drained my legs. I see Buendia flyover up ahead and have decided to walk up it to conserve my energy. As soon as I've gotten uphill, I'm going to start running again. Hopefully it's enough to help my legs recover.
0808H (Km39): I'm reduced to counting steps and breaths to keep my legs going. The terrain is now completely flat, but it's also very dry and the sun's beating down. I don't know if I'm going to make it within the qualifying time, but Ronnel just appeared out of nowhere and has offered to pace me to the finish. Thank you, Lord, for sending someone in my hour of need!
0826H (Km42): I have to say, it's a bit demoralizing to pass under the Start arch knowing you still have to run further to reach the Finish. It's even more frustrating to have to blast through a wall of pedestrians taking photos. I let out a battle cry, and they part like the Red Sea to let Ronnel and me through.
0837H (Km42.3): We've long passed the 42.195 kilometer mark, but we've finally crossed the finish line. A marshal hangs a medal around my neck and another takes my name. The clock atop the van parked beside the finish line reads 4:19. I'm within the qualifying time, but only barely.
And then the singing begins; Takbo.ph members have gathered to greet me — and the Runnerspeak video guy TJ is right there with them! What a great way to hear my first birthday song of the day.
best birthday present ever!
0900H: I meet up with my family, who were too late to see me cross the finish because they overestimated the amount of time it would take me to get from Kilometer 33 to 42. Then again, I didn't tell anyone I wanted to qualify. Haha!
Race in Review
Route: The looping route was deceptive; people thought it was an easy course physically because the flyovers at Buendia and EDSA are low in elevation. The first three times were fine because after the two flyovers, we had a long flat route through Macapagal and the CCP Complex, which allowed our legs to recover. But the last two times were the most taxing because it was like climbing four hills one after the other. Ouch! I'm thankful my training took me in loops around Fort (especially around Bonifacio High Street).
Hydration: I planned to run the first three loops without a hydration belt, trusting that the Gatorade and water stations alternating on every kilometer would still be stocked with supplies. The Gu gels from the Milo truck on Macapagal were a bonus, since I came prepared with my own supply. I knew that the hydration stations on Roxas, especially the ones nearer the start/finish, would have been tapped dry by the thousands of shorter-distance runners, so it was a good plan to bring my belt on the last 10 kilometers. Funnily enough, the water stations ran dry while Gatorade still flowed.
Package and Freebies: Loot bags, certificates, and medals were distributed as marathoners exited the finish chute. I really appreciated the bottles of Nestle Pure Life water and Gatorade that came in the loot bag. I gave away my Milo packets and bananas to the mendicants wandering the area, although I lost my patience when one kid had the gumption to ask for my finisher shirt. You try running a marathon, kid, and let's see how badly you'd want to hold onto that shirt, even if it is a size Large.
Given that this is the largest race in the country every year (this year there were 27,000 participants!), I would expect it to be a logistical nightmare trying to keep the novice 3K and 5K runners in line. By the time I got to the finish, the bulk of these runners had already finished, so I had a smoother race than did many of the 10K and 21K runners. My personal rating for the Milo marathon is THREE AND A HALF KIKAY PINKIE FINGERS out of FIVE.
Results for the 10/21/42 distances have been released on Takbo.ph. You can download the PDF file. I was finisher #184 and the 13th female (out of 63) to cross the line. My gun time was 4:18:53. Chip time was 4:18:47.



Runpix analysis for 10/21/42 distance runners is also available. I'm slightly annoyed that in almost every race since Century Tuna I'm always overtaken by two runners in the last split. Hehe.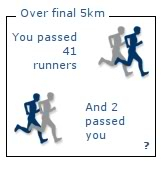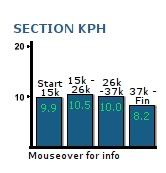 I also experienced a huge pace drop during my last 5km. So that's the legendary Wall. I'm glad I didn't bonk too hard, though.
Thank you very much to Andrew Neri of Milo for fielding our questions about the marathon route and taking our suggestions and feedback. Thank you also to Ton Gatmaitan of Gatorade for calling me afterwards and asking for feedback about the Gatorade booths.
Postscript
People say running a marathon is a life-changing experience. For me, it marked a year of life changes. I've changed from someone who started running on a whim into someone who runs with purpose. I can now relate more closely to the apostle Paul's words: "Do you not know that in a race all the runners run, but only one gets the prize? Run in such a way as to get the prize."
Running has been such a gift to me; the discipline this sport has taught me translates into life skills — determination and patience. But then it has also taught me to rely more deeply on God. When I'm out there on the road, I travel at my own pace and really, He's my only constant companion. I've tried holding conversations with myself to fend off boredom; it's easier when you're talking to Someone who's real. And during this marathon, when the wall hit, help came from outside myself. Yes, it was Ronnel who ran with me, but had he not been there at that exact moment, considering whether or not just to walk to the finish, our paths would not have crossed. I don't believe in coincidences. "My help comes from the LORD."
It was the best birthday celebration ever. Or is it "so far"? Will there be a repeat next year? I'll get back to you on that. I've still got a second marathon to run in December. 😀