Looking back on the races I've participated in this summer, I've just realized my last road race was Earth Run 16K. Since then it's been different surfaces and very short distances. Though I did two long runs in May, they never went beyond 19 kilometers. I was in for the hottest run of my life.
Twenty-One Kilometers
I had registered for the 21K, so I had a 5:10am gun start. I took a position near the front of the queue with members of the Pace Partners running club.
As we stood there watching other 21K runners gather, it soon became clear that there were a lot of people running this distance. In fact, we hazarded a guess that some of these were 10K runners in races last year and had chosen to take the big leap to 21K at the Nature Valley Run, the second leg of the RunRio Trilogy. This was to be my third 21K, but my first attempt to break my PR of 1 hour 59 minutes 37 seconds set at the Condura Run earlier this year.
My more modest goal, should I fail to set a new PR, was to do a sub-Donna. As Coach Rio's celebrity partner for the Nature Valley Run, Donna Cruz-Larrazabal is an avid runner who's already done two marathons with times under 5 hours. I had no idea what her 21K PR was, but I wanted to finish ahead of her, at least.
I was so nervous about trying to achieve my goals that I couldn't stomach eating any solid protein. Instead, I made a shake from a banana and some 2:1:1 Recovery powder in Colossal Chocolate flavor. Although it's a product designed to aid recovery after tough workouts, I decided that the calories from the 2:1:1 Recovery powder were better than running on an empty stomach. If I needed more calories, the Gu gels I'd be ingesting during the run would be good enough.
In the Summer, When It Sizzles
The sky was already light as Coach Rio signaled our start, and the day was promising to be a humid one. My friend Paul Pajo wanted to feel how fast he'd have to go to do a sub-2 hour 21K, so he paced with me for the first 3 kilometers. He dropped back, though, so my pace buddy for the first 13 kilometers of the run was speedy Pastor Junn Besana of Victory Christian Fellowship.
We overtook Donna Cruz before the 2-kilometer mark, and never looked back. The numerous U-turns on the course gave me a chance to gauge how much of a lead I had over the rest of the pack. Actually, it also gave me an idea of how many 21K runners there were, and how spread out they were according to ability. I was 15 kilometers into the race already before I came across the tail end.
All too quickly, it was time to turn back and make the final run back to the finish. Pastor Junn had dropped back to about 30 seconds behind me. I think it was the heat, but he says it was his age. 😛
I could have slowed down a bit, too, but I couldn't wait to get the course over with. The sun had started to beat down stronger. I came across Rodel "Argonaut" Cuaton, who was so overheated that he'd gone shirtless by the time I bumped into him on Bayani Road. He yelled, "Hi, Noelle!" I yelled back, "Hi, Derek!" Teehee.
Of course, I had no such luxury of taking my shirt off, so I just kept grabbing sponges from the water stations and squeezing water over my nape.
Only 1.9 kilometers separated me and the finish line when my friend and triathlete Joel drove up beside me in his pickup and waved hello. Since he'd done the Camaya Coast aquathlon the day previous, he had signed up for and done an easy 10K — and he was already done with it! That made me want to run a lot faster. But all those sponge "baths" had taken their toll; underfoot, my socks were squishy and my shoes were soaked. I could feel blisters start forming on the sides of my ball of foot.
As I ran through the last 500 meters, hammed it up for the Photovendo cameras, and crossed the finish line, I thought: "I hope I don't look like a basang sisiw!"
Time: 1 hour, 54 minutes, 52 seconds (chip). Woohoo!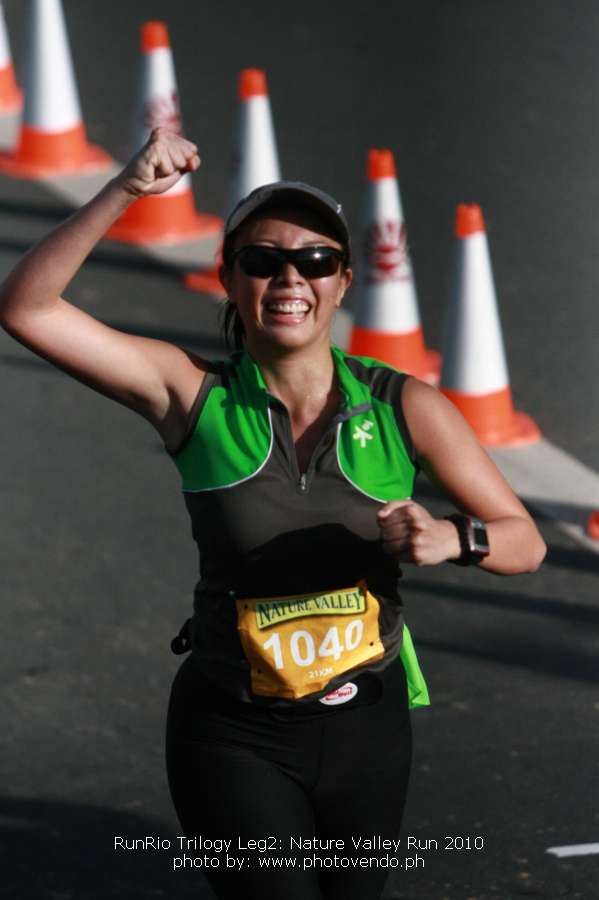 Pumped up!
Race in Review
Route: There was a change to the routes for the 10K and 21K distances about three days before the race, which meant that instead of looping within Heritage Park, we would be running Kalayaan flyover and a bit of Buendia. Thankfully this "hill" was early in the race, so my legs were still fresh. I love downhills because they shave precious seconds off my time without any additional effort on my part, which probably contributed to my new PR.I don't like how the 10K and 21K routes converged after Kalayaan, though. It was difficult to weave through the mass of runners, especially since we only had one or two lanes' worth of car-free road due to partial road closure.
Hydration: Tables were long, with many cups already laid out ready for runners to grab. There were a selection of 100 Plus flavors to choose from, plus ice cold water (for the most part). And the sponges! Lovely, although maybe I shouldn't have squeezed so much water onto myself.The station on Lawton Road had run out of pre-filled water cups when I arrived there after running back up Bayani Road, so I had to wait a few seconds before I could get a drink. Later, someone explained to me that plenty of runners chose to hydrate at that station before heading down Bayani, and plenty would be thirsty coming out of Bayani. This station was also the one that had gone dry during both the Globe Run and Earth Run, so perhaps RunRio should take this into account, and stock more water and fill more cups.
Package and Freebies: "One runner, one tree" means that a tree would be planted for every runner that registered for the Nature Valley Run; I was more than glad to see part of my registration fee go towards preventing flooding and landslides due to deforestation.The 21K finishers were given loot bags filled with a banana, Nature Valley bar, RunRio finisher shirt, a can of Century corned tuna, a small towel, and bottles of Summit drinking water and 100 Plus. Also, we were each handed a pint of Haagen Dazs ice cream, which I had no intention of eating, or keeping since it would just melt. Instead, I handed it to a random 10K runner, who was very glad to receive it.Oh, I almost forgot the finisher's medal! It was very heavy draped around my neck. In fact it was so heavy that the medal fell off the ribbon. Why does this keep happening to my medals?
The relatively smooth race experience I had at this event, plus my new PR, certainly bodes well for my rating of the Nature Valley Run. After the debacle that was the Century Tuna Superbods Run, I'm glad that the second leg of the RunRio Trilogy was hassle-free for the most part. However, this race could stand to be better if we had gotten an earlier gunstart, and so would have avoided a lot of the summer heat and humidity. I give this race FOUR-AND-A-HALF KIKAY PINKIE FINGERS out of FIVE.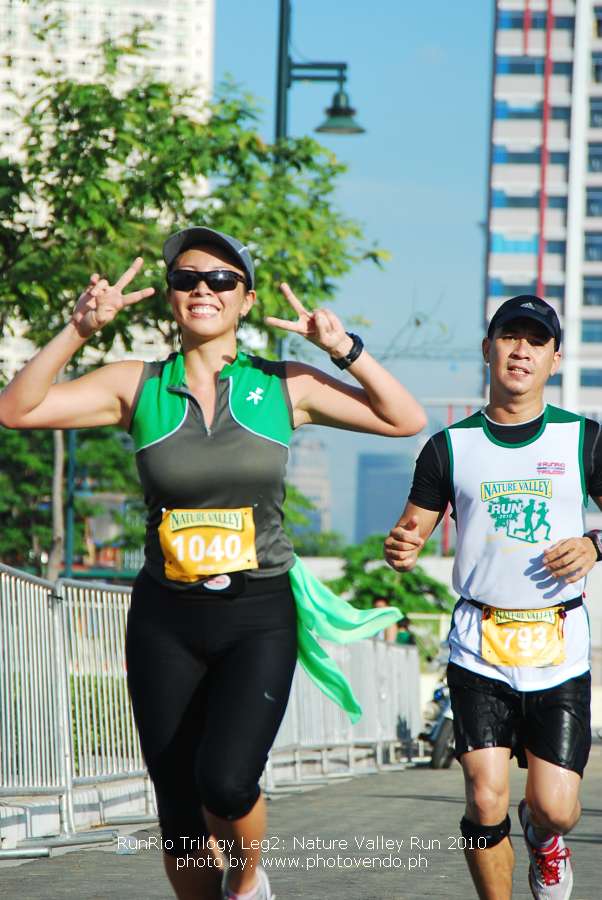 Guy on the right says, "What is going on?!"
Check out the RunRio website page for the race results (released one day after the race!), Runpix analysis, and Photovendo pics. Coach Rio has also posted a letter of thanks for our participation. Ü