I was already at Ortigas Home Depot this morning, chilling at Starbucks and waiting for SecondWind to open its doors when my mom called. Excitedly, she told me, "I'm at Unilab and there's gait analysis here!"
I'll backtrack a little to explain. My mom and sister are both proudly Unilab employees, and today the company held an exclusive expo with Planet Sports at their fitness center. Featuring New Balance products at a staggering discount, Fitprint static analysis, and a gait analysis with a sports physician who also consults for SecondWind. (I'm sorry, doctor, I forgot your name!) In line with Run United on March 7, the company has really been pushing their employees to take up running and sign up.
So my mom called, and of course I went to the expo at Unilab instead. Hehe. First I got my foot measured for New Balance shoes (I'm a 7 1/2) then had a static analysis of my feet. I distribute weight evenly along my feet when standing, and my heel-to-toe motion is straight through when walking. But the gait analysis showed me what really happens when I run.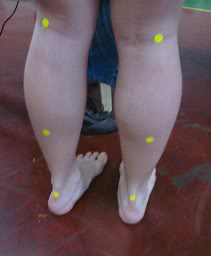 That is not my best angle.
I got stickered on three points for each leg — knee, calf, ankle — so that the good doctor could plot the points on the video captured of me running on a treadmill.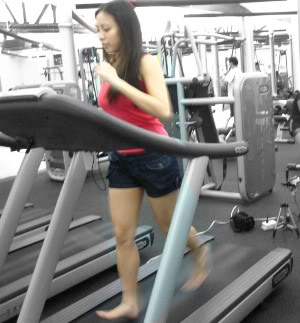 Ugh. I'm a heel-striker?
Upon analyzing my footage, the doctor determined my left leg is well-aligned through footstrike, mid-stride, and toe-off, with an almost-perfect straight line running through the points on my left leg. My right foot, however, turns outward when I run, so my heel, ankle, and calf twist to accommodate this. Upon toe-off, my leg rights itself.
Oh, and I'm a heel-striker. Sigh. Gone are the illusions of being a midfoot striker. Oh well, I still can run pretty fast anyway. 😛
Based on what I learned from these tests, I went for the New Balance WR1225, a medium-stability shoe with good cushioning. (According to Timmy, it's the "Christmas shoe" since it's 12/25. Get it? Ü) Since I'm increasing my mileage anyway this year, I'm gonna need a pair of shoes that'll take that kind of punishment. I hope this fits the bill.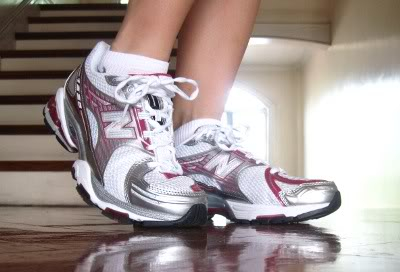 Of course, they're pink.
I'm breaking them in during the next few weeks so that by March 7 at the Unilab Run United, they'll be race-ready!