Most of my friends are running either 3K or 5K at Condura, my regular pace buddy Mr. F is injured, and after yesterday's bout with illness I didn't know if I wanted to continue with my 21K. But after attending tonight's Takbo.ph Carbo-Loading Party at Joey Pepperoni in Fort and meeting all those people passionate about running, I feel re-energized and ready to tackle the Skyway.
It was amazing just being there among people who will also run the 21K distance this coming Sunday. I now know I'll have plenty of company (and hopefully a few people I can pace with). It was lovely to meet Jinoe, Rico, Luis, Vicky, Rene, Sam, Jet, Gerard, Pojie, Sid, and Abby for the first time. It was also great to see Timmy, Doc Marvin, and Rodel again. (Uy, Rodel, pwede ka na mangampanyang Congressman, ha.)
The Condura 2010 Race Kit
I also claimed my race kit today at the tents set up near Fort Strip and R.O.X. From all accounts, it was an organized claiming system. It only took me 5 minutes to claim all the kits from three different tables — I ended up having to waste time walking around Bonifacio High Street before heading to Joey Pep for the CLP!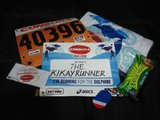 Here's what I got: my bib number (40396), a blank bib to personalize, a finisher shirt, a Nature Valley bar, a reflector, an Ako Mismo: Ay Tumakbo dogtag from Smart, and a sachet of Lactacyd feminine wash (not in photo). As you can see, I've already written on my blank bib — a little self-promotion doesn't hurt! Ü And it'll also help distinguish me from the other ladies running in Nike pink on race day.
I'm A Pink Lady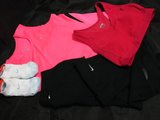 After Vicky made a post about her Condura preparations, I realized I will not be the only one wearing a hot pink Nike singlet. If our hunches are correct, Vicky and Julie will also be wearing it! But I think I can distinguish myself by being the only one of the three Pink Ladies to wear tights instead of shorts. Also, I'm a size medium. *blush*
(Didya notice what's not in the photo? That's because it's a secret — Victoria's Secret. *wink*)
See you on the Skyway!
UPDATE (02/05/10, 01:02am): In my excitement about getting the race kit, I didn't check it. I just found out I have no barcode sticker on the stub to hand to the finish line official. Argh! I emailed secretariat@condura.com to inquire what can be done about this oversight.
So, if you haven't claimed your race kit yet, when you do so, check that all is shipshape before you leave so you don't have to come back for something they forgot to put in it!
Liked this post? Share it!