Tonight's run with Jenny and Bianca yielded better results; the girls were able to run every other side of the Bonifacio High Street loop without begging to stop, and we finished our three loops faster than we did the last time. They're already talking about adding another loop soon to start building up to doing 5 kilometers running/walking.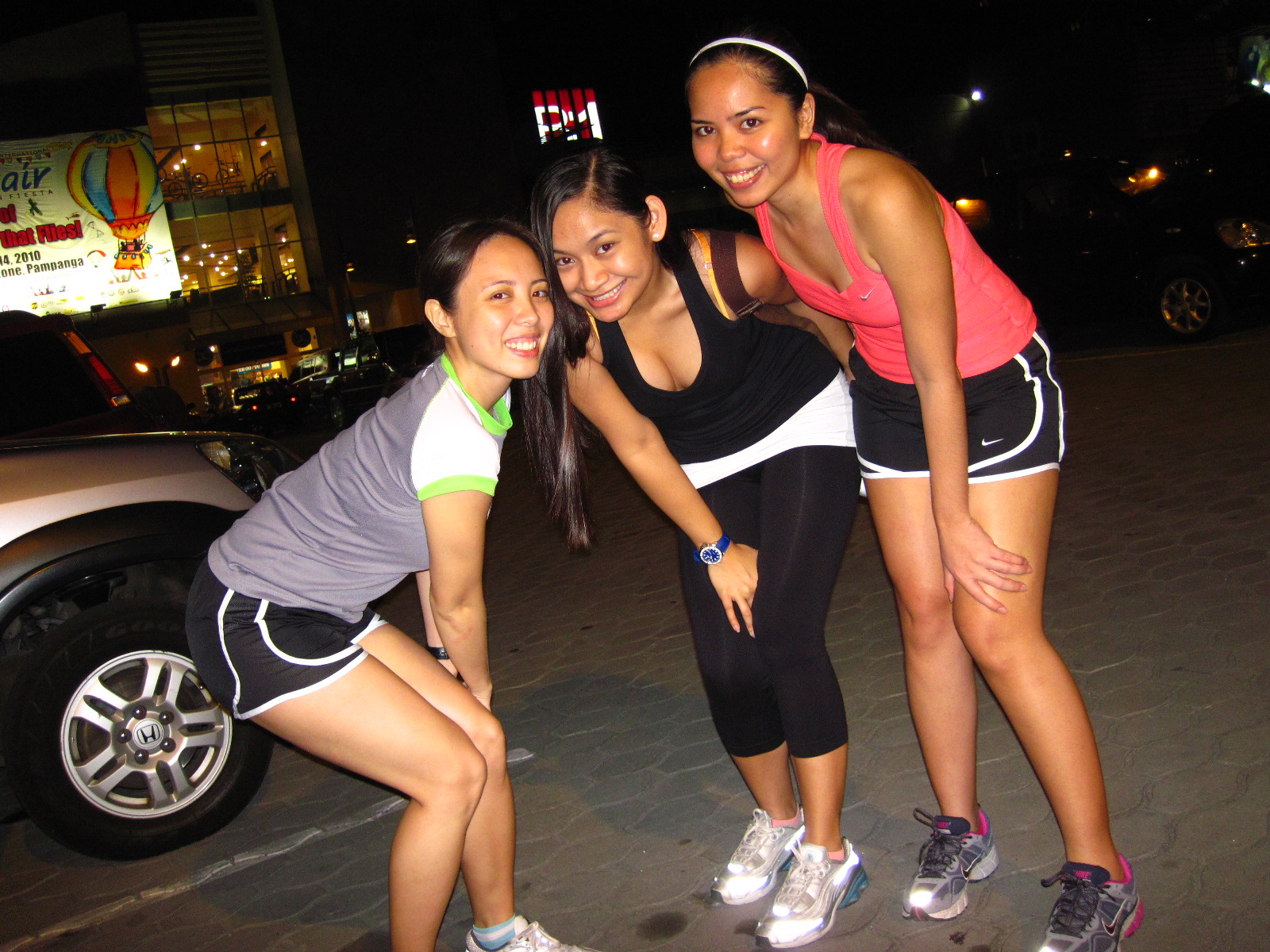 me and my mamacitas
The major reason they're both this enthusiastic about running for fitness is my sister's wedding in April. However, I think what spurs them to run more regularly are the shorter-term goals of running 3K at the Century Tuna Superbods Run on February 21, and 5K at the Unilab Run United for Wellness on March 7.
In fact, tonight we spent a good fifteen minutes standing in line inside Nike Park BHS just so the two of them could fill out registration forms and collect their race kits for Century. Bianca opted to postpone their registration at R.O.X. for Unilab Run to next Friday. She seems to think it'll be more fun to register for a race every week.
(I'm covering Century for Action&Fitness Magazine, so our editorial assistant sent my registration in earlier today. And since some members of my family work for Unilab, I've also been registered early for their race.)
I appreciate the way both races give the kits to the participants immediately upon registration; it saves a lot on shoeleather expenses traveling back and forth to pay registration fees and claim kits. What I'm really excited about for both race events are the timing chips. The last time I was at an electronically-timed race was at Del Monte Fit 'n' Right, which used RFID chips. Personally I prefer Champion Chip, and if the organizers opt to use RunPix with the data gathered through the Champion Chips, the registration fee won't seem as expensive since there's more value added to the race experience.
A Side Story…
Tonight I also accomplished five kilometers — my one and only run for this week — with no incident healthwise, but with snicker-worthy stories gathered. As I was running my first loop before I met up with the girls, a Japanese guy snapped my pic as I went past him. On my second loop, I stopped at the seating area in front of R.O.X. to send a text message (and ostensibly to avoid getting my photo taken again).
The man approached me. This time he said, "Picture, please?" Good thing too, because I was about to give him a lecture on how you should ask to take a person's photo, even in a public place. As I acquiesced to his request, he said, "I'm from Asics." Asics, the shoe brand that had set up booths with the Condura claim area. He'd also been taking photos of other runners doing laps around BHS. (I wonder what they intend to do with those photos.)
Just after that, as I walked towards the restroom near RUNNR, I came by a booth with very bright lights, and a guy with a clipboard came up to me. He asked, "Would you like to do a VTR for Nestea Fit?"
Apparently they were auditioning "models" to take part in their summer fitness campaign happening mid-April. There was already a girl ahead of me in the queue who looked like she came to BHS specifically for the VTR — hair dried straight and shiny hanging down her back, matte makeup, and sports clothes that looked like they'd never been perspired in before. And there I was, clothes slightly bedraggled, hair in a limp braid, and all the pores on my face wide open and sweating. Of course, I did the VTR (because I'm masochistic that way).
Wala lang, just thought I'd share.
Liked this post? Share it!