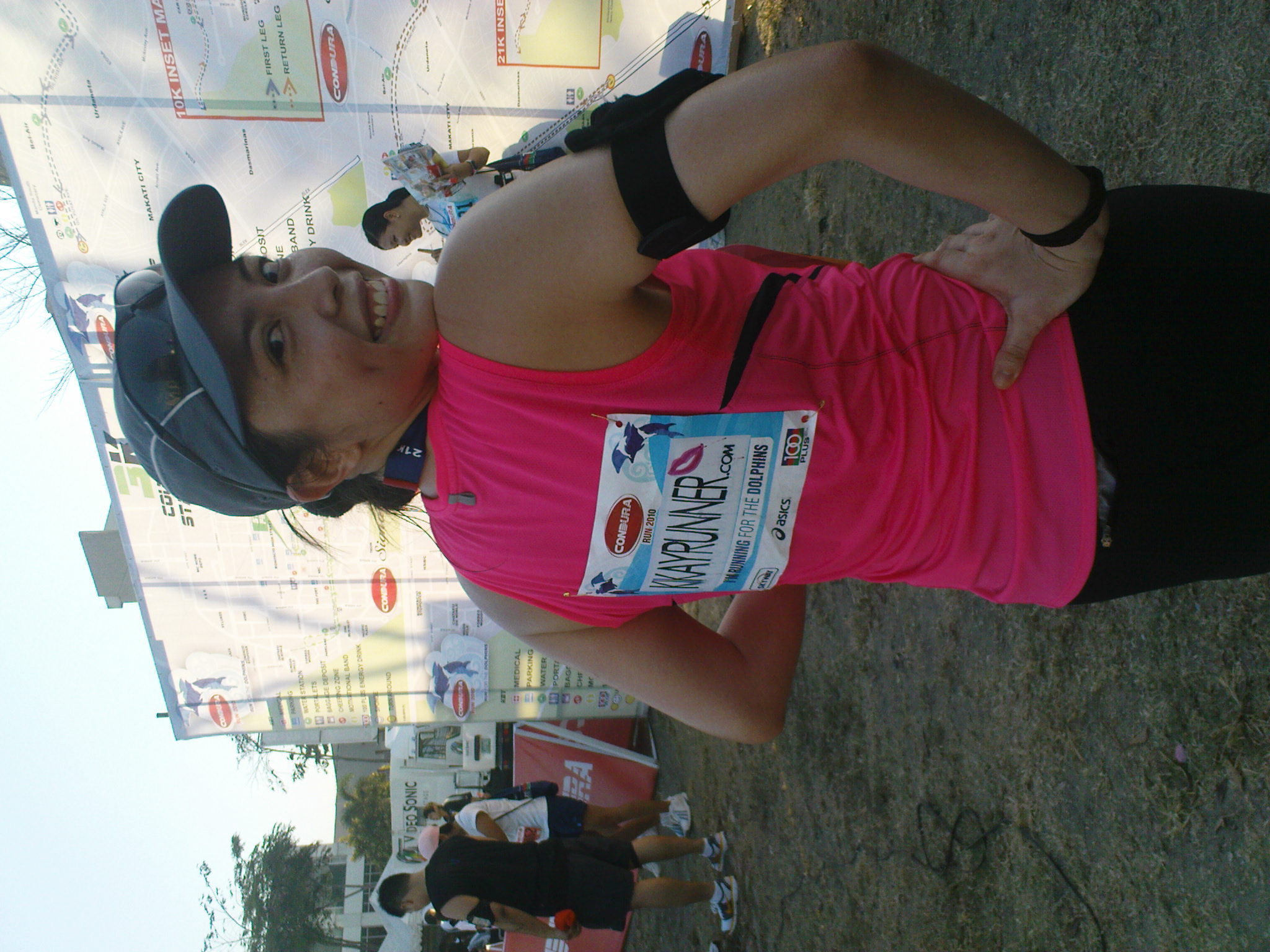 Did you see me from behind?
Making the jump from 15K to 21K is no joke, as I learned from yesterday's Condura Run.
A Good Beginning
I arrived at Fort just as the marathoners started their race. "That'll be me in several months' time," I thought as I saw them race by. The moon, in its last quarter, was still out and the stars were still twinkling overhead when I checked in at the starting line. Saw a few of the Pace Partners jostling to get a good position for themselves. Since I was running alone, I was able to sidle almost all the way up to the first five rows of people. (I didn't want to put myself right in front beside Coach Rio — I might get trampled!)
Fifteen seconds before gunstart, fireworks shot up into the sky, illuminating the darkness and giving an adrenaline jolt to us. "This is it!" I said. And off we went.
On the (Sky)Way
I thought it'd be a smooth course, but forgot to psych myself up for the two "hills" I'd have to conquer: Kalayaan and the Skyway. Going over Kalayaan was fine, except that it was pitch black due to no lights and I was paranoid on every step, afraid that my feet would go through a hole. I was unprepared going up the Skyway ramp, no matter how much I'd been warned about its steepness.
Once atop the Skyway, however, I found a good pace and really enjoyed having a rooftop view of Metro Manila. I would have taken photos, but I was on a roll and didn't want to slow down. Wearing my hydration belt kept me running slower than my usual 4:47/km pace (my speed at 10K distances), which was fine because I didn't want to burn out. In the belt, I had jellybeans and one bottle containing an energy drink to boost me on my last few kilometers.
It was almost too dark to read other people's personalized bibs, but I amused myself by reading those of people I was at pace with, or was overtaking. "Prometheus" gave me my first laugh along Buendia, when I ran up beside him and said, "O Prometheus, give us fire!" He laughed.
At one point, a runner came up right beside me, looked intently at my face, then grinned and ran on ahead. Later on, I found out he was a Takbo.ph buddy who was checking to see if it was really me with the KIKAYRUNNER.com personalized bib. Ü
I was trying to keep runner "Marky" in my vicinity; he would speed up and overtake me, and then slow down, so at my constant speed I would then overtake him. He passed the turnaround point earlier than I did, but on our way back I felt my legs picking up speed until I finally overtook him and kept him behind me.
So there I was, crossing high over EDSA, when this huge rush of euphoria hit me. Hello, runner's high! Better than drugs. (not that I've ever taken any…) It kept me going as we finally exited the Skyway and got back on Buendia.
Friends of Good Cheer
Then I encountered the Takbo.ph – Reinier Pacific aid station. From being alone, I suddenly was caught up in a parade-like atmosphere. Volunteers were waving bananas at me, the marching band was twirling flags and making noise, cameras were flashing — and then I heard someone say, "Go Noelle!"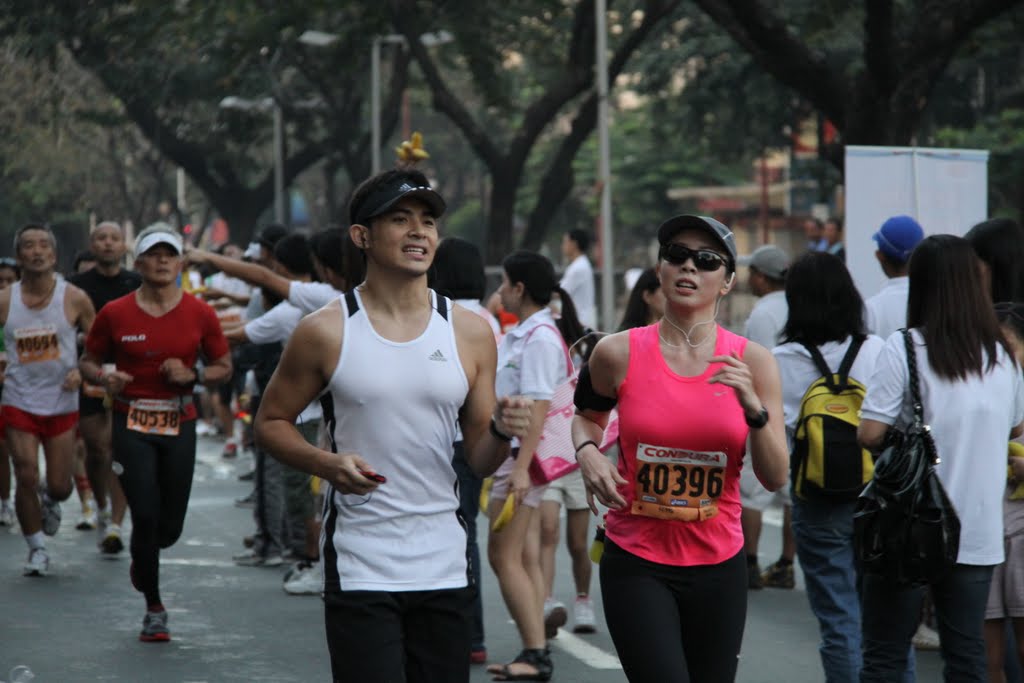 Joel joined me at the 13K mark (photo by Amado Castro, Jr.)
I looked to my right and saw Joel running beside me. He had been waiting at the station for 10 minutes, since we'd agreed he'd pace me to the finish. Boy, was I glad he was there to help set the pace. My legs and mind were slowing down due to fatigue, and Joel was quick to offer tips and conversation to help keep my mind from wandering.
Finishing Strong
We discussed strategy for overtaking this female runner who had overtaken us; sure, she was fast, but her legs were wobbly, she was bouncing upwards more than she was going forward. We would make our attack after the Kalayaan flyover climb. And so we did; I saw her Newtons on the pavement in front of me, then beside me, then finally behind me — and I was in 12th place!
Joel made me chug down my energy drink bottle as we came down the flyover. Then we started to push harder to beat the clock. I wanted to do the distance under two hours, but had given myself an allowance, since it was my first 21K anyway. Joel broke into a sprint on the last 50 meters; my legs were screaming "Bloody half-Mary!" as we turned the corner and saw the clock ticking 2:00:18 as we crossed the finish line.
So really, it was a surprise to me when I saw the official results and found I'd finished with a time of 1:59:37. Sub-2 finish by 23 seconds! Haha.
I collected a finisher's medal and a loot bag right after the finish chute, which made me a pretty happy KikayRunner.
Spot the Takbo.ph Runners
After coming back from breakfast with Joel and the SMR, I stuck around to watch some of the marathoners finish. It was then I saw Sam the Running Ninja, DocT, and Abby cross the line some time after the 5-hour mark. Luis and Rodel had finished about an hour earlier.
I didn't spot Julie at the race, but apparently she (and other girls also dressed in pink) saw me at the start. I later found out Vicky had finished her marathon in under 5 hours. Vicky, with no long-run training and only her determination. Vicky, who was definitely also wearing the same pink singlet as me!
As I was driving out of BHS, I saw a group of runners coming out of University Parkway. They were Timmy, Jet, Neil, and Rico who had come from the airport straight to pace with them to the finish. I rolled down my window and gave them a holler and a smile. They were still under the 6-hour cutoff.
Hey, if they can do it, I can too! Eventually…
Race in Review
Route: This was a toughie, with two ramps to climb up going either way. But still, come on: it's the Skyway!
Hydration: Plenty of water stations, with very efficient cup-handling. If only they started offering the energy drinks during my outbound run, instead of when I was already inbound. It's harder to replenish depleted glycogen in the muscles, rather than just having a steady stream of blood sugar to burn.
Package & Freebies: It was definitely a memorable experience being on the Skyway and getting a (heavy) medal for all my troubles. There were also a lot of freebies post-race, if I were so inclined to go around the booths collecting them. (I wasn't.)I have one caveat: for the price I paid, I expected the race bibs to have the barcodes already printed on them (instead of me having to write my bib number on the stubs). At that price I was also expecting a timing chip. At least the organizer made up for it by publishing official results quickly for the 10K, 21K, and 42K. Still, I think a chip would have removed a majority of the complaints about having to queue at the finish chute for the officials to collect bib stubs.

By the way, if you're a 21K and 42K finisher and were not able to collect your medal, Condura has an announcement about what happened, and how to claim the medal due you.
Good race overall, despite a few snags. I give this race FOUR KIKAY PINKIE FINGERS out of FIVE. Ü
Liked this post? Share it!